Teacher Spreads Vietnamese Values in Malaysia
Nguyen Thi Lien is a Vietnamese teacher in Malaysia, who is also President of the Vietnamese Club in Malaysia. Recently, she was honored as one of 5 Ambassadors of Vietnamese Language Abroad in 2023.
Teaching Vietnamese with Love
Graduating from the Faculty of Literature, University of Pedagogy-Hanoi National University, Nguyen Thi Lien spent 12 years on teaching at high school in Ba Ria-Vung Tau province and Ho Chi Minh city before moving to Malaysia with her family. In Malayhsia, she continues her favorite job in a new role as a teacher of Vietnamese language and President of the Vietnamese Language Club.
During the last 8 years, Lien has played a key role in persuading parents and gathering students; organizing classes, assigning work to members of the club; organizing teaching and extracurricular activities of the Vietnamese Language Club in Malaysia.
From the first free classes in Kuala Lumpur, up to now, the Vietnamese Language Club has continuously expanded, attracting many students from the Vietnamese community from states such as Johor, Penang, Kuan Tan, and Selangor.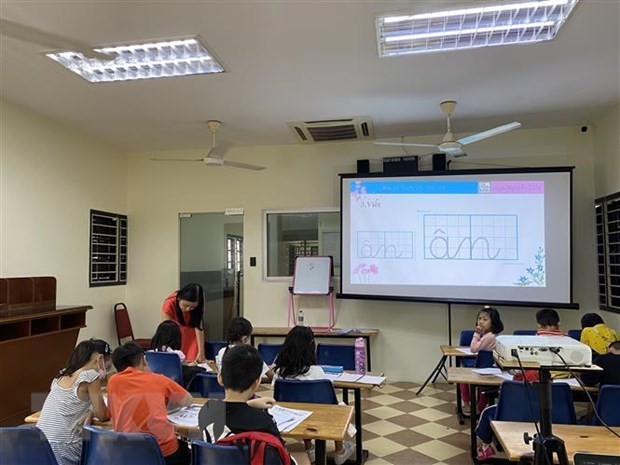 Vietnamese class at the Vietnamese Embassy in Malaysia.
After nearly 7 years of operation, the class has become more professional in its organization. There are 9 classes with about 30 students, including 3 face-to-face classes organized at the Embassy of Vietnam in Malaysia and 6 online classes. Two teachers take turns teaching these classes. The Vietnamese class runs stably, and receives attention and support from the Vietnamese Embassy, ​​the Association of Vietnamese Women in Malaysia as well as parents.
Sharing an unforgettable memory, Lien emotionally mentioned the youngest student she ever taught was 3-year-old Glory. Her father is Anton Nguyen, who used to work in Germany, Japan, and many other places around the world and is currently living and working in Malaysia. Worried that his daughter could not speak Vietnamese, he earnestly asked for his daughter to enroll in a Vietnamese class at the Vietnamese Embassy in Kuala Lumpur.
At first, Lien was very hesitant because Glory was still too little. However, with love for her job and responsibility for the noble mission entrusted by the Vietnamese Embassy in Malaysia, she privately tutored Glory. Knowing that she would have to teach Vietnamese in a different way, she used short songs, associated with family themes in the classes for Glory.
Despite being busy at work, Anton Nguyen has never missed a single lesson of his daughter over the past 2 years. Regardless of the bad weather or long distance, every weekend he takes Glory to class. While waiting for his daughter to study, he tries to finish his work, sometimes making an appointment with his partner in the lobby of the teacher's house or bringing computers and documents along to work. After 2 years, Glory now can read, write fluently, tell stories, and sing in Vietnamese for her grandparents living in Germany.
Ambassador of Vietnamese Language in Malaysia
Lien always encourages members of the Club to participate in training courses in Vietnamese language teaching organized by the State Committee for Overseas Vietnamese. She also participates in extra courses to foster other skills in journalism, media, program hosting, etc. to support the professional and social work currently undertaken.
In 2023, the State Committee for Overseas Vietnamese launched a contest to search for Ambassadors of the Vietnamese Language Abroad. The contest received the response of hundreds of contestants who love the Vietnamese language around the world. Lien is honored to be one of five ambassadors to receive the award.
The award consideration is based on 3 criteria including Vietnamese language ability; Knowledge about the country and people of Vietnam; and Community activities, honoring and developing the Vietnamese language in the Vietnamese community abroad. This is not only an honor for the teacher herself but also the pride of the Vietnamese Embassy in Malaysia.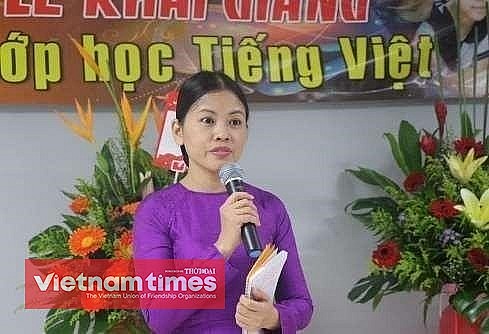 Teacher Nguyen Thi Lien.
Besides teaching the language, Lien is the Vice President of the Association of Vietnamese Women in Malaysia. With the desire to spread Vietnamese cultural values ​​and the Vietnamese language in community activities, Lien and her team organize many activities to celebrate major holidays of the year such as Tet, National Independence Day, and Vietnamese Women's Day, etc. to create opportunities to connect and exchange for women in the Vietnamese community in Malaysia.
She has contributed to promoting cultural and artistic activities for children and the work of preserving the mother tongue for the young generation in the Vietnamese community in Malaysia, such as gathering and leading children in the Club to build the online choir "Hello Vietnam" during the Covid-19 pandemic, guiding children to practice the martial arts dance performance "Dong mau Lac Hong"...
In addition, she and her team regularly organize and directly participate in volunteer activities of the Vietnamese Women's Association in Malaysia, as well as activities towards the homeland, to promote the traditions of the Vietnamese people.