Ten Amazing Binh Thuan Tourist Attractions With Weirdest Names
From Straw Island to Chicken Lighthouse, these destinations' one-of-a-kind names amazed both domestic and international tourists.
Binh Thuan is a province of located on the South Central coast, about 200km north from Ho Chi Minh City. You can enjoy lovely tropical weather at this coastal province all year round. Binh Thuan is home to many beautiful attractions, historical sites, and cultural landmarks.
1. Lighthouse Ke Ga
Ke Ga Lighthouse is located in Thuan Quy commune, Ham Thuan Nam district of the province. This destination is located on a desert island so it is not well known to people. You can reach Ke Ga by boats and canoes but remember only sail in good weather. Boat operators might recommend you not to go if there are strong and dangerous waves.
Ga means chicken in Vietnamese and the lighthouse stands on an island shaped like a chicken, hence the silly name. You will discover a unique architectural work of the oldest and highest lighthouse in the region. To get to the top of this 65m lighthouse, prepare to climb 200 spiral stairs.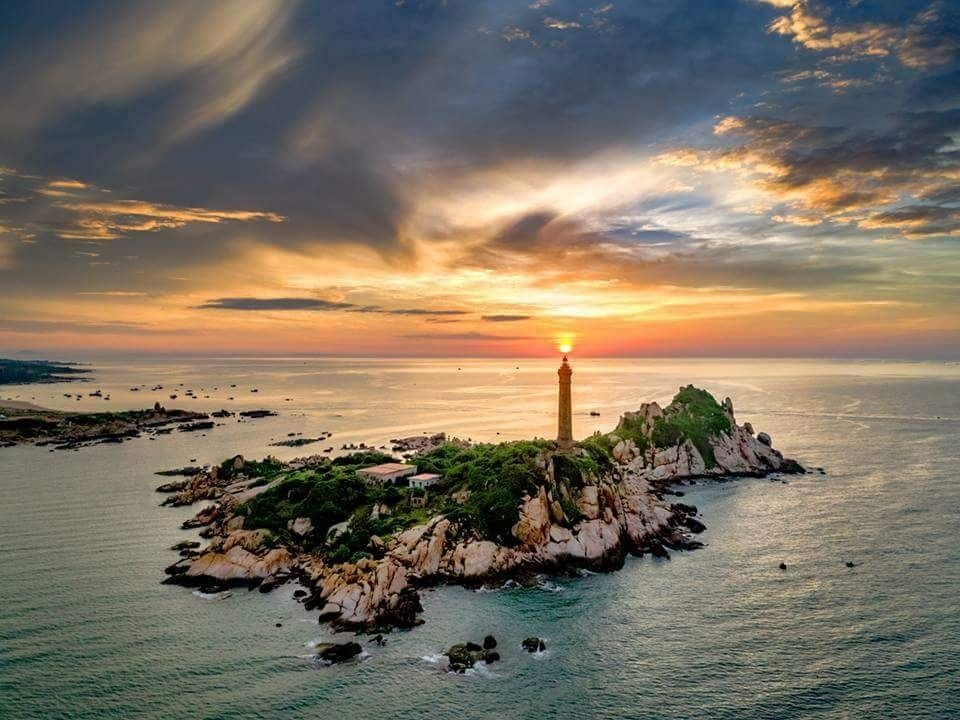 Ke Ga Lighthouse - the oldest and highest lighthouse in Southeast Asia. PhotoDulich.petrotimes
Once standing at the top, you will be amazed by the charming, romantic natural landscapes.
2. Bay Sand Dunes
The Bay Sand Dunes or Flying Sand Dunes is paradise comprised of wind, sand, and sunlight. The surreal landscape has inspired many travel photographers, as the dramatic dunes offer the perfect background for models.
The name is originated from the constant changes in appearance and shape of sand dunes. The mighty power of Binh Thuan wind creates the curvy lines sparkling under the sun. The scenery captivates many artists and becomes their inspiration in art works.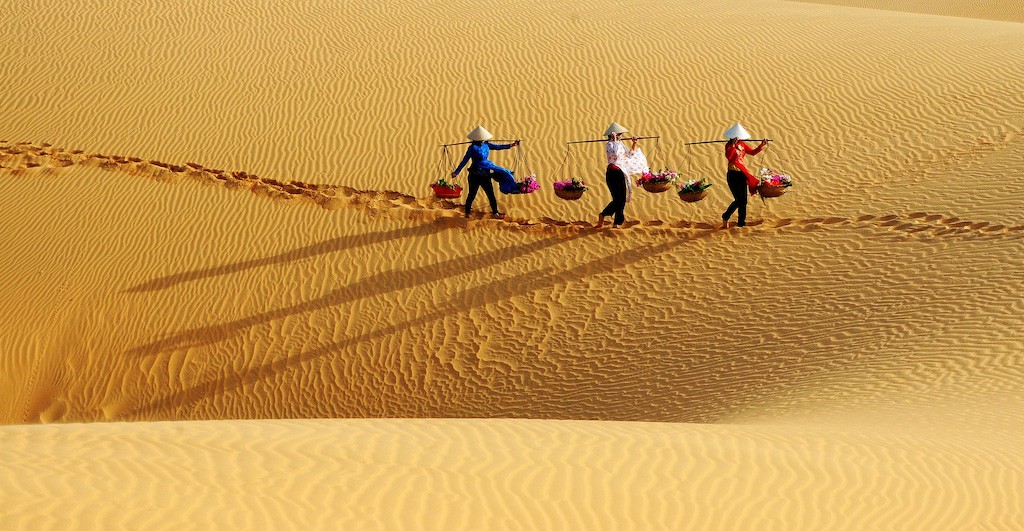 Flying Sand Dune in Binh Thuan. Photo: Thuong Hieu and Cong Luan
People also call this place Red Sand Dune since the scenery is painted with a red pink color under the influence of monsoon seasons all year round. You can witness color changing sand here from white, red, pink to yellow and let your imagination go wild at this paradise.
Sand dune games like sand boarding, riding dirt bikes, buggy cars and golfing are all exciting experience you do not want to miss.
3. Co Thach Rock and Moss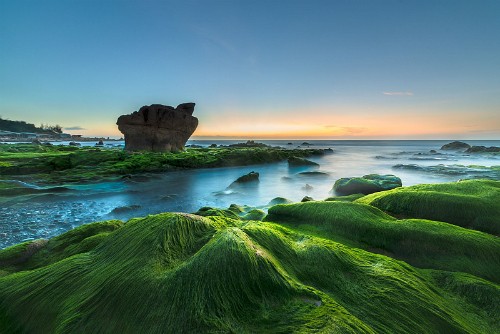 Co Thach Rock and Moss. Photo: Vnexpress
About 100 kilometers away from the town center is Co Thach beach (Tuy Phong Districtt). This is an enchanting coastal site lined with seaweed-covered pebbles and unusual-looking rocks.
Formed naturally by the effect of tides, sea currents and brine, big rocks across the beach have diverse shapes and colors with remarkable veins. These big rocks create a picture of an isolated ancient castle with time-polished walls, therefore the name Co Thach or Ancient Rock.
When the tide flows, the castle stands lonely by the sea. But when the tide ebbs, smaller rocks that are covered in moss appear. These mossy rocks stand around the rocky castle like loyal old soldiers who have been protecting the castle for thousands of years.
The colorful rock reef can satisfy any tourist. They can also see different colors of the pebble field in different angles. Co Thach Rock and Moss is also known as Seven-Colored Reef.
4. Cau Island
The tiny island is located in Tuy Phong District, about 9 km away from the seashore. Tourist can admire the untouched natural beauty here on Cau Island.
It is formed by a 1.5 kilometer-long steep range of rocks. From a far distance, the island looks like a collection of playful nymphs chilling on a rolling mass of adhesive stones, creating an ancient citadel and rampart to confront against the blowing storms suddenly from the East Sea. The water here is crystal clear and blue, the coral reefs are pristine and several kinds of sea creatures live around the island.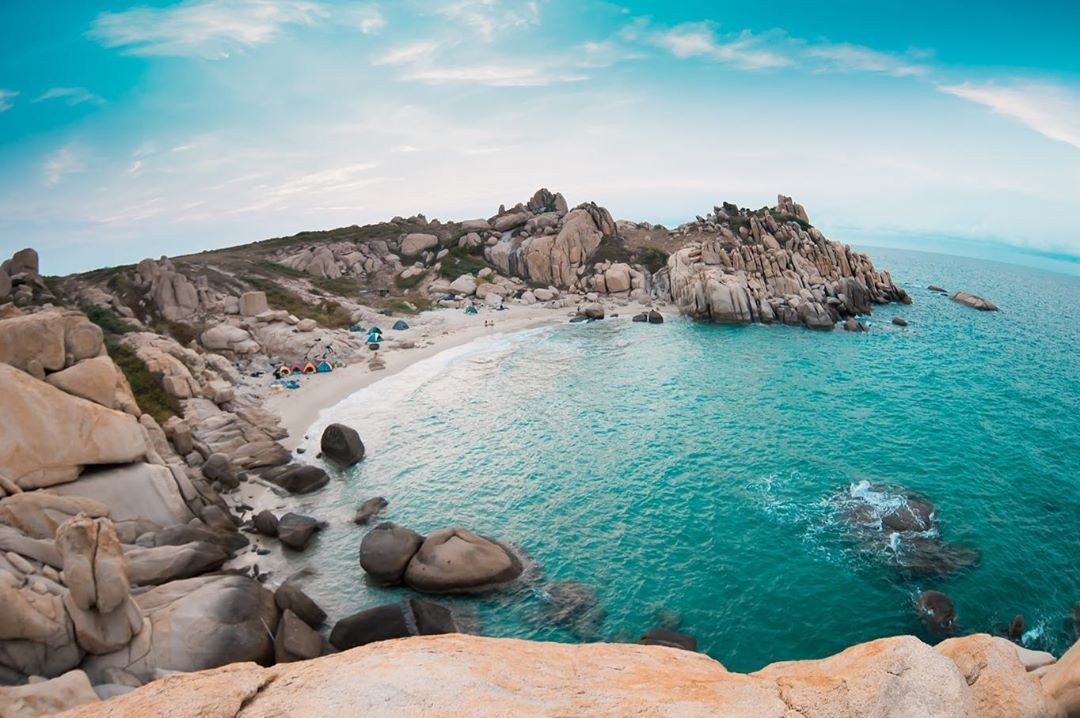 The water here is crystal clear and blue at Cau island. Photo: Phan Thiet travel
Some refer the island shapes like a fishing hook, so they call it Cau, which means fishing in Vietnamese. The name Cau is also chosen because it is a meaningful place for local fishermen in the ways of earning their living.
5. Hon Rom Coastal Island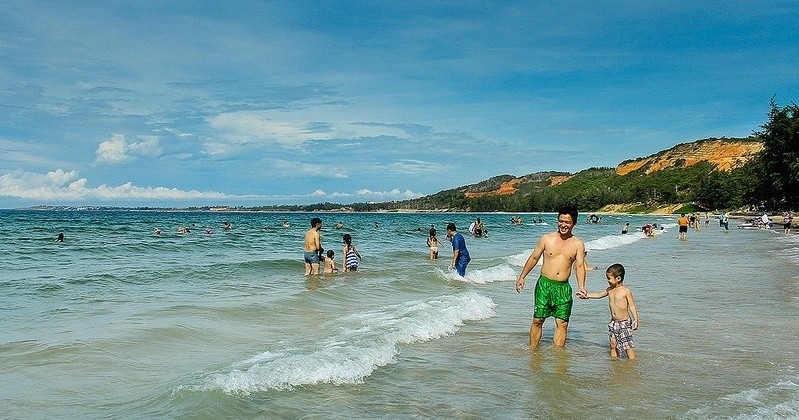 You can enjoy playing in the clear ocean in Hon Rom. Photo: Kenh Du Lich
Rom means straw, which describes the image of the island viewing from afar. During the dry season, grass field on Hon Rom turns yellow and from the mainland, the mountain looks ke a pile of dry straw, a very familiar image at Vietnamese countryside.
Hon Rom's highlight is the 17 km beach with beautiful white sand and coconut trees. The beach is always tourists' favorite destination. You can enjoy playing in the ocean, camping, stargazing here with friends and family.
There are many other fun activities while you explore colorful sand dunes and small mountain of Hon Rom. It is recommended that you spend one full day at this destination to have the completed Binh Thuan travel experience .
6. Phu Quy Island or Thu Island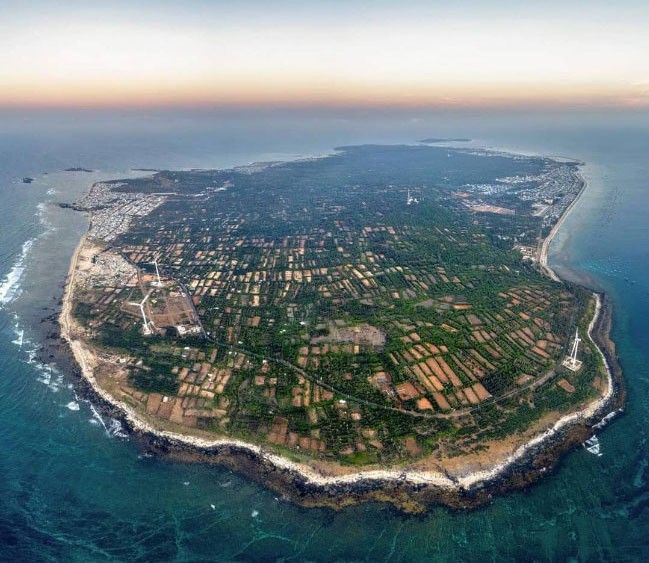 Phu Quy Island from above view. Photo: Cungphuot.info
This special island was once stay a hidden gem due to its isolated location, 120km away from the South Central coast.
It is blessed with abundant natural resources, therefore the name Phu Quy or Rich and Precious. The coastline consists of long and open bays, broken only at the northern and southern tips of the island, where volcanic bluffs rise dramatically, forming striking tracts of land. The center of the island is green, agricultural, and forested.
The Phu Quy Flagpole, established in 2015, marks national sovereignty with its main side facing the sea. You can watch the sunrise and feel your mood boosted instantly by the majestic view. This is one among many interesting places when in Phu Quy. Other places to visit are: Phu Quy Lighthouse, Mo Thay Temple, Ruined rock walls, Linh Quang Pagoda, etc.
It is believed that the shape of the island is like a mackerel, so it used to be Mackerel Island. And during the French colonial period it was Poulo-Cécir-de-Mer, as in Island of the Sea.
The name Phu Quy was adopted from the reign of Thieu Tri Emperor, after the Phu Quy archipelago, Tuy Phong district, Ninh Thuan government, Binh Thuan province.
7. Ong Dia Beach
Ong Dia beach, located in Ham Tien ward, is a beautiful beach with blue color of the sea mixed with the color of the sky.
Fisherman told the legend of the Earth God appeared to help them make their livings here so they called it Ong Dia (Earth God). Tourists also find the name interesting, as if it was named after the god the god descended here and blessed the land with such a vast and peaceful space.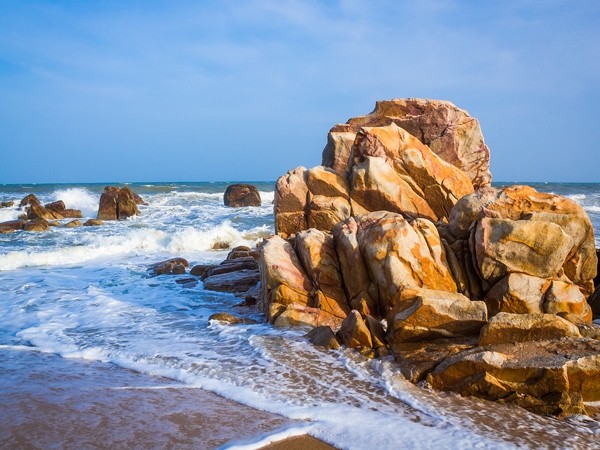 Ong Dia Beach has colorful reef with big and strange shaped rocks. Photo: VOV TV
You will find colorful reef with big and strange shaped rocks; rows of green casuarinas along the shore, white sand shimmering under the sun; clear blue sea water…The scenery is like a painting.
The spectacular rocky beach is not only attractive to tourists from all over the world, but also an ideal backdrop for couples to take wedding photos
8. Poshanu Cham Towers
Ancient Cham people contributed to many important achievements in the multi-ethnic culture of Binh Thuan. Check out Poshanu Cham Towers and you will fall for the unique charm of Binh Thuan.
Poshanu Cham Towers comprises three ancient worship towers built around the late 8th 9th and 15th century. Two were built to honor Hindu deities Lord Shiva, Agni and Nandi. By 15th century, another was built to worship Princess Po Sah Inu, daughter of Para Chanh King. She is adored by Cham people by her talent and virtue. The relic was then named after the princess.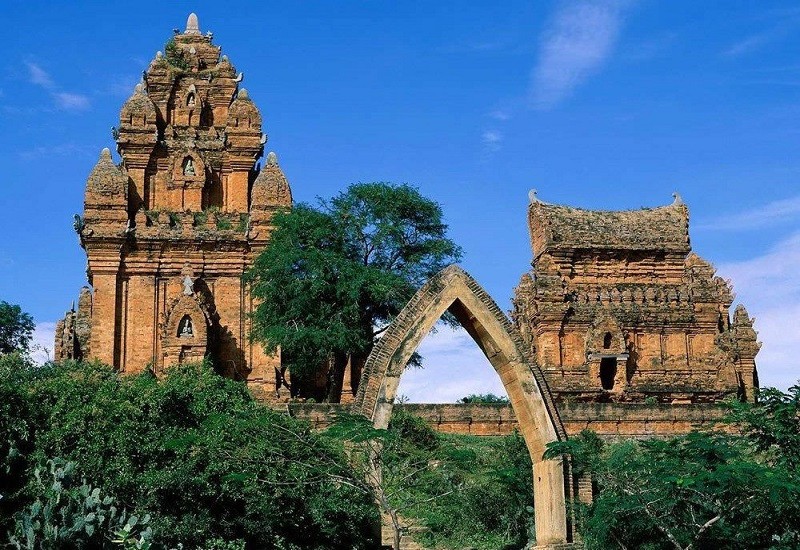 Historical landmarks of Cham culture. Photo: Tripzone
The main tower measures 15m in height, featuring an altar with several lingams of Lord Shiva while the other two stand at 12 m and 5m respectively. During Kate festival, at Poshanu Cham Towers, the atmosphere is so exciting as Cham people hold important ritual customs and featuring festive activities to honor the late lords and heroes.
9. Ong Hoang Tower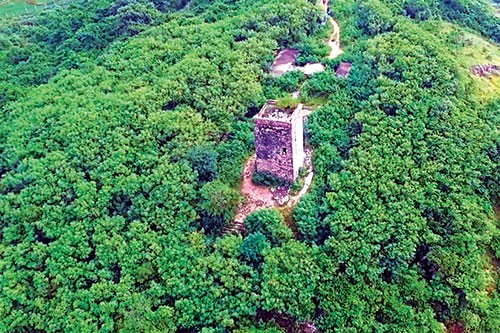 Ruined tower on top of the hill. Photo: Bao Binh Thuan
Ong Hoang (The Lord) Tower is located right next to the Poshanu Cham Tower, and it was also named after royalty. The ruined tower was once a 13-room villa is owned by a French duke named De Montpensier in 1911.
This attraction includes four small hills, a ruined tower and watchtowers with an area of ​​about 600 square meters located on top of Bai Nai hill, about 7km from the center of Phan Thiet.
At 105m above see level, tourists can revisit where the rich lords once lived as well as admire the scenery of the endless beaches.
For the romantic, this is also an ideal place to visit because famous poet Han Mac Tu once had a date of a lifetime with his muse Mong Cam.
10. Ta Cu Mountain Pagodas
Last one on the list is Ta Cu Mountain. Beautiful scenery under clear blue sky is the highlight of Binh Thuan that you can explore here. The reclining Buddha statue - the largest reclining Buddha statue in Southeast Asia also locates here on top of Ta Cu Mountain.
The mountain is only 649m high so you can conquer the mountain after more than 1,000 steps. This route offers you blooming red flowers, fresh air and a scene of world champion. For those who wish to visit many places in one day, taking round trip with cable car is of course faster.
On the top of the mountain, there are the Main temple and two temples, Linh Son Truong Tho and Long Doan pagoda. They represent typical Buddhist architectural art from the Nguyen dynasty. Their names was how King Tu Duc boasted the Buddhist priest doctor on Ta Cu Mountain for saving his mother.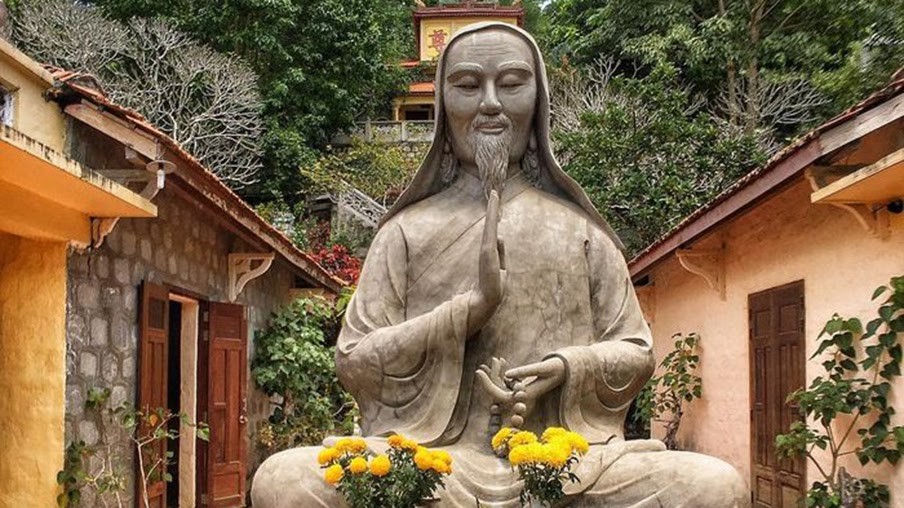 The front of the Main temple has a statue of Buddhist priest doctor who lived here in the Nguyen dynasty. Photo: Bongtrip
Have you heard of these interesting names before? Which Binh Thuan attractions you wish to visit?
What is Vietnam's Largest City?

When you come to Vietnam, Ho Chi Minh city and Ha Noi are the two most popular cities. Beside the two, Vietnam is divided into...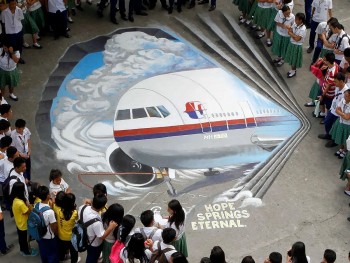 World
The world might never know what really happend when these planes went off the radar. Let's take a look at some of the unsolved mysteries of aircraft disappearances.