Termite mushroom – A gift of nature in rubber plantations of Binh Phuoc
Termite mushroom grows in clusters along plots of rubber trees in Hon Quan district of Binh Phuoc province. Locals harvest this delicious agaric fungus to prepare nutritious, aromatic dishes like termite mushroom with chicken soup and pepper brined termite mushroom.
After an early summer rain, the weather in the southeast province of Binh Phuoc becomes hot and muggy, providing the ideal conditions for mushrooms to prosper. Nobody knows when rubber growers in Hon Quan district of Binh Phuoc started to go foraging for termite mushroom during the wet season. It is certain, however, that this special fungus is treasured by locals.
Born in 1997, Dong Hao (Tran Van Hien) from Binh Phuoc province, owner of the Youtube channel Am thuc Dong Hao, recently posted a video of his journey to forage for termite mushroom and turn it into delicious meals. The video impressed Youtube users with Dong Hao's plain and sincere narrative of the time when he went foraging for termite mushroom with his childhood friends, and the Youtuber's vivid description of the flavors of termite mushroom dishes. After two days, Dong Hao's video attracted 15,000 views and hundreds of thumbs-ups and feedback about this specialty.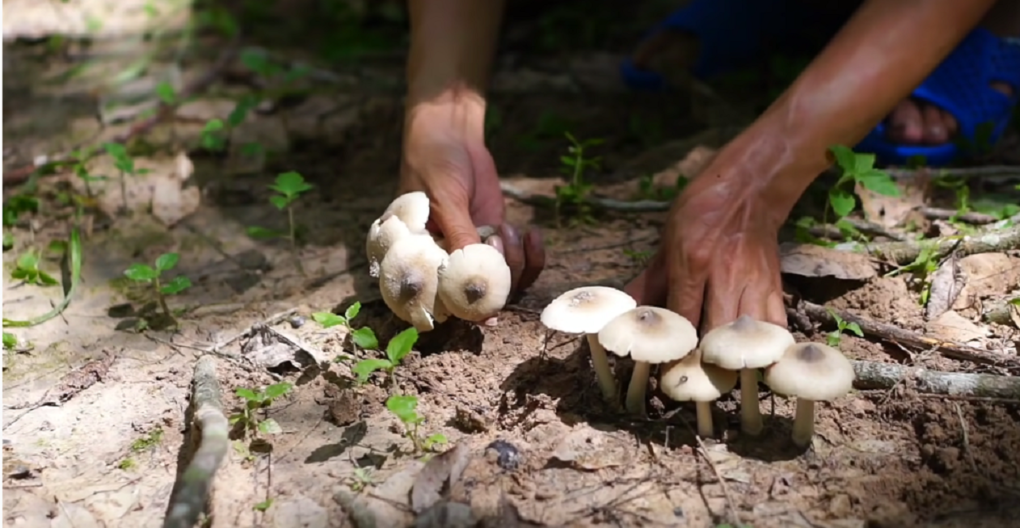 Termite mushroom grows in rubber plantations in Hon Quan district of Binh Phuoc province / Am thuc Dong Hao
"Termite mushroom is white, but its roots are slightly yellow. I have fallen in love with the umami flavor of this mushroom since I was a kid. Every year, I go foraging for termite mushroom along rubber tree plots in the early morning. I don't go home until I can get a basket full of termite mushroom," said Dong Hao.
The soil in rubber plantations is covered in rotten leaves during the wet season. As termite mushroom only grows some five centimeters above the ground, foragers must observe carefully and use small sticks to find the mushroom amidst the sea of leaves. Early in the rainy season, the soil is often soft, so it is possible to use bare hands to pluck even the deepest roots of the mushroom. However, foragers must be careful when harvesting termite mushrooms. The delicate fungi can get crushed if handled too forcefully, leaving the dishes cooked with termite mushroom a lot less delicious.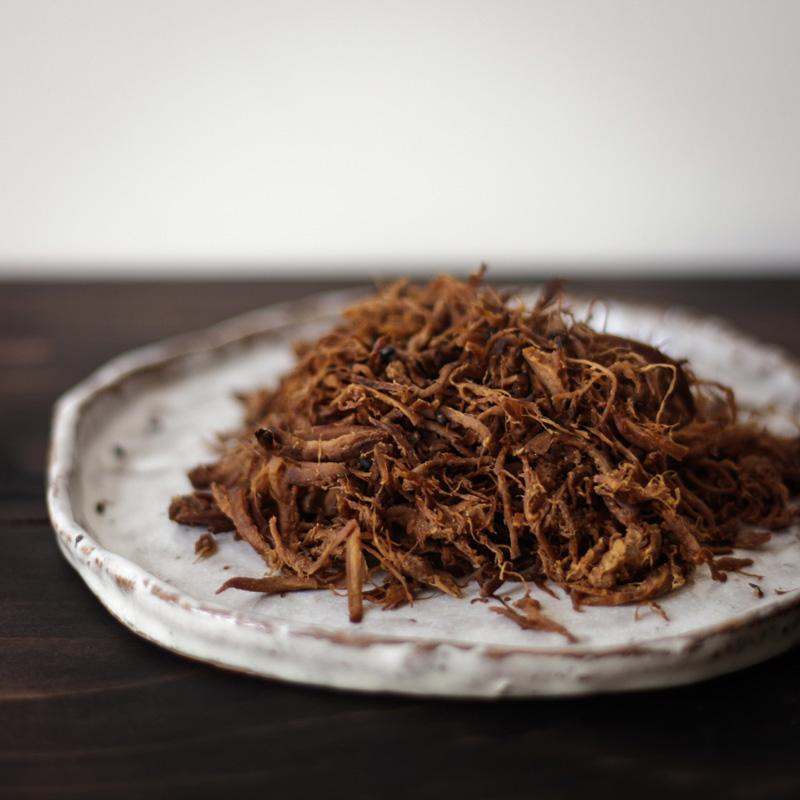 Mushroom floss / Giao duc va Thoi dai
Termite mushroom only thrives on clean soil, so people won't find it in the land that has been treated with fertilizers. According to locals, termite mushroom grows by consuming the waste matter of the termites that make a nest under the ground, around high mound areas. Termite nests are porous knolls with the size of a small basket. A mound of termite mushrooms can have tens of such nests. Termite mushroom grows three to five times per year.
Because the termite mushroom is highly nutritious and rare, the chef will attempt to keep the cooking process simple in order to retain the conditions of fresh termite mushroom. After being harvested, the chef cleans the dirt that sticks to the root of the termite mushroom, then turn the fungi into delicious dishes such as termite mushroom porridge, termite mushroom sautéed with sponge gourd, termite mushroom floss, pepper brined termite mushroom, termite mushroom soup, and termite mushroom roasted with chilly salt. Although termite mushroom is a simple ingredient, to locals, dishes made with these unique fungi are no less flavorful than any luxurious food.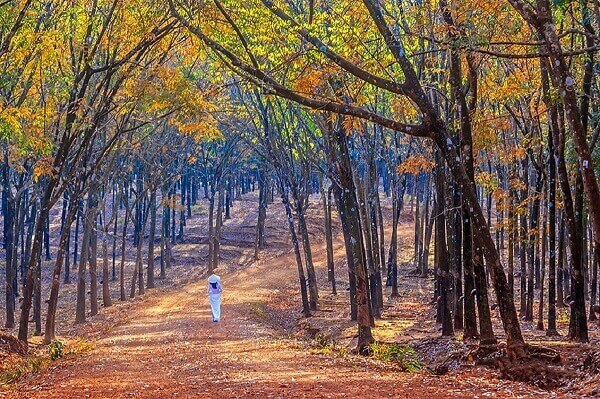 Rubber plantations in Binh Phuoc province / Poliva
To make termite mushroom with chicken soup, Dong Tam chooses running chickens with firm meat. After cleaning the chicken, the Youtuber chops it into bite-size pieces. He fries minced shallots then sautés it with chicken before adding boiled water. Dong Hao adds termite mushroom when the chicken is cooked through. He doesn't cook the soup for too long to avoid the mushroom from getting soggy.
Termite mushroom is inherently full of umami flavor, so the chef doesn't need to add a lot of seasoning. Just a little salt, ground pepper, and minced scallion are enough to create a delicious dish with these nutritious fungi.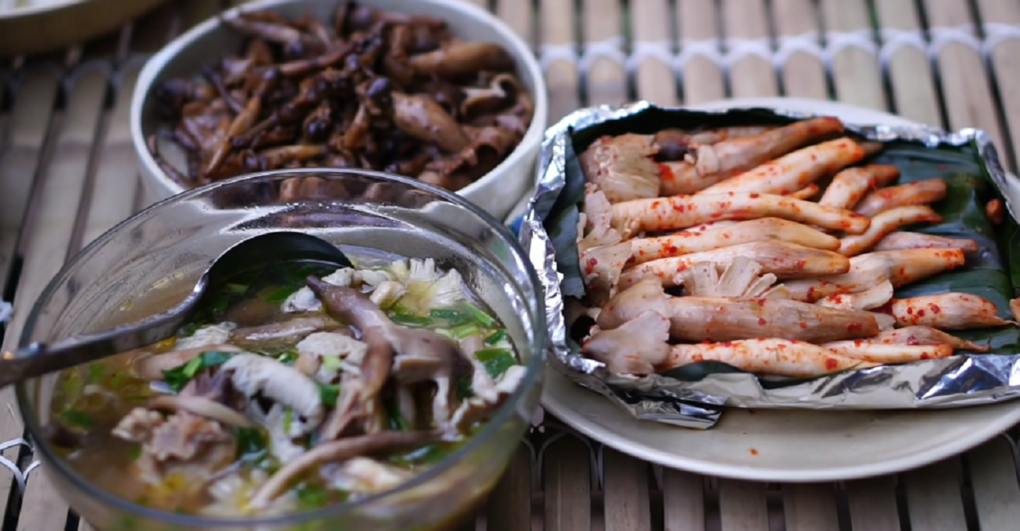 Pepper brined termite mushroom, termite mushroom soup, and termite mushroom roasted with chilly salt / Am thuc Dong Hao
Other than the southeast region of Vietnam, termite mushroom also grows in some provinces in the central highlands and southwest areas. People from southern Vietnam loves to use termite mushrooms as fillings for banh xeo (crispy Vietnamese pancake). After harvesting, locals season the mushroom with some chilly salt then sauté it lightly with dried garlic before adding it to the banh xeo batter. After just a few minutes, a delicious dish of banh xeo with termite mushroom fillings and crispy rice banh xeo cover with coconut milk is ready to be served.
Many mushroom traders believe that termite mushroom grown in southern provinces like Ben Tre is more flavorful than that in the southeast or central highland. In the termite mushroom season, a kilogram of termite mushroom in season can cost from VND 600,000 to 800,000 per kilogram (US$ 26 – 34/kg). Termite mushroom in the early rainy season, with its nutrition values and crunchy, stringent texture, is often sold out very quickly.
Banh cuon across Vietnam

From the far northern province of Ha Giang to bustling Ho Chi Minh City in the south, each region has its own unique way of ...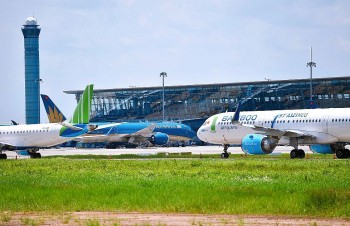 Economy
Vietnam Business & Weather Briefing (August 9): Vietnam's economic growth is expected to reach 7.5% in 2022, new securities accounts hit a near two-year low in July.