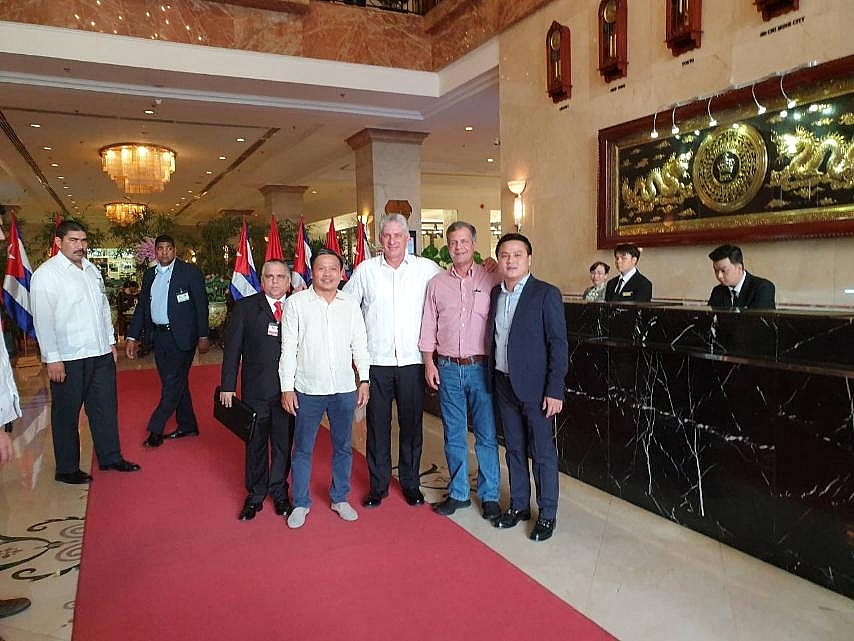 Thai Binh welcomes the President of Cuba to visit Vietnam
Thai Binh Trading Investment Joint Stock Company (referred to as "Thai Binh"), formerly known as Thai Binh Company Limited, was established in Vietnam from 1992 until 1998. Thai Binh was a Vietnamese enterprise pioneering in opening a representative office in Cuba to serve the export of many Vietnamese products to the Cuban market. Currently, Thai Binh has a total of 10 member companies, of which 4 member companies have commercial activities in the Cuban market, including Thai Binh Investment and Trade JSC, Thai Thinh Shoe Joint Stock Company, Hoang Yen Trading & Construction Company Limited, Toan Thinh Phat Trading Joint Stock Company. In addition, there are 2 companies established in 2016 and 2017 respectively and orienting their production in Cuba, namely Thai Binh Global Investment Joint Stock Company with the main function of establishing a diaper factory and tampons in Cuba; Thai Binh Detergent Joint Stock Company whose main function is to set up a detergent factory in Cuba.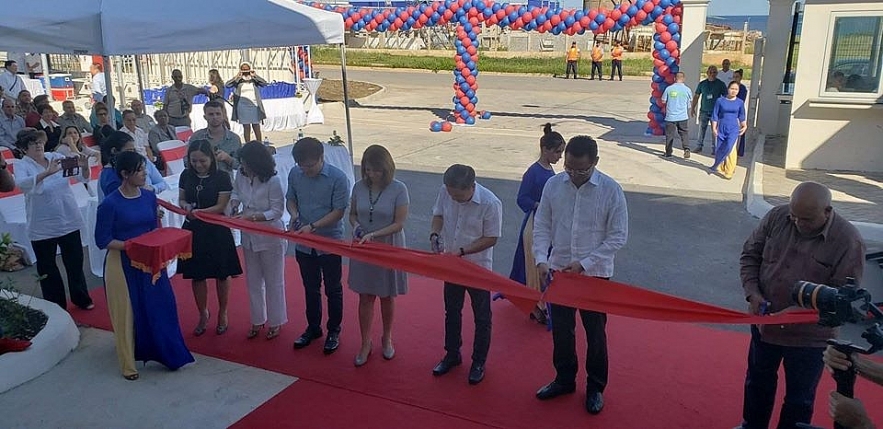 Thai Binh inaugurated a diaper factory in Cuba.
Over the past 22 years, Thai Binh has engaged in trade activities between Vietnam and Cuba and has built strong relationships with Cuban importers and major distributors, including GAESA. (owning 5,000 stores & supermarkets in Cuba) and GECOMEX - two state-owned enterprises almost exclusively control the distribution and retail system in Cuba. Since 2015, Thai Binh has always been in the Top 10 companies with annual sales are over 100 million USD and the most transactions with these Cuban enterprises.
According to the Vietnam export-import report 2018 on Vietnam's export trade turnover to Cuba by the Ministry of Industry and Trade, Vietnam's total export turnover to Cuba in 2017 reached $ 217 million, of which Thai Binh company is 107 million USD, accounting for nearly 50%. Thus, Thai Binh plays a very important role in commercial activities between the two countries Vietnam - Cuba.
Chairman Tran Thanh Tu speaking at the Customer Conference
The products Thai Binh supplies to the Cuban market are diverse from food, household appliances, clothing, shoes, electricity, electronics, refrigeration, furniture, building materials, coffee, plastic resin, etc...
Thai Binh's brands in Cuba are trusted brands by Cuban consumers. A wide range of products made in Vietnam with brands such as TBV, TB care, TB Home, TB Kids, TB pro, TB Beauty, TB Refresher, TB Milk, and TB Food present at 5000 supermarkets and stores in 16 cities and provinces in Cuba.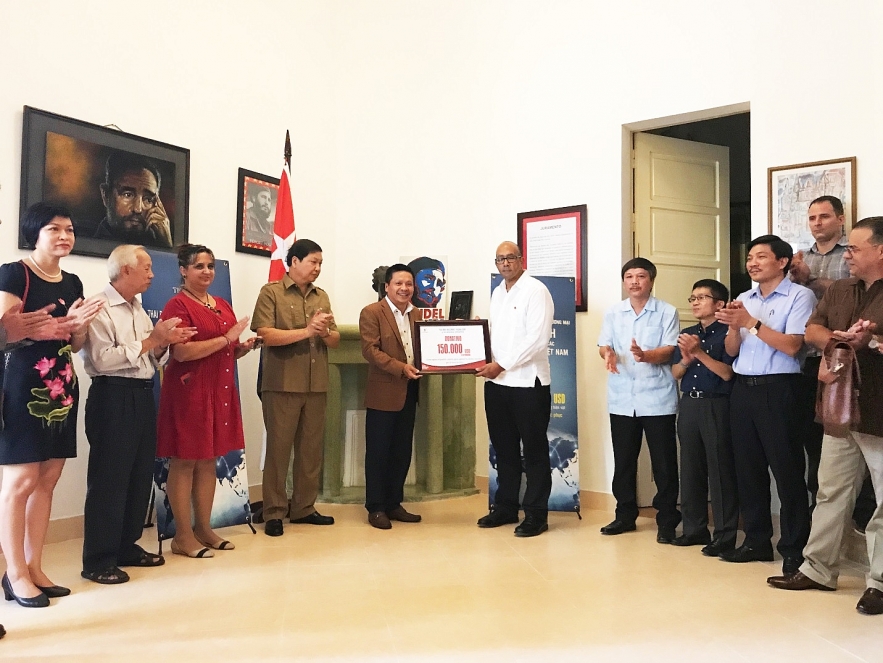 Thai Binh donates USD 150,000 to Cuba to overcome the consequences of Hurricane Sandy 2015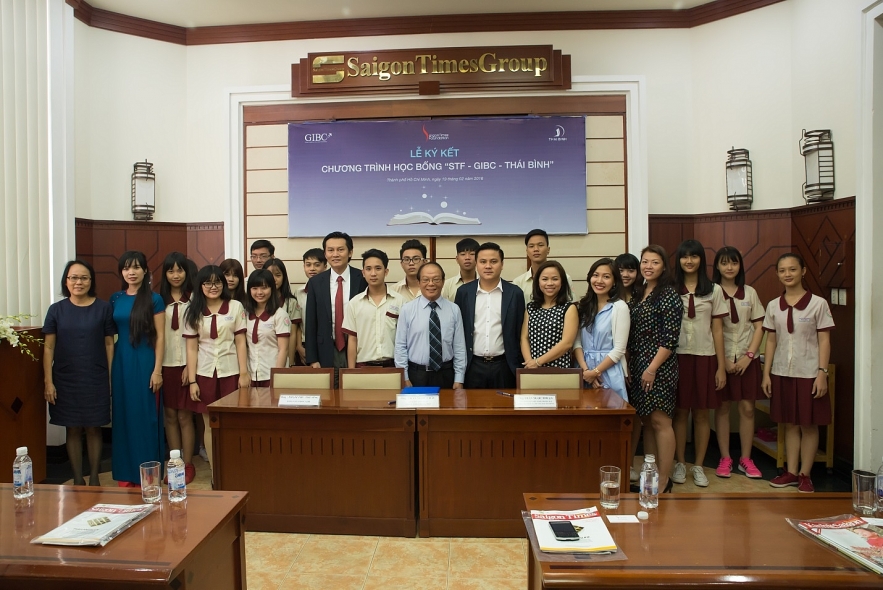 Thai Binh participated in the signing ceremony to sponsor the Scholarship Fund of Saigontimes Newspaper
Thai Binh Investment and Trade JSC is implementing 2 production investment projects in Mariel Industrial Park. Firstly, the diaper project 100% invested by Thai Binh. The factory was built with an area of 5000 m2 on a 10,000m2 land area, came into operation in 2019, initially, the business performance was very positive. The total investment rate of the factory is USD 9,350,000, providing 50-70% of the Cuban market demand. Secondly, the detergent project by Thai Binh joint venture 50% capital with Industrias NEXUS S.A Company in Cuba: The factory will be built with a capacity of 50,000 tons/year, the initial investment scale is USD 17,790,000. Currently, the project is in the construction phase and is expected to come into operation in 2022.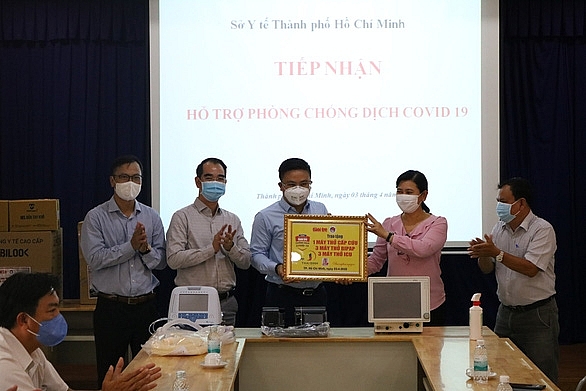 Thai Binh supported the Department of Health with anti-epidemic equipment Covid-19.
In addition to trade and investment activities, Thai Binh is a business that attaches special importance to social responsibility. Accordingly, every year, Thai Binh implements CSR (Corporate Social Responsibility) activities in Vietnam and Cuba with budgets ranging from 2 billion - 3 billion VND/year. Outstanding activities may include: Sponsor Hoa Binh's Story of the Youth Newspaper; Sponsored Pham Phu Thu Scholarship of Saigon Times Times Fund; Sponsor An Giang talent relay fund; Periodical funding for the Vietnam - Cuba Friendship Association; Donating USD 150,000 to overcome the consequences of Hurricane Sandy 2015; Donate USD 250,000 to overcome the consequences of Hurricane Irma 2017; Donating 3 "ambulance car" to General Hospitals nationwide in 2018; Donating 300 million VND in cash against Covid in Cuba; Donating medical equipment worth more than 1 billion VND to the Department of Health in 2020, etc...
In the future, Thai Binh Investment and Trade Joint Stock Company hopes to continue to further develop investment and business activities in Cuba and play an important role in the Vietnam-Cuba friendship.