Thailand begins vaccine trials on human in March
Thailand started human trials on Monday (Mar 22) of a domestically developed COVID-19 vaccine and expects to deploy it next year.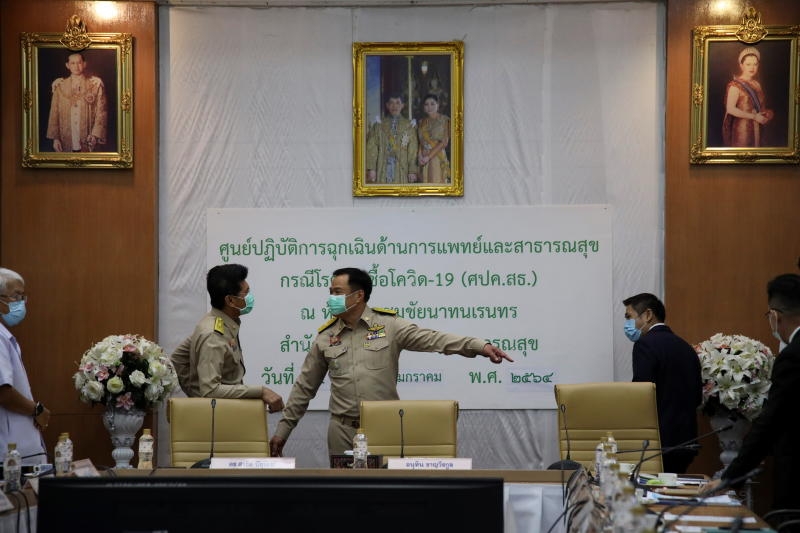 Public Health Minister Anutin Charnvirakul arrives at a meeting to discuss the management of the coronavirus disease (Covid-19) outbreak and vaccines in Bangkok, Jan 25, 2021. Photo: Reuters
Thailand will begin clinical trials of a locally developed Covid-19 vaccine in March, making it the nation's first inoculation program to enter human trials.
Thai vaccine human trials to begin in March
The program, led by the Government Pharmaceutical Organisation, Mahidol University and the Programme for Appropriate Technology in Health, started its research in mid-2020 and its animal testings showed good results, Health Minister Anutin Charnvirakul said on Wednesday, according to Bang Kok Post.
"Thailand isn't just relying on one source for vaccines. We're actively looking for ways to procure the shots, including producing them ourselves," Mr Anutin said, adding that if the human trials are successful, the state drug manufacturer will be able to produce 25 to 30 million doses of the vaccines per year.
"Even though we can produce vaccines in the country, it is from technology transfer and under the management of the owners of the brands and technology. But today, if we are successful we can be self-reliant and determine our own direction."
A total of 460 volunteers would be recruited for the human trials. They must be in good health and free of Covid-19. Volunteers will be screened and have their backgrounds checked and undergo health and blood checks.
Punnee Pitisuttithum, the head of the Vaccine Trial Centre at Mahidol University's Tropical Medicine Department, said that the first human trial was conducted on 4 volunteers yesterday. Banchong Mahaisavariya, president of Mahidol University, said the first and second phases of human trials will test the safety of the vaccine and its ability to trigger immunity, said The Thaiger.
The GPO is aware of SARS-CoV-2 virus mutations so the vaccine is also being developed to help with this situation, adding that the pilot vaccine showed it was effective against the South African strain.
Chulalongkorn University is also developing its own vaccine, which uses Messenger RNA technology with human trials expected to begin soon.
Thailand has recorded 27,876 coronavirus cases in total, with 91 deaths.
An additional homegrown vaccine is under development by Chulalongkorn University which uses Messenger RNA (mRNA) technology and is expected to start human trials soon, The Phuket News reported.
Amid tight global supplies and concerns around certain vaccines already available, certain countries such as Japan and Taiwan have turned to develop their own; Vietnam expects its home-developed vaccine to be available before the end of this year.
Iran is the first country to begin the human trial of locally made virus vaccine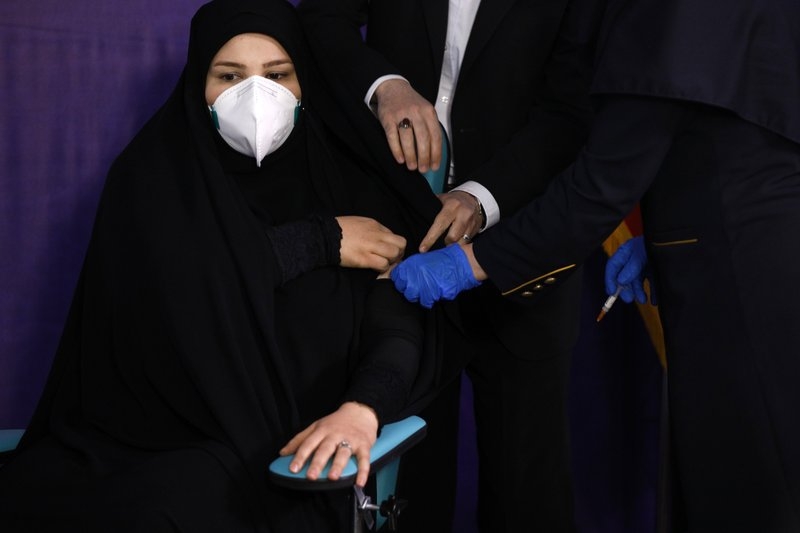 Tayebeh Mokhber is injected with the Coviran coronavirus vaccine produced by Shifa Pharmed, part of a state-owned pharmaceutical conglomerate, in a ceremony in Tehran, Iran, Tuesday, Dec. 29, 2020. The first study of the safety and effectiveness of the coronavirus vaccine in Iran began Tuesday, state TV reported, with dozens due to receive the domestically developed shot in the hardest-hit country in the Middle East. Photo: AP News
The first study of the safety and effectiveness of a coronavirus vaccine in Iran began Tuesday, state TV reported, with dozens due to receive the domestically developed shot even as details about its production remained slim.
The vaccine, the first in the country to reach human trials, is produced by Shifa Pharmed, part of a state-owned pharmaceutical conglomerate known as Barekat. The company's website describes it as involved in the large-scale production of antibiotics and penicillin, without offering any details about its coronavirus research, results of animal trials or previous vaccine development since its founding in 1995.
The study, a Phase 1 clinical trial, will enroll a total of 56 volunteers to receive two shots of the Iranian vaccine within two weeks, according to Hamed Hosseini, a clinical trial manager. Results are to be announced roughly a month after the second shot. Three people received the first injections on Tuesday in a ceremony at a Tehran hotel attended by the country's health minister. State TV announced that none of the injections had so far caused any "fevers" or "bodily shocks."
President Hassan Rouhani has said Iran is cooperating with a "foreign country" to produce another vaccine expected to run in tests in human volunteers in February, without offering further details.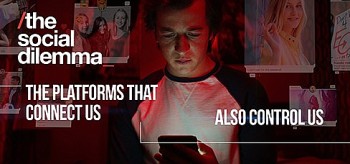 World
Ex-Big tech owners are taking advantage of this social media transition time as a unique opportunity by spreading the word, unveiling a message of the true hidden terror of social media for someone who needs to see it. Along with a documentary investigation and narrative drama to disrupt the disrupters, unveiling the hidden machinations behind everyone's favorite social media and search platforms.