Vietnam recruits volunteers for phase one human trials of 2nd homegrown Covid-19 vaccine
The Institute of Vaccines and Medical Biologicals (IVAC) is recruiting volunteers for the first phase of human trials of Covivac, the second Made-in-Vietnam Covid-19 vaccine.
Duong Huu Thai, IVAC Director on March 4 said that the Institute had completed training stages on testing procedures, examination, and volunteer recruitment for the first phase of human trials of the Covivac vaccine.
From March 5, IVAC, in coordination with the National Institute of Hygiene And Epidemiology and Hanoi Medical University would begin to receive registration from volunteers. Volunteers can enroll directly at Hanoi Medical University, by phone, email, or website, Thai added.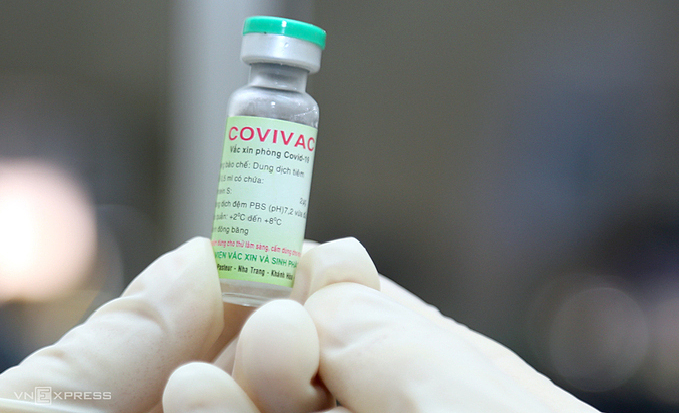 A vial of Covivac, Vietnam's second Covid-19 vaccine. Photo: VnExpress
The first phase of human trials of the Covivac vaccine will be conducted on 120 volunteers aged 18-59. Volunteers must have no underlying health conditions and have appropriate weight and height.
Volunteers will have their health checked 9 times within 13 months since taking part in the trial. They will be inoculated with two shots, each 28 days apart. After the injection, they will remain at the clinical trial area for 24 hours for health monitoring.
The first jab of the Covivac vaccine in the first phase will be given to volunteers by mid-March.
The second phase of the human trial will commence in July and the final phase in November.
Thai said that the pre-clinical studies in India, the U.S., and Vietnam have shown that Covivac is effective against the new virus variants from the U.K. and South Africa. The vaccine would cost around VND60.000 ($2.60).
Scientists are currently studying its efficacy against more strains, he added.
Vietnam detected the U.K. strain in the outbreak in Hai Duong and neighboring Quang Ninh and the South African variant in a foreigner who entered the country with Covid-19.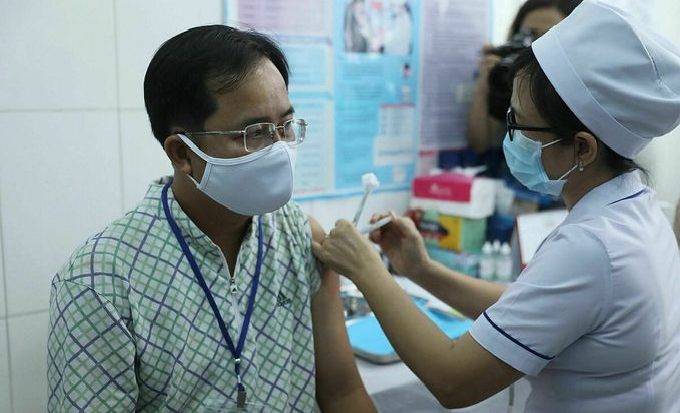 A man in Long An Province is injected with Nanocovax, a Vietnamese Covid-19 vaccine, as part of the second phase of its human trials, February 26, 2021. Photo: VnExpress.
The first locally-produced COVID-19 vaccine, Nanocovax, made by Nanogen Pharmaceutical Biotechnology JSC, entered its second phase of human trials on February 26.
Results of the trial will be announced in May 2021 before preparing for the third-stage trial during which only one single shot of the vaccine will be administered to 10,000-15,000 people from both domestic and foreign pandemic-hit regions, said Lieutenant-General Do Quyet, Director of the Military Medical University.
Vietnam has two other COVID-19 candidate vaccines being developed, which are VABIOTECH by the Company for Vaccine and Biological Production No 1, and POLYVAC by the Centre for Research and Production of Vaccines and Biologicals.
The government has also speeded up foreign procurement to vaccinate some prioritized categories of people.
It has ordered 30 million doses from AstraZeneca, and the first batch of 117,600 doses arrived in HCMC last week and will be given to people working on the front lines like medical workers, contact tracers, and officials on Covid-19 prevention and control committees, Vnexpress reported.
The government has said it is stepping up negotiations with vaccine manufacturers in the U.S., Russia, and some other countries to ensure it could get a total of 150 million doses this year to cover 70 percent of its population.
Vietnam has recorded 2,488 Covid-19 cases so far. The total number of recoveries to 1,920, while the death toll remains at 35.
Among patients still under treatment, 65 have tested negative for SARS-CoV-2 once, 57 twice and 137 thrice. More than 51,570 people who had close contact with COVID-19 patients or arrived from pandemic-affected areas are being quarantined across the country.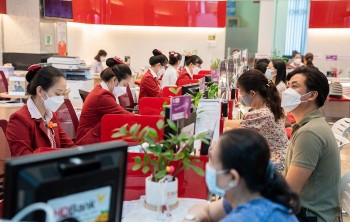 Economy
Vietnam Business & Weather Briefing (August 12): Air passengers reach a record number in July, seafood exports expected to reach 3 billion USD in Q3