The Best Movies To Watch For A 2022 New Year
Nothing is greater than starting a new year with an awesome movie with your loved ones and family, from romantic to thriller and comedy.
Spending New Year's at home can still be fun, festive and entertaining. Despite the Covid-19 pandemic, the Hollywood and entertainment companies still produce the best blockbusters that have the highest box offices ever. Some of these movies actively explore universal New Year's themes like fresh starts and persevering through tough times and some of these films simply aim to entertain. Here are the best movies to watch for a 2022 New Year.
1. The Apartment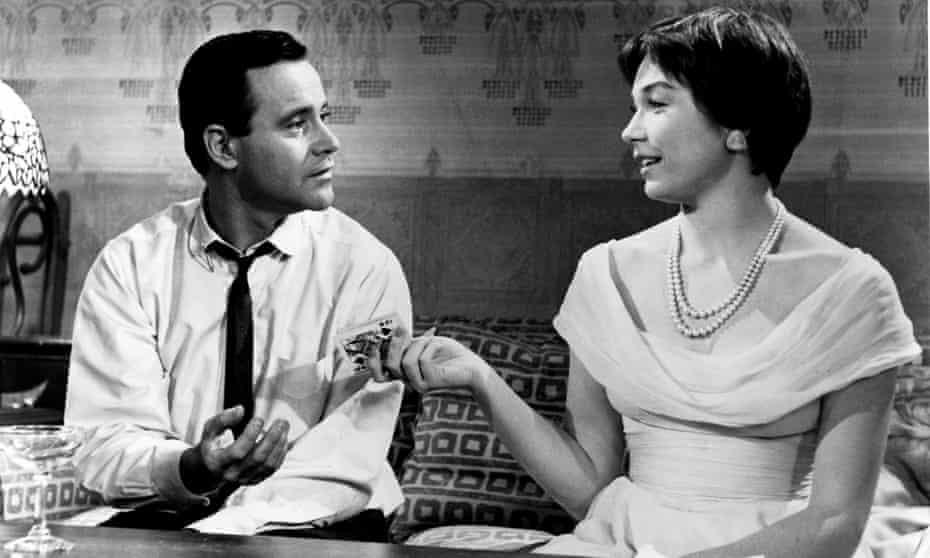 Photograph: Allstar/United Artists
Imdb score: 8.3/10
The Apartment is a 1960 American romantic comedy film directed and produced by Billy Wilder from a screenplay he co-wrote with I. A. L. Diamond. It stars Jack Lemmon, Shirley MacLaine, Fred MacMurray, Ray Walston, Jack Kruschen, David Lewis, Willard Waterman, David White, Hope Holiday and Edie Adams.
The film follows an insurance clerk (Lemmon), who in the hope of climbing the corporate ladder, lets more senior coworkers use his Upper West Side apartment to conduct extramarital affairs. He is attracted to an elevator operator (MacLaine) in his office building. He does not know she is having an affair with his immediate boss (MacMurray).
The Apartment was distributed by United Artists to critical and commercial success, despite controversy owing to its subject matter. It became the 8th highest grossing film of 1960. At the 33rd Academy Awards, the film was nominated for ten awards, and won five, including Best Picture, Best Director and Best Screenplay. Lemmon, MacLaine and Kruschen were Oscar-nominated. Lemmon and MacLaine won Golden Globe Awards for their performances. It provided the basis for Promises, Promises, a 1968 Broadway musical by Burt Bacharach, Hal David and Neil Simon.
2. When Harry Met Sally (1989)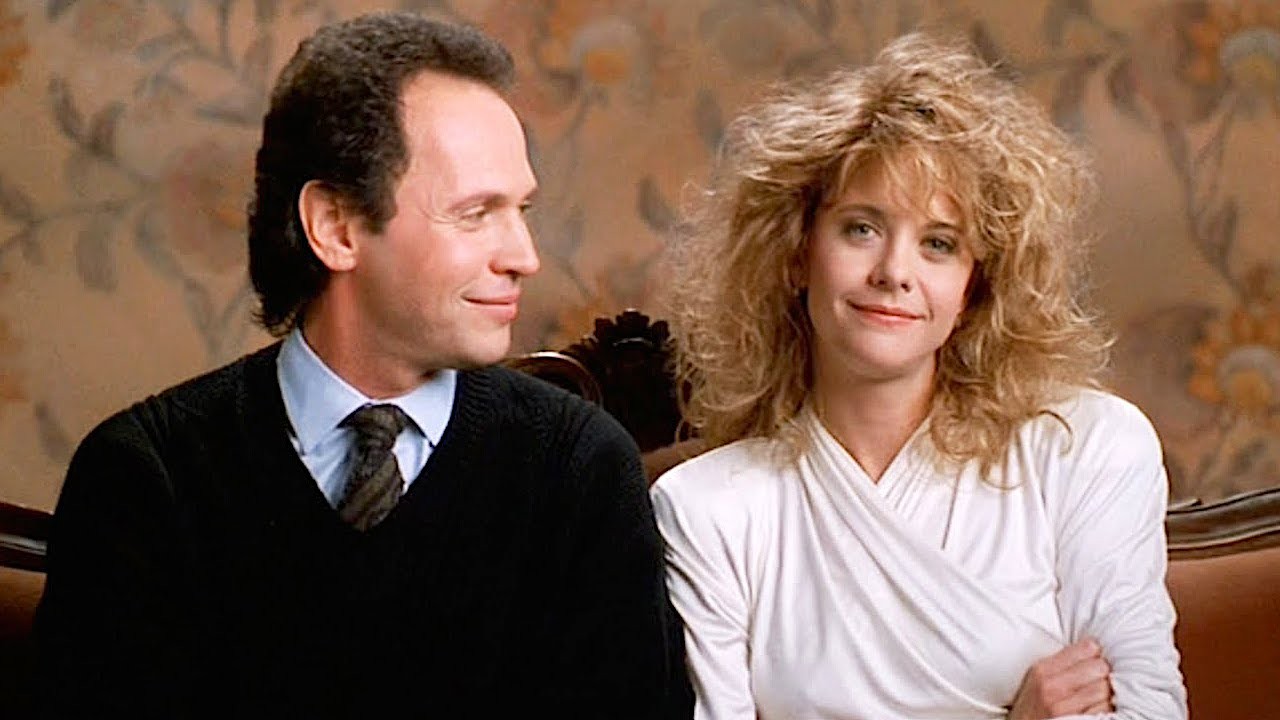 Photo: Columbia Pictures
Imdb score: 7.6/10
When Harry Met Sally... is a 1989 American romantic comedy film written by Nora Ephron and directed by Rob Reiner. It stars Billy Crystal as Harry and Meg Ryan as Sally. The story follows the title characters from the time they meet in Chicago just before sharing a cross-country drive, through twelve years of chance encounters in New York City. The film addresses but fails to resolve questions along the lines of "Can men and women ever just be friends?"
Ideas for the film began when Rob Reiner divorced from Penny Marshall. An interview Ephron conducted with Reiner provided the basis for Harry. Sally was based on Ephron and some of her friends. Crystal came on board and made his own contributions to the screenplay, making Harry funnier. Ephron supplied the structure of the film with much of the dialogue based on the real-life friendship between Reiner and Crystal. The soundtrack consists of sparkling standards from Harry Connick Jr., with a big band and orchestra arranged by Marc Shaiman. For his work on the soundtrack, Connick won his first Grammy Award for Best Jazz Male Vocal Performance.
3. Fruitvale Station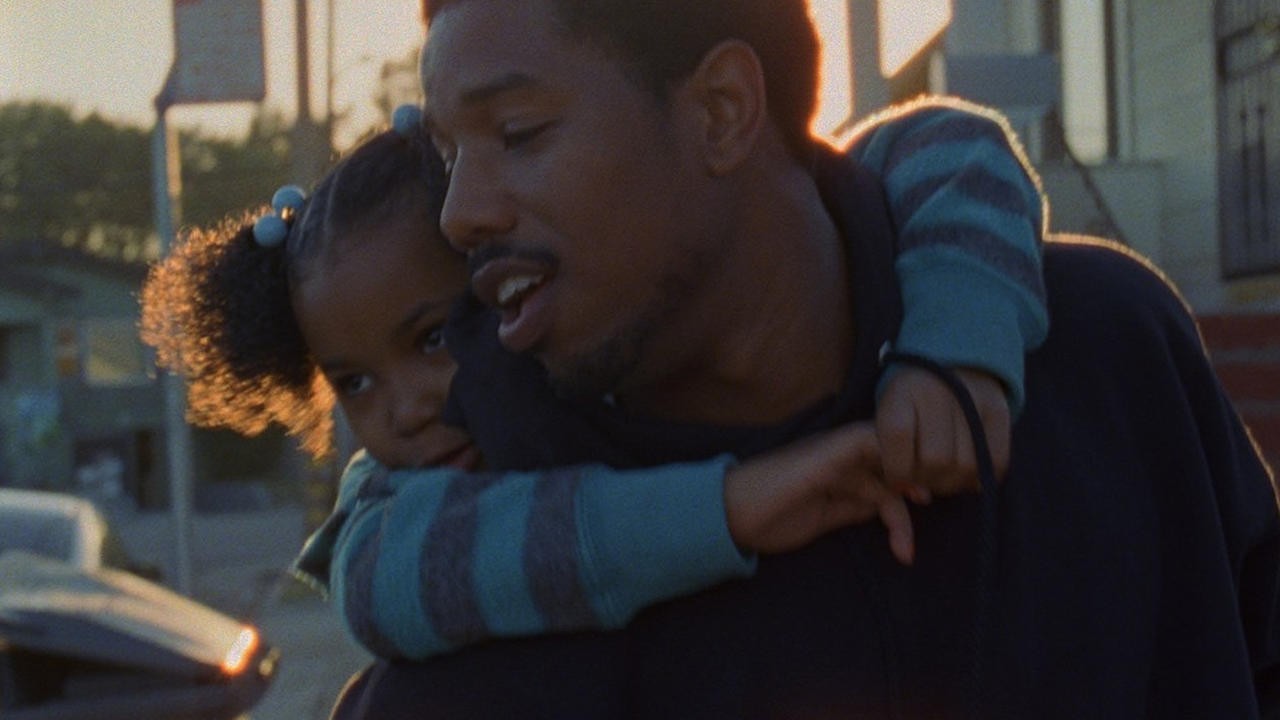 Photo: MUBI
Imdb score: 7.5/10
Fruitvale Station, directed by Ryan Coogler, portrays the last day in the life of Oscar Grant, a 22-year-old who was shot and killed by a Bay Area Rapid Transit (BART) police officer named Johannes Mehserle in Oakland early on New Year's Day in 2009. The film eschews the incident's considerable aftermath—protests, trials, and so on—and focuses on Grant himself, played by Michael B. Jordan, and the details of that day. But given what happened to Grant, and the angry debates that followed, those details are fraught with emotional and political resonance. Viewers are likely to leave the film asking, "Is that what really happened?" This is perhaps even more the case given that some moments seem almost too poignant to be true: Grant spends much of the film preparing for his mother's birthday celebration; at one point, he befriends a stray dog
Coogler worked closely with public records, news stories, and Grant's family to piece together the events he put on film, and most of what we see is true to those events insofar as we can be sure of them. The film does take creative license with a few minor characters and scenes, however—and the names of some key players (mostly, those apart from Grant who were present at the shooting) are changed, according to Slate.
Fruitvale Station debuted under its original title, Fruitvale, at the 2013 Sundance Film Festival, where it won the Grand Jury Prize and the Audience Award for U.S. dramatic film. It was screened in the Un Certain Regard section at the 2013 Cannes Film Festival, where it won the award for Best First Film. It was released in theaters on July 12, 2013.
4. Waiting to Exhale (1995)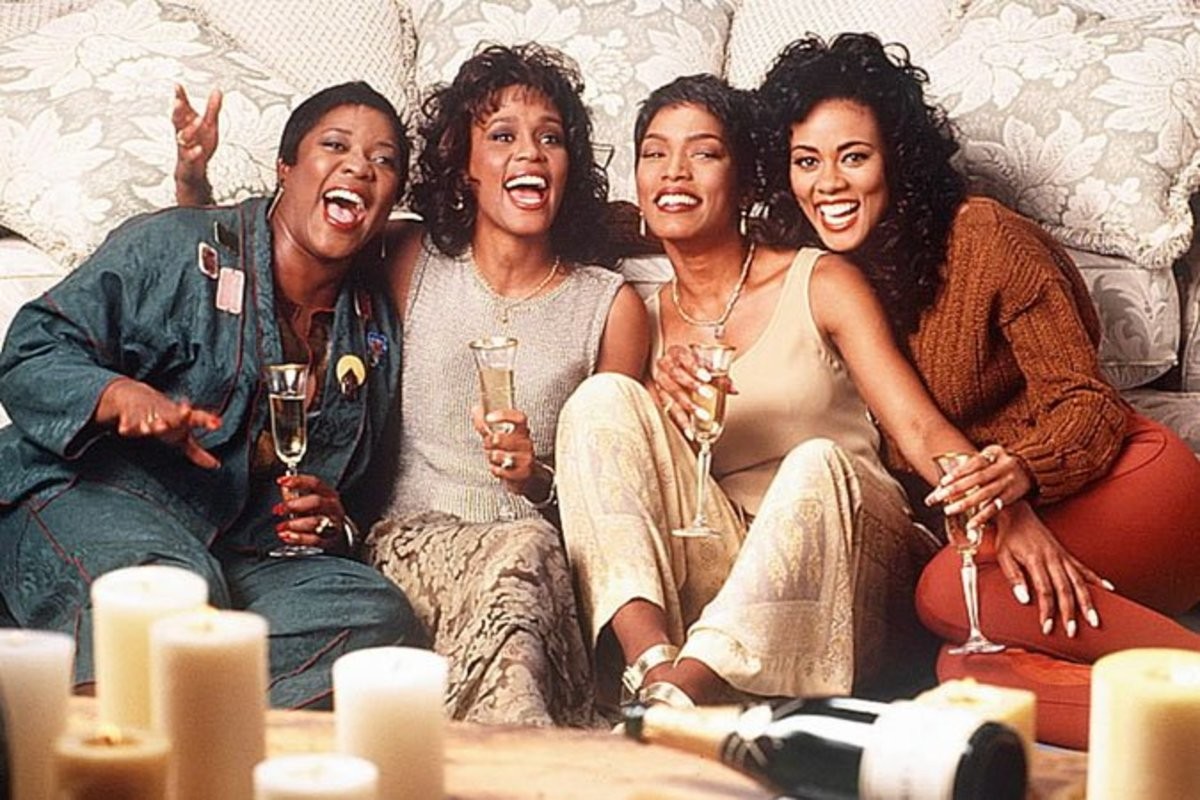 Photo: 20th Century
Imdb score: 6/10
Waiting to Exhale is a 1995 American romance film directed by Forest Whitaker (in his feature film directorial debut) and starring Whitney Houston and Angela Bassett. The film was adapted from the 1992 novel of the same name by Terry McMillan. Lela Rochon, Loretta Devine, Dennis Haysbert, Michael Beach, Gregory Hines, Donald Faison, and Mykelti Williamson rounded out the rest of the cast. The original music score was composed by Kenneth "Babyface" Edmonds. The story centers on four women living in the Phoenix, Arizona area and their relationships with men and one another. All of them are "holding their breath" until the day they can feel comfortable in a committed relationship with a man.
Waiting to Exhale was a financial success, opening at number one at the North American box office and grossing $14.1 million its first weekend of release. In total, the film grossed $67.05 million in North America, and $14.4 million internationally, for a total worldwide gross of $81.45 million. Its widest release was just over 1,400 theatres, and it was the 26th highest-grossing film of 1995.
5. Sunset Blvd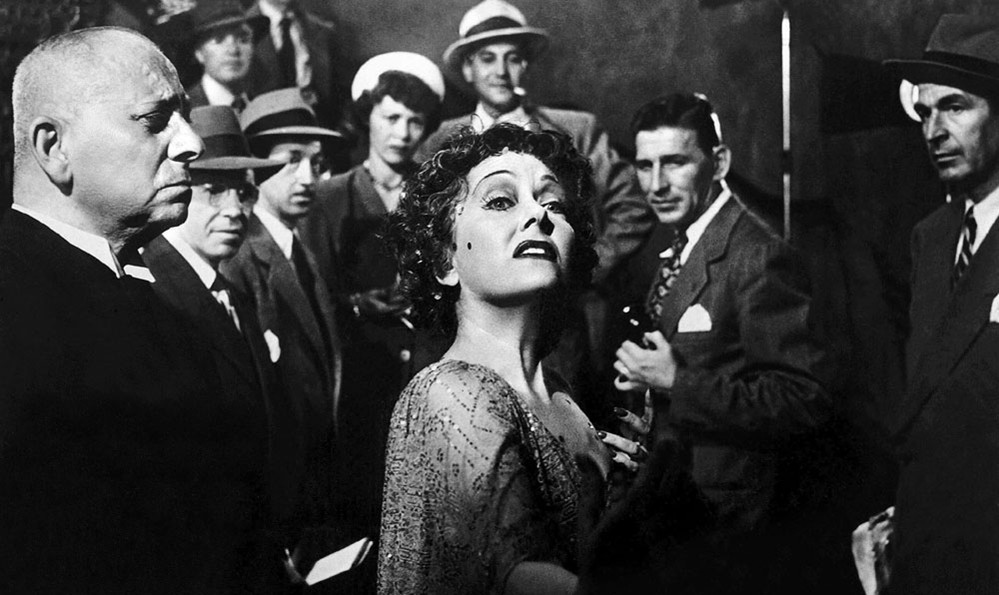 Photo: Paramount Pictures
Imdb score: 8.4/10
Sunset Boulevard is a 1950 American black comedy film noir directed and co-written by Billy Wilder, and produced and co-written by Charles Brackett. It was named after a major street that runs through Hollywood, the center of the American movie industry.
The film stars William Holden as Joe Gillis, a struggling screenwriter, and Gloria Swanson as Norma Desmond, a former silent-film star who draws him into her demented fantasy world, where she dreams of making a triumphant return to the screen. Erich von Stroheim plays Max von Mayerling, her devoted butler, and Nancy Olson, Jack Webb, Lloyd Gough, and Fred Clark appear in supporting roles. Director Cecil B. DeMille and gossip columnist Hedda Hopper play themselves, and the film includes cameo appearances by leading silent-film actors Buster Keaton, H. B. Warner, and Anna Q. Nilsson.
Praised by many critics when first released, Sunset Boulevard was nominated for 11 Academy Awards (including nominations in all four acting categories) and won three. It is often ranked among the greatest movies ever made. As it was deemed "culturally, historically, or aesthetically significant" by the U.S. Library of Congress in 1989, Sunset Boulevard was included in the first group of films selected for preservation in the National Film Registry. In 1998, it was ranked number 12 on the American Film Institute's list of the 100 best American films of the 20th century, and in 2007, it was 16th on their 10th Anniversary list.
6. About a Boy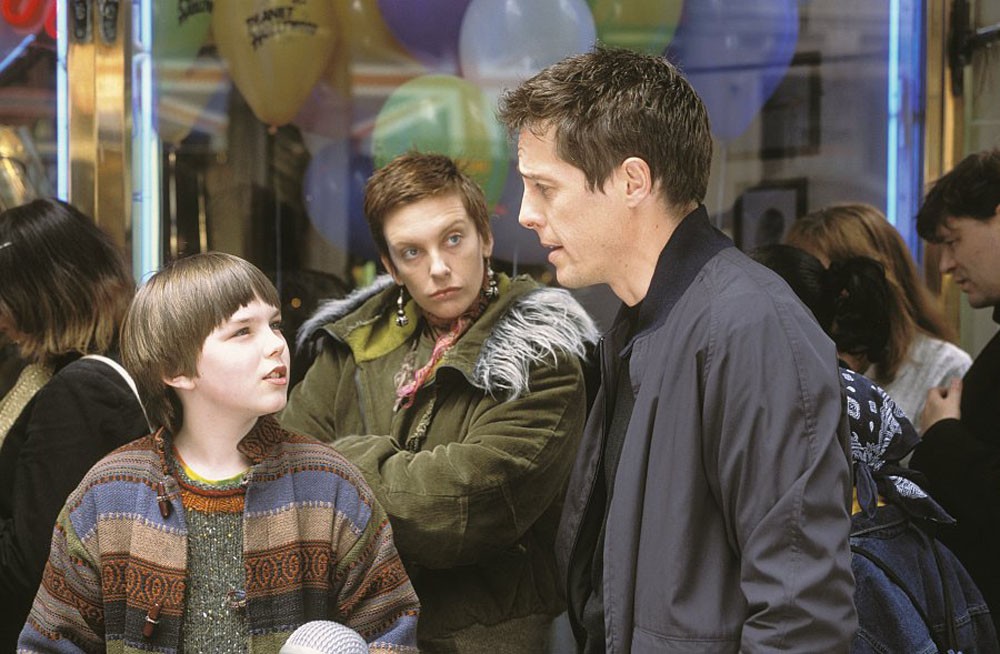 Photo: Roger Ebert
Imdb score: 7.1/10
About a Boy is a 2002 romantic comedy-drama film directed by Paul Weitz and Chris Weitz, who co-wrote the screenplay with Peter Hedges. It is an adaptation of the 1998 novel of the same name by Nick Hornby. The film stars Hugh Grant, Nicholas Hoult, Toni Collette, and Rachel Weisz. The film at times uses double voice-over narration, when the audience hears alternately Will's and Marcus's thoughts.
The film was theatrically released on 26 April 2002 by Universal Pictures. It was nominated for an Academy Award for Best Adapted Screenplay. Actors Hugh Grant and Toni Collette were nominated for a Golden Globe and a BAFTA Award, respectively, for their performances. The film received positive reviews from critics and earned $130.5 million against a $30 million budget.
The heart of the movie involves the relationship between Will and Marcus--who begins by shadowing Will, finds out there is no "Ned," and ends by coming over on a regular basis to watch TV. Will has had nothing but trouble with his fictional child, and now finds that a real child is an unwieldy addition to the bachelor life. Nor is Fiona a dating possibility. Marcus tried fixing them up, but they're obviously not intended for each another--not Will with his cool bachelor aura and Fiona with her Goodwill hippie look and her "health bread," which is so inedible that little Marcus barely has the strength to tear a bite from the loaf. (There is an unfortunate incident in the park when Marcus attempts to throw the loaf into a pond to feed the ducks, and kills one.) Will finds to his horror that authentic emotions are forming. He likes Marcus. He doesn't admit this for a long time, but he's a good enough bloke to buy Marcus a pair of trendy sneakers, and to advise Fiona that since Marcus is already mocked at school, it is a bad idea, by definition, for him to sing "Killing Me Softly" at a school assembly. Meanwhile, Will starts dating Rachel (Rachel Weisz), who turns out to be a much nicer woman than he deserves (she also has a son much nastier than she deserves).
7. Trading Places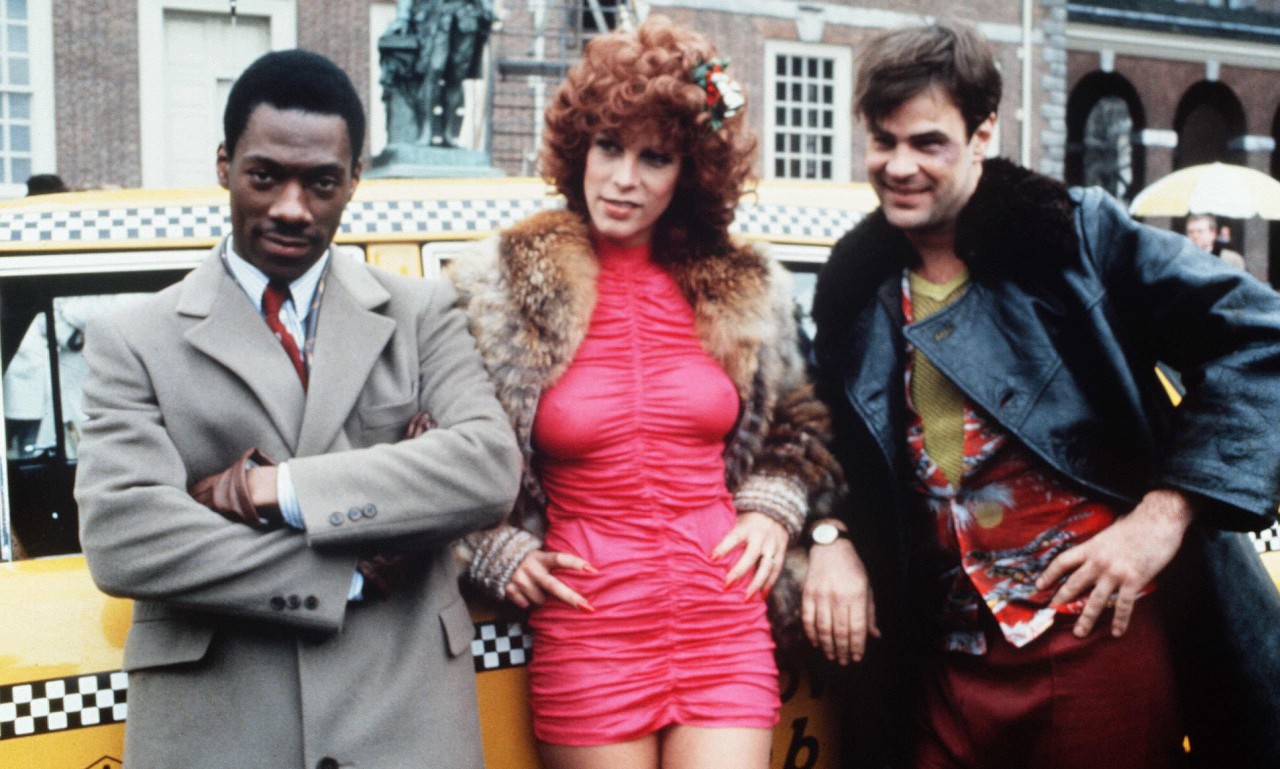 Photo: Shutterstock
Imdb score: 7.5/10
Trading Places is a 1983 American comedy film directed by John Landis and written by Timothy Harris and Herschel Weingrod. It stars Dan Aykroyd, Eddie Murphy, Ralph Bellamy, Don Ameche, Denholm Elliott, and Jamie Lee Curtis. The film tells the story of an upper-class commodities broker (Aykroyd) and a poor street hustler (Murphy) whose lives cross when they are unwittingly made the subject of an elaborate bet to test how each man will perform when their life circumstances are swapped.
Trading Places was considered a box-office success on its release, earning over $90.4 million to become the fourth-highest-grossing film of 1983 in the United States and Canada, and $120.6 million worldwide. It also received generally positive reviews. Reviewers were consistent in their praise for the central cast, and they appreciated the film's revival of the screwball comedy genre prevalent in the 1930s and 1940s. Criticism focused on the film lacking the same moral message of the genre while promoting the accumulation of wealth. It received multiple award nominations including an Academy Award for Bernstein's score and won two BAFTA awards for Elliott and Curtis. The film launched or revitalized the careers of its main cast, who each appeared in several other films throughout the 1980s. In particular, Murphy became one of the highest-paid and most sought after comedians in Hollywood.
In the years since its release, the film has been reassessed in positive and negative terms. It has been praised as one of the greatest comedy films and Christmas films ever made, but retrospective assessments have criticized its use of racial jokes and language. In 2010, the film was referenced in Congressional testimony concerning the reform of the commodities trading market designed to prevent the insider trading demonstrated in Trading Places. In 1988, Bellamy and Ameche reprised their characters for Murphy's comedy film Coming to America.
Top 8 Best Movies of 2021

From romance, blockbusters to thrilling dramas, these movies made a huge impression on the audience in front of the big screens and are some of ...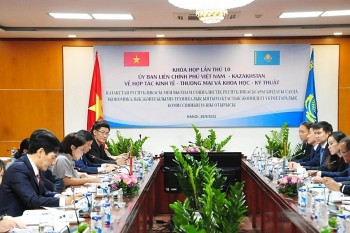 Friendship
The 10th session of the Vietnam-Kazakhstan Intergovernmental Committee on economic-trade and scientific-technical cooperation was held in Hanoi on September 26.