The Challenge that Long-distance Drivers Face When Driving at Night
Long-distance drivers often face pressure when they have to drive at night, challenging their concentration to ensure safety. How do they overcome this pressure, especially the feeling of drowsiness when driving through the night?
As night falls, when everyone sleeps peacefully, drivers start their journey. For long-distance drivers who go all the way to transport goods or services, pick up and drop off guests in provinces and cities, the night journey has gradually become familiar. They seem to have no concept of day or night. Their biological clocks turn upside down with each ride. Night time seems to become their official work hours.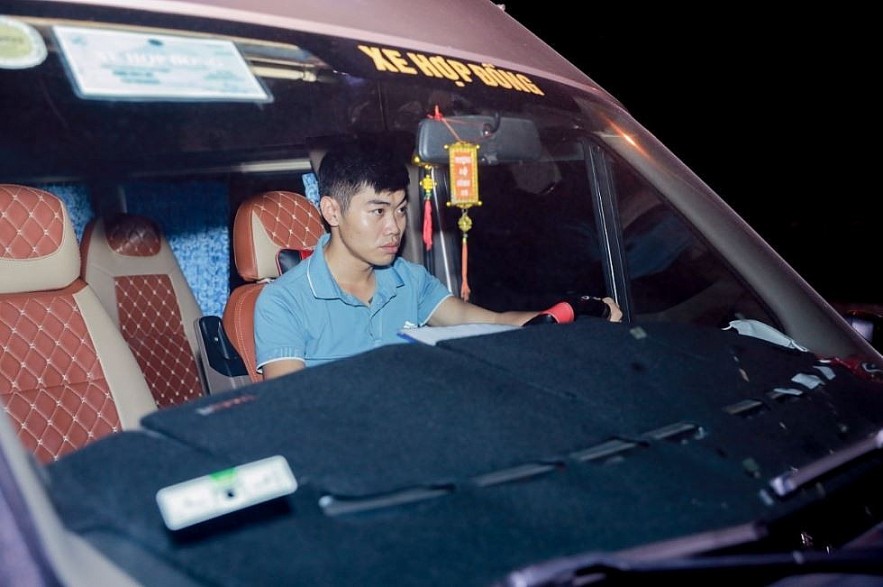 Long-distance drivers often have to drive through the night.
Many drivers say that their short round trips usually last 2-3 days, and the longer ones last 8-10 days. The cabin seems to have become their second home. Though the trips usually have planned routes and required arrival times, they are not always as favorable as planned. During the day, the roads are crowded, making cars move slowly, not to mention they have to stop to pick up/ drop off passengers or load and unload goods. At night, the traffic is usually lighter, so drivers often choose to increase the speed to shorten the travel time. However, this is an extremely challenging time frame for driving.
A breakdown in the middle of an empty road or a collision with a car that passes recklessly, though against any driver's wish, is inevitable on every journey. At night, the roads are dark, limiting vision and increasing the risk of accidents. Without high concentration and readiness to deal with unexpected situations, drivers face difficulty to ensure the safety of the whole trip.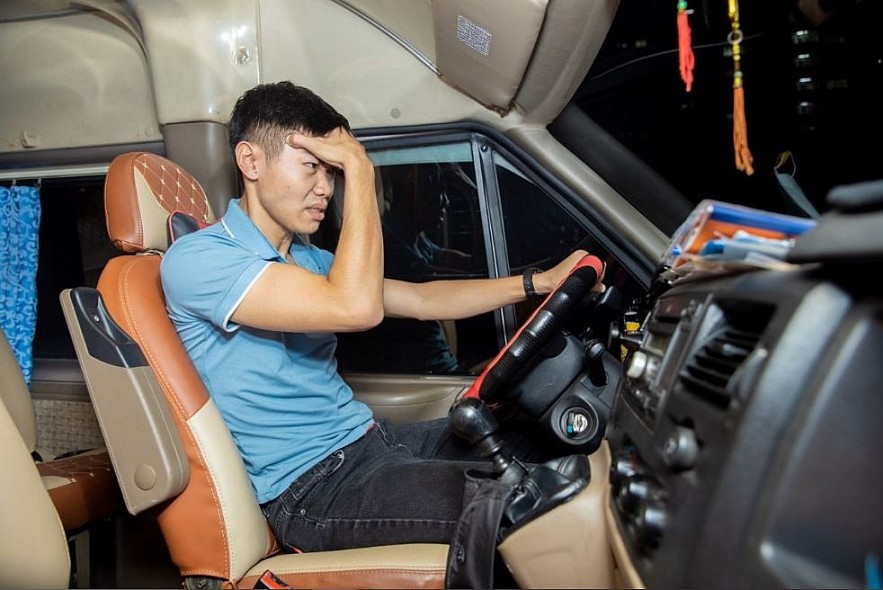 Sleepiness at night is a big challenge for many drivers.
With nearly five years of driving a passenger car on the North-South route, Nguyen Hung (30 years old) is aware of the many dangers of driving at night.
"Billions of situations that can happen when driving. You could be a good driver but you could also meet all kinds of people on the road. It is critical to always focus on observing. When I'm holding the wheel, my priority is the safety of the passengers."
Driving long distances is inherently challenging, and maintaining high concentration to ensure safety against time barriers is even more difficult. Due to the dark and quiet roads at night, sleepiness could easily knock down the driver's alertness at any time. To stay a long time in their jobs, long-distance drivers need to 'equip' themselves with skills to handle unexpected incidents. They also need to improve their health and find ways to maintain a high level of concentration before each trip.
"The biggest and most dangerous difficulty for drivers is sleepiness. Drowsiness can knock down drivers' ability to concentrate at any time," said Hung. When he was new to the job, he had to listen to upbeat music all the way. Sometimes he had to stop at a station to rest, wash his face then continued to drive. However, those methods could only keep him awake for about 2-3 hours. After that, sleepiness quickly came, making it extremely difficult for him to control the wheel. He even considered quitting his job because he had to suffer too long nights on the road.
Fortunately, Hung has some advice. "Keeping good health is the most important. Before each long trip, I take as much time as I could to rest. I also prepare beverages to help maintain alertness, putting them in the care to fight drowsiness. Each driver has his own tips. Many of my colleagues and I choose Number 1 Energy Drink because the product provides strength and instant alertness and it helps maintain concentration through the night. More than five years working as a driver, I still trust and use this product."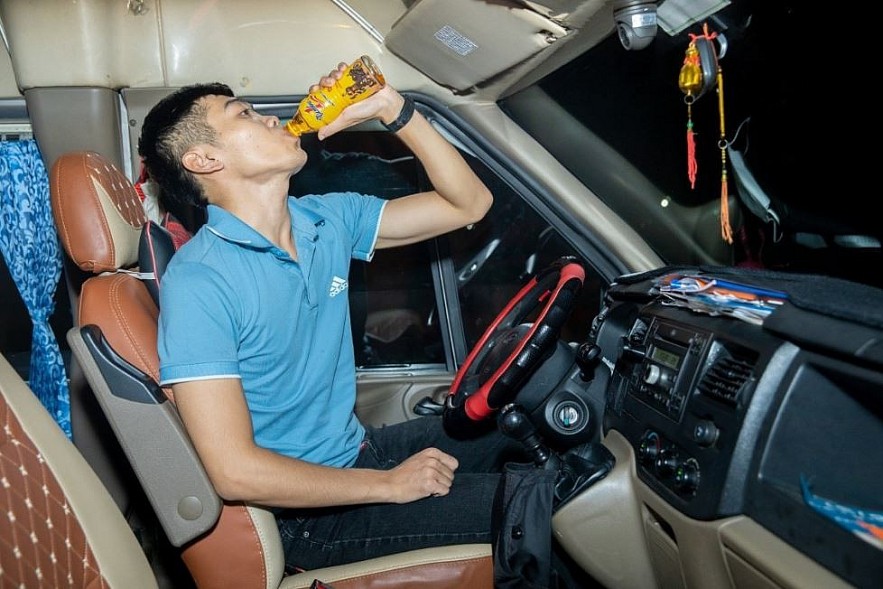 Number 1 energy drink is trusted by many drivers to maintain focus when driving at night.
Having to drive hundreds or even thousands of kilometers across the country, drivers face many challenges that only insiders could understand. However, many still stay in the business, chasing a future in front of their wheel with a great deal of courage. Energy and alertness supplements such as Number 1 Energy Drink gradually become a companion for them on every trip to overcome the challenge of sleepiness.
Number 1 Energy Drink is a popular beverage on the market. This product is the secret to immediately awakening alertness and increasing strength for employees, thereby helping them achieve high efficiency at work. For occupations that have working hours unparallel to the body's circadian rhythms such as drivers and security guards, using a complementary beverage such as Number 1 is the perfect choice to maintain concentration to ensure the best performance.