The Lucky Couples Who Became Closer During the Pandemic
The Covid-19 pandemic has disrupted millions of people's lives. Yet, it has also made it easier for some to marry the love of their lives.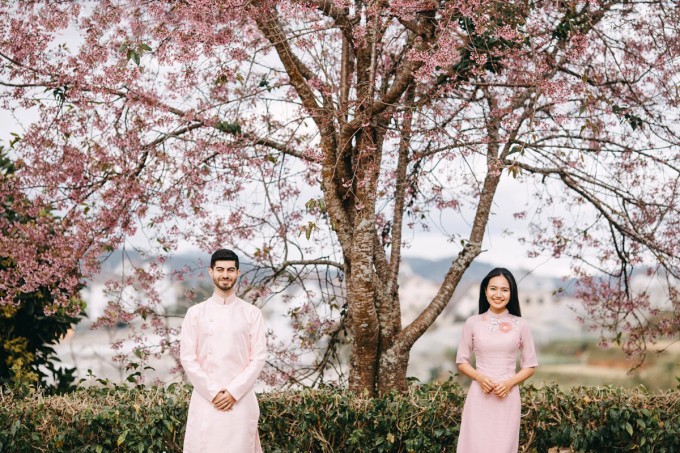 Evan Farfan and Thuy Tien. Photo via VNE
Evan Farfan, a 27-year-old American first met his Vietnamese girlfriend Thuy Tien, 23, in an online class on February 2020 when the coronavirus was ravaging Brooklyn, New York where Evan lives. They joined the virtual class to exchange language.
Farfan gradually fell for the Vietnamese girl after spending time together on the Internet. "I've never felt this strong for any girl until I met Tien," he said in an interview with VNE. "I confessed to her a dozen times but all I got was a No."
Still, the young man didn't give up. On June 13, he confessed his love to Tien again. At first, he spoke in Vietnamese then switched to English and burst into tears. He finally got a "Yes" from the girl who, at that time, was thousands of kilometers away and had never met him in person.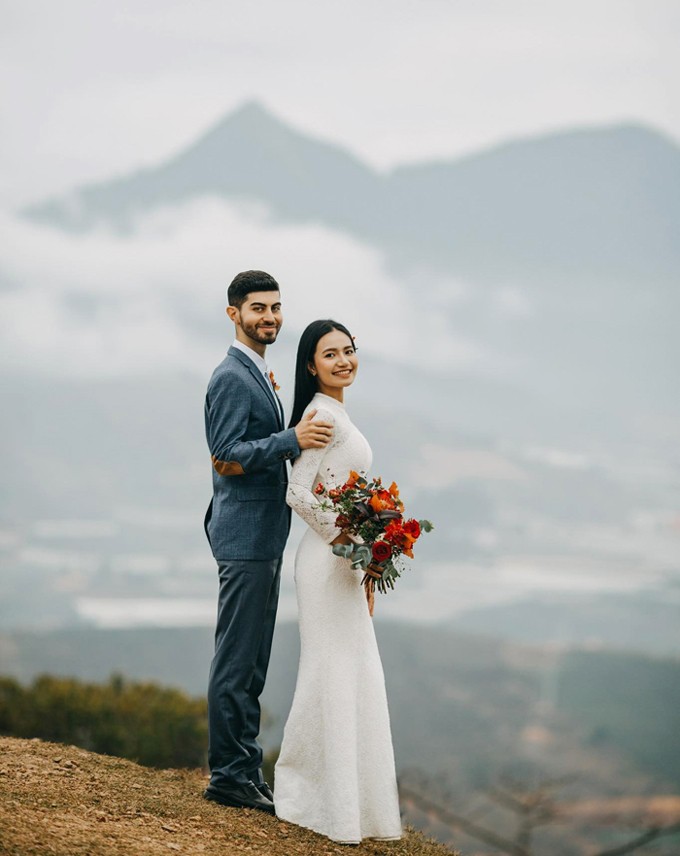 The couple looking happy in wedding attire. Photo via VNE
Farfan was able to fly from the US to Vietnam in November 2020 after many failed bookings due to Covid-related travel restrictions.
"My mom cried a lot the day I moved to Vietnam. That was the first time I had headed to such a far place," he said. "But I was not hesitant to move to Vietnam."
The American is now Tien's husband and has been living with Tien and her family in HCMC's Binh Thanh district since they were married. After work, Evan and Tien take care of stranded pets, and prepare free meals for needy people. Farfan also enjoys gardening with his father-in-law and telling jokes to his mother-in-law.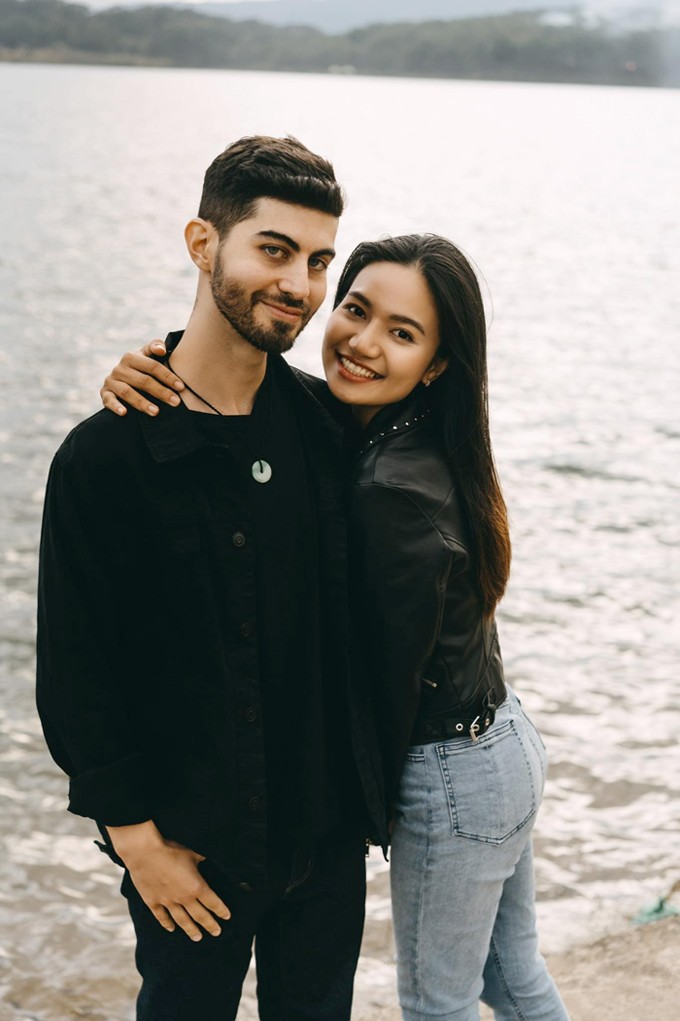 Photo via VNE
Meanwhile, Nguyen Thanh Ngoc, 28, met Hang Thi Su, 26, through a matchmaker. Ngoc is a Saigonese photographer cum chef working in tourist destinations while Su is a famous tour guide in Lai Chau's popular visiting site Sin Suoi Ho of northern Vietnam. The couple fell for each other one year after they first met.
On April 30, Ngoc traveled to Sin Suoi Ho to meet his girlfriend but got stuck due to the sudden coronavirus outbreak. He had the opportunity to mingle with locals and their traditional lifestyle, from doing farm work to erecting houses, and preparing and trying ethnic people's foods.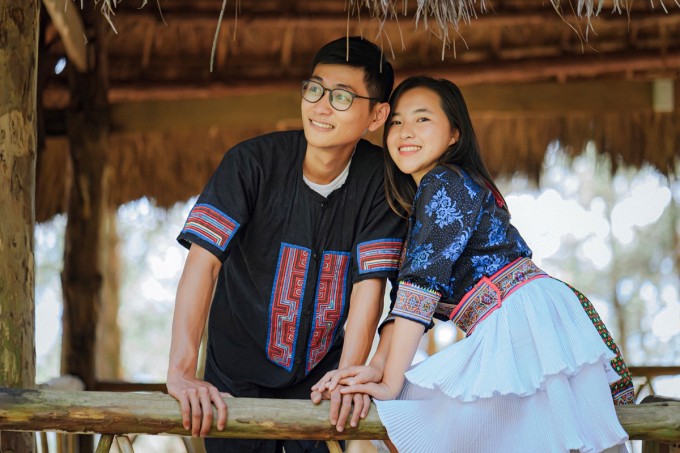 Nguyen Thanh Ngoc and his wife Hang Thi Su. Photo via VNE
In August, Ngoc and Su worked together in a film project named "Nói không với ma túy" (Say No to Drugs), which recreated a dark period in Sin Suoi Ho when a "drugs pandemic" struck the area and devastated many families.
The film project later won second prize at the Youth with Socio-cultural issues Contest hosted by Lai Chau province.
"I grew more attached to this land and Su. I decided to stay here to run a photography, coffee and homestay service with my girlfriend," Ngoc said.
In late September, a dreamlike wedding for the couple took place amid the gorgeous beauty of Sin Suoi Ho. Images of their wedding went viral across Northwest tourist forums and it was named the "most beautiful highland wedding of the year."
Vinh Dang was in quite a similar situation to Ngoc. The man from Ben Tre province, southern Vietnam, was stranded in the northern province of My Duc during a visit to his girlfriend's family in May.
At his future family's home, Dang joined Huyen's father doing gardening and caring for goats. With a knack for cooking, Dang treated Huyen's family with Western dishes to those belonging to the Mekong Delta where he was born and raised such as Kho quet and Nom bap chuoi.
"Those were the most peaceful days in my life. I felt like I was vacationing at a resort for Japanese seniors," the 31-year-old said.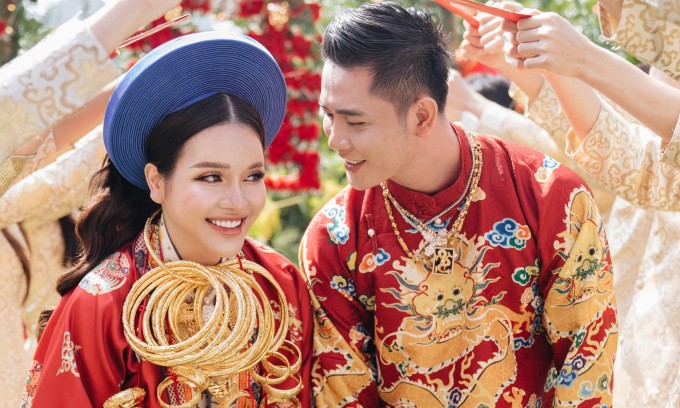 Vinh Dang and Huyen at their wedding. Photo via VNE
During those "stay-where-you-are" days under the government's order, Dang and Huyen also ran a beauty salon and real estate businesses.
The couple's wedding was held near Huong Temple, a famous place in Vietnam, though the groom's family couldn't attend.
Dang's mother reportedly sent VND 20 billion (nearly US$880,000) to prepare wedding gifts for the bride. Huyen's family also bought the newlyweds a house worth VND 16 billion (over US$701,000) together with other valuable presents.
Two months after the wedding, Dang said he and his wife were busy running their business in Hanoi. They plan to hold another wedding celebration with the attendance of both families, relatives, and friends once the pandemic is under control.
Expats Keep Guard Up Against Covid-19

Foreigners living in Vietnam, though glad that authorities and most people act carefully, remain very watchful against Covid-19 and admittedly a bit worried