The Luxurious New Floating Palace Will Be Opened In Dubai In 2023
The first floating hotel, "Kempinski Floating Palace", will be opened in Dubai in 2023, with the most luxurious services, facilities and bring a whole new experience for the visitors.
For the first time in Dubai, a luxury hotel will operate as a floating building around which 12 other floating luxury villas are grouped with the possibility to sail to other anchorages at times. Anchored next to one of the most exclusive beach stretches in Dubai on Jumeirah Beach Road, guests of Kempinski Floating Palace are brought to the 156-room-and-suite hotel or their villas by speed boat or arrive directly with their own boats. Moreover, there is also a connected floating helipad next to a yacht parking deck for up to 16 yachts.
The first 'luxury houseboats'
Photo: Kempinski Hotels
Set to open in 2023, the new Kempinski Floating Palace is anchored next to one of the most exclusive beach stretches in Dubai on Jumeirah Beach Road. The resort consists of a main floating building with 156 rooms and suites. This building is surrounded by 12 exclusive villas that not only float, but can also be moved around to other anchorage points like a houseboat.
Described as 'luxury houseboats' by Swiss hotelier Kempinski, these villas will be connected to the central 156-room hotel by pontoons.
They will have a flat hull, feature a small cabin for crew accommodation and have a built-in engine. Guests can employ their own skipper to steer the villa or use one provided by the hotel.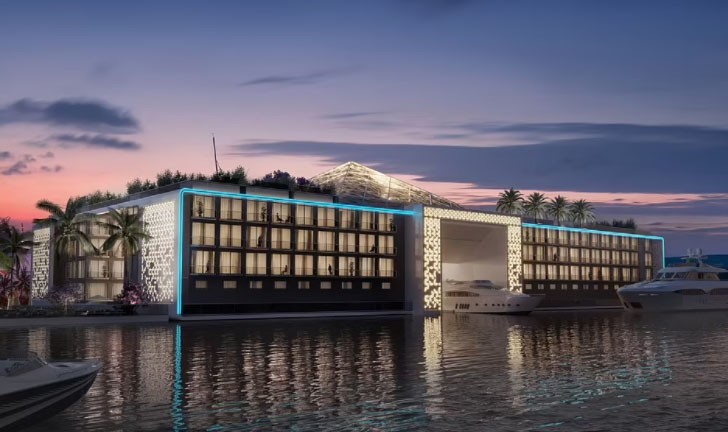 Photo: Kempinski Hotels
Conditions will dictate whether the villas will be able to anchor further afield - calm waters are required for setting sail. They cannot travel offshore and are not intended to be permanently anchored elsewhere.
Spread across two levels with a roof terrace and a private infinity pool, there will be a choice of two, three and four-bedroom Neptune accommodations. Huge floor-to-ceiling windows will ensure guests get the very best overwater views, and there will be indoor and outdoor living rooms, plus crew and staff rooms.
The furniture for the floating villas is being designed by luxury car company Aston Martin, the company said in November last year.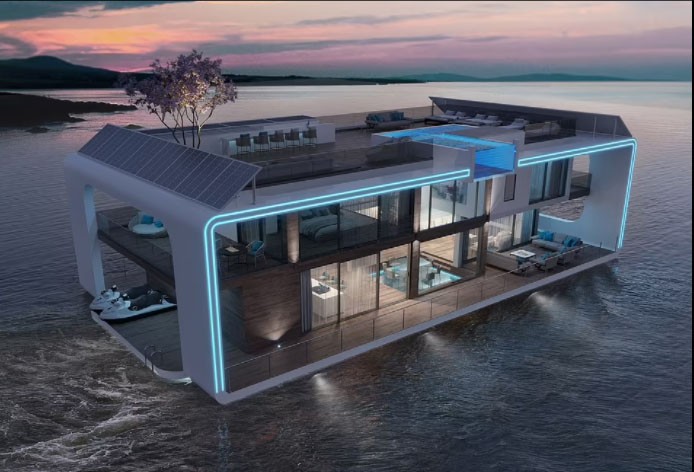 Photo: Kempinski Hotels
Cruising at a maximum speed of six nautical miles, the villas are equipped with solar panels and will use smart technology for wastewater treatment and air filtration, designed to be environmentally friendly. And if you love your stay so much you don't want to checkout, the Neptune villas are also for sale.
"We are delighted to be able to offer our guests in Dubai such a first experience from 2023 onwards, combining the destination's reputation as a high-tech city with the timeless European elegance of Kempinski Hotels", says Bernold Schroeder, chief executive of Kempinski Group.
"The highly innovative project by Seagate Shipyard convinces not only by its high-end technology, but also through impeccable style and design."
Environmentally friendly to customers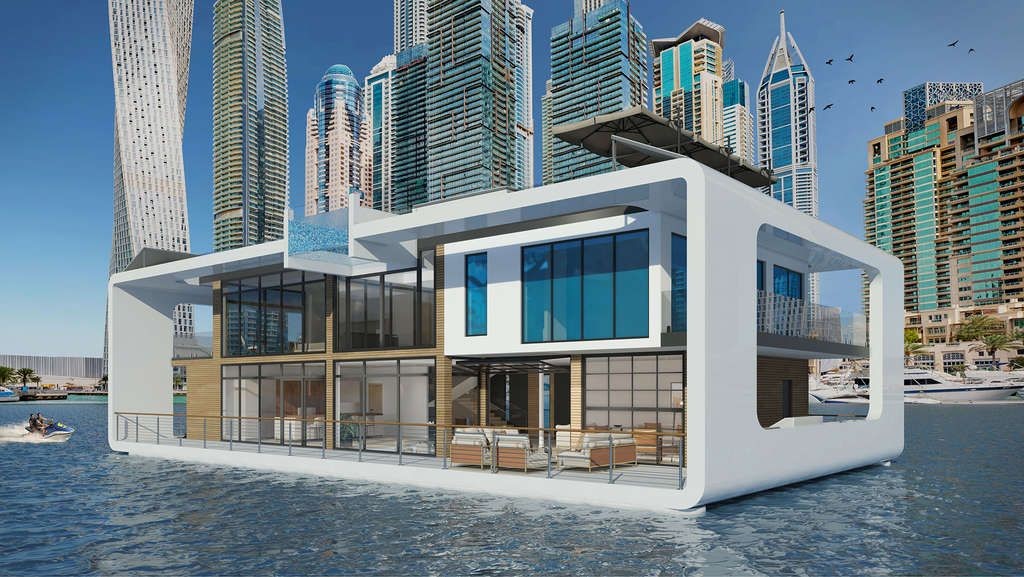 Photo: Kempinski Hotels
With two, three, and four-bedroom options, the villas also include staff quarters as well as indoor and outdoor living rooms. One of the coolest aspects of the villa is detaching from the dock and cruising at a maximum speed of 6 nautical miles, the villas are equipped with solar panels and are designed to be environmentally friendly.
Guests will enjoy the full service that Kempinski is famous for, including four exclusive gourmet restaurants, bars, gym, pools, and of course a massive spa.
This is not the only unusual luxury property that Kempinski runs in Dubai, they offer Ski Chalet Alpine rooms at its Mall of the Emirates property overlooking the artificial snowy slopes of Ski Dubai, and also the Italian villas at Kempinski Hotel and Residences Palm Jumeirah, according to Forbes.
Economic recovery through innovative infrastructure projects
Each Neptune villa offers indoor and outdoor living rooms, kitchens, a rooftop terrace and a private swimming pool. Photo: Kempinski Hotels
The floating resort isn't the first outrageous project being developed in Dubai. Famous for its innovative infrastructure projects, there are numerous artificial island projects on the horizon, including a massive entertainment resort known as Dubailand planned for 2025 despite constant delays.
Business is booming in Dubai, with hotels recording a 16.8% jump in occupancy as the tourism sector continues to recover. Due in large part to the opening of Expo 2020 and increased international visitation, the area is proving to be one of the most popular millennial destinations in the world.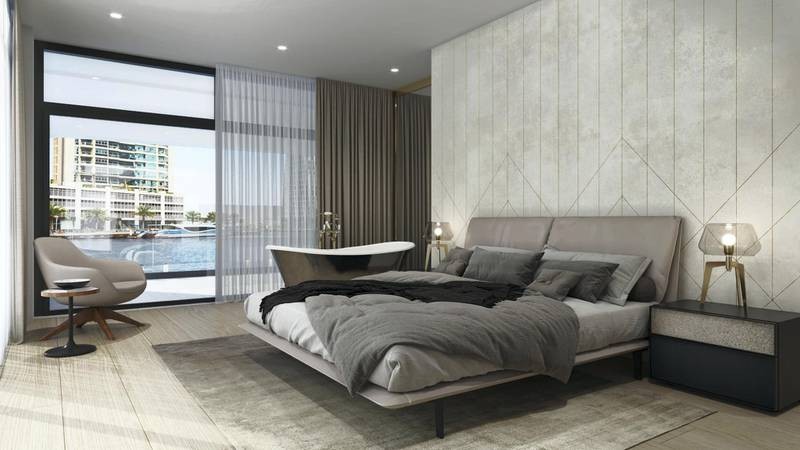 There will be two, three, and four-bedroom villas at the floating resort. Photo: Kempinski Hotels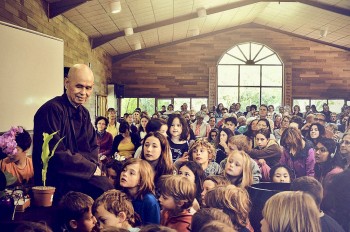 Viet's Home
The master of meditation "passed away peacefully" at the Tu Hieu Temple in Hue – where his spiritual journey began and Vietnam's Buddhist heartland, the Plum Village Community of Engaged Buddhism said.