A Luxurious Dream: The Most Expensive Hotels In The World
If you are looking for expensive and entirely different experiences of a luxurious life, these expensive hotels in the world will be your perfect choice if budget is not your problem.
If you want to know what it feels like to sleep in one of the most expensive hotel rooms in the world, these hotels will turn it into reality. You will feel like a Queen or King with the most lavish hotels in the world.
A hotel may be an establishment that provides paid accommodation on a short-term basis, but the level of comfort varies, and that is what distinguishes one from another. Some hotels are like heaven on earth with 'out of this world' facilities, situated at great locations. Here are the most expensive hotels in the world.
1. Soneva Jani, Maldives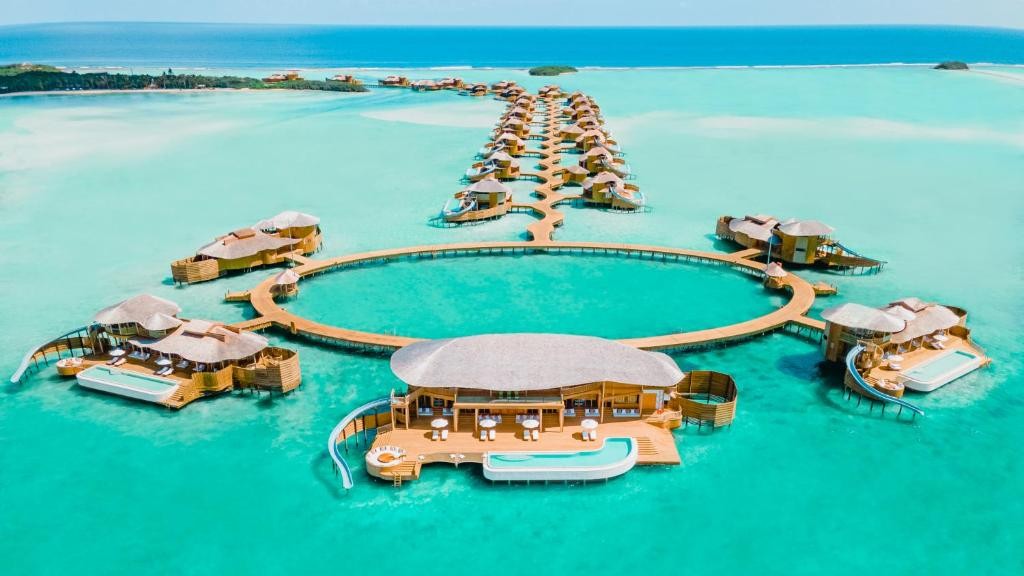 Photo: Booking
Soneva Jani is a Top Luxury Resort in Maldives, featuring Luxury Over Water Retreats and Residences with Slide. The resort can be reached by a scenic 40 minute seaplane flight direct from Malé International Airport, a 60 minute speedboat ride from Soneva Fushi, or by a leisurely halfday cruise from Soneva Fushi onboard Soneva in Aqua. Located in Edufaaru lagoon in Noonu Atoll, which comprises five islands. Soneva Jani at Medhufaru, is the largest and 150 acres in size.
Treat yourself with a unique 'castaway' experience within the spacious villas, which feature beautifully designed interiors made from the highest quality sustainable materials. A collection of Water Villas and Island Sanctuaries; Master bedrooms with the villa's retractable roof, a living area with sunken seats. Roof deck and a curved water slide delivering you directly to the lagoon below.
The highlight of the island is it's 5.6 kilometre private lagoon that surrounds it; an awe-inspiring azure spectacle that inspires a sense of calm at Soneva Jani Maldives.
Prices for a mid-tier suite in January 2022 start around $6,130 per night, though there is an all-inclusive option if you'd like to splurge further.
2. One&Only Gorilla's Nest, Rwanda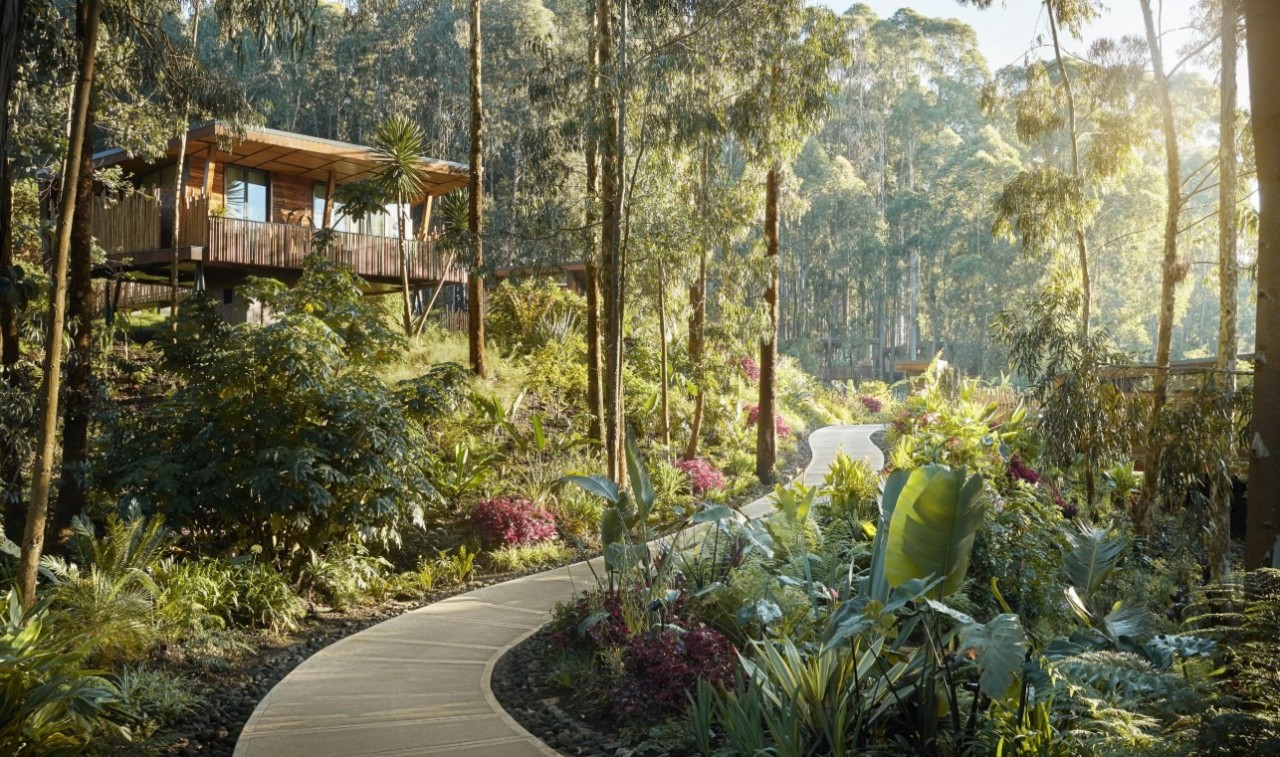 Photo: Vendom.jobs
Tiny Rwanda has gone unapologetically upmarket, with a raft of top-notch lodges and camps making it possible to do a circuit of game driving at Akagera National Park, chimpanzee tracking at Nyungwe Forest, and mountain-gorilla viewing at Volcanoes National Park, on the border with Uganda and the Democratic Republic of Congo. Here, Gorilla's Nest is the last of a trio of lodges in the foothills of the country's Virunga Mountains where the primatologist Dian Fossey worked—the much smaller Bisate from Wilderness Safaris and Kwitonda from Singita are nearby.
Known for its beach hotels, One&Only has been building a small portfolio of nature retreats. Gorilla's Nest is a five-hour drive or short helicopter trip from One&Only's Nyungwe House, where chimpanzee trekking is the main draw. Guests can now not only tick off both of the great apes with a two-stop trip, but also have plenty of other things to do in between—perhaps mountain biking and archery, or, for something more chilled out, basket weaving and coffee tasting.
The stilted wooden lodges incorporate local volcanic stone in the decor, which mixes a palette of browns with traditional black and white Rwandan imigongo prints (geometric patterns originally created from cow dung). Designed to draw the outside in, some rooms have bath tubs or showers on their wooden decks; others have baths looking onto the greenery that's so close it almost reaches out to tickle your face.
Prices for a mid-tier suite in January 2022 start around $6,000 per night. Do note that while the rate includes all meals and beverages, as well as two on-site activities, it doesn't include a gorilla trekking permit, which currently costs $1,500 per person.
3. Ho'olei at Grand Wailea, A Waldorf Astoria Resort, Hawaii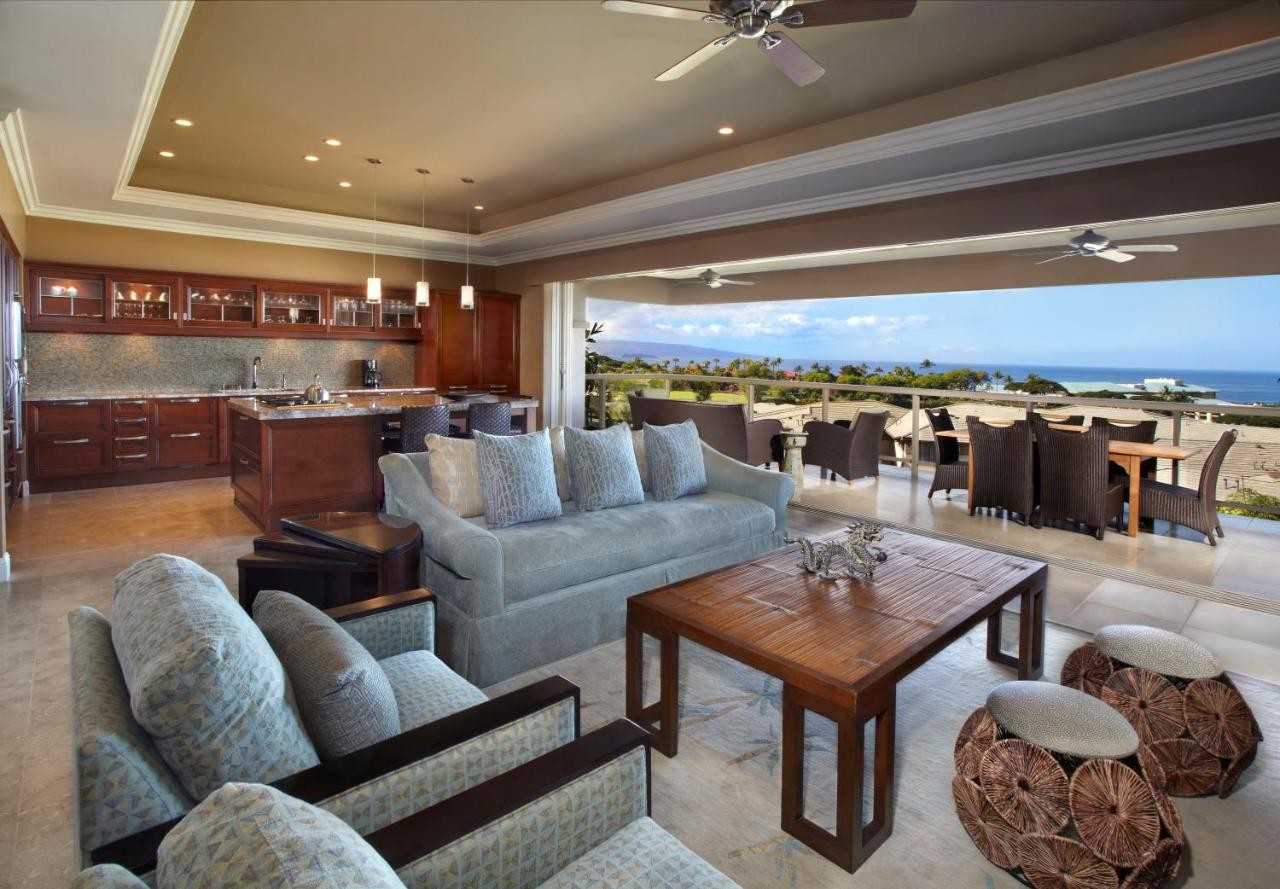 Photo: Booking.com
Settle in with family and friends in one of our opulent three-bedroom Ho'olei Villas, which provide stunning tropical and ocean views from their secluded mountainside perch. Relax together in the spacious living area, prepare home-cooked gourmet meals in the luxury kitchen, and take in the Maui sunset from your private lanai before retiring to the comfort of your own bedroom. Ensconced in a gated community adjacent to the resort, each of these villas provides a tranquil, exclusive retreat while also offering full access to all resort amenities.
Waldorf Astoria Hotels and Resorts are already in the upper echelon of luxury hotels price-wise, but at the brand's Grand Wailea resort on Maui, it's the ultra-exclusive Ho'olei Villas that take the title of "most expensive" accommodation. The gated community within the resort comprises residential-style three-bedroom villas that offer a bit more privacy than what you'd find at the rest of the resort, including its own sand-bottomed pool. But guests of Ho'olei still have access to the resort at large, including its restaurants, spa, and children's club — and a shuttle service to take you across the 40-acre property and down to Wailea Beach.
Prices for a villa in January 2022 start around $2,371 per night.
4. Hotel Plaza Athenèe, France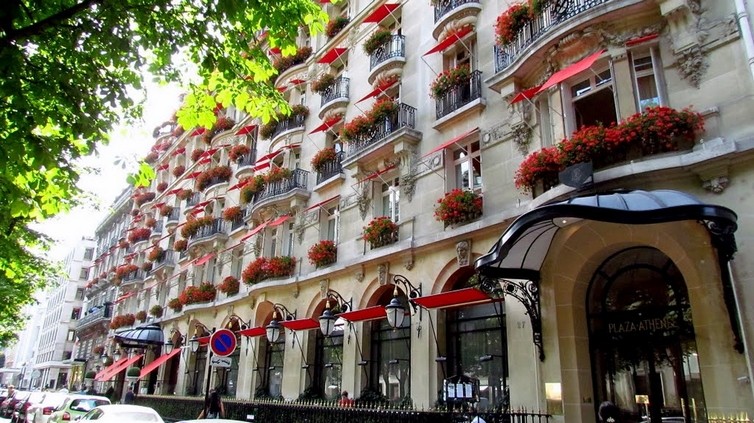 Photo: JPMoser
The Hotel Plaza Athénée is a Brunei-owned historic luxury hotel in Paris, France. It is located at 25 Avenue Montaigne in the 8th arrondissement of Paris, near the Champs-Élysées and the Palais de Tokyo. The hotel is part of the Dorchester Collection group of international luxury hotels. The hotel has five restaurants and a bar, and it has room rates ranging from US$1,254 to US$20,000 per night for the hotel's premier suite.
The Hotel Plaza Athénée opened on Avenue Montaigne on 20 April 1913. The hotel's first manager Emile Armbruster named it. Composers and artists regularly dined at Plaza Athénée after performances. At the time, Jacques-Léon Colombier, winner of the London Gourmet Prize, was the head chef of the hotel's restaurant. The Hotel Plaza Athénée remained open during World War I.
From 1998 to 2000, the hotel was renovated under the management of François Delahaye. He chose Alain Ducasse to supervise the hotel's catering services and create a menu for the hotel's new restaurant Alain Ducasse. Ducasse obtained three Michelin stars at his Plaza Athénée restaurant in 2001. Additionally, Delahaye appointed pastry chef Christophe Michalak at La Galerie des Gobelins and Philippe Marc as chef of Le Relais Plaza.
In 2001, the Dorchester Collection acquired the Hotel Plaza Athénée on behalf of the Brunei Investment Agency. The Brunei Investment Agency purchased the hotel buildings in 2003. That year, Laurence Bloch was appointed hotel manager. Bloch commissioned the interior decorators Bettina Mortemard and Marie-José Pommereau to update 194 rooms and suites.
In 2008, the Dior Institut was opened at the hotel. In 2012, the Hotel Plaza Athénée was awarded the "Palace" distinction, the highest achievement for luxury hotels in France.
In August 2014, it re-opened after a 200 million euro expansion and renovation. The renovation integrated additional buildings, created six new guest rooms, eight suites, a ballroom and two event spaces.
5. Empathy Suite Sky Villa: Palms Casino Resort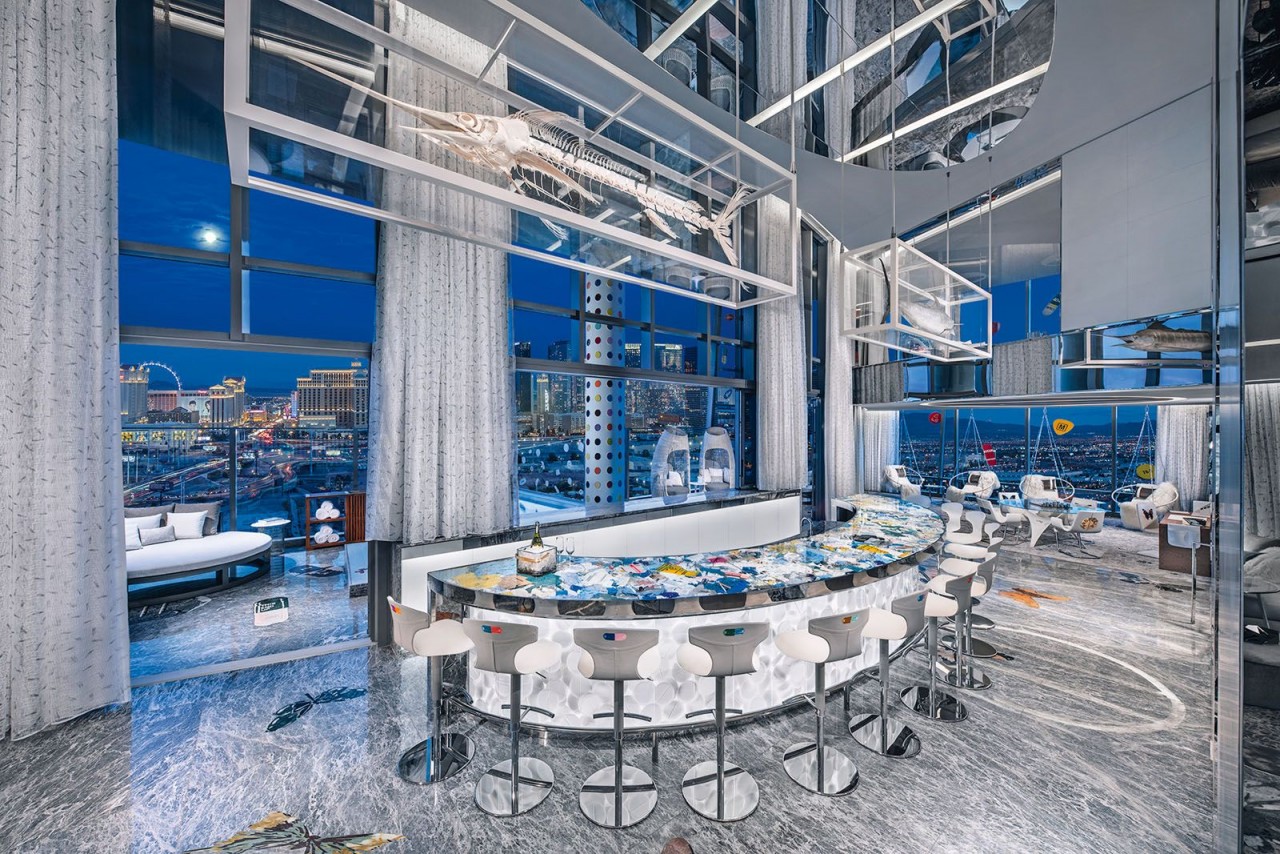 Photo: Tatler Asia
This opulent villa will set you back a hefty $100,000 per night, making the Palms Casino Resort the world's most expensive hotel. But hey, there is no better way to experience Vegas than in this Damien Hirst inspired villa.
Don't worry you won't just be getting a room with a spectacular view of the strip for that price. The 9,000 square foot sky villa houses two master bedrooms, an outdoor cantilevered jacuzzi 'hanging' in the air, overlooking the strip. You'll also have a salt relaxation room, a 13-seater bar and so much more.
The luxuries of the suite were designed by artist Damien Hirst and the chic decor is contemporary and modern. You'll find six of his original commissioned art pieces in the villa including two sharks suspended in formaldehyde. Other extras include 24-hour butler service, a chauffeured car, and a $10,000 casino credit.
Not only is the Palms Casino Resort Las Vegas an art haven for its guests, but it's also located just 1.2 miles from the Las Vegas strip. Meaning you are a short walk from the colorful heartbeat of Vegas that draws in so many of its visitors.
If you are still after luxury in Vegas but don't want to blow $100,000 per night at the most expensive hotel in the world then check out the Bellagio Las Vegas. Which will also give you the royal treatment with a slightly lower price tag.
If your heart is set on the Palms, other suites on offer include bowling alleys and even basketball courts in the $15,000 – $20,000 price range. Or you could opt for one of the hotel's standard rooms that will only set you back about $60 a night.
6. Kokomo Private Island Fiji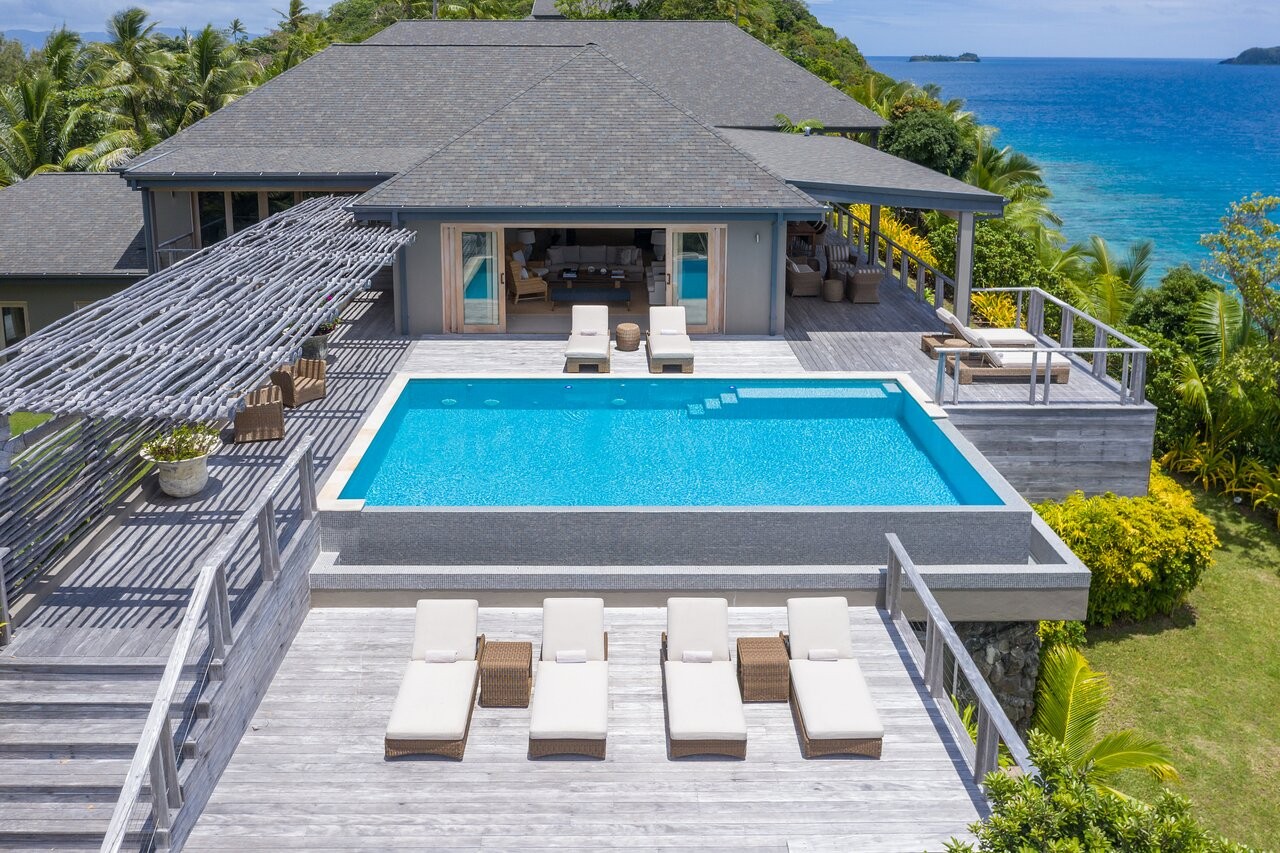 Photo: Tripadvisor
Kokomo Private Island Fiji is its own secluded paradise on the Great Astrolabe Reef, set apart from other Fijian resorts. While you can do a full island buyout — it costs $65,000 per night and accommodates up to 40 guests — most visitors choose to book just one of its 25 villas and residences at a time. But given the resort's small size, it still feels perfectly private even without a buyout. For couples' getaways, there are the romantic one-bedroom villas, while multi-generational groups might prefer the six-bedroom Sunset Residence. Whichever accommodation you choose, the rate includes all dining (sans alcoholic beverages), non-motorized water sports, and either a 45-minute spa treatment or a scuba diving excursion per adult per stay.
Prices for a mid-tier villa in January 2022 start around $5,500 per night, according to Travel + Leisure.
7. One Nature Nyaruswiga Serengeti, Tanzania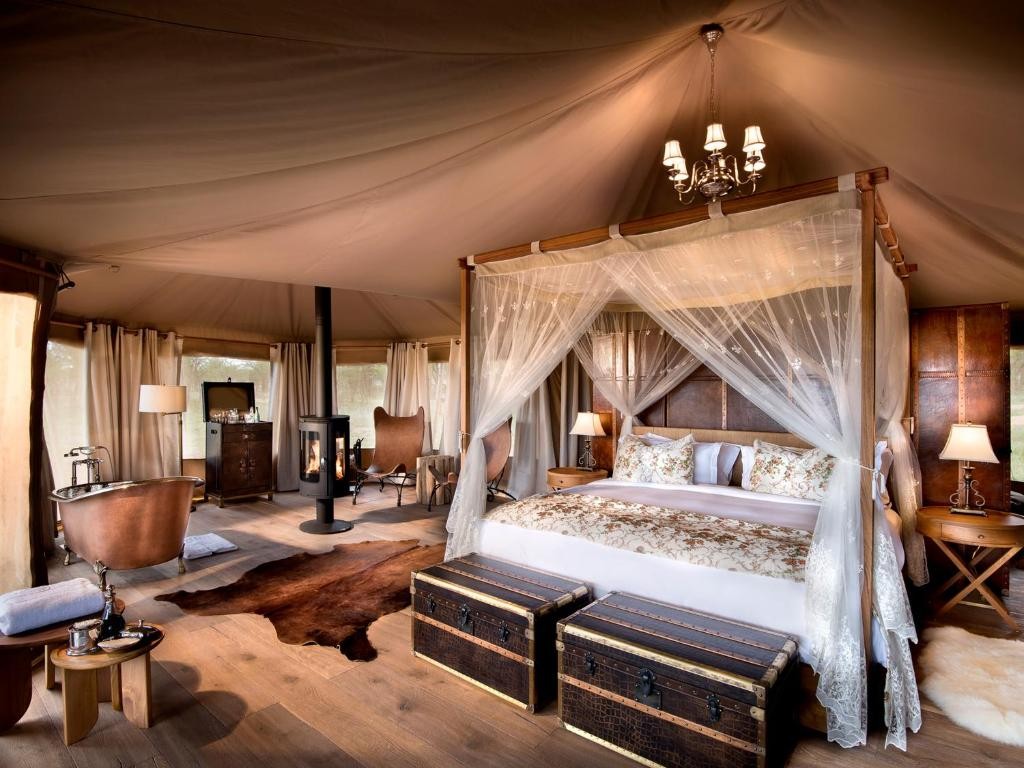 Photo: Booking.com
The 14 tents at One Nature Nyaruswiga Serengeti are kitted out with king-size canopy beds, copper soaking tubs, and private bars — and wide terraces from which you can observe Serengeti's impressive wildlife, or get an in-room spa treatment. The safari camp also has a dining room, lounge, and bar for guests, as well as an infinity pool, a boutique, and an astronomy deck for stargazing.
Prices for a tent in January 2022 start around $3,290 per night based on double occupancy, according to Travel + Leisure.