The Most Beautiful Spots For Cloud Hunting In April
Every year, April is the perfect time for young travelers around Vietnam to have the best experience: Cloud hunting. Here are the top places where you can go cloud hunt, and capture the mesmerizing photoshoots.
Sapa
1. Fansipan Peak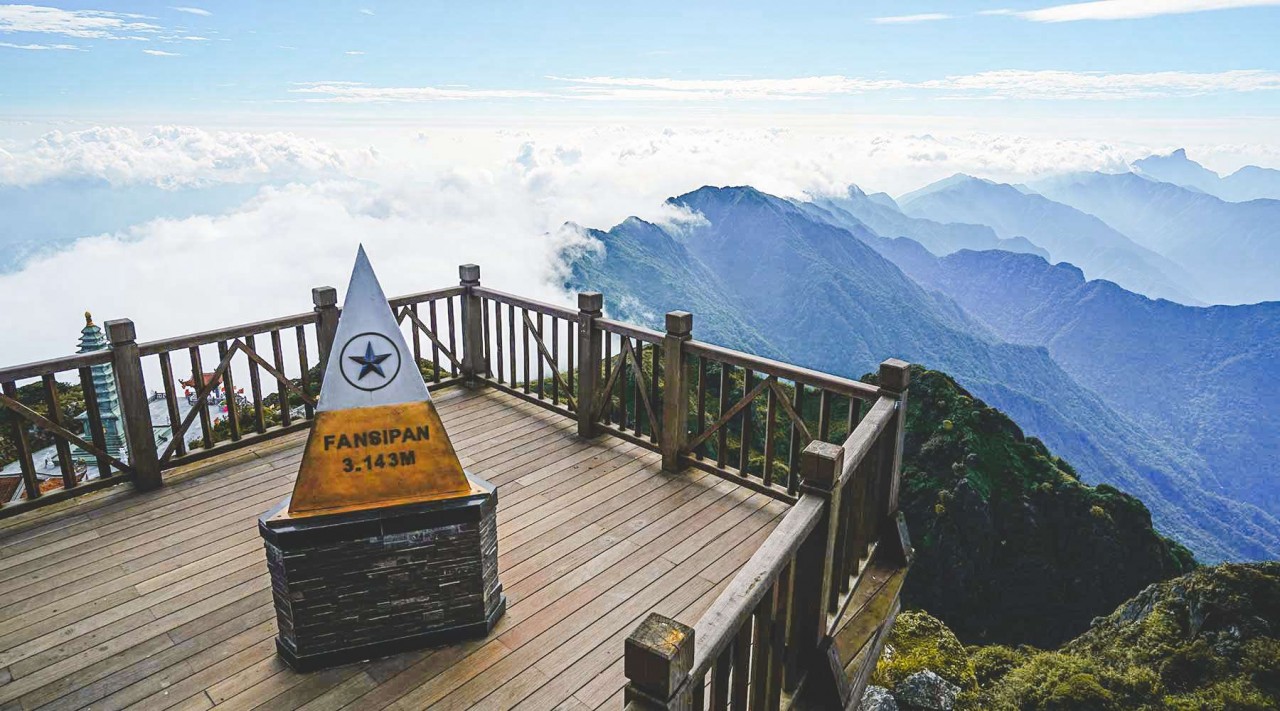 Photo: Local Vietnam
Fansipan mountain, which is also called "The Roof of Indochina", has a total height of 3.143 meters above the water level, is the top choice for a cloud hunting trip in Sapa.
This is not only a symbol and pride of Vietnam, the peak of Fansipan also charms tourists with its majestic beauty.
Standing on top of Fansipan mountain, you can take beautiful pictures with the background of floating thick clouds, which make the scene look like a fairyland in the highlands.
As to get to Fansipan Mountain, you have to arrive at Sapa Town first. Most tourists come to Sapa from Hanoi by train or bus. It takes only about 5-6 hours by bus. But the paths are quite stiff, narrow, and slippery, which can break your heart when drivers drive upwards. For a safer option, travelers may choose to travel by an 8-hour overnight train to the Lao Cai train station. The train route between Hanoi and Sapa offers relatively comfortable sleeper cabins for you to relax before the rough journey (if you are climbing up). From Lao Cai train station, it takes an hour to drive to Sapa town. Travelers can take a taxi to the town or reach right away to the Mount Fansipan starting point of the climb or cable car station.
2. Ham Rong Mountain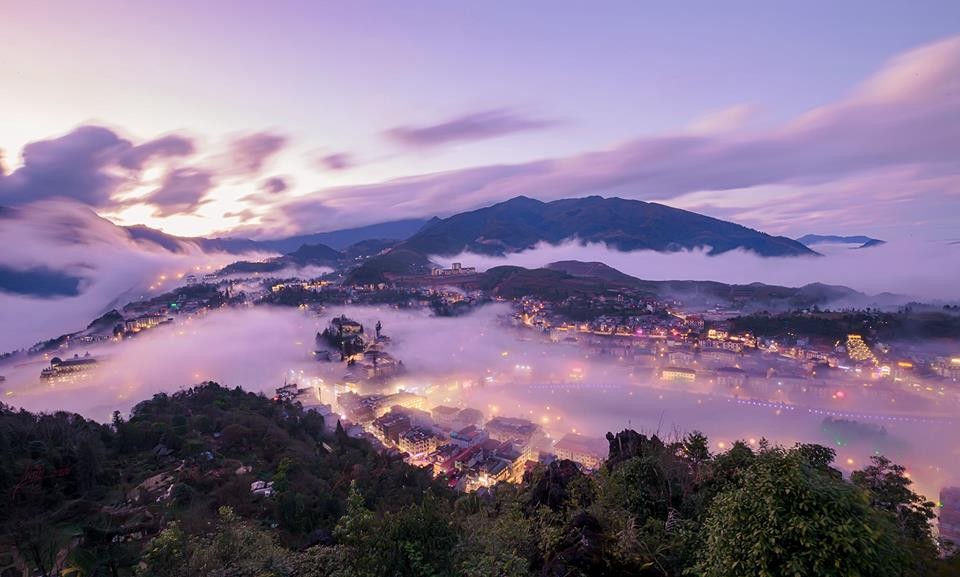 Photo: BuiQuyet
With a height of more than 1.800 meters, visitors can enjoy the panoramic beauty of Sapa town and hunt clouds at any time of the day at Ham Rong peak.
In the evening, this place is suitable for visitors who want to witness the incredible moment when the street lights up, and the whole town is engulfed in clouds.
if you come here on a sunny day, you will be able to admire the magical light of the clouds. To go up Ham Rong mountain, visitors have to go to the central square of the Stone Church, walk to the back, and climb the steps leading to the peak.
3. Hang Da Village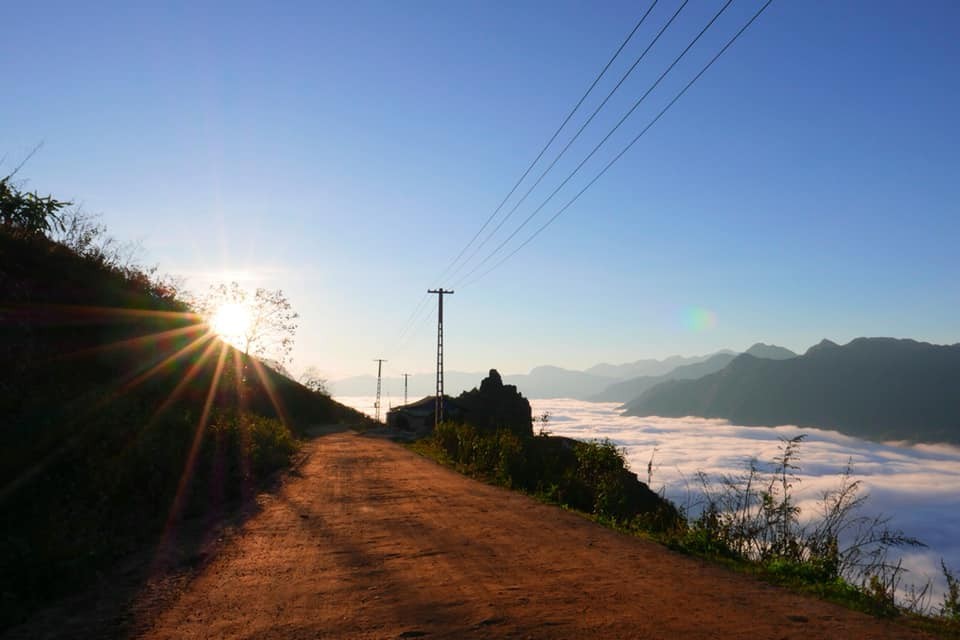 Photo: BuiQuyet
Hang Da village, which is about 4 kilometers south of Sapa town center, is little known to tourists. The combination of wild, primitive stone slabs and floating clouds make up the distinct beauty of a highland village. This is also a favorite cloud hunting spot in Sapa that is most recommended by young visitors.
4. Ta Xua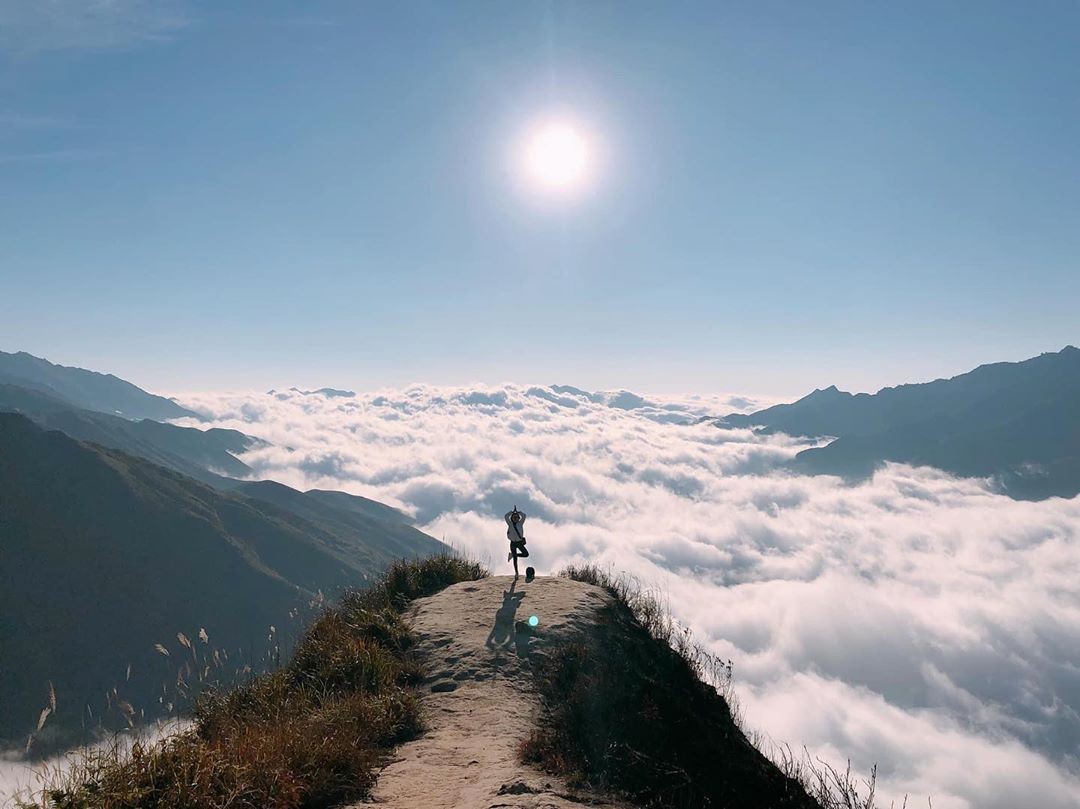 Photo: wecheckin
Located about 300 kilometers from Hanoi, Ta Xua is considered one of the best cloud hunting paradises in Vietnam with majestic mountains and forests. Ta Xua is suitable for people who are adventurous and enjoy natural sceneries with groups of friends.
From Hanoi, tourists can take a bus to Bac Yen, and from Bac Yen, they can hire a motorbike to reach Ta Xua. This place will not make anyone disappointed when visiting here, as if you felt like you were standing in the middle of Heaven.
If tourists wish to stay in Ta Xua for a few days, camping or staying at local homestays are two available options.
Dalat
The most perfect time for cloud hunting is in the early morning, from 4:30 to 5:30 am. To have the wonderful moments of this journey, you should carefully calculate the time and go early to avoid the crowds.
Most of the cloud hunting spots in Dalat are located far away from the center city, which means you should prepare and have all the information in your hands so that you can avoid possible hassles during your trip. If you go on your own, make sure to have enough experience to deal with a difficult situation.
1. Cloud hunting at Da Phu Hill
Photo: AGO Tourist
For players or young people with strong personalities, going to Da Lat, setting up a cloud hunting team is really an interesting experience. Dalat has many beautiful places for you to choose from as a place to hunt clouds, and watch the sunset. And one of the most beautiful places is Da Phu Hill.
This is also a great destination for newly wedded couples, as it has an amazing natural background that give the most beautiful photoshoots.
2. Thien Phuc Duc Hill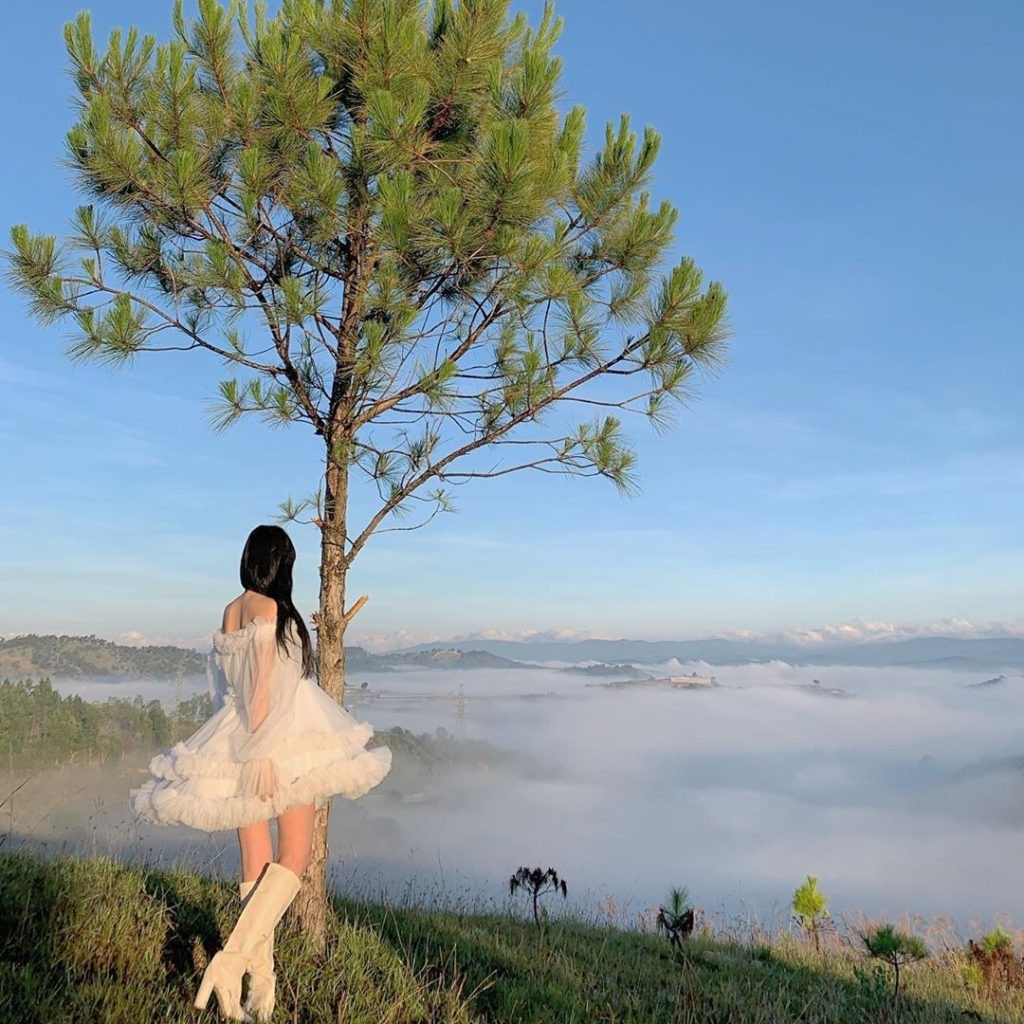 Photo: @ttaammtttt
This is a pretty famous place in Da Lat and is also a favorite place to hunt for clouds. It is about 10km from the city center and takes about 20 minutes by car.
Since this is a hill that has not yet been put into tourism, there is no hint of hustle or bustle, shops are deserted and the streets are quiet as if this is the place that the noise cannot reach.
It is not too difficult for you to set foot on Thien Duc Phuc Hill which is not too high, this hill is only high enough for you to stand here and watch the fog city below. Like the "cloud hunting" in the "heaven's gate" of Linh Quy Phap An Pagoda, if you would like to come to Thien Phuc Duc Hill at the most beautiful moment, you have to wake up early in the morning, "hunting clouds" at around 5 am to be able to just watch "the sea of clouds" and sunrise.
The floating clouds on Thien Phuc Duc Hill are thick and mesmerizing, covering most of the sceneries. In the midst of an early foggy morning, in the brilliant sunrise, there will be moments when you see this place as beautiful as a paradise where you can enjoy all the scenery that cannot be described in detail. You will be delighted to capture the beautiful pictures of each moving moment in this impressive space.
3. Hon Bo Peak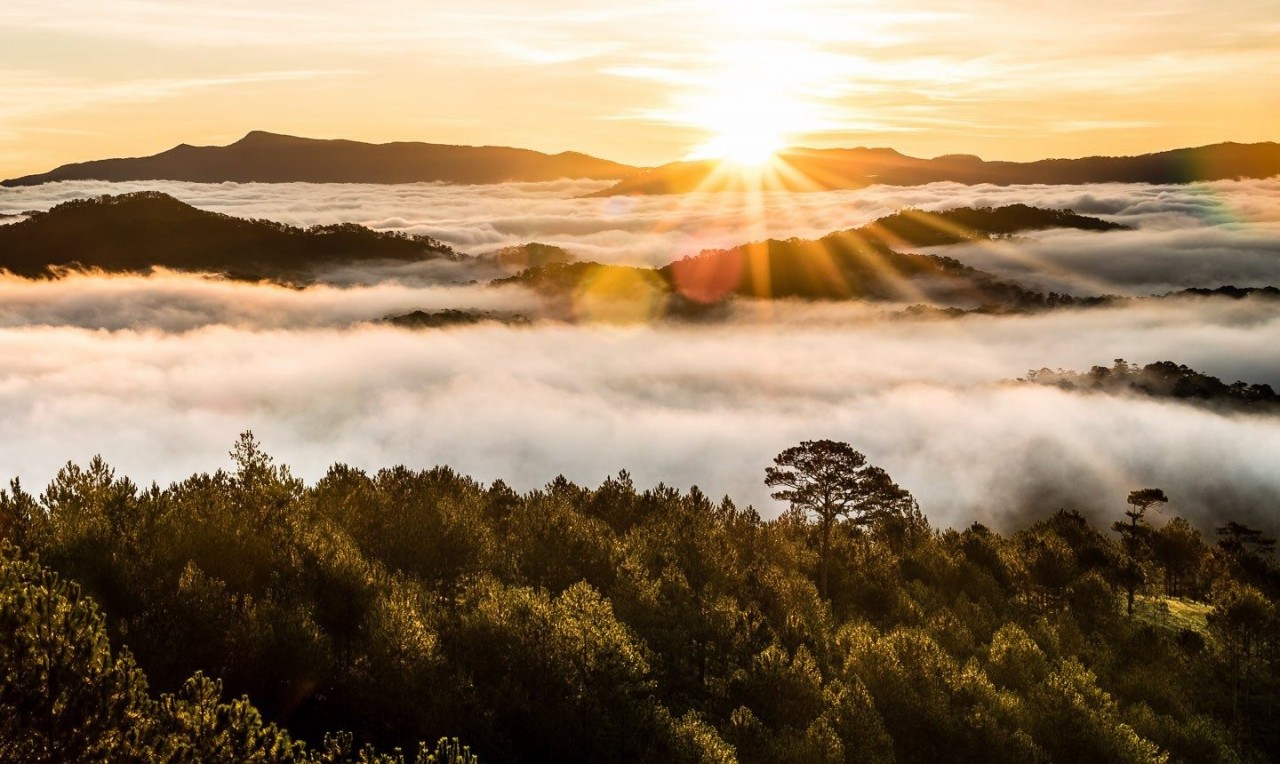 Photo: MIA.vn
This is the highest spot in Dalat. From here looking down, you can witness the panoramic scenery of this beautiful city, with majestic mountains and vast green forests.
4. Pinhatt Dalat Peak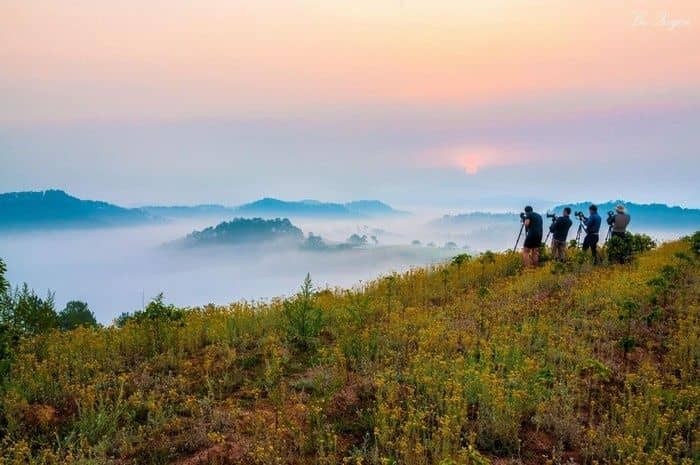 Photo: Bazan Travel
It is one of the most famous tourist destinations in recent years. From Pinhatt peak, tourists will have a chance to see the whole city lying hidden under the sea of thick clouds.
To reach Pinhatt Mountain, from the center of Dalat City, you will pass Prenn Pass for about 12 km to Dalat Edensee Lake Resort & Spa. The line is so beautiful that you can not imagine: two sides of the resort, breeding sites, a lake spillway, and countless kinds of flowers blooming along the road. After you move to Dalat Edensee Lake Resort & Spa, take another 500m to meet Da Tien Restaurant, the opposite is a gravel road leading to the foot of the mountain. You enter the restaurant and turn back to the entrance to start the journey.
5. Langbiang Peak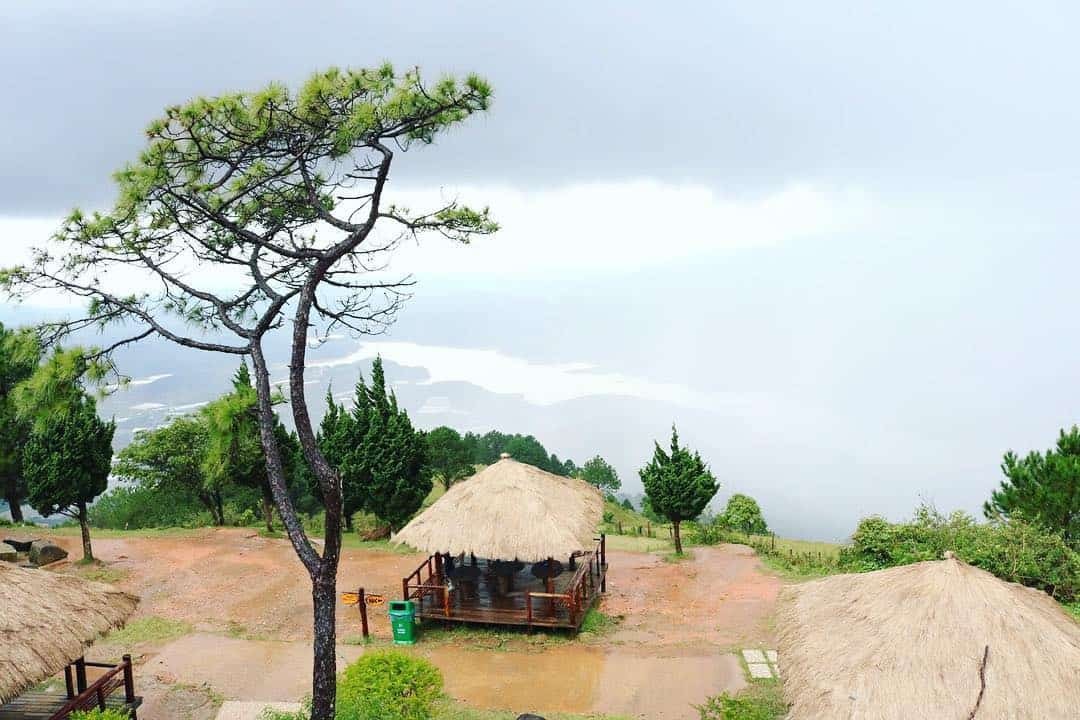 Photo: Vntrip
This is the place that is considered the roof of Da Lat, which is located at an altitude of 2100m. It is also the best cloud hunting spot that you can explore while visiting Dalat.
For those who enjoy the convenience of transport, a car and a motorbike are absolutely suitable to climb up the beautiful path to Lang Biang peak. Moreover, trek-goers wouldn't be disappointed with such a challenge. The up-to-the-top hike takes from 3 to 4 hours.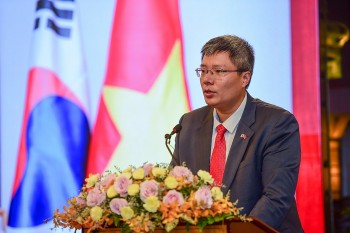 Viet's Home
Tran Hai Linh, member of the Central Committee of the Vietnamese Fatherland Front, chairman of the Vietnam-Korea Business & Investment Association (VKBIA) shared with the Vietnam Times about strengthening the capacity to promote Vietnamese culture to the world.