The Most Delicious and Must-Try Thai Sweet Desserts
Thailand is extremely famous for its delicious, colorful, and eye-catching sweet desserts and these dishes offer the best tastes of this country's culinary.
Thai cuisine is one of the most popular in the world. Thai food blends five fundamental tastes: sweet, spicy, sour, bitter, and salty. The herbs and spices most used in Thai cooking themselves have medicinal qualities such as garlic, lemongrass, kaffir lime, galangal, turmeric, coriander, coconut milk. Each region of Thailand has its specialties: kaeng khiao wan (green curry) in the central region, som tam (green papaya salad) in the northeast, khao soi in the north, and massaman curry in the south.
Thailand definitely has a sweet tooth. Tins of condensed milk line the aisles of every 7/11 convenience store, coffees are loaded with cream and sugar, and you can even find the sweet stuff in unexpected places like bowls of Pad Thai. Take a look at these incredibly sweet desserts that you can find and taste in Thailand.
1. Mango sticky rice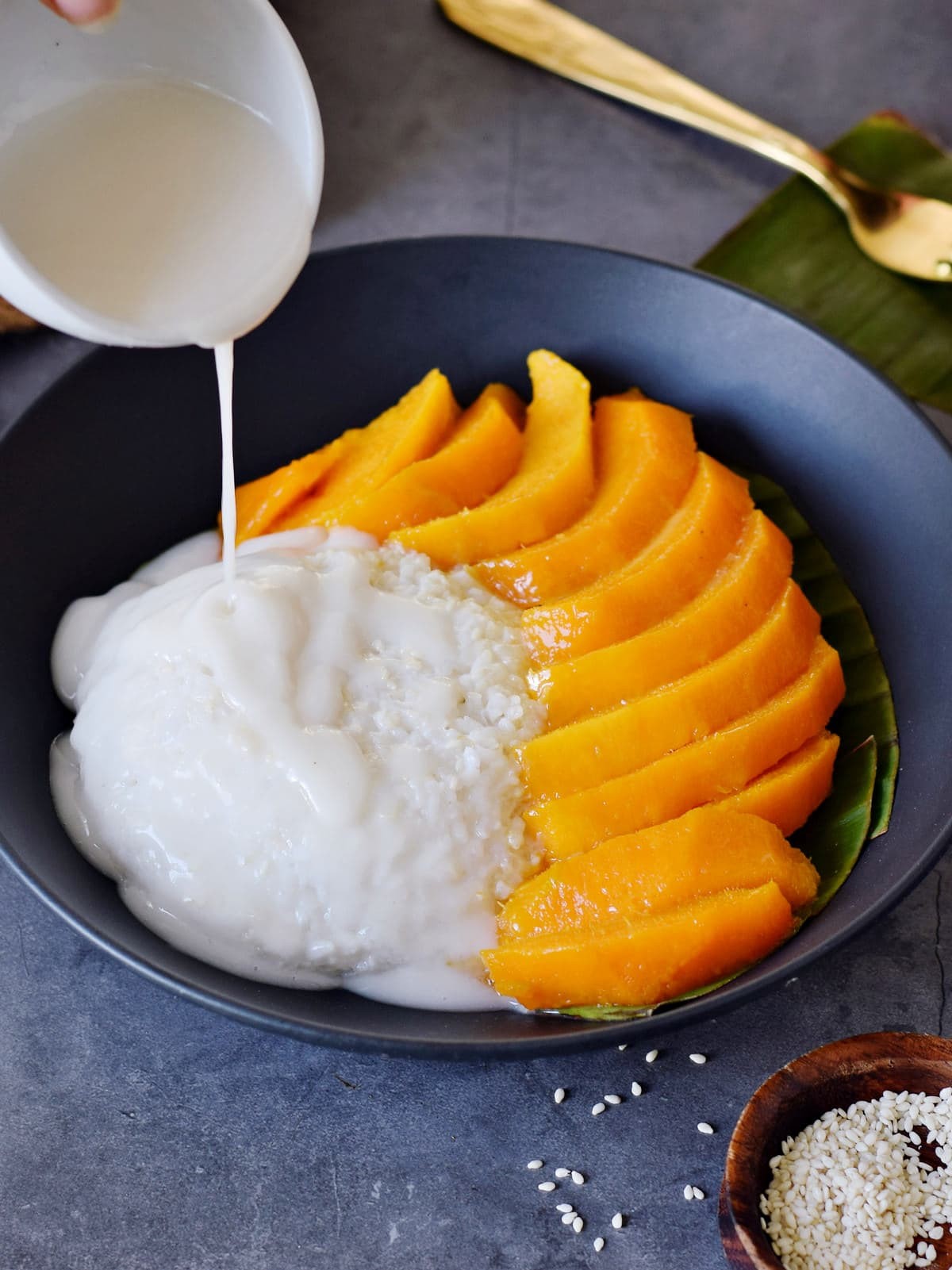 Photo: Elavegan
Mango sticky rice is a traditional Southeast Asian and South Asian dessert made with glutinous rice, fresh mango, and coconut milk, and eaten with a spoon or hands.
Usually, desserts involving sticky rice are sweetened with palm sugar or jaggery combined with coconut milk and coconut flakes, wrapped in banana leaf, then steamed or stuffed in bamboo and roasted on an open fire such as sticky rice in bamboo. The main ingredients needed are sticky rice (glutinous rice), canned or fresh coconut milk, salt, palm sugar, and mangoes.
To prepare the dish, the rice is soaked in water and then cooked by steaming or the use of a rice cooker. Meanwhile, the coconut milk is mixed with salt and sugar then heated without boiling. After the rice is finished cooking, the coconut milk mixture and the rice are mixed together evenly and allowed to sit to allow the milk to absorb into the rice. The mangoes are peeled and sliced. To serve the dish, the rice is scooped onto a plate, a few mango slices are placed on top or to the side, and the remaining coconut milk is drizzled on top. Sometimes, the sticky rice is topped with crispy yellow mung beans.
2. Ruam mit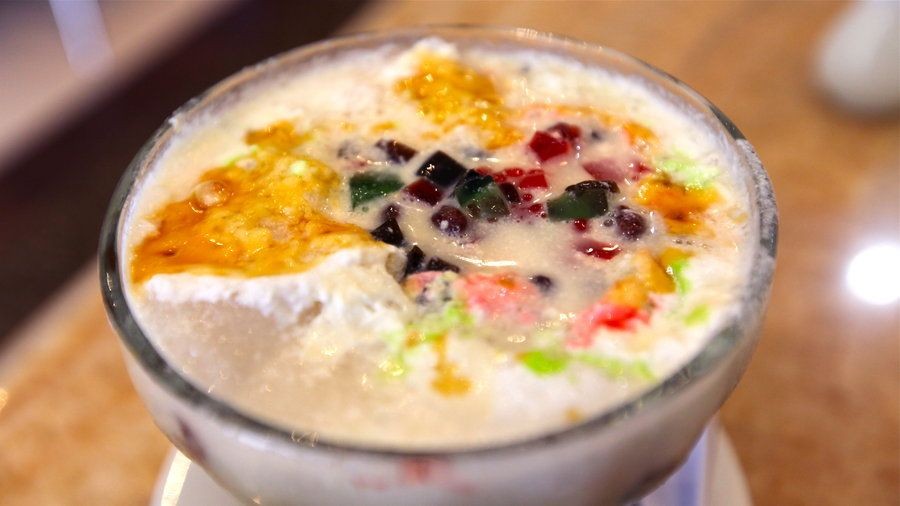 Photo: Pinterest
Ruam mit is a popular Thai dessert made with ingredients such as coconut milk, sugar, tapioca pearls, corn, lotus root, sweet potatoes, beans, and jackfruit. Each bowl typically includes starchy noodles that are flavored and colored with various ingredients, and which may come in the shape of thin strips or more elaborate decorative forms.
There is no set recipe for ruam mit, so each cook or street vendor adds their own ingredients to the mix. It is often consumed as a cool refreshment on hot summer days, topped with shaved ice. In Thailand, it is one of the cheapest desserts, and each bowl typically costs around 15 baht.
Interestingly, in Thai language, ruam means get together, and mit refers to friends, so it can be said that ruam mit is a meeting of many desserts in one simple, flavorful dish.
3. Thapthim krop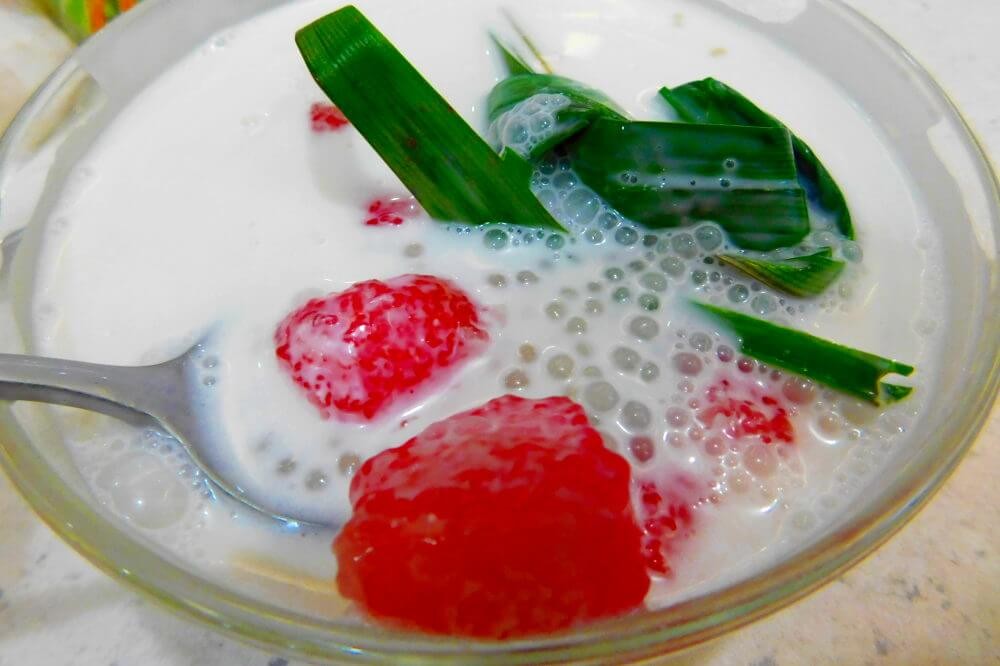 Photo: D'Open Kitchen
Thapthim krop is one of the best known Thai desserts, having been named one of the world's best 50 desserts by CNN Travel. It is made of cubes of water chestnuts soaked in grenadine. This dessert is known as "pomegranate seeds" or "rubies" because of its appearance. It is usually eaten with coconut milk and ice cubes.
4. Thong yip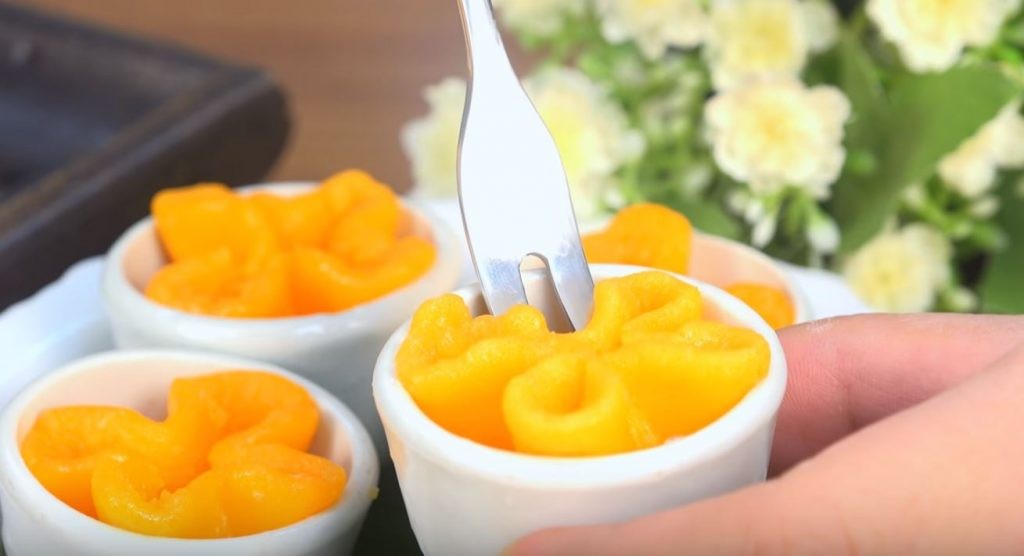 Photo: Scooter Saigon Tour
Thong yip, also known as "pinched gold egg yolks" in English, is one of the nine auspicious traditional Thai desserts. It is usually made for important occasions and ceremonies such as weddings, ordinations, and housewarmings. Thong yip, like many other egg-based sweets, was introduced by Japanese-Portuguese Maria Guyomar de Pinha in the reign of Somdet Phra Narai Maharat during the Ayutthaya Kingdom. Its origin is the Portuguese sweet called trouxas das caldas.
In Thai, the word thong means "gold" and yip means "to pick". It is believed that when thong yip is used in blessing ceremonies or as a gift to anyone, it will bring wealth and success in work; a person can turn something ordinary into gold once he or she picks it up. Thong yip's shape resembles that of a flower. The number of folds used for thong yip can be 3, 5, or 8, depending on one's preference.
The delicately shaped dessert is then transferred to a small porcelain cup to chill and become firm before serving. Sometimes referred to as sweet egg yolk cups, these desserts are commonly prepared for weddings and other celebrations with the intent to bring good luck, prosperity, and wealth.
They are available in Thai supermarkets and at street food stalls.
5. Naam Khaeng Sai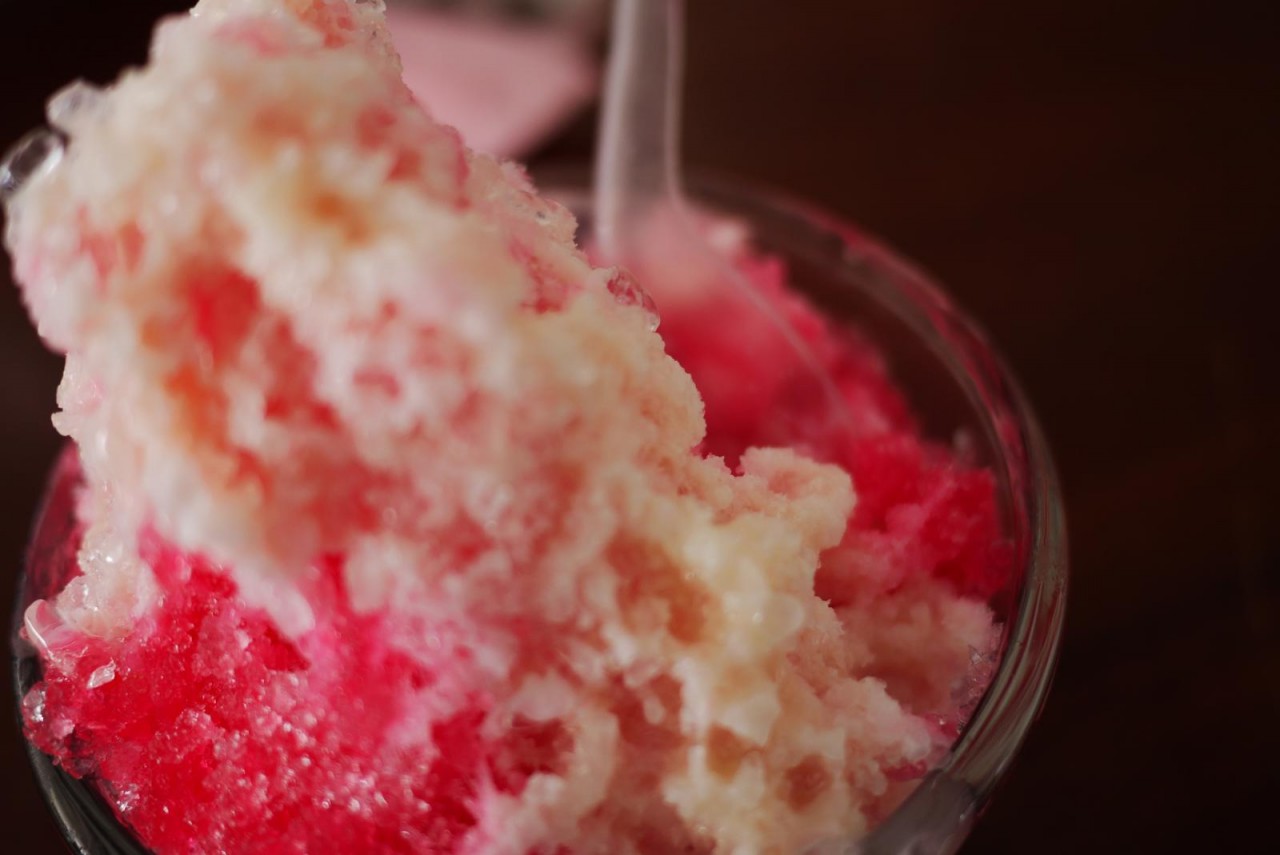 Photo: Wikipedia
The basic construction of Thai nam kang sai (น้ำแข็งใส) includes a variety of toppings, covered with a spoon of crushed ice, and bathed in sweet syrup and fragrant coconut milk.
The more toppings available, the more confusing it becomes to order, but also, the more impressive it is!
There are essentially two different ways to order nam kang sai, point and choose to create a bowl exactly to your linking, or take the easy approach and just get the ruam mit (น้ำแข็งใสรวมมิตร) version (mixed toppings, as decided by the vendor).
Ran Chang Seem See (ร้านเช็งซิมอี๊) is a well known Thai shaved ice restaurant located on Sukhumvit 103, a road known as Udom Suk. They have a seriously impressive spread of toppings to choose from, according to Eating Thai Food.
6. Bua loy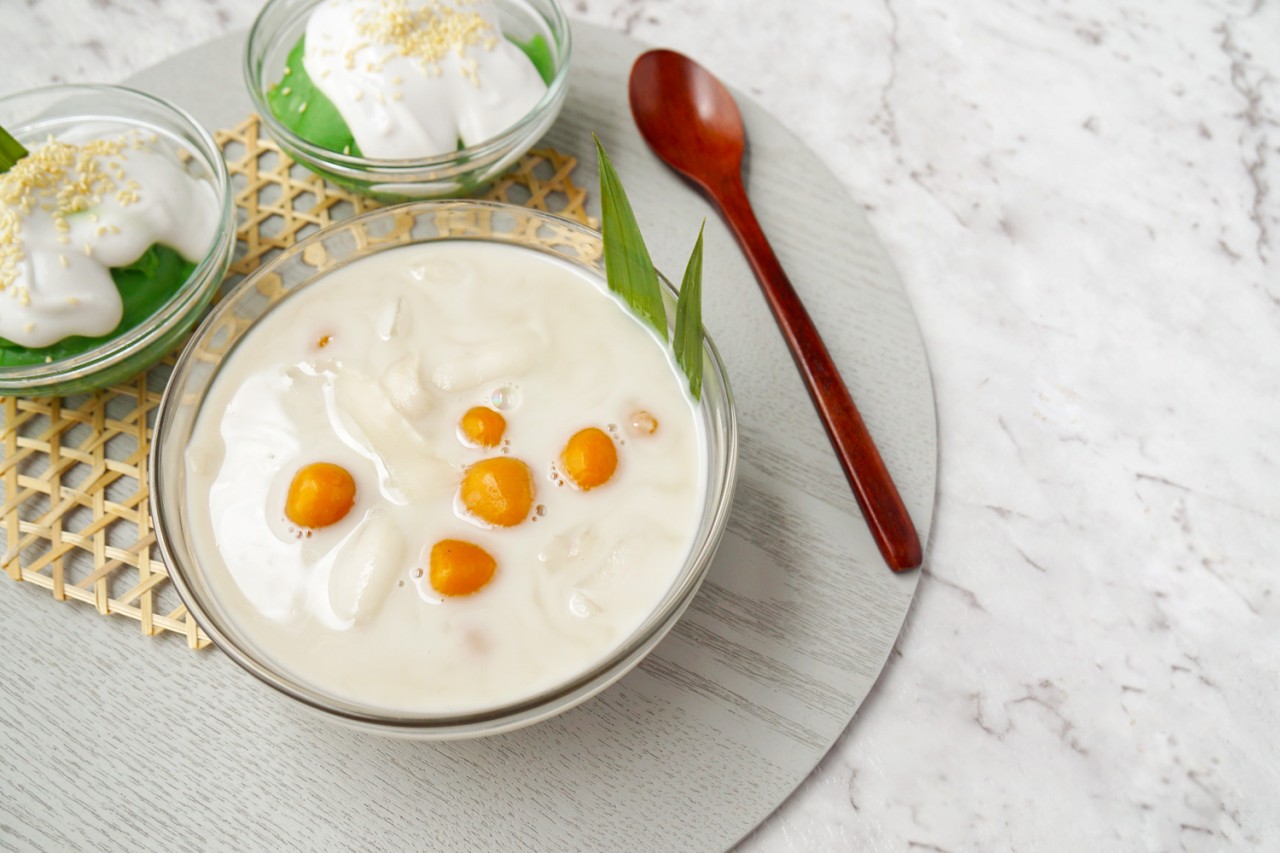 Photo: Asian Inspirations
In Thai, the word bua means "lotus" and loy means "floating," so put together the name of this coconut milk dessert translates as "floating lotus." More specifically the lotus reference is with regards to the seeds since these little sticky rice dumplings are a similar size.
This is a very easy Thai dessert to make, but it can be time-consuming rolling all those tiny balls. Otherwise this kanom Thai (snack) comes together very quickly.
Unlike many sweet coconut soup based Thai sweets, which are served with ice (like tub tim grop), bua loy is typically served warm. Room temperature is also fine.
This sweet is commonly made from a mixture of different dumplings, with common flavourings/colourings including taro, pandan, and kabocha squash. Here I've used sweet potato instead of pumpkin because it's more easily obtained and works just as well. Don't feel limited by these ingredients, however, as you can make bua loy with fruit and vegetable juices or even just water and some food dye. I've also had positive results by adding a drop or two of floral extracts (like jasmine, rose, orange water) to the dough.
Just keep in mind the amount of water or liquid used will vary depending on what vegetables and the amount used you are using to make the dough.
7. Grass Jelly (Chao kuai)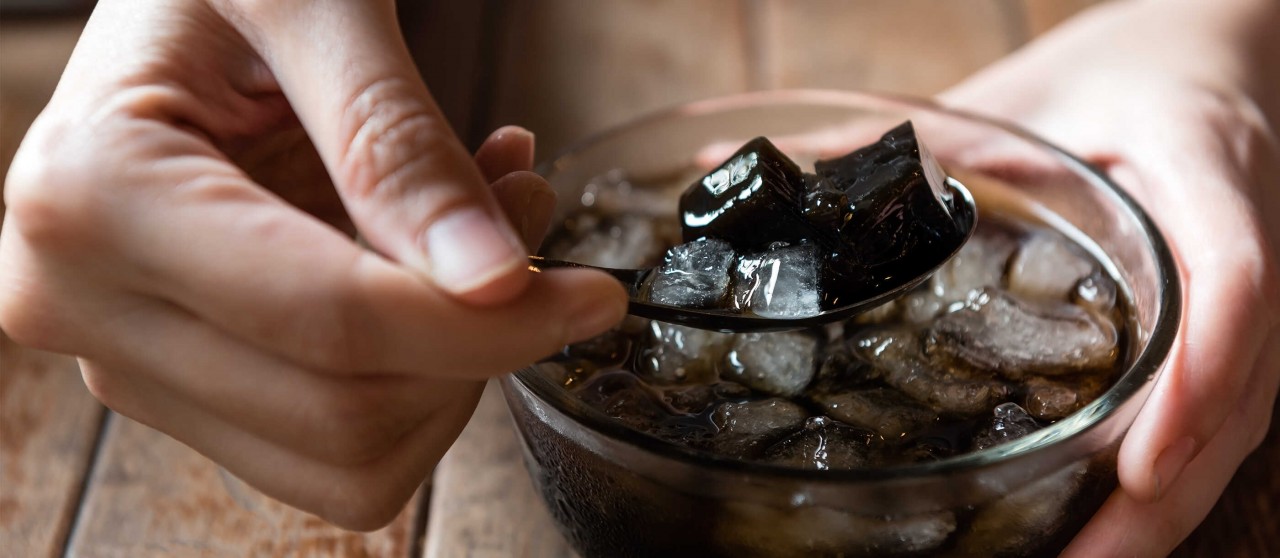 Photo: TasteAtlas
Also known as grass jelly, chao kuai is a traditional Thai dessert typically served with crushed ice and sprinkled with brown sugar. This refreshing dessert is made with a jelly base which is prepared by cooking the leaves and stalks of Mesona chinesis - a member plant of the mint family. Apart from Thailand, chao kuai is popular all across Southeast Asia, China, Hong Kong, Macau, and Taiwan.
Depending on the region, chao kuai is either enjoyed on its own, doused in condensed or evaporated milk, or served mixed with jackfruit, mango, sago, watermelon, cantaloupe, and other fresh or canned fruit.
8. Lod chong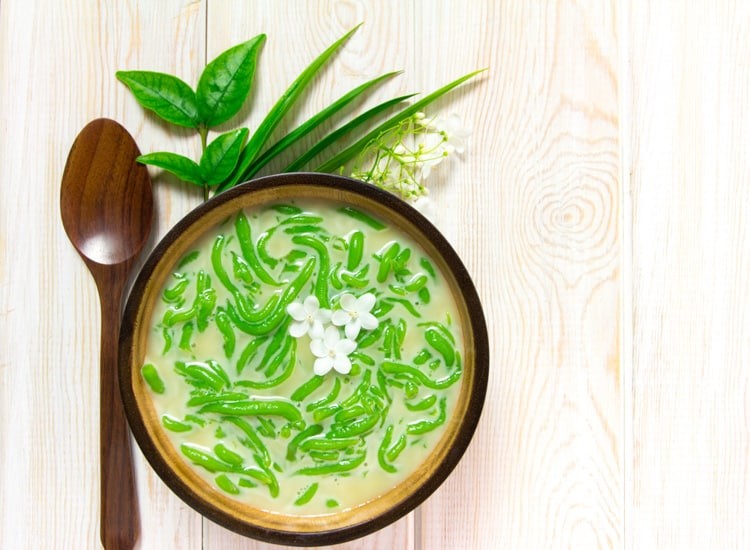 Photo: Christine Abroad
Green noodles, sweetened coconut milk, and crushed ice make up Lod Chong, a simple Thai treat. It's extremely popular because it's a light and refreshing dessert that goes well with a spicy supper. It is available from a variety of street food sellers at a fair price and is easy to locate. Traditional Lod Chong and Lod Chong Singapore are the two types of dessert, however they are extremely similar. "Cendol," an iced sweet dish made of green rice flour jelly, coconut milk, and palm sugar syrup, is the dessert's origin. Indonesia, Malaysia, Brunei, Cambodia, East Timor, Laos, Vietnam, Thailand, Singapore, and Myanmar are among the countries where it is popular. Additional toppings, such as diced jackfruit, sweetened red azuki beans, or durian, could be used in addition to the green jelly.
"Khanom Nok Poloi or Lod Chong Thai" is mentioned in a stone inscription from the Sukhothai period, referring to a ceremony that featured four types of Thai desserts at the time, including frog eggs (basil seeds), Nok Poloi (Lod Chong), Nang Loi (Khao Tok), and Ai Tue (Glutinous Rice) served with coconut milk. Nowadays, Lod Chong is frequently prepared for prestigious events because Thais believe that the name of the dessert, which means "survive," will protect them from any dangers. Mr. Kitiphum Duangthip, the head pastry chef of Chitralada Palace, explained how to prepare Thai Lod Chong in the ancient times using milled rice. The rice was first soaked in lime water overnight before being milled with pandan leaves. Then combine all of the ingredients in a mixing bowl and sprinkle over the dessert.
A slender head and a big middle are the best features of Lod Chong. This can be accomplished by churning the dough until it gets sticky before scooping it onto the cylinder and sifting it through the slit. Flour through the cavity will remain, some will drip down gradually, not flowing into a stream (Lod Chong flour is excessively fluid), and how to press the Lod Chong flour through the cavity which has to press and loosen do not press all at once because it will cause the flour through the channel to form a long line. The space between the lod chong press mold and the water surface below, on the other hand, must be large enough for the powder to be ripped down. If the chasm is narrow when the dough is pressed, the face of the glasses is too close to the surface of the water, the dough will not be broken, and it will flow together in a long line, giving Lod Chong an unattractive appearance.
9. Gluay buad chee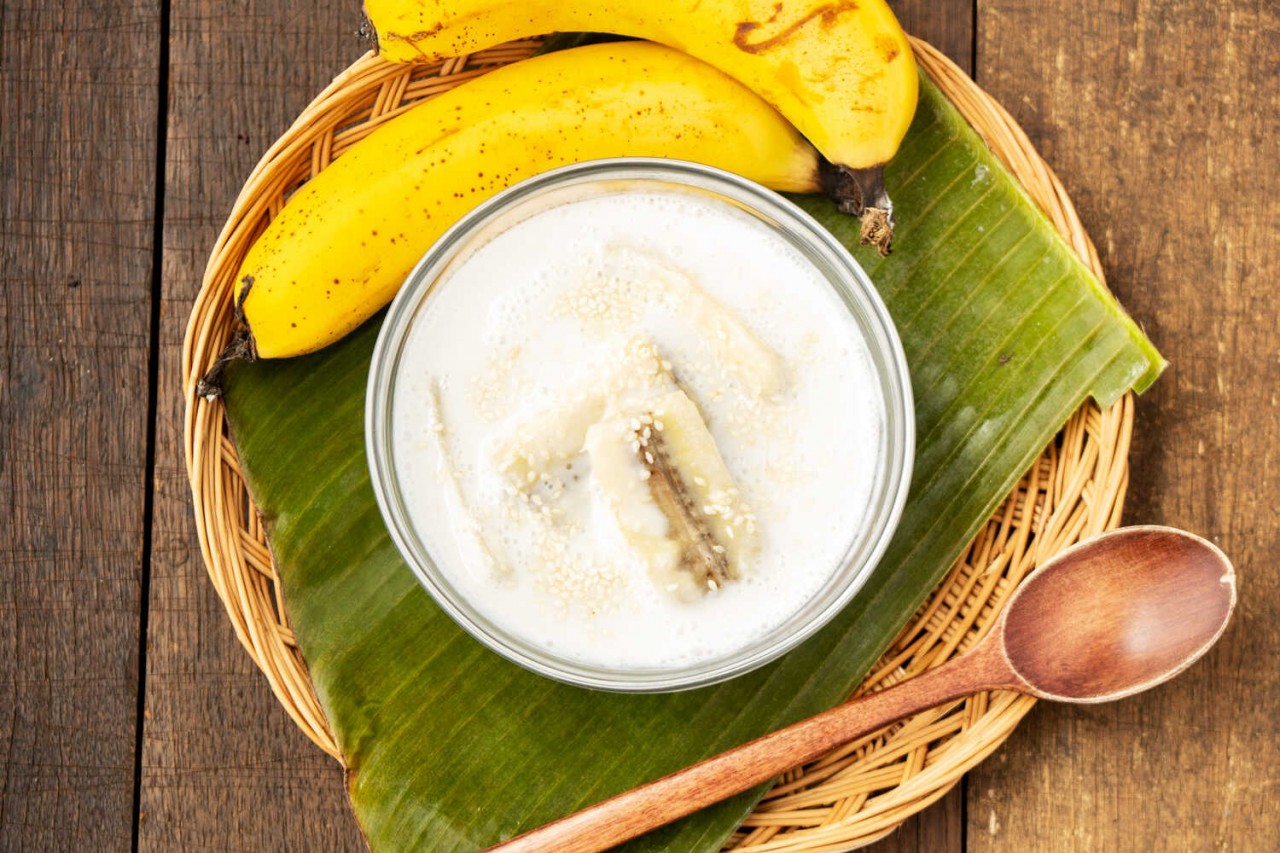 Photo: Asian Inspirations
A smooth and creamy Thai dessert. It is one of the healthy Thai desserts with nutritional bananas also a low-fat dessert. The simplicity of this dessert by a combination of the light coconut milk and the soft substance of the bananas are creating all wonderfully sweet taste sensation.
One would be hard-pressed to find anything among all the traditional, old-fashioned Thai desserts more "friendly" than Kluay Buat Chi (RTGS: kluai buat chi กล้วยบวชชี). It's starchy; it's sweet; it's creamy; it contains no unfamiliar ingredients; it's great hot off the stove or lukewarm or cold right out of the fridge; it's liked by people of all ages and socio-economic strata; it's the ultimate comfort food.
Vietnam's most delicious desserts

No good meal is complete without something sweet to finish it off. Luckily, in Vietnam, there are a number of desserts to choose from — ...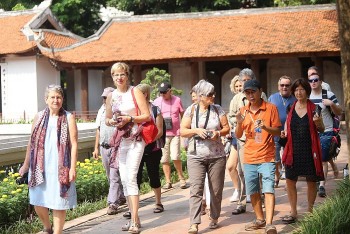 National
Vietnam News Today (May 24): Covid-19: Vietnam records 1,179 new cases, 3,862 recoveries on May 23; Foreign arrivals soar two months after border reopening; Vietnam, Cambodia boost defense ties; Heavy rain floods parts of northern Vietnam.