The Most Expensive Dishes In The World
If you are looking for a unique meal and budget is not a big problem, these luxurious and expensive dishes are created by 5-star restaurants in the world.
The cuisine is an interesting topic to talk about, and today's global cuisine scenes span from familiar food trucks to 5-star fabulous hotels and restaurants in between. They never stop coming up with new, creative, and delicious dishes that give us an insight into food and culture, and the elite world of wealthy people. For the true food aficionados looking for a once-in-a-lifetime, budget-blowing chance to try something totally outrageous, there is a semi-secret list of extra special, mega-expensive meals that can be found around the globe.
1. Grand Velas Taco
Photo: CNBC
The Grand Velas Los Cabos resort in Mexico has created the most decadent taco on the planet – which will set you back a cool US$25,000 if you want to eat it.
Served at the resort's Frida restaurant, the US$25k taco is an ultra-decadent and ludicrously ostentatious take on the Mexican staple.
Featuring a gold-flaked corn tortilla, the taco is made up of premium ingredients including langoustines, Kobe beef, Almas Beluga caviar, and black truffle Brie cheese.
It's topped off with an artfully crafted salsa made from dried morita chilli peppers, ultra-premium anejo tequila, and civet coffee (said to be the most expensive in the world). The coffee is created from the semi-digested coffee cherries found in the excrement of civets (a type of wild cat found throughout Asia).
2. Zillion Dollar Lobster Frittata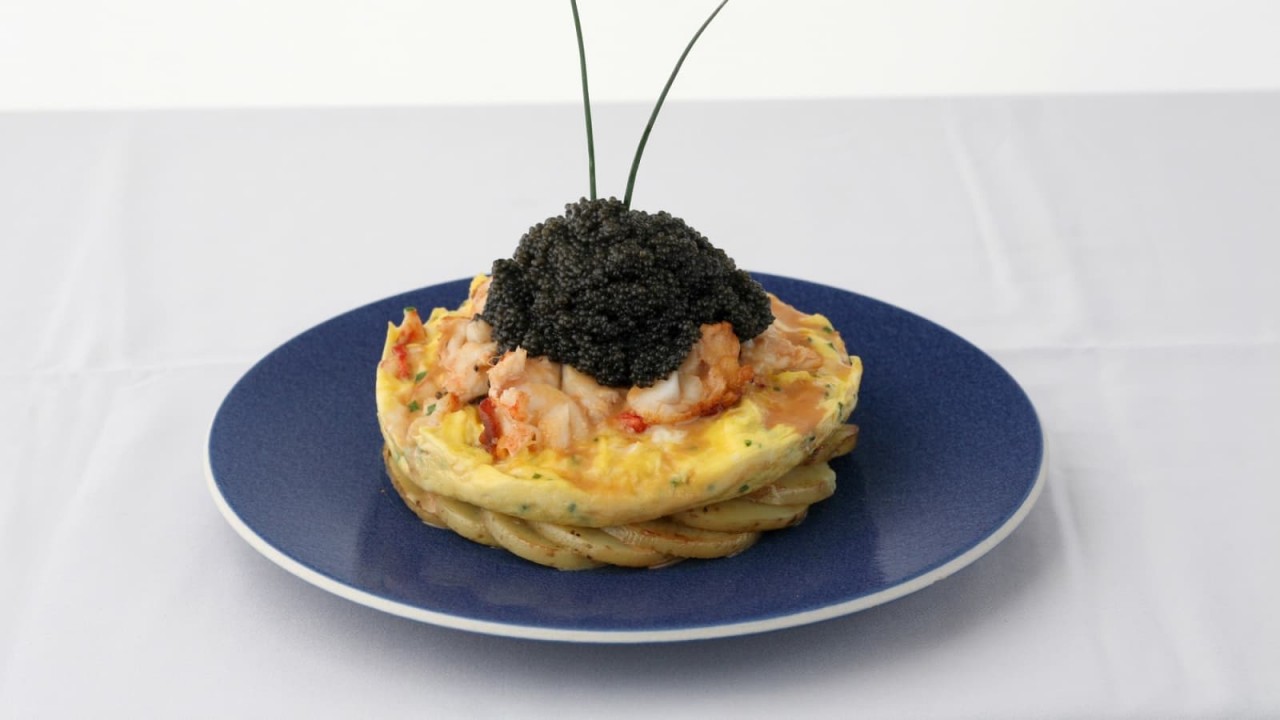 Photo: CNBC
It's no secret that brunch in Manhattan can get pricey. But at Norma's in Le Parker Meridien hotel, one particular omelet will set you back $2,000.
Dubbed the "Zillion Dollar Lobster Frittata," the breakfast in question includes 10 ounces of Sevurga caviar, an entire lobster, six fresh eggs, cream, chives, and lobster sauce. It's served over a bed of Yukon gold potatoes.
The omelet was featured on an episode of CNBC's "Secret Lives of the Super Rich" in April 2016, when it only cost $1,000. But the restaurant doubled the price of the dish to reflect the quality and cost of the caviar.
The frittata first debuted on Norma's menu back in 2004, when Le Parker Meridien's president, Steven Pipes, and Norma's executive chef, Emile Castillo, were brainstorming a way to incorporate caviar into an omelet. Their strategy? Go big or go home.
"Since it would be costly, they decided to have some fun with it," Lisa Tharp, director of guest communications for Le Parker Meridien, tells CNBC Make It.
The dish made waves and even earned an official entry in the "Guinness Book of World Records" as the most expensive omelet in the world.
How does this extravagant omelet compare to its more modest counterparts? An "Ultimate Omelette" from Denny's will set you back around $16 in New York City, meaning you could feed 125 friends for the price of one lobster and caviar frittata.
3. Fortress stilt fisherman indulgence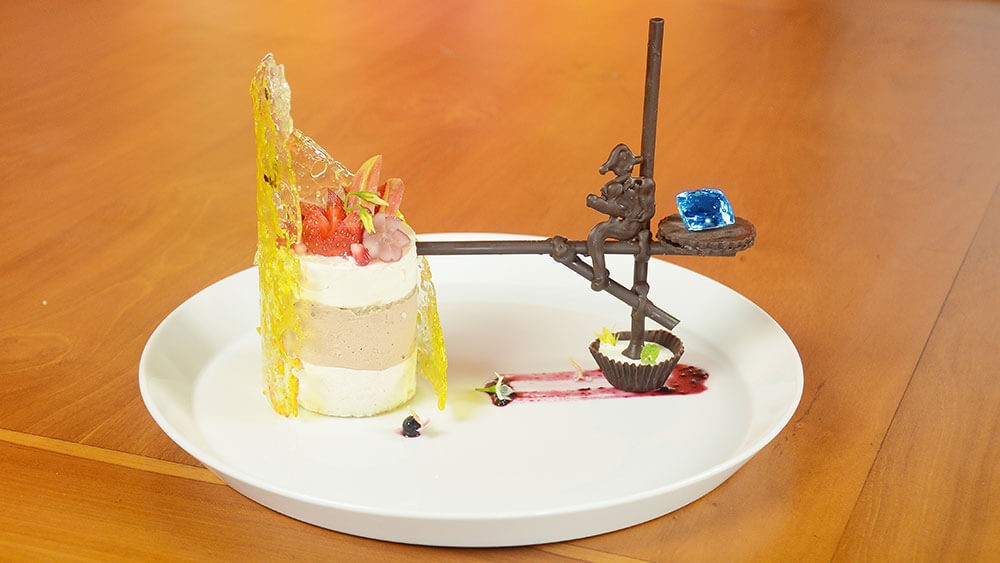 Photo: PCMA
The Fortress Resort and Spa in Galle, Sri Lanka, claims to sell the world's most expensive dessert at a base price of $14,500 U.S. The Fortress Stilt Fisherman Indulgence — created by special request only — pays homage to stilt fishing, a decades-old livelihood that, although dwindling, still is practiced along the country's coast.
The Indulgence features a stilt fisherman handmade from chocolate. The base is an Italian cassata flavored with Baileys Irish Cream and served with a mango and pomegranate compote and a Champagne sabayon sauce adorned with gold leaf.
The finishing touch — and this is both the showstopper and purchase blocker — is an 80-carat aquamarine stone sitting on the fisherman's chocolate stilt.
As if all that isn't enough, the Indulgence is served with handmade, studio-flared glass cutlery exclusively designed for The Fortress by Glass Studio. The resort requires 48-hours notice before you can enjoy the one-of-a-kind dessert, which is served at Wine3, The Fortress' glass wine cave housing more than 2,000 vintages.
The $14,500 price may change depending on the value of the stone, reservations coordinator Chathuri Ruwanthika told Convene via email. But don't worry if you can't meet the price; the resort has sold just two of them since introducing the Fortress Stilt Fisherman Indulgence in 2007, Ruwanthika said.
4. Posh Pie at Lord Dudley Hotel - Sydney, Australia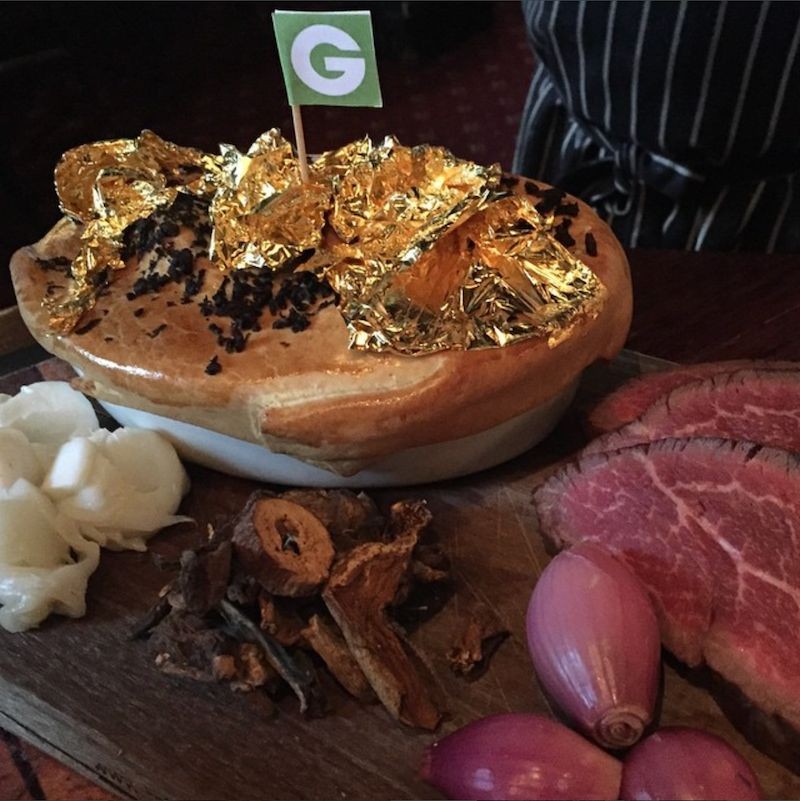 Photo: Standard News
The $12k surf-and-turf pie contains David Blackmore's $180kg wagyu eye-fillet with a marble score of 9, Japanese Kobe brisket at $35-40kg cooked for 12 hours, two WA rock lobsters, dried Italian porcini mushrooms, two $750 bottles of Penfolds Grange gravy, housemade golden puff pastry and scattered with German gold leaf and shaved French truffles which retail for about $180 a truffle.
Claiming to be the world's most expensive pie and developed over three weeks by chef Paul Medcalf of The Lord Dudley Hotel, Paddington, it is part of a promotion by deal-of-the-day website Groupon after selling 2 million food and drink vouchers.
"I thought if we just take what we do here well and take Australia's and the world's finest ingredients then the pie will work and it did," said Medcalf.
The chef was lucky enough to taste-test the first 2.2kg monster that came out of the oven.
"I was quite nervous. I didn't want to stuff it up," he said. "It was definitely very, very rich but all the flavors managed to work together.
"We are proud to sell the pies that we normally do here but this one was to the extreme."
5. Golden Phoenix Cupcake at Bloomsbury Cafe - Dubai, UAE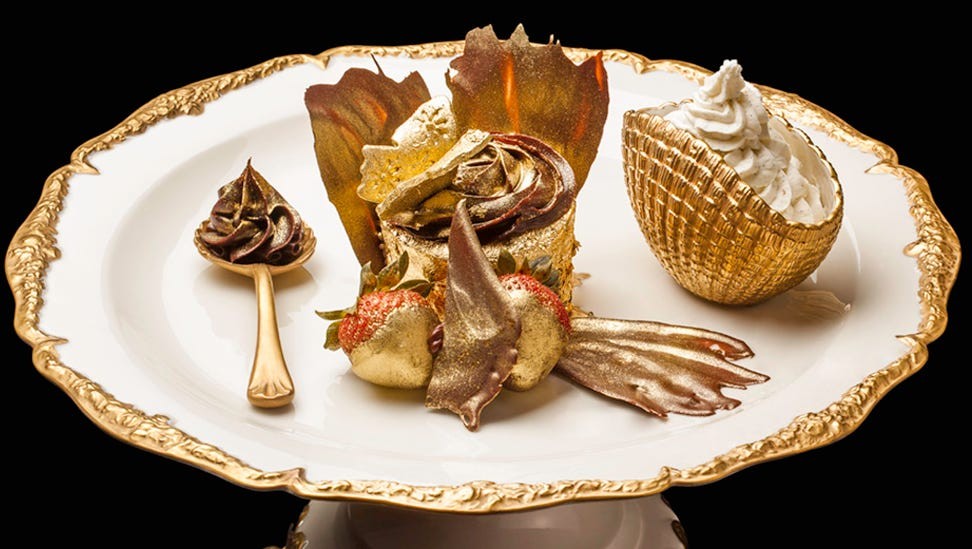 Photo: USA TODAY
Behold "The Golden Phoenix." Hailed as the world's most expensive cupcake, the pricey dessert costs a whopping £645 ($1,000) at Dubai's Bloomsbury's Cupcakes.
Served on a covered Villari 24-carat gold empire cake stand, the cupcake is adorned with edible gold and chocolate. It was unveiled at the opening of the new Bloomsbury location in the Dubai Mall.
A YouTube video offers a behind-the-scenes look at the making of "The Golden Phoenix." The chocolate cupcake is baked with premium Amedei Porcelana chocolate and premium Ugandan vanilla beans and covered in 23-carat edible gold sheets. The cake is frosted with chocolate icing and dusted with edible gold dust. It's then garnished with chocolate decor that's dusted in more gold dust. Organic chocolate-covered strawberries and a golden spoon complete the dish.
6. Louis XIII pizza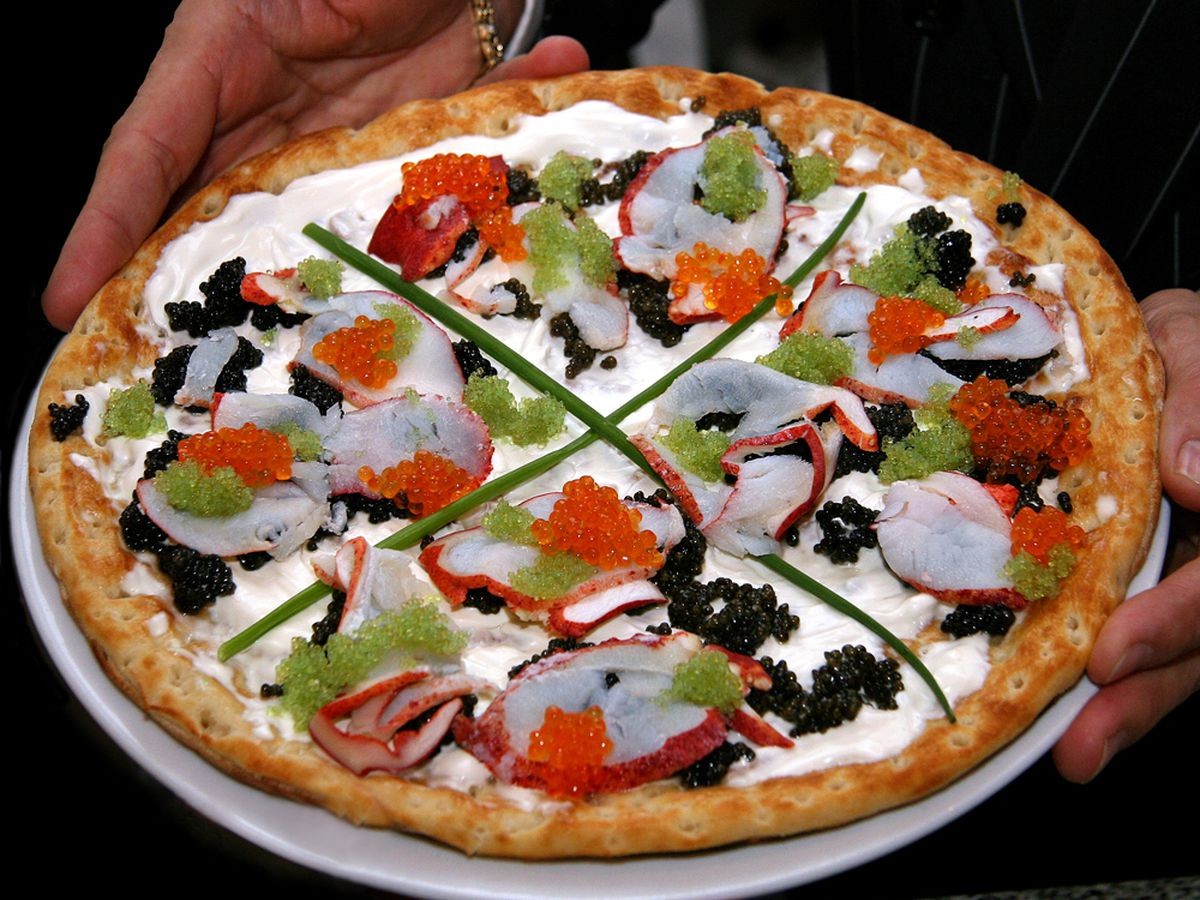 Photo: The Bangladesh News
The most expensive pizza in the world, Louis XIII is known to have been created by Renato Viola. The pizza was initially created for two people and was just 20 cm. The dough used for it took as long as 72 hours to rise and needs to rest for a long time before being cooked. It is made of ingredients like three types of caviar - Oscietra Royal Prestige, Kaspia Oscietra Royal Classic from the Iranian coast, and Kaspia Beluga. Besides the caviar, the pizza also features a very expensive lobster that has been shipped from Norway, along with seven types of cheese. Costing as much as US$ 12,000, the Louis XIII pizza is served in Salerno, Italy.
7. Fleur Burger at Fleur - Las Vegas, NV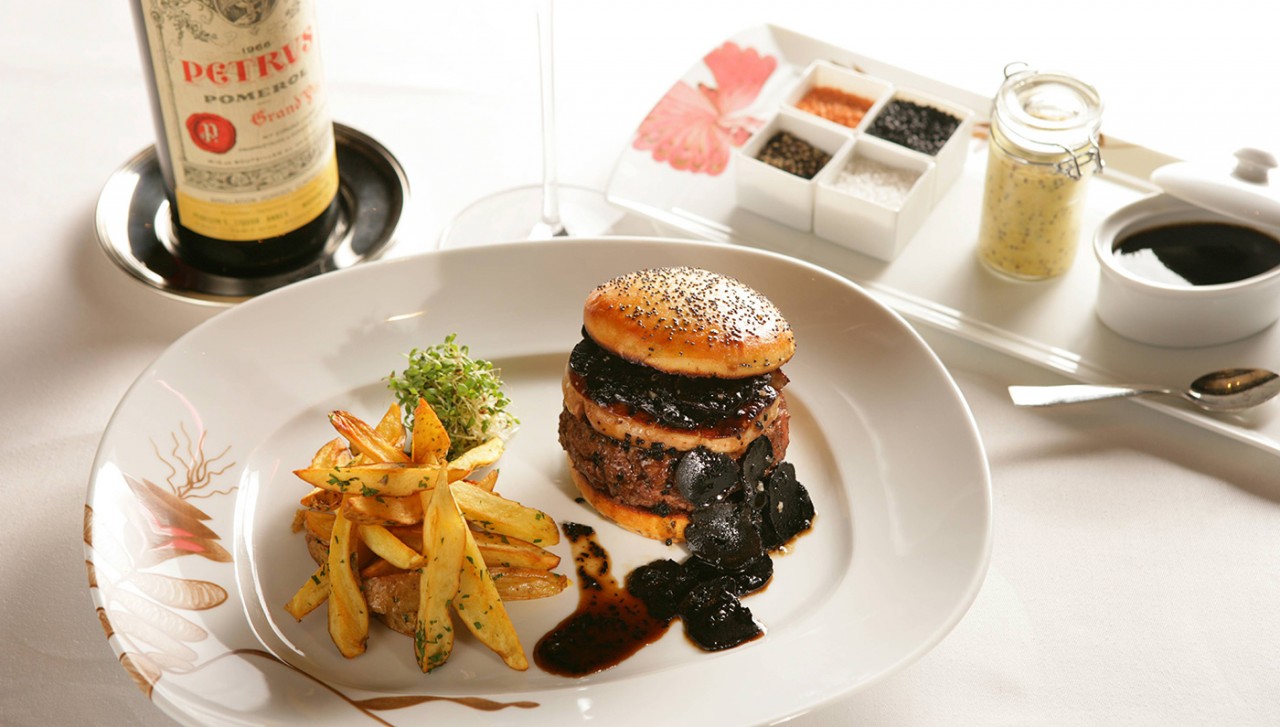 Photo: Robb Report
If you're going to break your budget anywhere, it's gotta be Vegas. Delicious Sin City has so much more to offer than seedy casinos, Siegfried and Cirque du Soleil. Many of the world's top chefs can be found making their culinary mark on the strip. And one great example of Las Vegas' culinary prowess is the super swanky Fleur, where you can find tasty handcrafted cocktails and exquisite globally inspired cuisine by venerated chef Hubert Keller. But there is one dish at Fleur that is beyond comparison in taste and in price - the $5,000 Fleur Burger. This devilishly decadent dish contains a tender Waygu beef patty smothered in butter, seared foie gras, and sliced black truffles on a warm brioche bun. But it doesn't end there. This outrageously fancy burger comes perfectly paired with a bottle of 1995 Petrus - which in itself is valued at five grand. Kinda makes you miss the dollar value menu, doesn't it?
Top Ten Best Cuisines in the World

Thailand, Japan, China, India are 4 Asian countries in the list of 10 countries with the best food in the world according to CNN Travel.