The 3 Best Cha Ruoi in Hanoi to Try Right Now
This winter, do not miss out on authentic Cha ruoi (fried ragworm omelet) at these places - the ultimate Hanoi seasonal delicacy.
Hanoi Cha Ruoi or ragworm fritters is a cold-weather staple. This winter season, enjoy the iconic deep fried delicacy, the sweet and sour flavour from the dipping sauce, and the fresh herbs are currently cooling at these three destinations. They are famous Cha Ruoi places with generations of loyal customers. Each has their own unique color but all is delicious.
Hung Thinh Eatery - Whole ragworm fritters
In 2019, Hung Thinh restaurant was featured in Hong Kong newspaper South China Morning Post for its renown Cha Ruoi. This restaurant is nearly 30 years old, proving the timeless charm of Cha Ruoi.
The main ingredients include ragworm with minced meat, eggs, dill, and minced tangerine peel, all marinated with delicious fish sauce, then to be fried on low heat, which gives off an attractive aroma. When finished frying, Cha Ruoi has the characteristic smell of dill, slightly pungent onion and a bit bitter taste of dried tangerine peel. This is the authentic traditional recipe for making Hanoi-styled Cha Ruoi.
Cha Ruoi can also be served with raw vegetables and sweet and sour sauce with green papaya and carrots. It is similar to the way you enjoy fried spring roll. Hence, customers of Hung Thinh enjoy Cha Ruoi as afternoon supper to fill the stomach with savvy food after a long cold day.
For urge customers who are not put off by the sinuous insides, try the specialty whole ragworm fritters, which is richer in taste compared to the minced ragworm one.
Each piece of Cha Ruoi costs about VND 20,000 - 200,000 depending on the size. Hung Thing also has a takeout menu.
Location: 1 Hàng Chiếu Street, Hàng Buồm Ward, Hoàn Kiếm District (close to the Ô Quan Chưởng relic)
Hang Beo Eatery - Cha Ruoi with Bun rice noodles
Hang Beo has been on Lo Duc street for more than 2 decades. This place was also interviewed by CNN video channel - The Great Big Story. In the interview, the owner happily shared her success starting from a small sidewalk shop in 2007 to opening indoor seating and becoming popular Cha Ruoi place.
The serving portion is quite large, so customers often come here for lunch or dinner. Hang Beo is famous for the combo of Cha Ruoi and Bun rice noodles. The fatty and greasy with a touch of sweetness from the main dish suits the clean and cool taste of Bun.
The price is VND 25,000 per Cha Ruoi piece while rice noodles cost 45,000 VND a serving. Customers can now order by calling the hotline. More and more people enjoy eating at home instead of dine-out at crowded place so this change makes Hang Beo even more famous.
Location: 244 Lò Đúc Street, Đống Mác Ward, Hai Bà Trưng District
Vendor stool Hoe Nhai - Secret Recipe
Another popular street food stall with plastic stools by the sidewalk, this vendor stool at Hoe Nhai slope makes the list because the owner is a person who has spent many years peddling around the streets of the capital to sell authentic Cha Ruoi despite her poor health.
Cha Ruoi - the iconic deep fried delish of Hanoi. Photo: Vietnamnet
Compared to other places, this place serve Cha Ruoi with stronger flavor thanks to the secret of seasoning. Words of mouth travel fast, the food at the vendor stool Hoe Nhai is both cheap and delicious. The shop occasionally selling red jellyfish when they are in season.
If you want to enjoy the rustic, unfussy taste of this popular street food, this one is a pocket-friendly address. For only VND 15,000 a piece, you can devour the unique cold-weather staple
Location: 19 Hoè Nhai Street (Hoè Nhai Slope), Nguyễn Trung Trực Ward Ba Đình District
These places usually open at 10 or 11AM. There is no specific closing time but you ought to hurry before the food is sold out.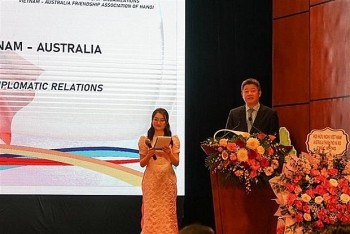 Friendship
A friendship exchange programme has been held recently in Hanoi to celebrate the 50th founding anniversary of the Vietnam-Australia diplomatic relations (February 26).