The suspension of Oxford's AstraZenece might be more politics than science, expert says
Several countries have halted the use of Oxford's AstraZenece vaccine, due to cases of blood clots that was suspected to be caused by the vaccine, further complicating a vaccination effort that was already lagging across the region.
The call to pause the rollout is being questioned by some health experts, who say the data simply does not support the decision. It is "important to contextualize" what's being reported because the risk of blood clots is no higher among vaccinated people than among the general population, Dr. Mati Hlatshwayo Davis, an infectious disease physician at Washington University School of Medicine, told Yahoo Finance. "There is, quite frankly, not a concerning signal here. This appears to be more politically motivated than anything to do with the actual science.", according to Yahoo! Finance.
A vial of AstraZeneca vaccine is pictured in a pharmacy in Boulogne Billancourt, outside Paris. At least a dozen countries including Germany, France, Italy and Spain have now temporarily suspended their use of AstraZeneca's coronavirus vaccine. (AP Photo/Christophe Ena, File)
Several countries have reported a possible increase in blood clotting among patients who received AstraZeneca's vaccine. There have been 37 such reports among the 17 million people vaccinated across the U.K. and EU, and preliminary reports suggest one person each in Italy, Austria and Denmark died due to blood clots after getting the AstraZeneca vaccine. The European Medicine Agency's (EMA) safety committee cautions, however, that none of those deaths were actually linked to the vaccine. The committee further noted that several people who got blood clots were middle aged, when such clots are more common, and that blood clots aren't particularly rare in the general population. AstraZeneca noted in a statement that the number of blood clots are actually "much lower than would be expected to occur naturally in a general population of this size."
Davey Smith, an infectious disease specialist at the University of California San Diego, is baffled by governments' decisions to suspend use of AstraZeneca's vaccine. "I've seen no data to see why they are stopping," he says, adding, "People are going to get blood clots, because they would have gotten them with or without the vaccine.", Forbes reported.
Once considered to be the leader in the race for a Covid-19 vaccine, AstraZeneca has ended up facing more hurdles than its competitors. Problems started last September, when global trials of the vaccine were paused due to a patient experiencing a severe illness. The trial soon resumed, but two months later the company revealed a blunder: in the U.K. trials run by Oxford, participants had accidentally been given half-doses of the vaccine, a mistake that shook the faith of regulators in the U.S., who now expect final clinical trial data from AstraZeneca in April.
Support for AstraZeneca's vaccine was already suffering ahead of the latest safety concerns. A recent survey from YouGov, a UK-based market research and data analytics firm, found that Europeans were more confident in the safety of Moderna and Pfizer's vaccines compared to the shot produced by AstraZeneca.
A recent policy brief from the European Centre for Disease Prevention and Control found that less than half of people in the E.U. believe that Covid-19 vaccines are safe.
Smith stated that suspending administration of the vaccine is a risk in the greater fight against the pandemic. "In the end it could be very harmful for the whole vaccine rollout in general," he says. Based on the reported data, he says he doesn't see a justification for governments suspending the vaccine, commenting that "if they do have data, and if they're making decisions based on data that nobody has, then it's a transparency problem."
So far, suspensions among E.U. nations aren't expected to halt distribution elsewhere. Earlier this month, the COVID-19 Vaccines Global Access (COVAX), a public-private vaccine initiative to distribute vaccines to emerging economies, began distributing doses of AstraZeneca's vaccine to India, Ghana and Cote D'Ivorie. More are expected to follow, with 237 million doses allocated to over 130 countries this month.
AstraZeneca defends vaccine safety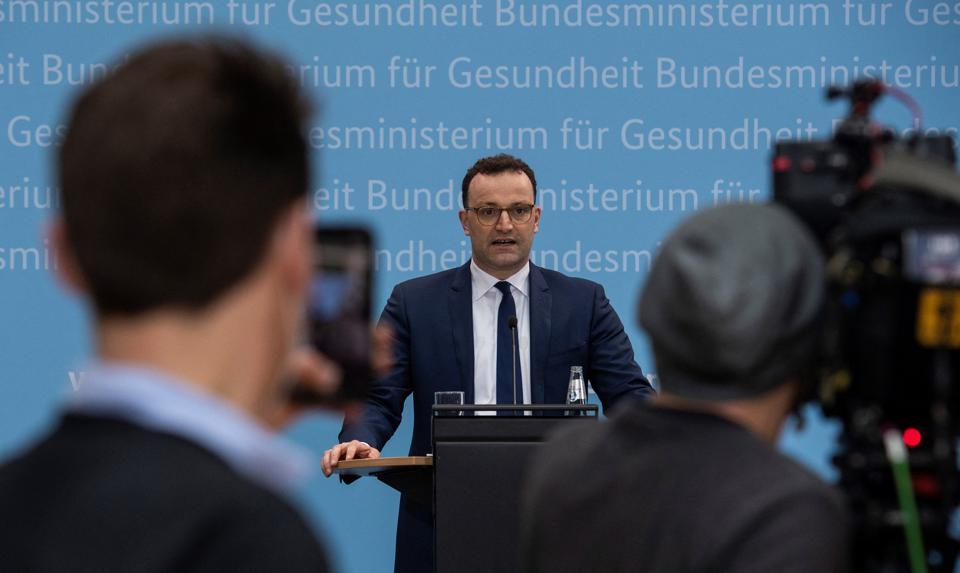 German Health Minister Jens Spahn announced Monday that the country had halted the use of the AstraZeneca's coronavirus vaccine. JOHN MACDOUGALL/AFP VIA GETTY IMAGES
AstraZeneca said there is no evidence its vaccine causes an increased risk of blood clots, and urged people to continue getting their jabs. It comes after Ireland and the Netherlands suspended use of the vaccine temporarily today as a 'precautionary step'.
The decision followed reports of serious clotting in adults in Norway which left four people in hospital. AstraZeneca said a review of available safety data in more than 17 million people who have been vaccinated across the UK and EU has shown no evidence of an increased risk.
The company's chief medical officer Ann Taylor said the number of cases of blood clots reported is lower than the hundreds of cases that would be expected among the general population. The UK's medicines regulator also said available evidence does not suggest the vaccine is the cause of the blood clots.
AstraZeneca said its review had found no evidence of an increased risk of pulmonary embolism, deep vein thrombosis (DVT) or thrombocytopenia, in any defined age group, gender, batch or in any particular country.
The World Health Organisation (WHO) has also said that countries should continue to use the vaccine, adding there was no indication of a link between the jabs and blood clots. Ireland's deputy chief medical officer, Dr Ronan Glynn, said the recommendation has been made following a report from the Norwegian Medicines Agency of four new reports of serious blood clotting events in adults after vaccination with AstraZeneca. He added: 'It has not been concluded that there is any link between the Covid-19 vaccine AstraZeneca and these cases.
'However, acting on the precautionary principle, and pending receipt of further information, the National Immunisation Advisory Committee (NIAC) has recommended the temporary deferral of the Covid-19 vaccine AstraZeneca vaccination programme in Ireland.', Metro News reported.
The European Medicines Agency (EMA) has initiated an urgent review of all blood clotting events occurring with the vaccine, to determine if there is a possible safety risk. Several other European countries also temporarily suspended AstraZeneca jabs. The EMA reported one person in Austria was diagnosed with blood clots and died 10 days after vaccination, but it stressed there is 'currently no indication that vaccination has caused these conditions'.
Another person was admitted to hospital in Austria with pulmonary embolism (blockage in arteries in the lungs) after being vaccinated, while one death involving a blood clot was reported in Denmark.
A 50-year-old man is also thought to have died in Italy from deep vein thrombosis (DVT). Denmark, Norway and Iceland have said they are temporarily halting all AstraZeneca vaccinations to investigate the reports.