J&J, AstraZeneca To Modify Covid-19 Vaccines To Eliminate The Risk Of Blood Clots
AstraZeneca and Johnson & Johnson are investigating and modifying their Covid-19 vaccines in order to eliminate the risk of rare, but serious, blood clots associated with the shots.
The blood clotting issue, which some scientists are calling vaccine-induced immune thrombotic thrombocytopenia, or VITT, has been linked to both shots. Scientists have been discovering clues into how the clots form, boosting hopes of possibly reengineering the shots, a person familiar with the matter told CNBC.
The Wall Street Journal reported the news earlier Tuesday.
In a statement to CNBC, J&J said it supports "continued research and analysis as we work with medical experts and global health authorities."
The risks of clotting combined with low blood platelets – a rare condition termed vaccine-induced immune thrombotic thrombocytopenia, or VITT – following the AstraZeneca shot are roughly 1 to 2 per 100,000 vaccinations, according to UK and European tallies of cases.
Meanwhile, US government data show a rate of around 0.3 instances of the clotting condition per 100,000 doses for the J&J vaccine.
AstraZeneca confirmed it was actively investigating its current vaccine to try to pin down potential cause of the blood clots.
However, a modified vaccine programme has not yet been launched.
"Johnson & Johnson remains committed to helping end this deadly pandemic as quickly as possible, and we continue to believe in the positive benefit-risk profile of our vaccine," the company said.
AstraZeneca said it is "actively working with the regulators and scientific community to understand these extremely rare blood-clotting events, including information to drive early diagnosis and intervention, and appropriate treatment."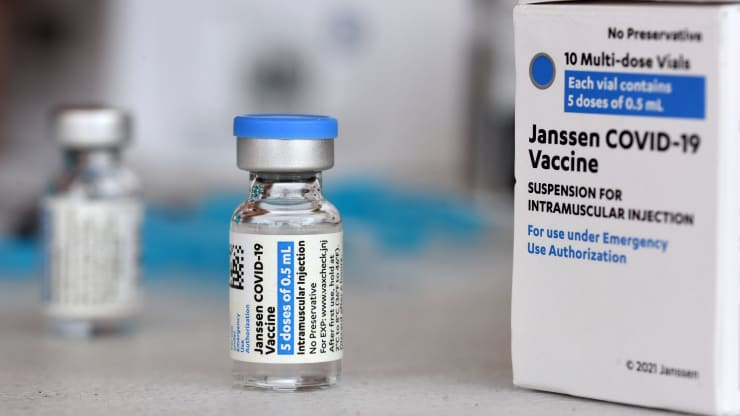 ORLANDO, FLORIDA, UNITED STATES - 2021/04/10: Johnson & Johnson COVID-19 vial and box seen at a vaccination site. Photo: Getty Images
The Food and Drug Administration said in April it was adding a warning label to J&J's Covid vaccine, citing the blood-clotting disorder as a rare side effect.
On Monday, the FDA said it was adding yet another warning to J&J's label, noting the shot has been linked to a serious, but rare, autoimmune disorder known as Guillain-Barre syndrome.
About 100 preliminary reports of Guillain-Barre have been detected after 12.8 million doses of the J&J vaccine were administered, according to the Centers for Disease Control and Prevention. The cases reported after receiving the J&J shot largely occurred about two weeks after vaccination and mostly in males, many aged 50 years and older, CDC data shows. The available data does not show a similar pattern with Pfizer's or Moderna's vaccine, the agency said.
The FDA and CDC on April 13 asked states to temporarily halt using J&J's vaccine "out of an abundance of caution" while it investigated six women, ages 18 to 48, who developed cerebral venous sinus thrombosis, or CVST, in combination with low blood platelets within about two weeks of receiving the shot.
They recommended resuming use of the shot 10 days later after the CDC determined that the benefits of the inoculations outweighed their risks.
The Journal's report Tuesday noted that modification of the vaccines might require changes to ownership rights or regulatory approvals.
FDA warns of potential rare neurological complication with Johnson & Johnson coronavirus vaccine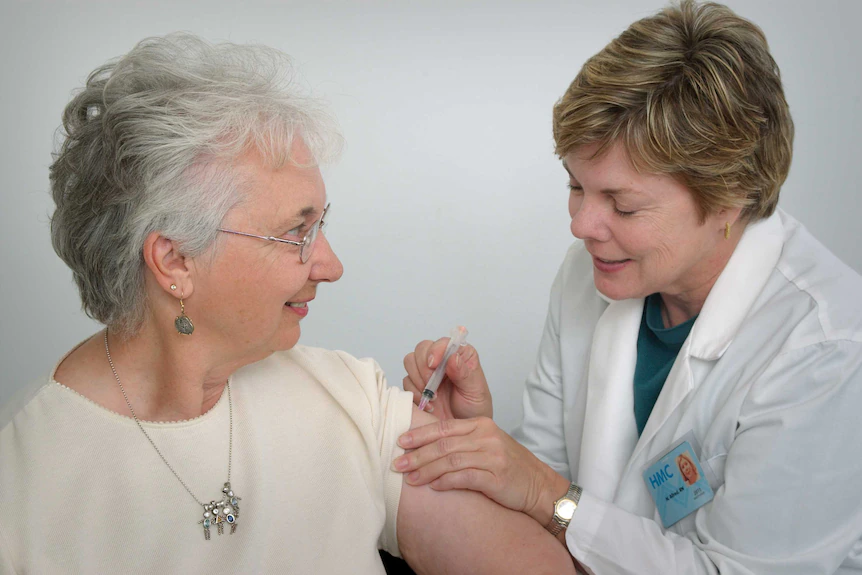 Photo: Centers for Disease Control and Prevention
The US Food and Drug Administration updated the label on Johnson & Johnson's coronavirus vaccine Monday to warn of the possible increased risk of a rare neurological complication known as Guillain-Barré syndrome.
While the FDA said it had not established the vaccine could cause the syndrome, it noted an increase in reports of the sometimes paralyzing condition.
"Today, the FDA is announcing revisions to the vaccine recipient and vaccination provider fact sheets for the Johnson & Johnson (Janssen) COVID-19 Vaccine to include information pertaining to an observed increased risk of Guillain-Barré Syndrome (GBS) following vaccination," it said in a statement sent to CNN.
"Reports of adverse events following use of the Janssen COVID-19 Vaccine under emergency use authorization suggest an increased risk of Guillain-Barré syndrome during the 42 days following vaccination," the updated label reads.
"Although the available evidence suggests an association between the Janssen vaccine and increased risk of GBS, it is insufficient to establish a causal relationship. No similar signal has been identified with the Moderna and Pfizer-BioNTech COVID-19 vaccines," the label adds.
For the vast majority of people, the benefits of vaccination against COVID-19 as soon as possible outweigh the risks of TTS.(AAP: Joel Carrett)
The FDA said 100 preliminary reports of Guillain-Barré syndrome had been filed with the US government's Vaccine Adverse Event Reporting System, out of 12.8 million Janssen vaccines given.
"Guillain Barré syndrome (a neurological disorder in which the body's immune system damages nerve cells, causing muscle weakness and sometimes paralysis) has occurred in some people who have received the Janssen COVID-19 Vaccine," the FDA says in the label update for patients and caregivers.
"In most of these people, symptoms began within 42 days following receipt of the Janssen COVID-19 Vaccine. The chance of having this occur is very low," it adds.
People should seek medical attention if they notice symptoms such as weakness or tingling in the arms and legs, especially if it spreads, after receiving a vaccine, the FDA said.
Other telltale symptoms include difficulty walking, speaking, chewing or swallowing; double vision; and bowel or bladder control problems.
The FDA said 95 of the 100 reports of GBS involved people who needed hospitalization, and one person died.
The CDC and FDA are monitoring cases of the syndrome.
"GBS is a neurological disorder in which the body's immune system damages nerve cells, causing muscle weakness or, in the most severe cases, paralysis. Each year in the United States, an estimated 3,000 to 6,000 people develop GBS; it is typically triggered by a respiratory or gastrointestinal infection. Most people fully recover from GBS," a CDC spokesperson told CNN.
"Reports of GBS after receipt of the J&J/Janssen COVID-19 Vaccine in the Vaccine Adverse Event Reporting System (VAERS) are rare, but do likely indicate a small possible risk of this side effect following this vaccine," the spokesperson added.