WHO backs AstraZeneca coronavirus vaccine, playing down risks
The World Health Organization (WHO) has backed the use of the AstraZeneca vaccine after some European countries paused their rollouts following reports of the formation of blood clots in several recipients.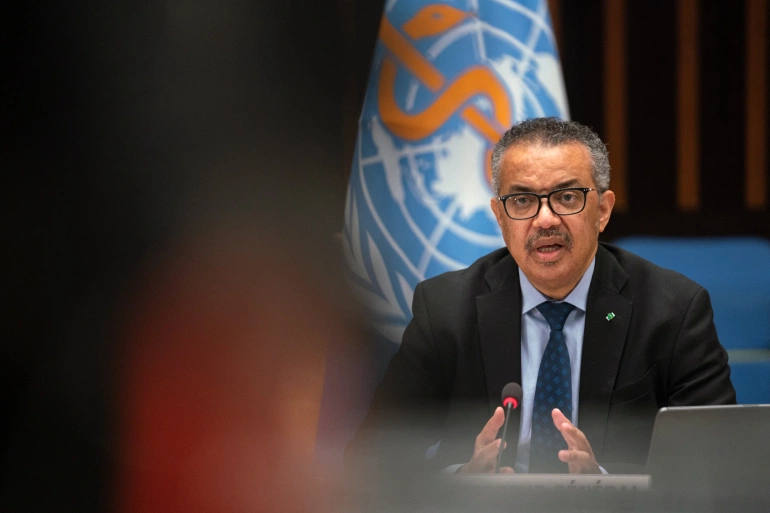 The World Health Organization aligned with the EU regulator in recommending the use of the AstraZeneca vaccine. Photo: WHO/AFP
"More than 335 million doses of COVID-19 vaccines have been administered globally so far, and no deaths have been found to have been caused by COVID-19 vaccines," WHO Director-General Tedros Adhanom Ghebreyesus said on March 12 during an online news briefing.
At least five European countries, including Denmark, Norway and Iceland, have suspended the use of a specific batch of the AstraZeneca vaccine after a Danish woman died due to the formation of blood clots after inoculation. Italy's drug regulator said it halted the use of a separate batch after two people died.
However, the European Medicine Agency stressed that the jabs' benefits still outweighed their risks and the WHO's chief scientist Soumya Swaminathan said on March 12 that no causal link had been established between the vaccine and clotting.
"As of now we are confident that we should go ahead," she said, referring to the use of the AstraZeneca jab.
The WHO also said a panel of experts was investigating the latest reports and said any changes to its current recommendations will be communicated immediately to the public, according to Al Jazeera.
Dr. Mariangela Simao, WHO assistant director-general for access to medicines and health products, added that the global health agency will "probably have a statement on this next week as investigations are completed."
"WHO is very much aligned with the position that we should continue immunization until we have clarified the causal relationship," she was cited by CNBC as saying.
"Reports of blood clots received so far are not greater than the number that would have occurred naturally in the vaccinated population," said Dr. Phil Bryan, vaccines safety lead at Britain's Medicines and Healthcare Products Regulatory Agency.
"The safety of the public will always come first. We are keeping this issue under close review but available evidence does not confirm that the vaccine is the cause. People should still go and get their COVID-19 vaccine when asked to do so," he added.
'No causal link'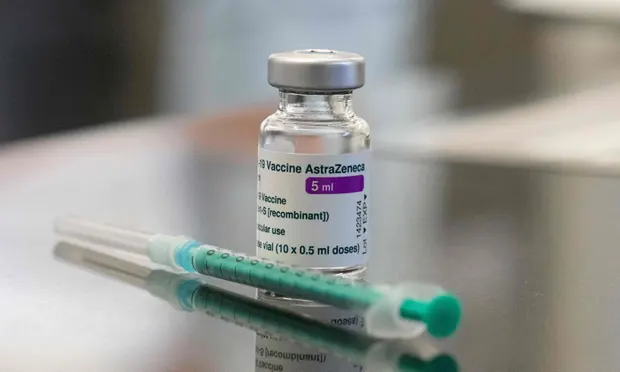 Europe's medicines regulator has said the AstraZeneca vaccine is safe. Photo: AFP/Getty Images
Other countries, including France, have said they will continue to administer the vaccine, citing the EU drug regulator's ruling that the AstraZeneca jab was still safe to use, according to France24.
French Health Minister Olivier Véran said on March 11 he had consulted with the French medicines agency, which said there was "no need" to suspend vaccinations.
His Spanish counterpart, Carolina Darias, said that "so far, no causal link between the vaccine and the blood clot events has been established".
Vietnam continues AstraZeneca rollout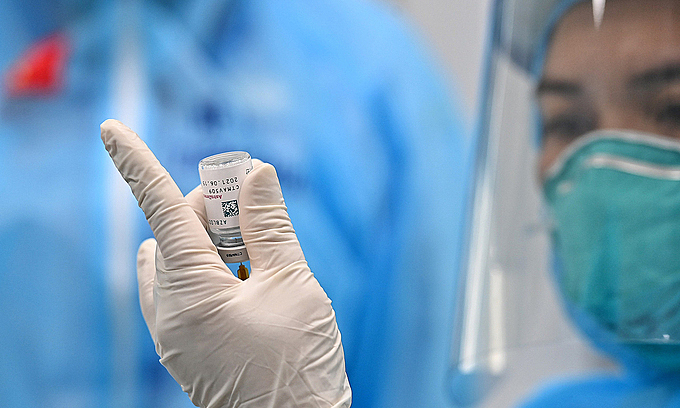 A medic holds a vial of Covid-19 vaccine AstraZeneca that is used to be injected for medical staff at the National Hospital for Tropical Diseases, Hanoi, March 8, 2021. Photo: VnExpress
Vietnam will continue its AstraZeneca vaccine rollout because it has not yet recorded any case of blood clots as reported in some countries, a health official says.
Over the last five days, a total of 1,600 medical staff and frontline workers in nine localities have received the first dose of the vaccine developed by the British-Swedish company in collaboration with Oxford University, VnExpress reported.
There has not been a single case of blood clot reported so far following the administration, said Professor Dang Duc Anh, director of the National Institute of Hygiene and Epidemiology and head of the national Expanded Program on Immunization.
"Vietnam is still implementing the AstraZeneca vaccination campaign as planned and continues to monitor post-administration reactions," Anh told VnExpress.
In Vietnam, six of nearly 1,600 people who got the AstraZeneca Covid-19 vaccine suffered from anaphylaxis and all are in stable conditions. Some others displayed expected symptoms like muscle pain, fatigue, fever, headache, chill, pain at the injection spot, and nausea.
Vietnam has ordered 30 million doses, and 117,600 arrived late last month. The country will receive another 4.1 million AstraZeneca doses through Covax by April. It is also negotiating with the U.S.'s Pfizer and Moderna and other vaccine manufacturers in Russia and China./.