Three Vietnamese Cities Named Among Best Cities For Workation
Three of Vietnamese cities: Hanoi, Ho Chi Minh City and Hoi An have been voted among other locations in the world as best cities for workation activities by Holidu, a tourist website of UK.
If you have found yourself working from home over the last 18 months, no matter how serene your home office is or how many exotic plants you've planted in your garden, you might be really, really eager for a change of scenery.
Enter the workation: an exciting combination of working and vacationing. A trip where you travel to a new destination and work from there for at least part of your stay.
It's not quite a fully-fledged holiday where you can start on the cocktails at 11am, because you will still have emails to do and tasks to action, but it does offer a change of scenery and the chance to relax away from home outside working hours.
A workation allows you to spend more time visiting faraway family members or really exploring a destination without having to drain all of your annual leave.
And, whilst the concept was a 'thing' long before the coronavirus pandemic, it's now become an option for more people with the rise in remote working.
What is a "Workation"?
Photo: Shutterstock
The world of work is awash with weird and wonderful words – mostly thanks to 'thought leaders' who like playing buzzword bingo in their Business Insider columns.
Also called a 'workoliday' or 'woliday', a workation is exactly how it sounds. Working while on vacation (work + vacation = workation).
It's combining business and leisure. Sending emails while sunning yourself. Hitting targets while hitting the beach, anywhere in the world. Working the hours while winding down.
With 47 percent of people allowed to work remotely full-time post-pandemic, we're finally realising that some people are equally (if not, more) productive outside the office.
There's a heap of choice when it comes to communication and collaboration apps. MS Teams, Slack, Basecamp, Asana, Zoom, Whereby. Almost anyone can work from almost anywhere.
We've got the tech giants like Facebook and Twitter deciding they don't give two hoots where work is done – as long as it's done.
And besides, times have changed – along with attitudes. We're coming to grips with the fact that the 9-5 office slog isn't for everyone.
More to the point, studies have shown that offering flexible ways of working does wonders for productivity, happiness, loyalty and job satisfaction.
Three Vietnamese cities named among the best cities for workation by Holidu website
1. Hanoi
Hanoi is the second largest city and Vietnam's capital. Ranked as one of the world's top 10 destinations, it is frequently visited and offers lots of attractions as well as a developed business environment. The city is a mix of Asian traditions and Western influence and, thus, provides a comfortable work setting with the necessary amenities and at a reasonable price.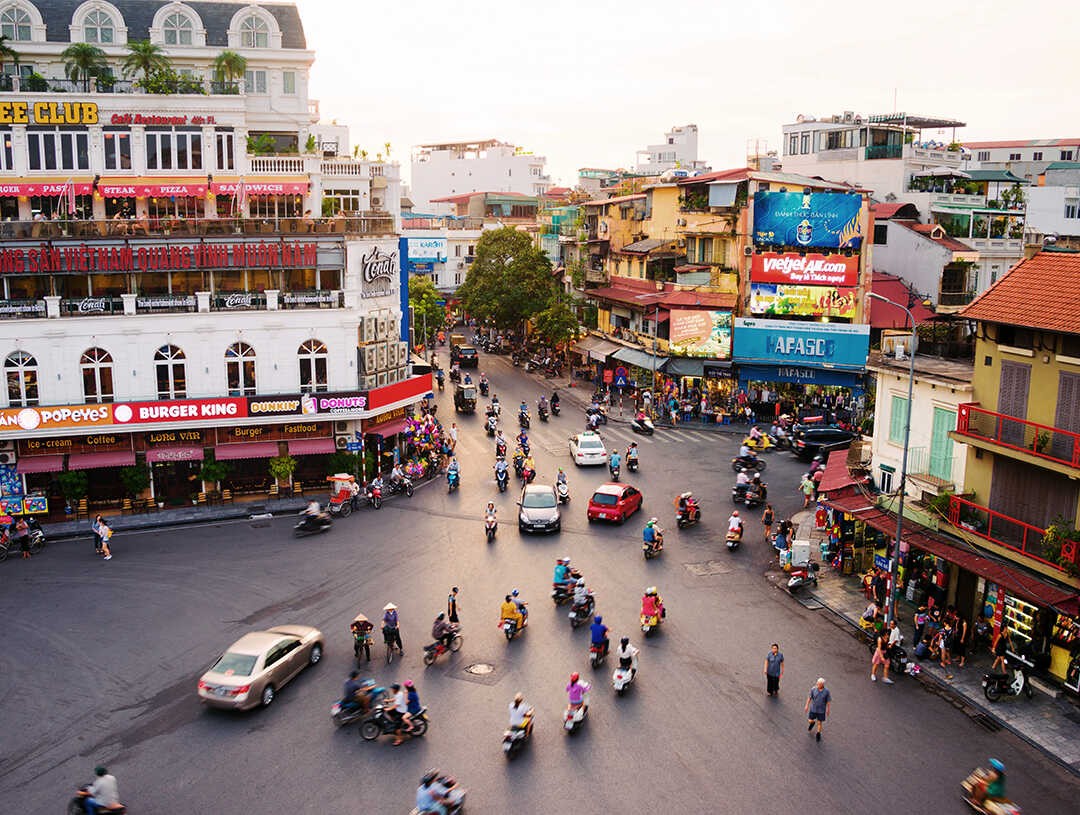 Photo: lottehotelmagazine
There are plenty of coffee shops and coworking spaces to choose from and, with growing tourism, you will also have a wide range of options when it comes to accommodation. Hanoi is quieter than Ho Chi Minh when it comes to the nightlife, but offers many historical and natural attractions to explore like Hoàn Kiếm Lake, Vietnam Military History Museum and others.
Vietnam's average Internet speed is clocked at 9.5Mbps and is one of the slowest in Asia, ranking just above Philippines and India. Wi-Fi access is relatively easy to find ' most coffee shops, hotels, and office buildings will offer free Wi-Fi connection. However, do not expect complimentary Wi-Fi near all tourist attractions.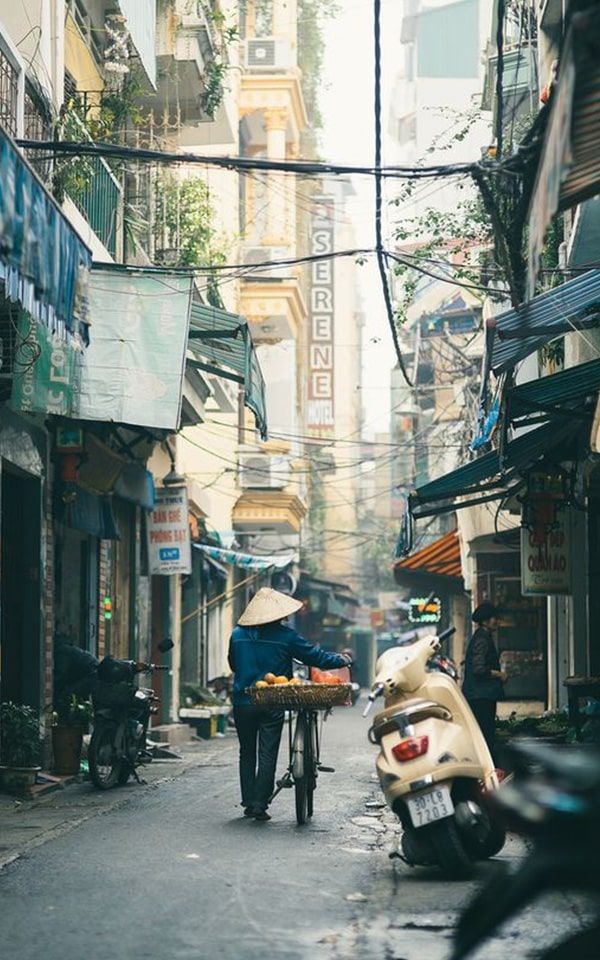 Photo: One More Destination
Big cities boast a large number of coworking spaces. Plus, the region's pronounced coffee culture has ensured an abundance of coffee shops, both local and western, which offer a nice setting for work and rest.
Best working café in Hanoi
Ca Phe Giang
Ca Phe Giang is famous among Remotes for its egg coffee and it's commitment to maintaining an authentic appearance in a sea of chain cafés.
Cong Café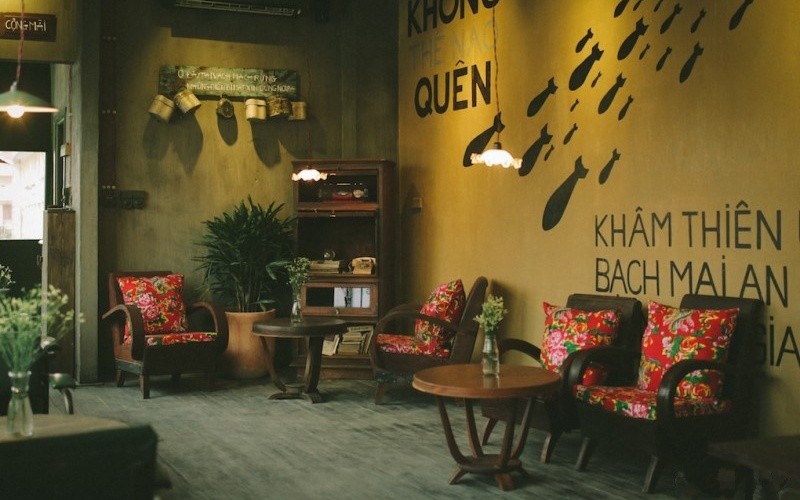 Photo: Bach Hoa Xanh
Cong Café is a vintage, army-themed café located in Hanoi. With multiple locations, all with working hours that stretch until 11:30pm, this café is a Remote favorite in this Vietnamese city.
Lifted Coffee and Brunch
Head to Lifted when you're looking to start your day on the right foot. Brunch items like poached eggs, yogurt bowls, and avocado toasts are given a twist with local, seasonal ingredients.
Trill Rooftop Café and Bistro
For good eats and an even better aesthetic, head to Trill Bistro. The modern, eclectic decor will do wonders for your Instagram feed and you'll be stunned by the rooftop views of the city.
Ca Phe Pho Co
Known to locals as a hidden gem, Ca Phe Pho Co is a hideaway café with amazing views over Hoan Kiem Lake. Check it out if you want to immerse yourself in lush scenery and delicious egg coffee.
Maison de Tet decor
This is the place to go if you're craving something a bit more hefty and healthy than a coffee and a pastry. Maison de Tet decor has filling foods like fig, date, and walnut sourdough toast, salad wraps, and "nourish bowls" filled with vegetables and protein.
2. Ho Chi Minh City
While Hanoi rocks, Ho Chi Minh City is rolling on a wave of tech development. Skyscrapers are shooting up and tech start-ups are appearing on every corner.
There's even a self-styled Saigon Silicon City, under construction in District 9 in the eastern suburbs. So it's no surprise many digital nomads are looking towards Vietnam's biggest city to make a home base.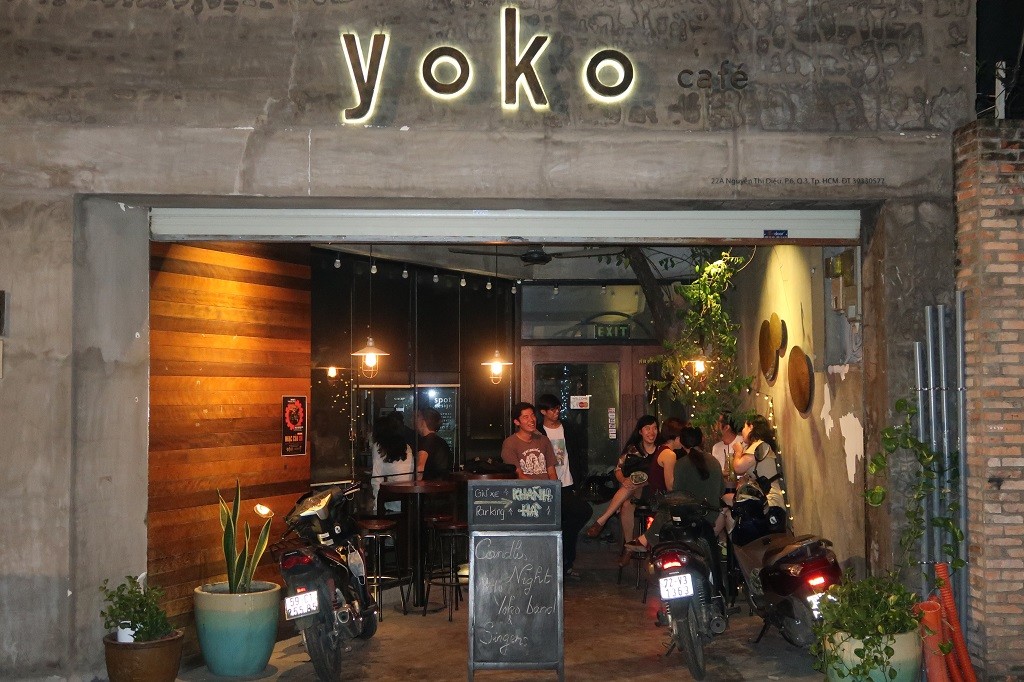 Yoko cafe, HCMC. Photo: Culture Trip
Those who love HCMC, love it for its energy and enthusiasm, its start-up mentality, and its design-oriented coffee shops serving full-bodied French-style coffee. On the flip side, the motorcycle traffic jams, air pollution and tropical heat can take some getting used to. When the city closes in, nomads retreat to the calmer surroundings of the Mekong Delta and such laid-back hangouts as Phu Quoc Island, with its beaches, diving and rainforest greenery.
Easily the best-loved co-working space in Ho Chi Minh, Dreamplex has a District 1 location (in fact two of them, plus two more in Binh Thanh District), fast internet access and a no-nonsense business vibe that appeals to nomads who like to get their heads down to work. For a more social vibe, Spiced CoWorking is set in an area full of rooms for rent in District 2, and it hosts regular networking lunches and social gatherings, as well as offering its own co-living accommodations and a pool.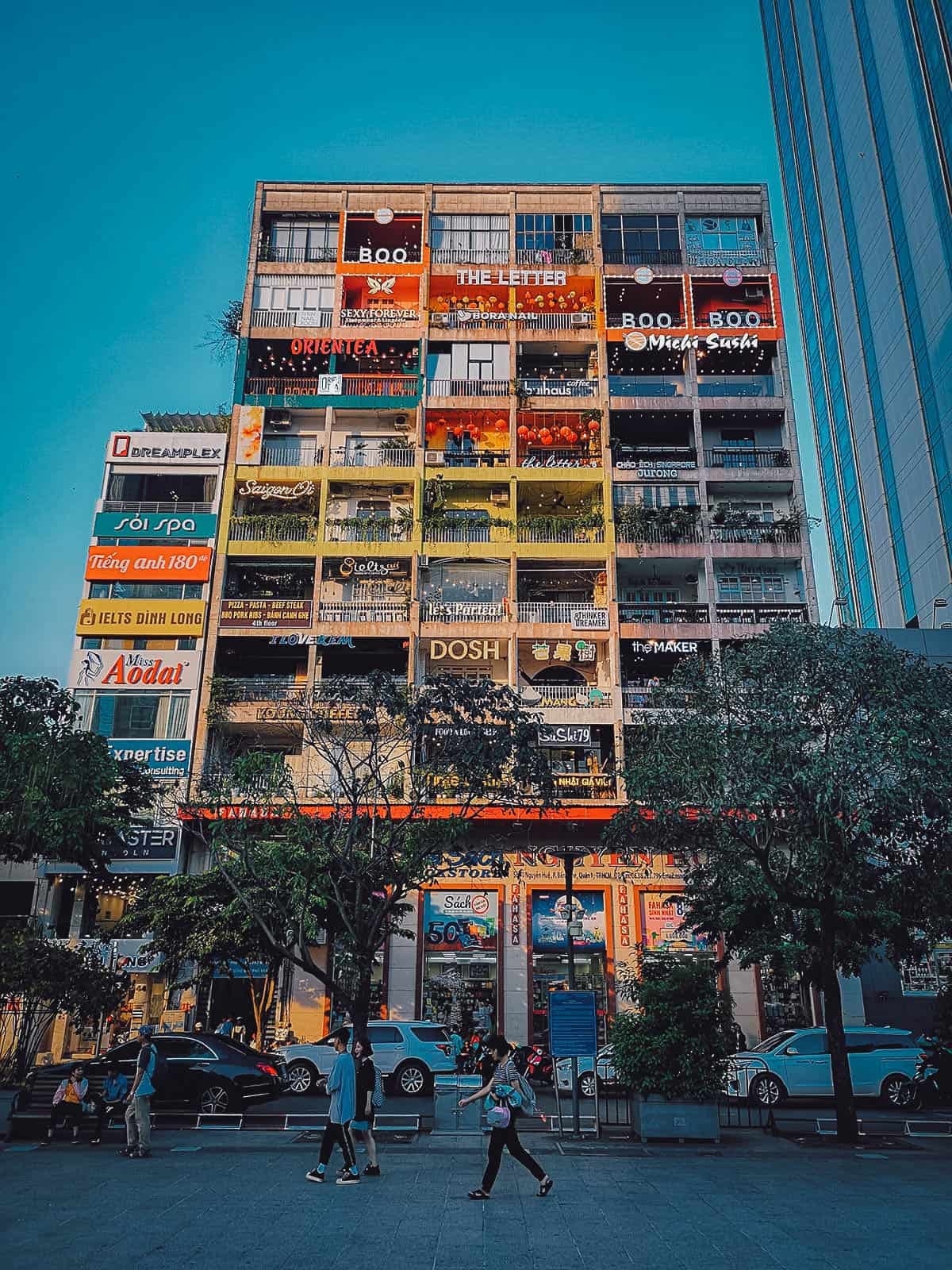 Photo: Will Fly for Food
Most remote workers base themselves centrally in Districts 1 and 3, while more established expats gravitate towards Districts 2 and 7. Rented apartments are the mainstay of nomad accommodations but central locations can be expensive; many transient workers prefer cheaper rooms in shared houses, though this can mean working in coffee shops and co-working spaces for relative peace and quiet. Then again, with Vietnam's fabulous street food, you'll want to eat out as often as possible. To get around, Uber and Grab offer a cheap alternative to local taxis, or do as locals do and jump on a motorcycle taxi.
Get down in Chinatown – the district of Cholon, 3 miles (5km) southwest of the center, offers fabulous Chinese flavors, mercantile bustle and ornate pagodas spilling out of hidden courtyards.
Take a Delta tour – the green, rice-paddy covered wetlands of the Mekong Delta are ripe for exploration; on organized tours, or independently by rented motorcycle, bus and boat.
Weekend break on the beach at Phu Quoc – VietJet Air and Jetstar offer cheap transfers to the island airstrip, putting Phu Quoc's beaches, beach bars and national park within easy reach.
3. Hoi An
Hoi An doesn't have as big a digital nomad scene as Saigon, but it's worth considering if you prefer quieter towns. There's a beautiful ancient centre, rice paddies, rivers, beaches, plenty of cafes, and a new co-working space. The Wi-Fi is good, and it's easy to rent a house for stays of a month or more.
The weather patterns in Hoi An are different from the rest of Southeast Asia (and even Saigon). The rainy season is from September to January, the weather is much colder from November to January, and from then temperatures increase with the hottest months from June to August.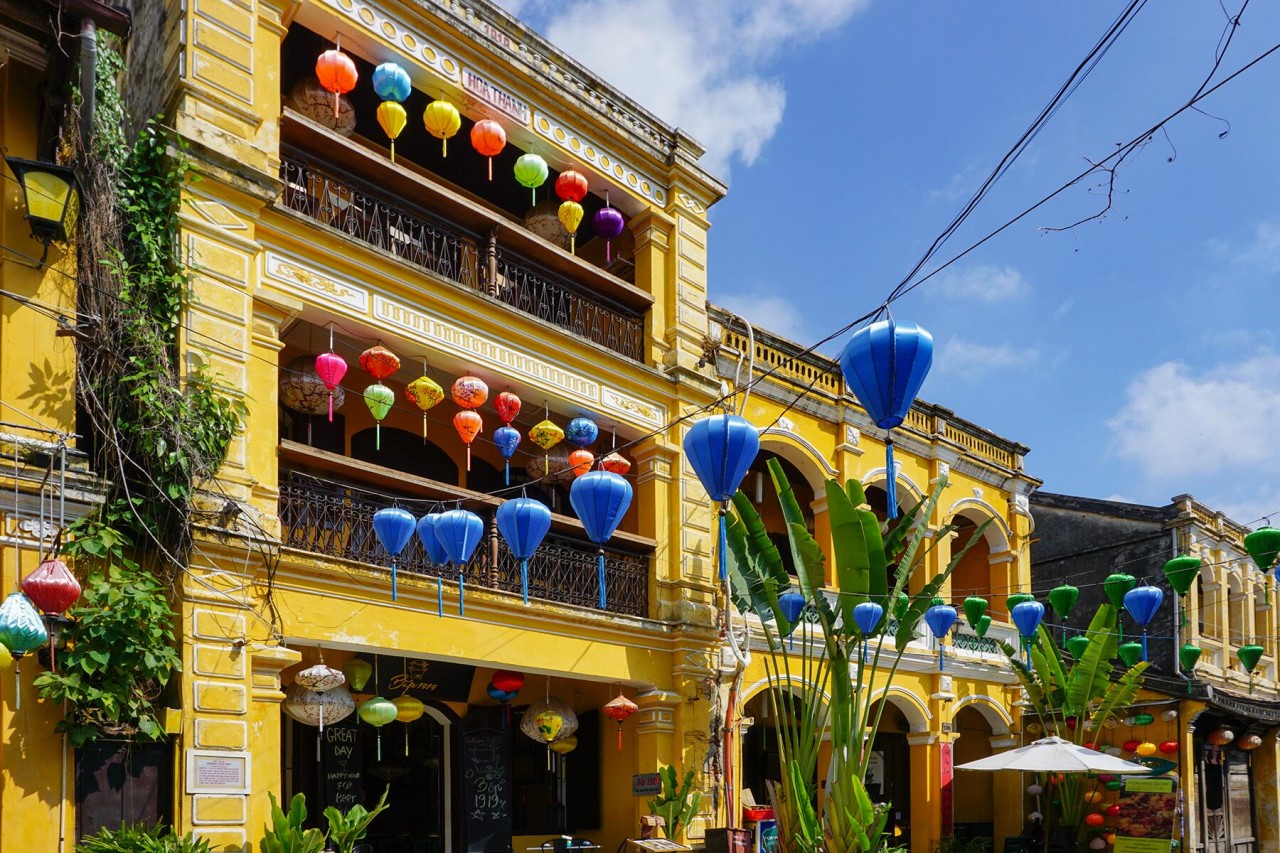 Photo: Fodors Travel Guide
Hoi An's nearest airport is Da Nang, which is about 45 minutes away by taxi (around 300,000 VND/$13). A few international airlines fly here including HK Express from Hong Kong, Jetstar from Singapore, and Air Asia from Kuala Lumpur.
Most rentals are a few kilometres from the old city. There isn't any public transport in Hoi An, and while you could manage with walking and taxis, a motorbike or bicycle will give you more flexibility. There are plenty of rental places and they don't ask for a deposit or to see your driving licence.
Although there is a lot less traffic in Hoi An than in Ho Chi Minh City or Hanoi, it's not the best place to learn to drive. The motorbikes were also low quality–if your speedometer and fuel gauge work you are lucky, and the ignition is flaky.
The wifi is very good and readily available in most places. We also suggest buying a local phone plan with data that will ensure you can stay connected to the internet even if there are disruptions to the wifi network. Or if you've discovered a secluded spot, then the pre-paid SIM cards are ideal to hot spot yourself from. An unlocked monthly SIM card with 3GB of data costs around $US9 and this can easily be recharged. Keeping a portable battery pack is another good way to save yourself from panic if there is a power outage. Make sure it always stays charged, you never know when you will need to use it!
It's easy to forget to take breaks when you're very focused on your work. Set an alarm and make sure you stretch out your body and avoid looking at a screen for a few minutes every hour. Many chairs in Hoi An have a stiff wooden back so if you're planning on staying for a while it won't hurt to bring a small pillow with you to keep your back cushioned.
Best Costal Roads in Vietnam

Vietnam has 3.260km of coastline, which is a treasure for those who love traveling. Along that coastline, these following five beachside roads are considered the ...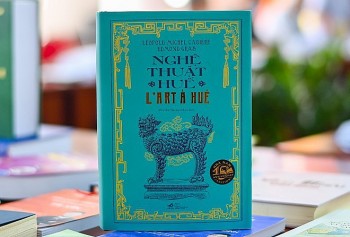 Expats in Vietnam
Inspired either by Vietnamese art or the people themselves, foreign authors often find inspiration in the S-shaped nation.