Tinder Reveals Five Dating Trends in Vietnam Post Pandemic
Tinder's latest report on members in Vietnam and around the globe emphasized that digital dates will remain part of the new normal in the decade ahead.
In some ways, the dating app scene was not far from marking yourself as "available" on the market. Doing research beforehand will better your chances of getting matches and possibly, finding "the one". Here some trends to consider next time you want to connect with someone online.
According to Tinder's Global Dating Future report, young people are forging new dating habits in the context of post- pandemic. They pay more attention to connecting, meeting, and being themselves. Let's take a look at 5 prominent trends in young people's dating stories according to a survey on dating picture conducted by Tinder and the Faculty of Public Relations & Advertising, Academy of Journalism and Propaganda.
| | |
| --- | --- |
| (Photo: Spiderum). | In May 2020, an online survey conducted by B&Company on its BEAN platform online dating apps usage and behaviours in Vietnam with the participation of 244 respondents aged 18 – 49 years old studied young people on dating apps. The results showed that: In Vietnam, Facebook Dating and Tinder are the most popular dating apps, among many other similar apps available in the market, including both local and foreign ones. |
Constantly improving how to express yourself
When asked about the qualities that make Vietnamese young people "swipe right" on the Tinder dating app, a sense of humor is the most attractive (55%), followed by pet lovers (46%) and then are culinary "believers" (31.9%). Young people express their personality and emotions in many different ways, such as expressing their musical taste through Tinder's "Spotty Representative Songs" feature (44.6%), using Emoji (35.9%). and GIFs (22.7%).
Focus more on life experiences
Known as the explorer generation, young people today see dates as an opportunity for them to step out of their comfort zone and explore the world. Vietnamese young people tend to "swipe right" with people with interesting and inspiring hobbies and lifestyles, because according to them, these daters give them the opportunity to experience many new things in life (58%).
Interesting conversations are always the perfect catalyst
For young people, engaging conversation is also a prerequisite for them to assess the authenticity and frequency of the other person, thereby creating a catalyst for real-life meetings to be formed. (71.8%).
Dating rules are constantly changing
Many people have become more open to online dating apps, which is reflected in the fact that many young people can confidently say they meet their lover on Tinder or say use Tinder to meet new people .
Dating 4.0: Safety is always a top priority
Young people also used more community guidelines screening tools (63.5%) or features that control their own experiences, such as Uncompatibility (50 .6%), Profile Verification (42.2%), and Reporting (32.3%). In addition, they are willing to swipe left with a profile that doesn't show a face (62.8%), or a blank profile (47%) or an unverified profile (39.9%).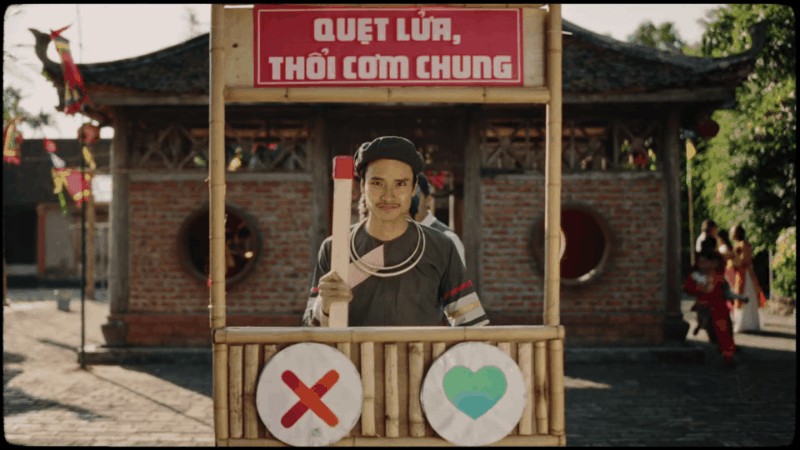 Screenshot from singer Hoang Thuy Linh's "Duyen Am" MV.
Communications Director at Tinder APAC Papri Dev said that : "The approaches to online dating of young Vietnamese people represent a new chapter of the dating journey that is constantly being upgraded and developed. They are always open-minded, eager to meet new people and to have more new experiences. That means they are also looking for opportunities to get to know and learn something new about themselves on their journeys to find their places in the world."