Tiny Japanese "Cafeteria" Turned Popular Hanoian Community Hub
During three months of Covid-lockdown, Japanese architect Kosuke Osawa came up with the idea of a coffee shop/social gathering space in the heart of Hanoi city. After only a year since its opening, Kosuke's café has created an active and friendly community loved by both locals and expats.
Hidden between tall building blocks of Lac Chinh street, with a soft yellow light and lots of greenery, a tiny cafe stands out because of its odd position. Its name is Fu Hoo - a Japanese-owned coffee shop opened in February 2021.
Fu Hoo is not a four-walled store like other cafes, but has a pathway reaching the local canal. The pathway leading to the canal is carefully decorated with lovely artworks, murals, and clever seatings. The smell of roasted coffee beans, baked potato and fresh bao buns fill the air.
Community is the heart of good urban design
(Photo: 70percentcaffeine Instagram).
The first time that Japanese architect Kosuke Osawa (42 years old, from Saitama Prefecture) saw the location in No.104 Lac Chinh (Ba Dinh, Hanoi), he had a vision of turning this tiny space of 16 meter square into a coffee space that connects the city and greenaly side.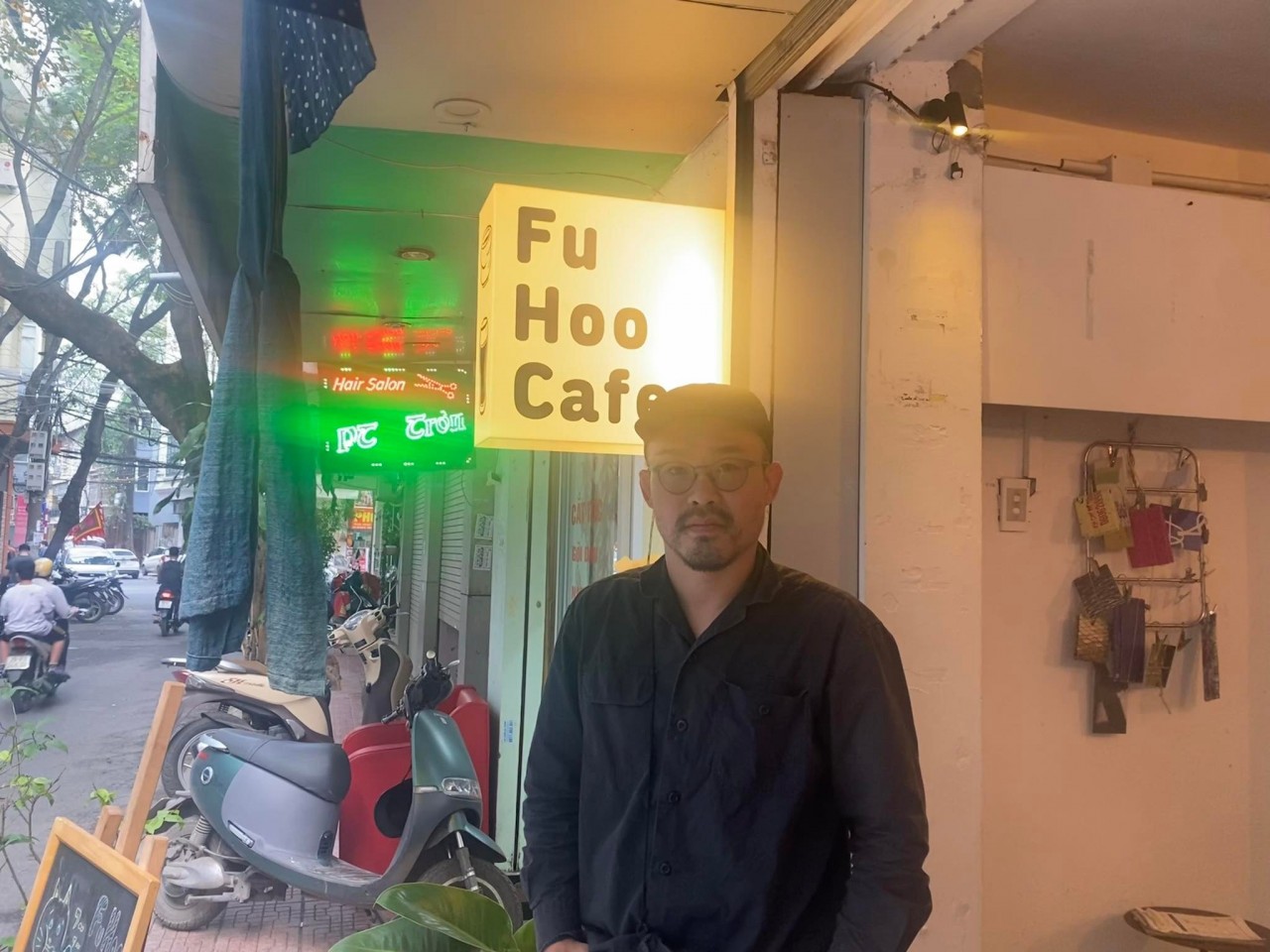 Hanoi-based architect Kosuke Osawa has been living in Vietnam for 4 years. He has almost 15 years of experience in architecture, specialized in urban design, working in international environments such as Mexico and Switzerland (Photo: Zoey Nguyen).
The plan was ambitious. Kosuke knew he wanted to integrate the environment in the design. It is the core of urban design, insisted Kosuke. His specific inspiration was the surrounding area, in which a small canal and a park nearby was hidden away by building blocks.

Kosuke and his design for Fu Hoo Cafe.
"My coffee shop connects the street with the canal and the park. I think [this shop] could connect better with the environment than the [previous] situation…Urban design is [about] programs in the city and having coffee shops is quite important. They create the atmosphere of the area," said Kosuke, noticing that there is a missing connection between the community and the surrounding environment.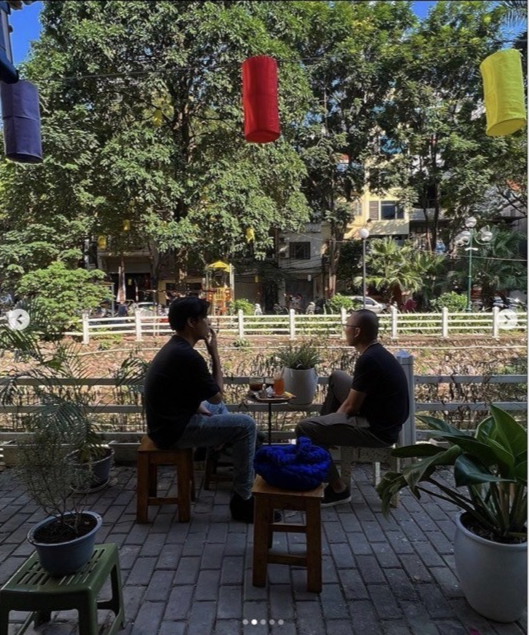 (Photo: abowlofnoodle Instagram)
He named this project "Tiny Cafeteria" with the idea of making food and drinks the center of a community hub, where great things happen in a small space.
At the beginning, the most satisfying part about this project is demolishing the wall and adding a new structure. This is to connect the view from the front to the back, his idea started to come to life.
Kosuke, an adventurer by nature, has always been on the road to discovering the beauty of Vietnam, from ethnic minority groups' traditional houses to modern art integration.
From his trip, he also bought back ideas and even materials for the cafe.
Sometimes, there are used tiles he brought back, with the intention to create some fun patterns for flooring.
Another time, there are cushions made by Ha Giang traditional artisans for seating.
Each corner, each tile of the cafe is carefully planned so that it would give the space a balance, well-blended between "old" and "new" things.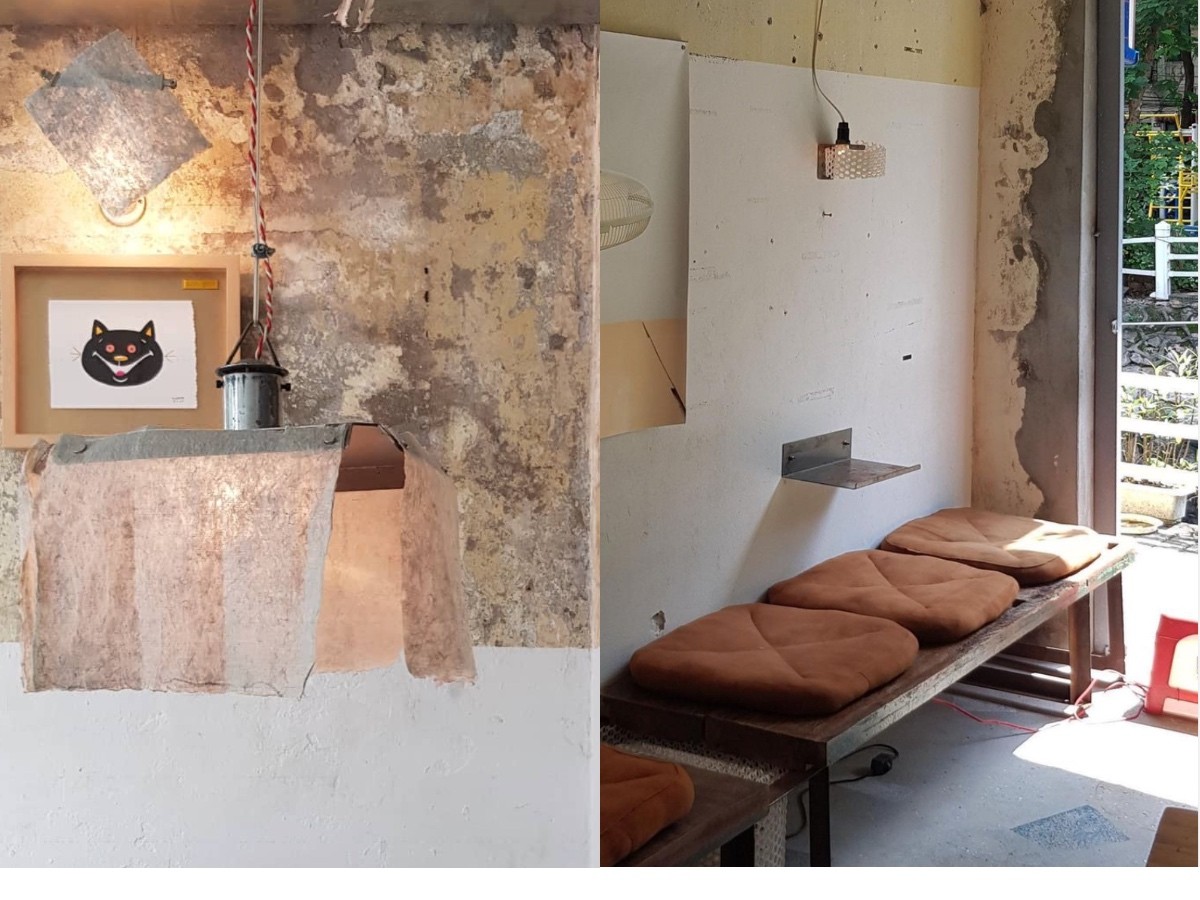 Left: "The Zó paper for the lighting [shade] is a present from my artist friend. He is a Vietnamese artist living in Ninh Binh," said Kosuke (Photo: F_plus_one Instagram). Right: Custom-made cushions from Ha Giang (Photo: nemproject Instagram).
As he went on to build the space, he would break the bricks, or paint the walls with the labor workers, earning his title of a Vietnamese "Phu Ho". This also gave birth to the cafe's name: Fu-Hoo (pronounced: Woo-Hoo). Besides this humorous backstory, the name Fu Hoo is inspired by the body expression when it's something exciting such as "Woo hoo!", or the sound one makes when blowing on a hot drink. When written in Japanese characters, the name means "Lucky wind".
A cheerful wind from Japan to Vietnam
Kosuke's coffee shop is more of a personal project, to create a connection with his neighborhood. The result turned out to be so much bigger, which brought Kosuke a lot of surprise encounters with people with the same interests, even tripled, or five times more than he expected.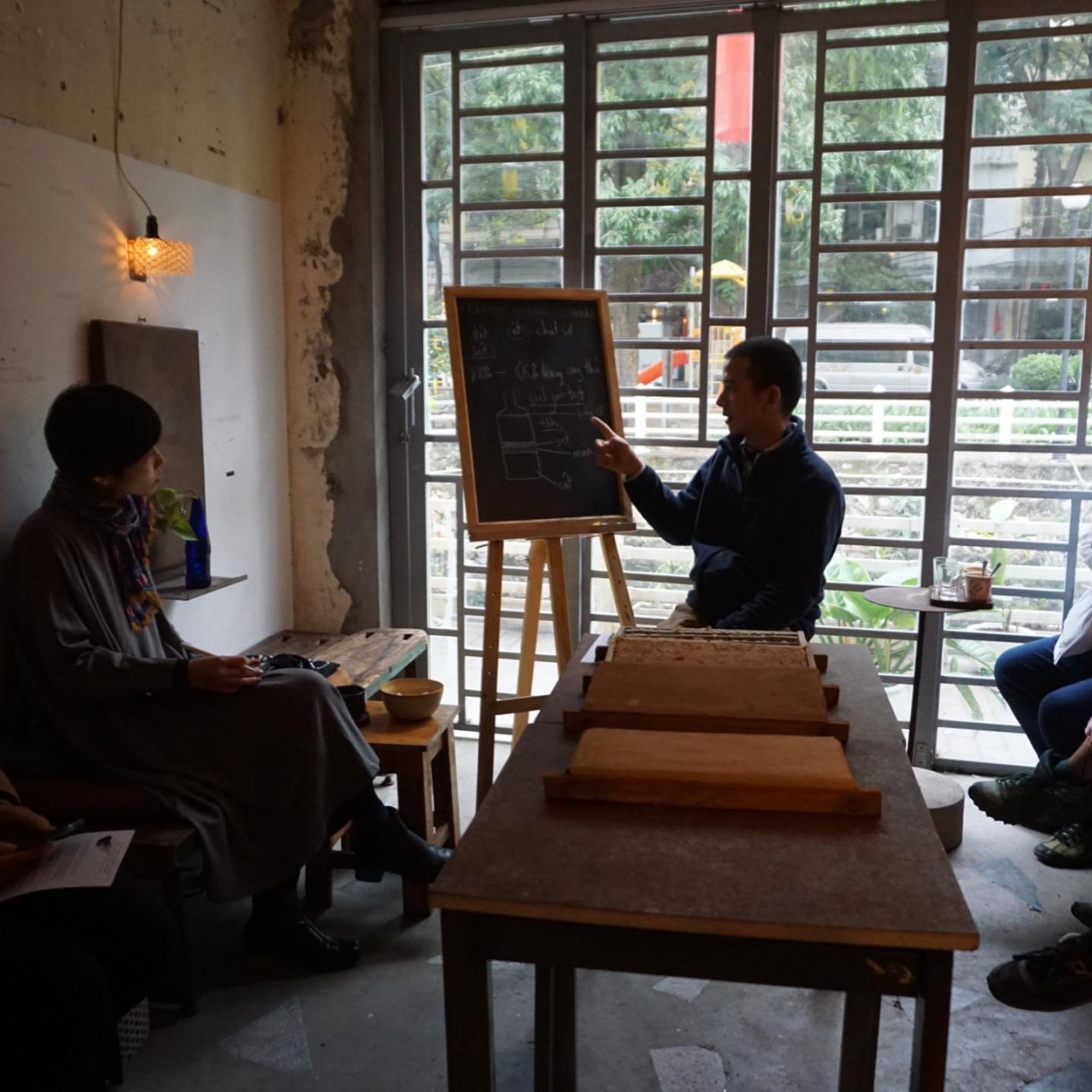 (Photo: Fu Hoo Cafe Facebook).
"For me, communication is more about the attitude and behaviors…Everywhere I go, I am curious about the way people live and the cultures," said the Japanese architect about making friends with people from different backgrounds and cultures.
This cheerful, social attitude is contagious thanks to the smiling faces of the staff at Fu Hoo. The idea of a friendly community hub is shared among the staff, both Vietnamese and English speakers, so that everyone works towards one goal: "The work of the coffee shop is not only serving the coffee. Communication also is a part of work."
Among plenty of Hanoian cafes, new and old, Fu Hoo has been a breath of fresh air so this gem doesn't stay hidden for long. After one year of opening, Fu Hoo has become a popular gathering space in the area. Kosuke hosts many exhibitions and workshops at the coffee shops, in various themes.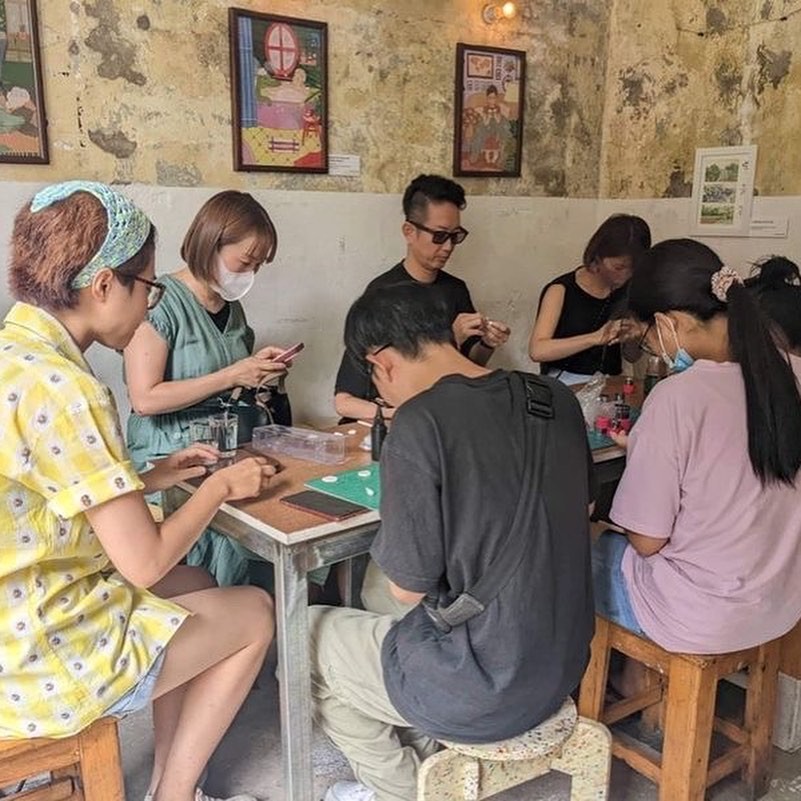 Both local and foreign customers participated in workshops hosted at the cafe (Photo: Fu Hoo Cafe Facebook).
There is something for everyone, art-making workshops, music nights or round-table talks. There are artwork of both local and expat artists displayed throughout the years, along the walls of Fu Hoo.
It is also where customers can enjoy good food and drinks, and simply connect with people, and their surroundings. They come to Fu Hoo to have a good time, fill their souls and their stomachs, at the same time.
"I spent a lot of time developing the items in the menu because they do not exist in other places. I focus on different things for different food. For example, the most important thing about the vegetarian bao bun is the flavor, while the most important things about the pork belly bao bun is the meat.."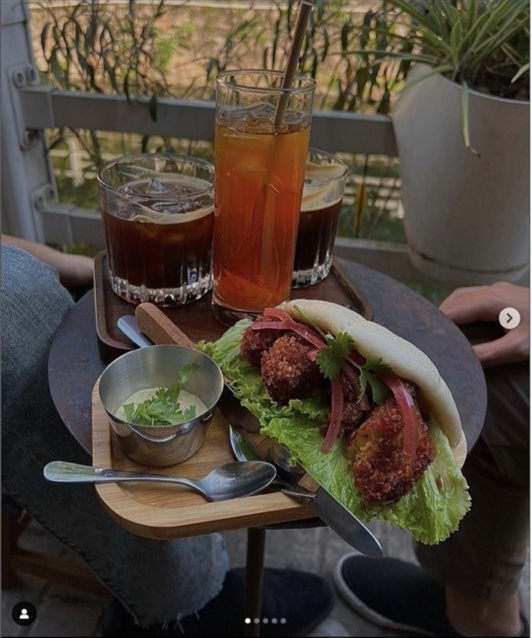 Popular set menu of Fu Hoo: Bao Bun and Tea/coffee set (Photo: abowlofnoodle Instagram)
Recently, Kosuke started a collaboration with Dani Milk, getting local brands involved in the menu. It is also Fu Hoo's commitment to bring high-quality resources to customers.
"DaniMilk is the only dairy farm in Vietnam that sources their dairy from Jersey cows (known for producing milk with the highest fat content). The Jersey milk contains 5% fat which is good for latte and cappuccino. Philippe, a co-founder of Dani milk, has a lot of passion for dairy farming. He worked with Vietnamese dairy farming specialists to produce this high quality milk."
Vietnam among World's Top 5 Factories

Vietnam, India, Thailand, Malaysia, and Bangladesh are the countries where China's supply chains are moving to, according to the US magazine Business Insider.