Top 25 Most Influential Lawyers for 2021 Voted by Canadian Lawyer
Canadian Lawyer's Top 25 Most Influential Lawyers winners are celebrated for their devotion to law and influence on public opinion.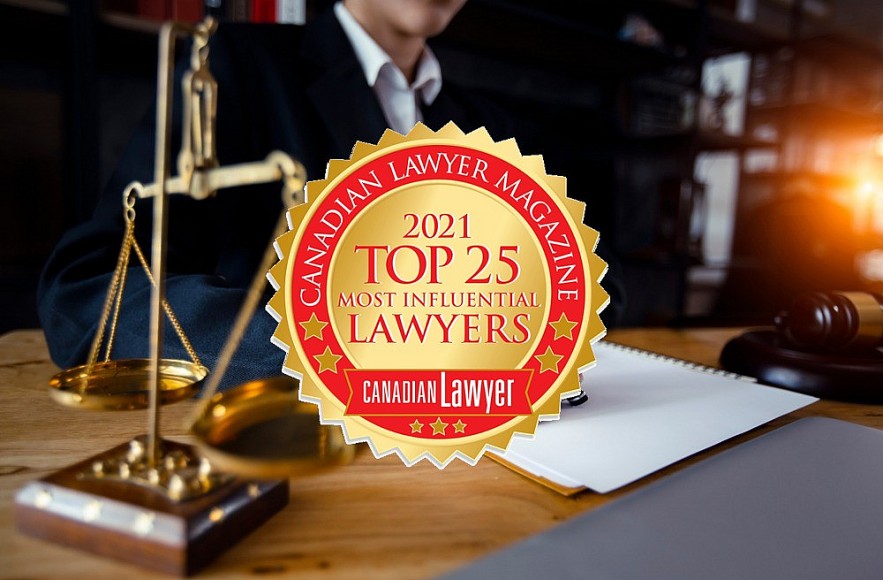 Photo: Canadian Lawyer
Being named one of Canadian Lawyer's Top 25 Most Influential Lawyers highlights the critical and considerable work jurists have done in the last 18 months. This year, that's a noteworthy timeframe, as it reflects how long the world has been deeply immersed in the Covid-19 pandemic.
The Top 25 is split into five areas of influence with five winners in each of the following categories: Business; In House; Changemakers; Human Rights, Advocacy and Criminal; and Government/Non-profits/ Associations.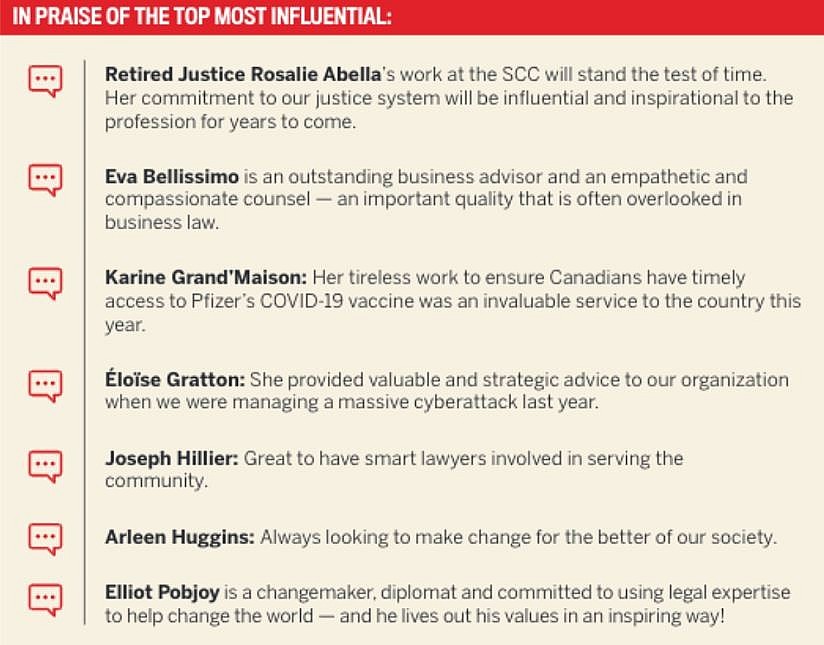 Photo: Canadian Lawyer
In-house
Kene Ilochonwu - Parkland Corporation
Born and raised in Nigeria, Kene obtained his law degree from Abia State University in 1997 and licensure from the Nigerian Law School Abuja in 2000. He obtains a Master of Laws degree in Information Technology and Telecommunications Law from the University of Strathclyde Glasgow, Scotland in 2004.
Kene is a Bencher at the Law Society of Alberta. He previously served on the Law Society of Alberta's Bencher Election Task Force and he volunteers at the Civil Claims Duty Counsel Project with Pro Bono Law Alberta. He also serves as a mentor to law students through the Black Law Student's Association of the University of Calgary, and the Canadian Bar Association mentor program, and mentors internationally trained lawyers in Calgary through Global Lawyers of Canada. He currently sits on the Board of Directors of Pro Bono Law Alberta, Calgary Black Chambers, Global Lawyers of Canada, and Our Saviour Anglican Church Calgary.
Catherine Chow - Keg Restaurants Ltd.
Chow is the Vice President Legal and General Counsel at Keg Restaurants Ltd., where her broad portfolio includes legal matters such as financing, real estate, and leasing, business development, franchising, key partnership agreements, risk management, insurance, litigation, trademark protection, and corporate compliance.
Before joining The Keg in 2006, she had a thriving private practice as a commercial and real property lawyer in Alberta and British Columbia. Her proactive approach to risk management has been recognized as an industry-leading initiative, winning both a 2014 Canadian Lawyer In-house Innovation Award and a 2014 Lexpert Zenith Award.
Chinelo Meg Egbunonu - Canada Mortgage Housing Corporation
Chinelo Meg Egbunonu is an experienced Corporate-Commercial Lawyer and Chartered Corporate Governance Professional, with solid business experience spanning Corporate Governance, International Business Transactions, Infrastructure Development, Public-Private Partnerships, Corporate & Project Financing, Mergers & Acquisitions, Business Re-Restructuring, and Commercial Dispute Resolution.
Karine Grand'Maison - Pfizer
Karine is a senior legal counsel working at Pfizer, a leading biopharmaceutical organization, advising business leaders on how to balance competitive strategy with legal and regulatory matters, as well as business ethics and integrity. In her role, Karine has experience in being a trusted advisor of the business and has influence over the activities of the company, she needs to demonstrate good judgment and develop a strategic perspective aligned with stakeholders' concerns.
With a Patients First focus, Karine works every day to maximize commercial and intellectual property opportunities. She is involved with the industry association on key matters and is the global liaison for Norton Rose Fulbright, one of the preferred law firms in the Pfizer Legal Alliance.
Pierre Hamel - Association de la construction du Québec
Pierre Hamel earned his Licentiate in Law inUniversité de Montréal. He has expertise in lobby and government action, organizational management, project management and implementation, legal advice in companies, civil, commercial and corporate litigation.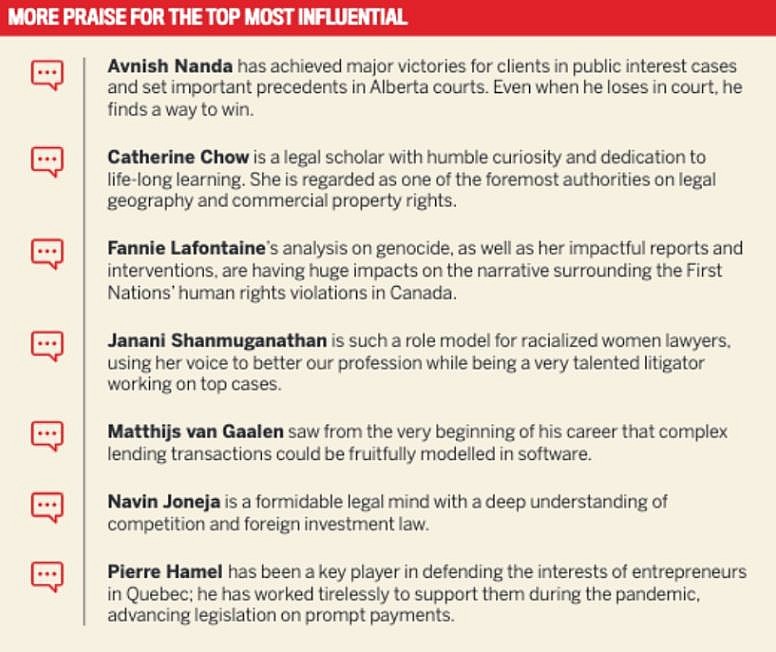 Photo: Canadian Lawyer
Changemakers
Donna Purcell, Q.C. - Donna Purcell QC Law
As a civil litigator in Red Deer, Alberta, Donna Purcell Q.C. spent a quarter of a century at a mid-size firm while taking on leadership roles within the various community and legal organizations.
Being in a smaller remote center entailed extensive traveling, and to be able to juggle her professional and volunteer roles along with raising a family, Purcell turned to a hybrid remote practice when her first daughter was born. As a result, a transition to a fully remote practice during the Pandemic was seamless for her and her staff. She then pivoted to dealing with the emergent access to justice issues. This included the formation of COVID-19 Emergency Response Teams within the Alberta Civil Trial Lawyers Association (ACTLA) and Central Alberta Bar Society.
Marcus M. Sixta - Crossroads Law & Coach My Case
Marcus M. Sixta is a family lawyer, mediator, and former social worker. He is the founder of Crossroads Law, a family law firm operating in B.C. and Alberta. He is also the founder of Coach My Case, a groundbreaking legal services company that aims to improve access to justice by providing remote legal coaches and paralegal navigators to those who can't afford traditional legal services and are forced to represent themselves in court.
Marcus has also been a public voice for access to justice in Canada. He has written articles featured in numerous publications and has appeared in many news stories on access to justice issues including the CBC and Global News.
Aaron Baer - Renno & Co
Aaron Baer provides practical solutions to business problems. As an entrepreneur first and a lawyer second, he could tackle legal issues by putting himself in the customers' shoes. After starting his career at a leading Canadian firm and becoming an equity partner at the age of 29, Aaron made the jump to working for Renno & Co.
Aaron Baer is passionate about mentoring and training the next generation of lawyers, legal tech, and working to make the legal services industry a kinder, more authentic and compassionate place for lawyers and clients.
Maneesha Gupta - TD Bank
Maneesha Gupta is an associate with TD Bank's Marketing Graduate Leadership Associate Program, one of the only marketing-focused rotational programs offered by one of Canada's top banks. Prior to TD, she spent 3 years as a Digital Marketing Manager at Pearson focusing on lead generation and lead cultivation for a US client.
Imran Kamal - Children's Aid Society
Imran Kamal has been legal counsel at the Catholic Children's Aid Society of Hamilton (CCAS) since 2014. Imran is an LSO Certified Specialist in Indigenous Legal Issues and the only child protection lawyer in Ontario with this designation. While at the CCAS, Imran has handled child protection proceedings under the CYFSA in the Superior Court of Justice (Unified Family Court) and the Divisional Court of the Superior Court of Justice.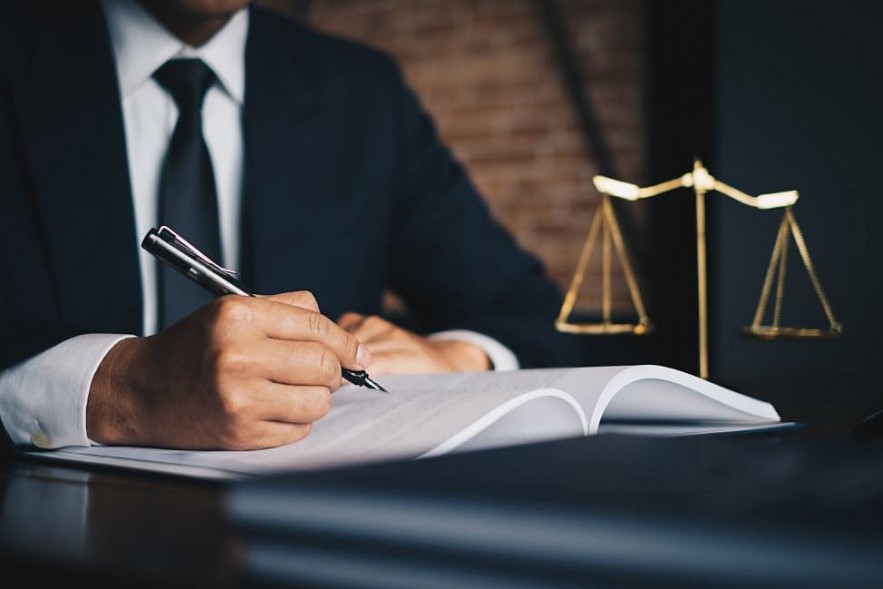 Photo: Segev LLP
Business
Craig A.B. Ferris, QC, FCIArb. - Lawson Lundell LLP
Craig is a litigator and acts for clients in commercial and business disputes. His particular areas of specialization include shareholder remedies, trust, pension, and fiduciary disputes, securities and transactional litigation, product liability, mining disputes, and real estate litigation.
Craig has appeared in all levels of court in British Columbia as well as the Supreme Court of Canada. He has also acted in private arbitrations and in administrative settings including before the British Columbia Securities Commission. Craig has particular knowledge of class actions and acted as lead counsel in several successful defenses of major class proceedings.
Eva Bellissimo - McCarthy Tétrault LLP
Eva Bellissimo is a partner in the firm's Toronto office and Co-leader of McCarthy Tétrault's Global Metals & Mining Group. Eva's practice is focused on mergers and acquisitions (M&A) and corporate finance, primarily in the mining and cannabis industries. With more than 18 years of experience and has led hundreds of transactions, Eva is deeply connected to the mining industry and is a strategic and entrepreneurial lawyer with a strong reputation for getting the deal done, according to McCarthy.
Éloïse Gratton - Borden Ladner Gervais LLP (BLG)
Éloïse is recognized internationally as a pioneer in the field of privacy and she co-leads the firm's national Privacy and Data Protection practice. She offers strategic advice relating to best business practices relevant to the monetization of big data and the use of artificial intelligence, in addition to providing support in crisis management situations (e.g. security breaches, privacy commissioners' investigations, class actions) both nationally and internationally.
She also advises companies and their board of directors on the management of personal information and the protection of privacy, including on issues relating to compliance, risk management, ethics, and data governance.
Navin Joneja - Blake, Cassels & Graydon LLP
Navin is a Partner in the Blakes Competition, Antitrust & Foreign Investment group, widely regarded as Canada's preeminent competition law practice. Consistently ranked as a leading competition law practitioner, Navin is described in leading publications as providing "very practical and timely advice" who delivers "great client service." He is recognized as an "outstanding analytical thinker" who is "deeply competent with respect to agency strategy."
Navin's clients rely on him for timely and creative advice on domestic and multinational mergers, joint ventures, strategic alliances, cartels, abuse of dominance investigations, class actions, and compliance programs. He is also considered an expert on Canada's foreign investment laws and regulations, including those pertaining to national security and state-owned enterprises. Prior to joining Blakes in 2003, Navin practiced with a multinational law firm in Washington, D.C., for several years.
Matthijs van Gaalen - Gowling WLG (Canada) LLP
Matthijs van Gaalen is a partner who has built a practice where he works with lenders to cost-effectively and efficiently advance mid-market financing transactions. Innovative, resourceful, and forward-thinking, Matthijs brings pioneering energy to his portfolio lending practice.
His practice is unique in that it benefits from the application of a proprietary management system he helped bring to fruition called LendR, which offers clients a unique approach to the automation and management of commercial lending portfolios. Matthijs' ability to author the logic and coding for the automation of legal documents allows for timely and effective technological developments.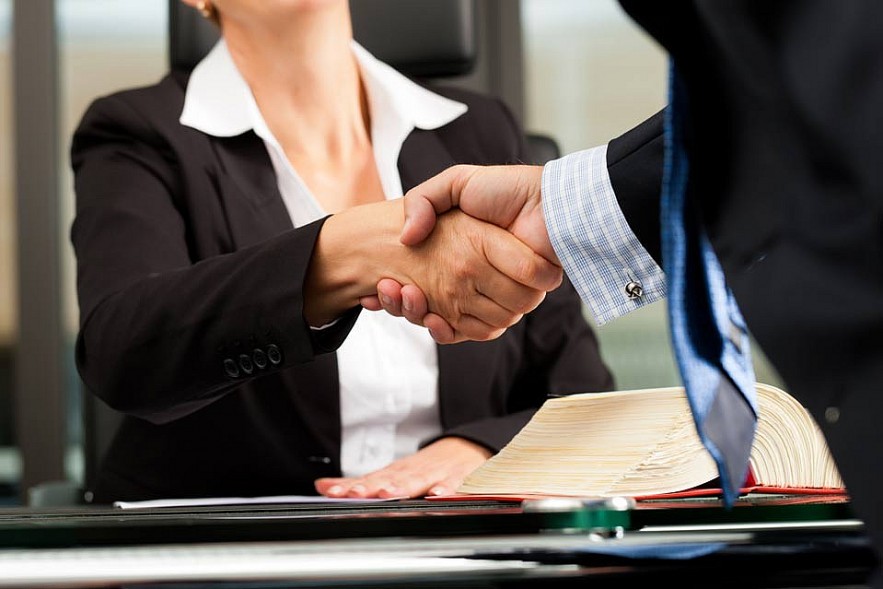 Photo: Pinder Plotkin
Business government/ Non-profits/ Associations
Rosalie Abella - Former Justice of the Supreme Court of Canada
Justice Abella was appointed to the Supreme Court of Canada in 2004. She was elected to the Royal Society of Canada in 1997, to the American Academy of Arts and Sciences in 2007, and to the American Philosophical Society in 2018. In 2020, she was awarded the Knight Commander's Cross of the Order of Merit by the President of Germany.
She attended the University of Toronto, where she earned a B.A. in 1967 and an LL.B. in 1970. In 1964 she graduated from the Royal Conservatory of Music in classical piano. She was called to the Ontario Bar in 1972 and practiced civil and criminal litigation until 1976 when she was appointed to the Ontario Family Court at the age of 29, the first pregnant person appointed to the judiciary in Canada. She was appointed to the Ontario Court of Appeal in 1992.
Joseph Hillier - Attorney General of Ontario
Joseph Hillier is the Chief of Staff to the Hon. Doug Downey, Attorney General of Ontario. Prior to the position, he served as a senior advisor to the Corporate Secretary, Board Chair, and other executives on legal and governance matters across the enterprise. He also worked for Norton Rose Group.
Fannie Lafontaine - Faculty of Law, Laval University
Fannie Lafontaine is a lawyer, full professor at the Faculty of Law at Université Laval, and holder of the Canada Research Chair on International Criminal Justice and Human Rights. She is the Project Director of the Canadian Partnership for International Justice and founder and co-director of the International Criminal and Humanitarian Law Clinic.
Before joining Laval University, she worked at the Office of the UN High Commissioner for Human Rights, on the International Commission of Inquiry on Darfur, and in NGOs and law firms. From 2015-2020, she acted as an independent civilian observer of a criminal investigation into criminal acts alleged to have been committed by members of different police forces against members of First Nations in Quebec. Her reports were made public in 2016 and 2020. She was the lead drafter of the National Inquiry on Missing and Murdered Indigenous Women and Girls' Supplementary Report "Legal analysis on genocide".
Sara Gwendolyn Ross - Schulich School of Law, Dalhousie University
Sara Ross is a tenure-track Assistant Professor at the Schulich School of Law, Dalhousie University. She also serves as the VP-Conferences of the Canadian Law and Society Association, the co-Editor-in-Chief of the scholarly journal Canadian Legal Education Annual Review, and the Interim Treasurer of the Canadian Association of Law Teachers.
Sara completed her Ph.D. in Law at Osgoode Hall Law School, with her dissertation published as a book by Routledge in 2019. While at Osgoode, she was the recipient of the SSHRC Joseph-Armand Bombardier CGS Doctoral Award in addition to the Austin Sarat Award paper prize from the Association for the Study of Law, Culture, and the Humanities. She is also a member of the Board of Directors for The Younger Comparativists Committee at the American Society of Comparative Law.
Elliot Pobjoy - War Child Canada
Elliot Pobjoy is a senior executive and general counsel for a global humanitarian agency with operations and 300 staff in eight countries. His proven track record gained as Bay Street lawyer, senior public sector and political decision-maker (including Chief of Staff to cabinet ministers), leading multidisciplinary projects, complex stakeholder affairs, and transactions.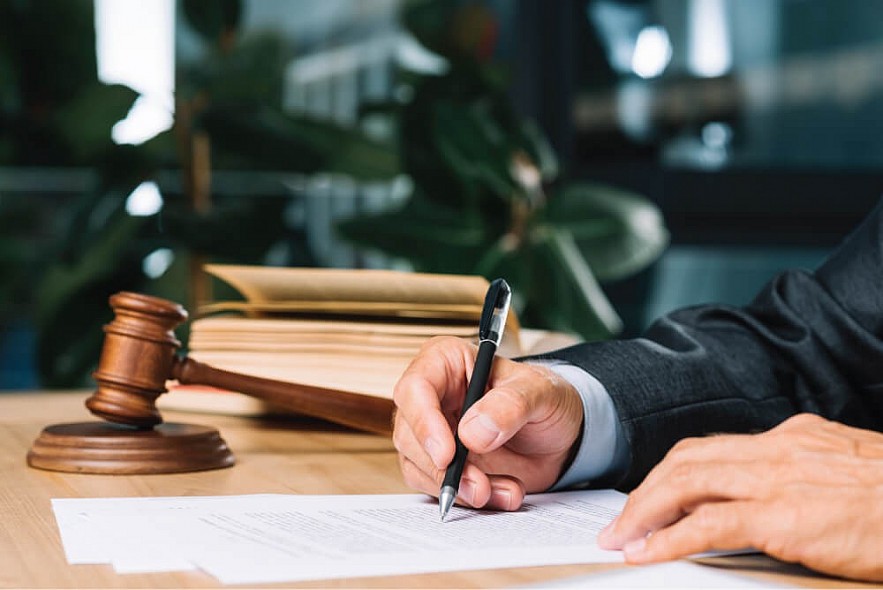 Photo: AKA
Human rights/ Advocacy and Criminal
Elisabeth Brousseau - McCarthy Tétrault LLP
Élisabeth Brousseau is a partner in the Litigation Group in Montréal. Her practice focuses mainly on civil, commercial, and contract litigation, class actions, consumer protection, privacy, as well as professional and medical liability. Élisabeth has always willingly shared her knowledge, notably during presentations on class actions, commercial litigation, case law developments, medical liability, and protection of minority rights.
Arleen Huggins - Koskie Minsky LLP
Arleen is a partner at Koskie Minsky LLP and the head of the firm's Employment Law Group (an area in which our firm ranked among top-rated firms according to Lexpert/American Lawyer Guide to the Leading 500 Lawyers in Canada). Arleen Huggins' expertise lies in employment law and human rights; commercial litigation; mortgage enforcement and litigation; commercial leasing litigation and real estate litigation.
Lorin MacDonald - HearVue Inc.
For decades, Lorin MacDonald has been the pioneer who forged a path to make it easier for others to follow. In every community in which she has lived, she has left behind a powerful legacy of accessibility and inclusion – from policy development to building ramps, from assistive listening devices to captioning. Before HearVue, Lorin enrolled in law school as a mature student, believing a deeper appreciation of the law would enable her to more effectively advocate for people living with disabilities. As a woman born with a profound hearing loss, she has experienced a myriad of personal and professional barriers throughout her life and overcomes them all through sheer persistence.
Avnish Nanda - Nanda & Company
Avnish Nanda is a litigator who practices law in Alberta and British Columbia. Avnish has appeared in a variety of different legal settings, representing individuals and entities in both simple and complex matters. Avnish specializes in civil, commercial, and public law litigation, and has a burgeoning plaintiffs' side class actions practice.
Janani Shanmuganathan - Goddard & Shanmuganathan LLP
Janani Shanmuganathanhas been counsel on almost 40 appeals at the Ontario Court of Appeal. She has argued at the Saskatchewan Court of Appeal and the Supreme Court of Canada. She was also co-counsel in R. v. Nur, the first case in over 30 years where the Supreme Court found a mandatory minimum sentence unconstitutional and struck it from the Criminal Code. Janani is now one of Canada's leading experts on challenging mandatory minimum sentences, having been part of four other successful challenges.
Top 50 Greatest Songs of All Time

Rolling Stone has recently published a new list of the greatest songs of all time. The list includes works from the 1960s to songs of ...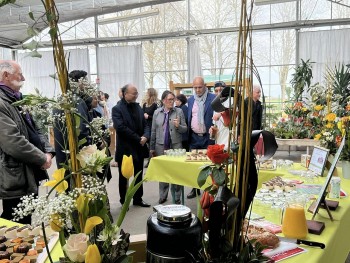 Overseas Vietnamese
Vietnamese Ambassador to France Dinh Toan Thang recently paid a working visit to Saintes, a city in southwestern France, to promote cooperation between the city and Vietnamese localities and attended the Vietnamese Culture Day, VNA reported.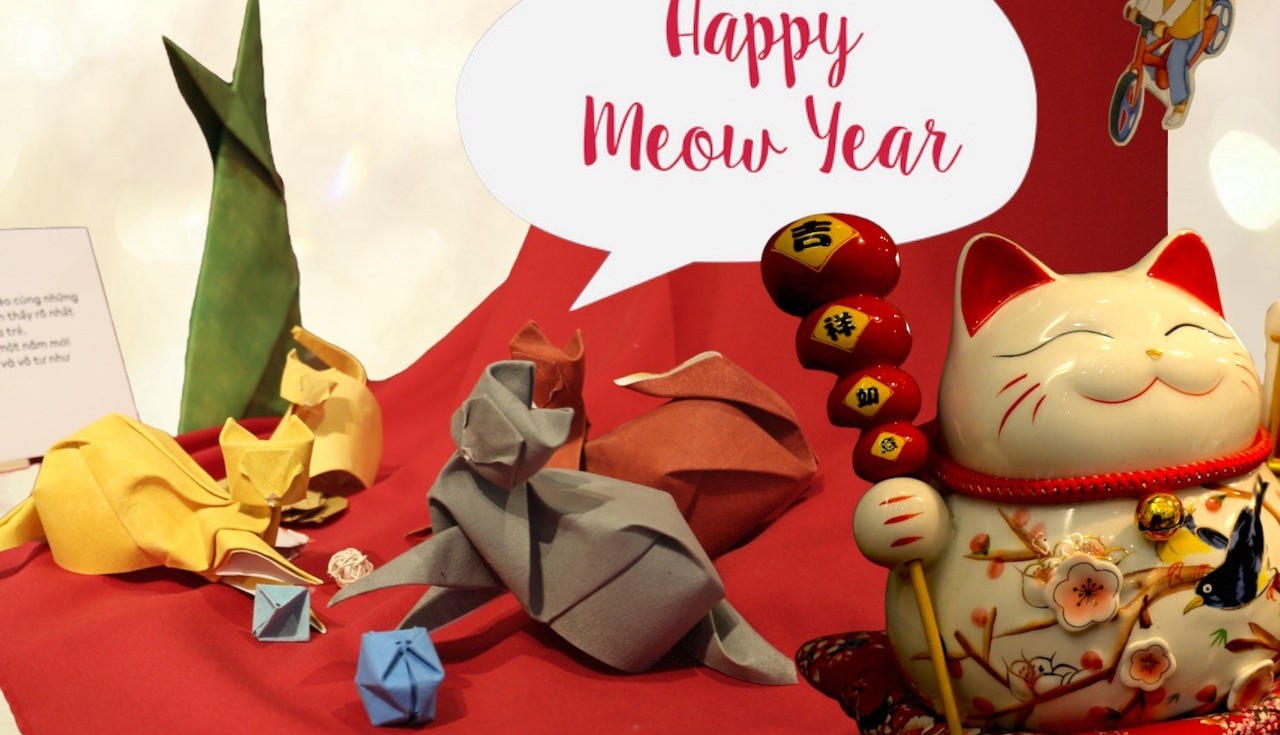 Handbook
The Year of the Cat is right at the corner and it is time to celebrate for all you cat lovers out there. This holiday season, check out how you can enjoy the company of furry feline friend, from cute cafe to personalized gifts in Hanoi.
January 20, 2023 | 08:22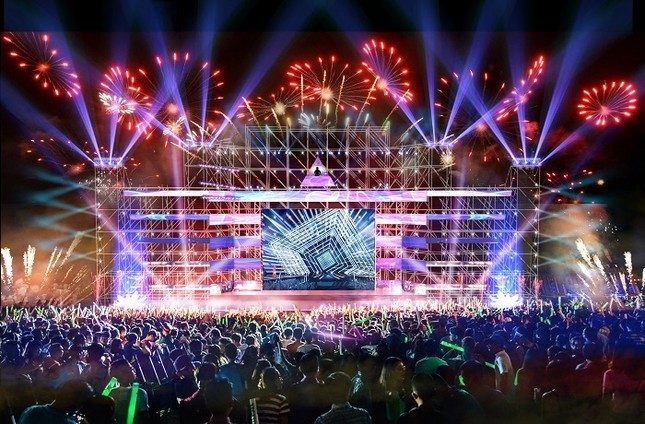 Handbook
Hanoi's young people are eagerly inviting each other to watch fireworks on New Year's Eve. Here are a few things to keep in mind and places with great views for people to watch the fireworks display.
January 17, 2023 | 07:41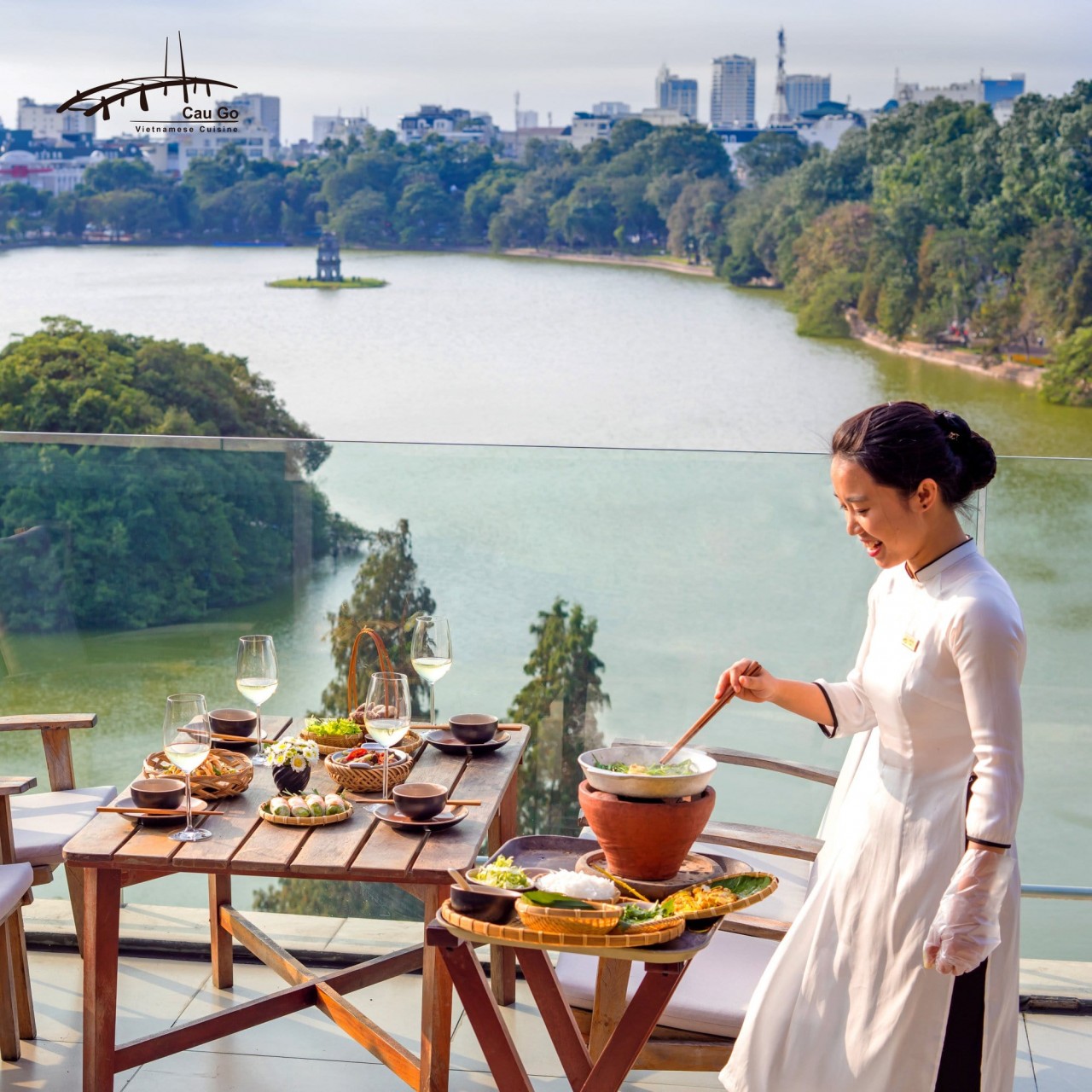 Handbook
Hanoi captivates visitors from all over the world with popular foods like pho, bun cha, etc. If you have a chance to visit the city during the Lunar New Year, try dining at restaurants serving traditional Hanoi dishes to immerse yourself in the culture of Tet in the North of Vietnam.
January 16, 2023 | 08:21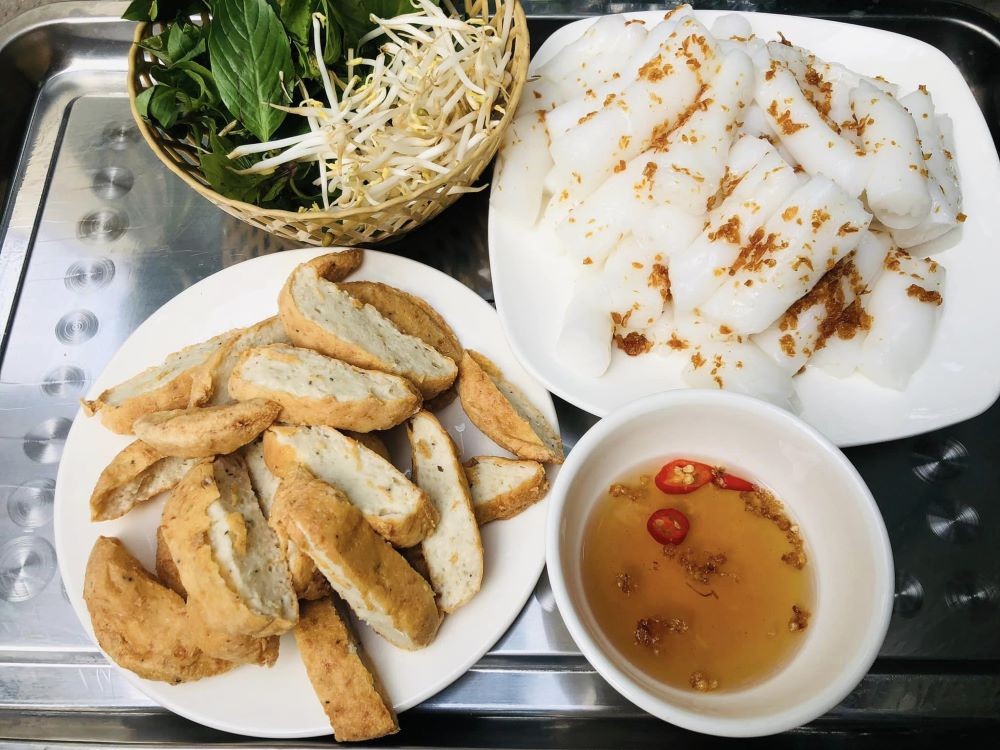 Handbook
The following Nghe An dishes are rated by many diners as delicious, nutritious, and cheap
January 09, 2023 | 06:56