Top Not-to-be-missed Dishes in Vietnam
Vietnam is home to a rich culinary world, where its foods offer a wide range of tastes to satisfy anyone's palate. Below are some Vietnamese dishes you might not know existed and must-try soon
Over the past few years, Vietnamese cuisine has slowly but steadily gained a foothold on a global culinary stage. From ranking amongst the top 15 cuisines in the world to claiming 9th spot on Instagram's list of most popular cuisines, Vietnamese cuisine is gaining momentum and debuting around the world. On the fine-dining front, Anan Saigon even placed 39th on the coveted culinary Asia's 50 Best Restaurants (2021) list, a commendable feat last seen 8 years ago.
While crowd favourites including 'pho' and 'com tam' (broken rice with grilled pork chop) continue to ride the digital culinary craze (thanks Instagram!) and increase in popularity around the world, here are 10 Vietnamese dishes you might not know existed, according to Vietnam is Awesome.
Vermicelli with tofu and fermented shrimp paste (Bún Đậu Mắm Tôm)
Not for the faint of heart, Bún Đậu Mắm Tôm is a signature dish of Hanoi and a must-try on your visit to the country's capital. Known for its powerfully pungent yet umami fermented shrimp paste (Mắm Tôm), the dish comes served with 'bún' (vermicelli noodles), 'đậu' (fried tofu) as well as other flavourful condiments including boiled pork, fried intestines, 'cha com' (fried patty), fresh herbs and vegetables (fish mint and Vietnamese balm, sliced cucumbers). While this dish is deliciously addictive and enticing, we strongly suggest those new to 'mắm tôm' to consume the potent delicacy in small doses and only when you're ready to take the next step into Vietnamese umami, order yourself a Bún Đậu Mắm Tôm.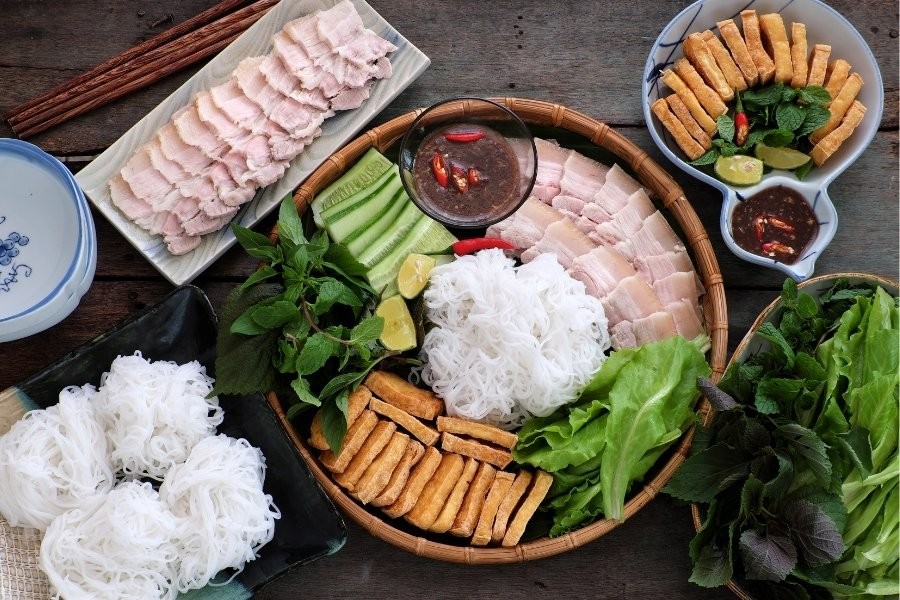 Photo: Getty Images
For the brave, below are a few places to put your tastebuds to the test in Ho Chi Minh City (trust us, we fact-checked with the locals!)
Bun dau A Chanh
• Address: 87 Xo Viet Nghe Tinh, District Binh Thanh
• Open time: 8:00 AM – 10:00 PM
Bun dau Tien Hai
• Address: 804 Su Van Hanh, District 10
• Open time: 9:30 AM – 11:00 PM
Bun dau Homemade
• Address: 1 Nguyen Van Trang, District 1
• Open time: 10:00 AM – 10:00 PM
Claypot Braised Catfish (Cá Kho Tộ)
Braised and caramelized catfish (ca kho) is a common side dish in a Vietnamese home-cooked meal. It's often eaten with steamed white rice and plenty of fresh and boiled vegetables to dip in the braising liquid. For a complete Vietnamese family meal, this side dish is served with its sister soup dish, Vietnamese Sweet & Sour Catfish Soup (Canh Chua Ca Tre), according to Vietnamese Home Cooking Recipes.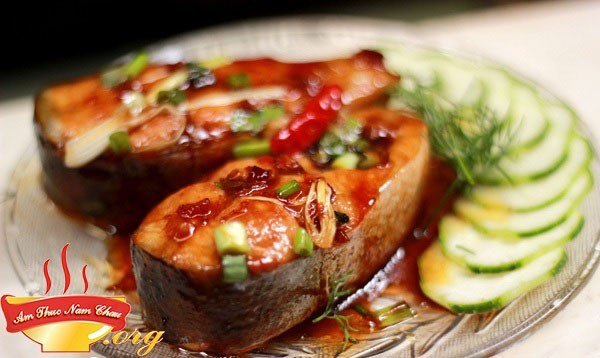 Photo: Am Thuc Nam Chau
Chi Hoa Vietnamese Restaurant
• Address: 98 Hai Ba Trung, District 1
• Open time: 11:00 AM – 10:00 PM
Mountain Retreat
• Address: 36 Le Loi, District 1
• Open time: 10:00 AM – 9:30 PM
Quan Bui
• Address: 55A Ngo Quang Huy, District 2
• Open time: 7:30 AM – 11:00 PM
Tumeric Fish (Chả Cá)
Coined a must-try Hanoian experience, 'Chả cá' is a dish (like many Vietnamese dishes) that's rich in both flavour and history. It features a popular Vietnamese fish doused in an aromatic marinade that gives rise to a bold yellow color, which comes from turmeric. The fish is then added to a sizzling skillet along with a handful of dill, green onion and garlic oil and sautéd for a few minutes. Once the fish turns golden brown on both sides, you're ready to dive in. To accompany, add vermicelli noodles, roasted peanuts, chillies, pickled vegetables and fish sauce for a bowlful of fresh flavourful goodness.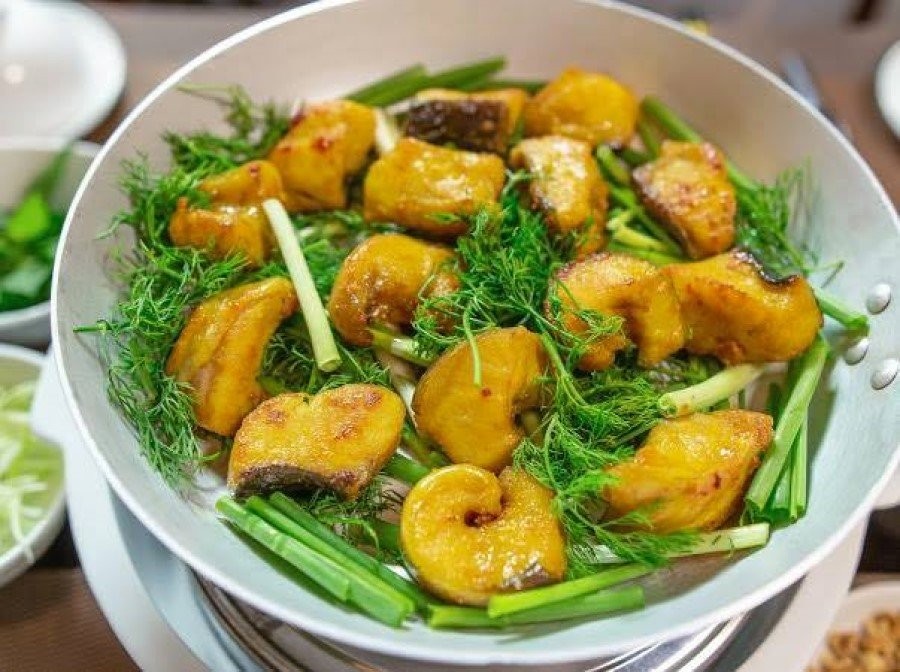 Photo: Cha Ca De Vuong Fanpage
Cha Ca De Vuong
• Address: 794 Su Van Hanh, District 10
• Open time: 10:00 AM – 9:00 PM
Cha Ca La Vong
• Address: 3-5 Ho Xuan Huong, District 3
• Open time: 11:00 AM – 2:00 PM 5:00 PM - 10:00 PM
Hoi An Chicken Rice (Cơm Gà Hội An)
Hoi An, a UNESCO World Heritage Site, was once a busy port with merchants coming from all over Asia such as Japan and China. As a result, its regional cuisine blends cultural influences from Southeast and East Asia with Vietnamese taste.
As reported by Delightful Plate, one of the most famous dishes of Hoi An is chicken rice, which is full of flavors and textures. A plate of Hoi An chicken rice includes juicy shredded chicken, crunchy onions, refreshing Vietnamese coriander and beautiful yellow turmeric rice. The rice is so soft and flavorful since it is cooked directly in umami chicken stock.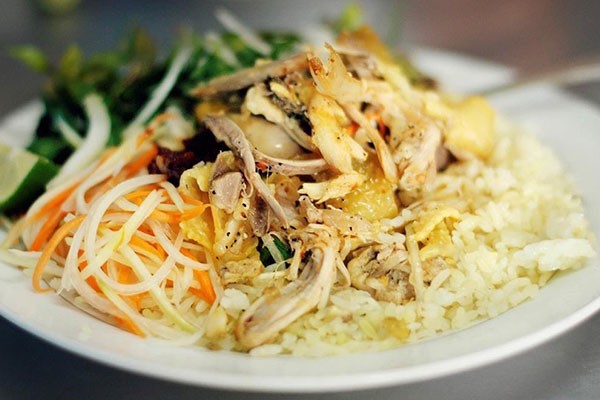 Photo: Dao Tao Bep A Au
Hoi An Quan
• Address: 285/94A Cach Mang Thang 8, District 10
• Open time: 9:00 AM – 2:00 PM 4:00 PM - 9:30 PM
Bread With Combo Pan (Bánh Mì Chảo)
This is a hot alternative to stuffed baguettes. Bread is served in a frying pan with egg, pate and sausage. But this is just the basic version. A wide variety of "fillings" are available for hungry diners to choose from.
This dish is usually served right after it is cooked. Typically, a mixture of chilli sauce and soy sauce are added to the dish before it is eaten. The egg yolk combined with seasoning makes for a greasy, tasty sauce that a piece of crispy bread is dipped into. If you aren't yet used to eggs over easy, the restaurant will accommodate you with a version more to your liking, VNE said.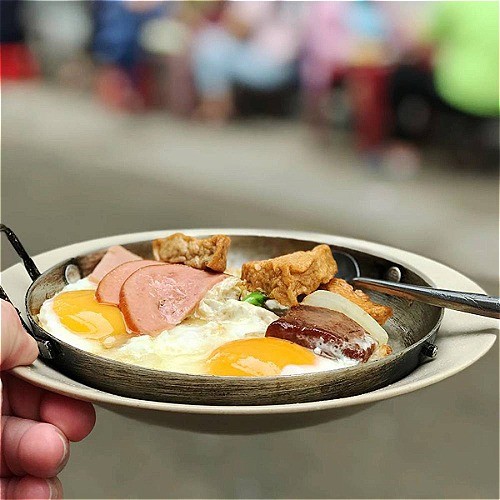 Photo: VNE
Banh mi Chao Hoa Ma
• Address: 53 Cao Thang, District 3
• Open time: 6:00 AM – 11:00 AM
Banh mi Chao 176
• Address: 189 Dinh Tien Hoang, District 1
• Open time: 7:000 AM – 2:00 PM, 5:00 PM - 9:00 PM
Vietnamese Pork Mince Rice Rolls (Bánh Cuốn)
'Bánh cuốn' are thin, wide sheets of rice flour filled with a mixture of cooked seasoned ground pork, minced wood ear mushroom and minced. The rice sheet is extremely thin and delicate and is made by steaming a slightly fermented rice batter on a cloth that is stretched over a pot of boiling water. The result is a simple and light dish that has become a popular breakfast dish eaten everywhere in Vietnam. Sides for this dish usually consist of bean sprouts, sliced cucumber, 'chả lụa' (Vietnamese pork sausage) and fried egg rolls and is often accompanied by a lightly sweetened dipping sauce called 'nước chấm' sauce.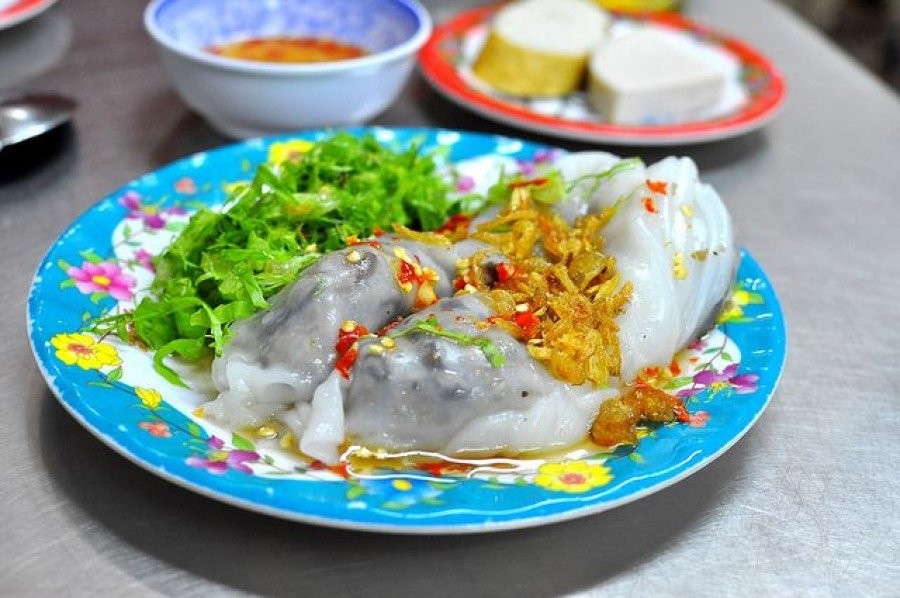 Photo: Vietnam Is Awesome
Banh Cuon Hong Hanh
• Address: 17A Nguyen Thi Minh Khai, District 1
• Open time: 6:00 AM – 11:00 PM
Banh Cuon Thien Huong
• Address: 173A 3 thang 2, District 10
• Open time: 6:00 AM – 9:30 PM
Banh Cuon Hai Nam
• Address: 11A Cao Thang, District 3
• Open time: 10:00 AM – 10:00 PM
Vietnamese Sweet Dessert (Chè)
Probably one of the most underrated Asian dessert, 'Chè' is a traditional Vietnamese sweet beverage or 'dessert soup'. It boasts several colourful variations including mung beans, taro, kidney beans, tapioca, jelly (clear or grass), condensed milk, fruit (longan, mango, durian, lychee or jackfruit) and coconut cream. Some varieties, such as chè trôi nước, may also include dumplings.
Whether you prefer the traditional version served with three types of beans (yellow mung beans, black-eyed peas and red Kazuki beans called 'Chè ba màu') or its more modern rendition coined 'Chè khúc bạch', which resembles an Italian panna cotta typically served with lychee juice and roasted almonds, 'Chè' is a refreshing quintessential Vietnamese dessert that's perfect for those Saigon summers. Thankfully, they can be easily found all over Vietnam from street food stands to large-scale markets.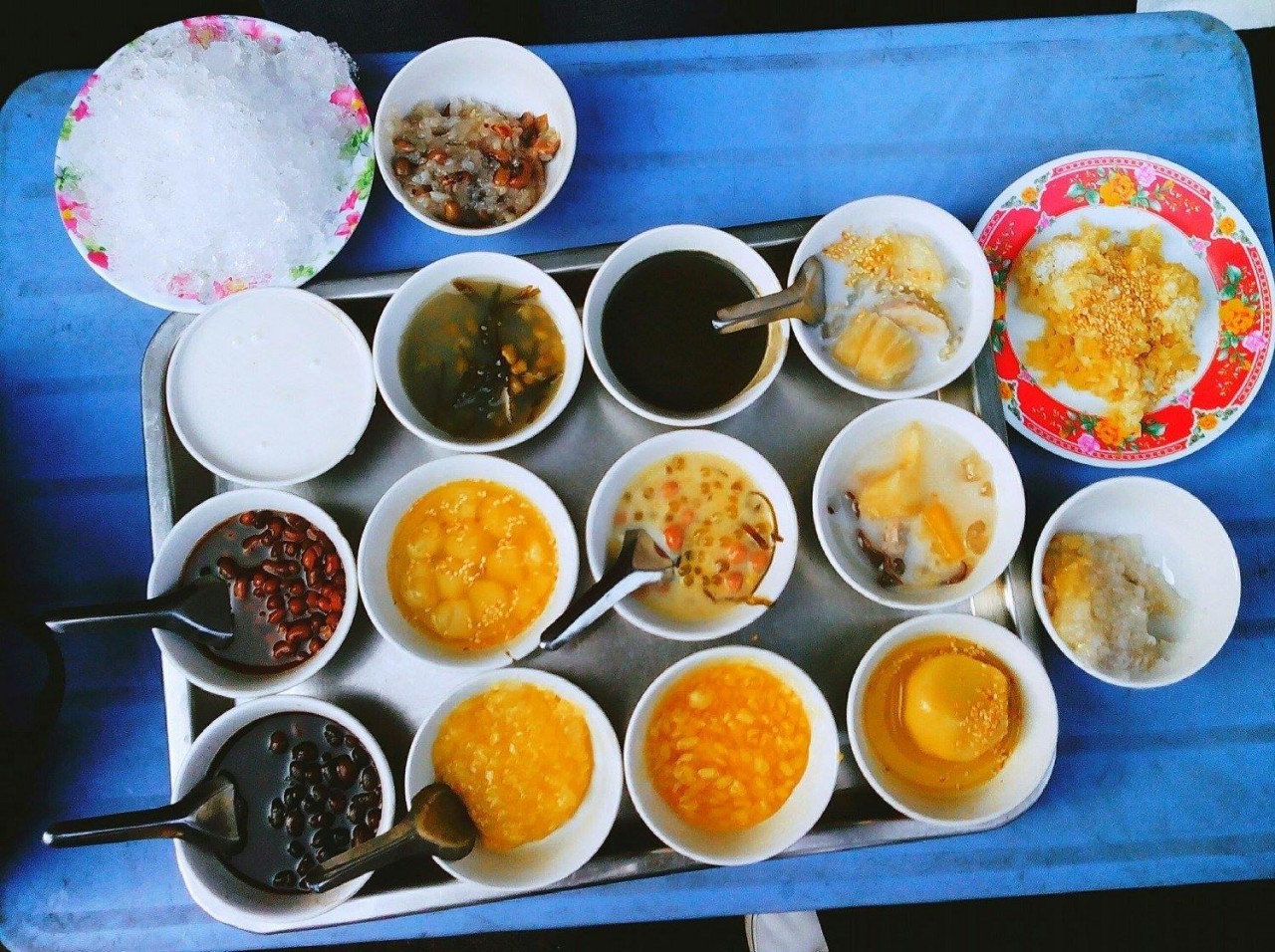 Photo: Vietnam Is Awesome
To start, we recommend the below places for some of Saigon's best -
Che Y Phuong
• Address: 380 Nguyen Tri Phuong, District 10
• Open time: 10:00 AM – 10:00 PM
Che Mam Khanh Vy
• Address: 242B Su Van Hanh, District 10
• Open time: 5:00 PM – 11:00 PM
Che Khuc Bach Thanh
• Address: 68/210 Tran Quang Khai, District 1
• Open time: 9:00 AM – 9:00 PM