Top 5 Hotels and Homestays for a Workcation in Ho Chi Minh City
Inspiring space, stable network connection and diverse culinary services are just a few of the must-have elements for a workcation trip.
Workcations are an interesting combination between work and vacation, in which a trip can be used for both work and relaxation.
For tourists during their workcation time, it is essential to find a hotel room or homestay that meets their requirements of service and facilities at a reasonable price.
1. Fusion Suites Sai Gon
Photo: Fusion Suites Sai Gon
Address: Suong Nguyet Anh, District 1
Price: VND1,100,000 (US$47.83) – 2,400,000 (US$104.26)
The place opened at the beginning of December. Guests booking rooms here are mainly business people and on staycation trips.
Located on a quiet street, in the center of Ho Chi Minh City, Fusion Suites Sai Gon is suitable for anyone who is looking for a peaceful space to work and enjoy their relaxing time. It is decorated with light colors and simple, modern architectural styles.
All the rooms have an open and clear view of the city and the park below, with great use of natural light through large glass windows.
Fusion Suites Sai Gon's kitchen serves the tastiest dishes with an abundance of choices, including traditional Asian and European plates. However, due to Covid-19 restrictions and safety, guests are currently advised to eat their meals in their rooms instead of the hotel's restaurants.
2. Equatorial Ho Chi Minh City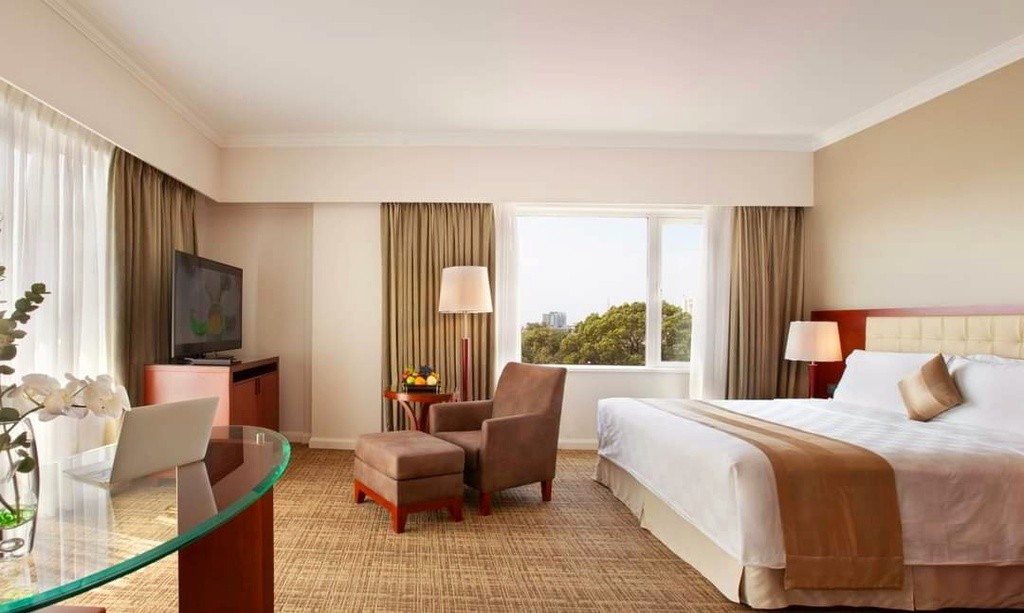 Photo: Equatorial Ho Chi Minh City
Address: Tran Binh Trong, District 5.
Price: VND 400, 000 (US$17.29) – 700 000 (US$30.26)
Since re-opening in September, this hotel has a special package for tourists with workcation needs, with a limited time use of service of 4 or 8 hours.
The package includes tea, coffee, and a voucher used for meals. Each room is equipped with different desks and tables, sofas for guests to both work and enjoy their leisure time in their workcation trip.
Talking to Hong Ngoc, an employee of the hotel's e-commerce department, the workcation package was made based on the demands of guests.
At first, guests only wanted to find a place for a staycation, but other services such as Wi-fi connection, comfortable space, and delicious meals served at their doors are also necessary to fully enjoy a workcation. In the future, the hotel plans to open more facilities, including outdoor swimming pools or gym sections.
3. Wink Hotels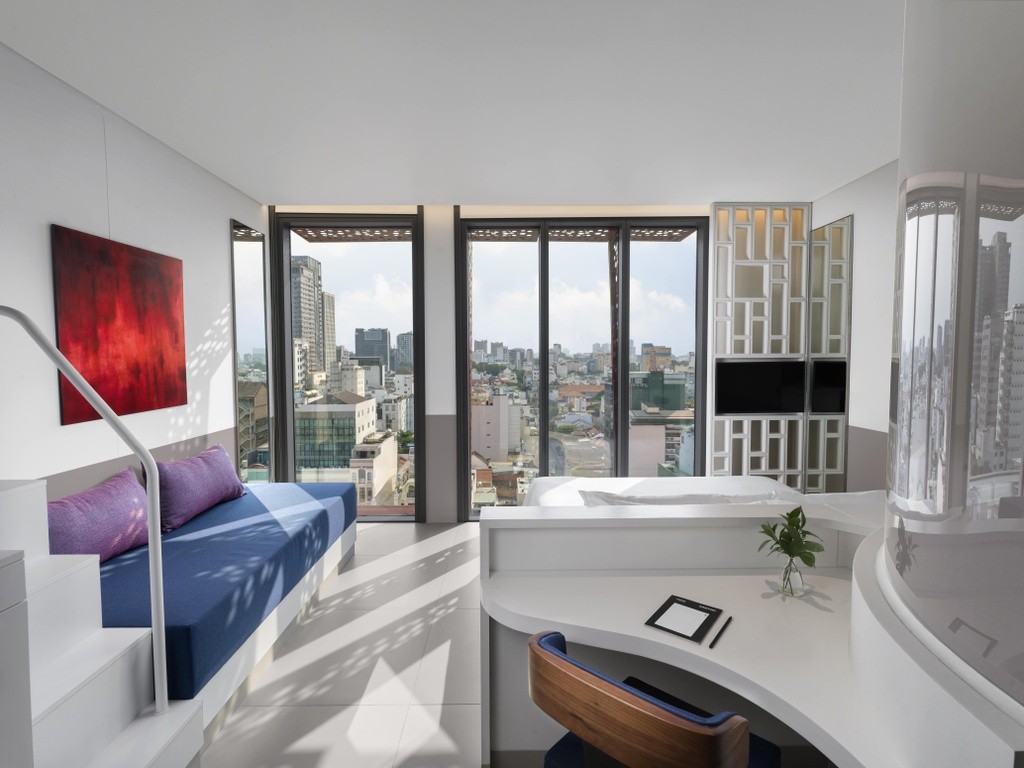 Photo: Wink Saigon Centre
Address: Nguyen Binh Khiem, District 1.
Price: VND 500,000 (US$21.75) – 1,500,000 (US$65.26)
Different from other hotel models, Wink Hotels optimizes its working space, which is used to serve business and foreign guests who wish to learn more about Vietnamese culture.
The hotel is located in Ho Chi Minh City, surrounded by the city's tourist attractions, street vendors, and restaurants.
Wink Hotels has also built facilities such as automatic check-in and out counters, and vending machines, etc. to limit close contact and follow Covid-19 safety.
The hotel has a modern and colorful design, with charming color block walls that attract newcomers. Each room has an open and panoramic view of the city.
4. City Lights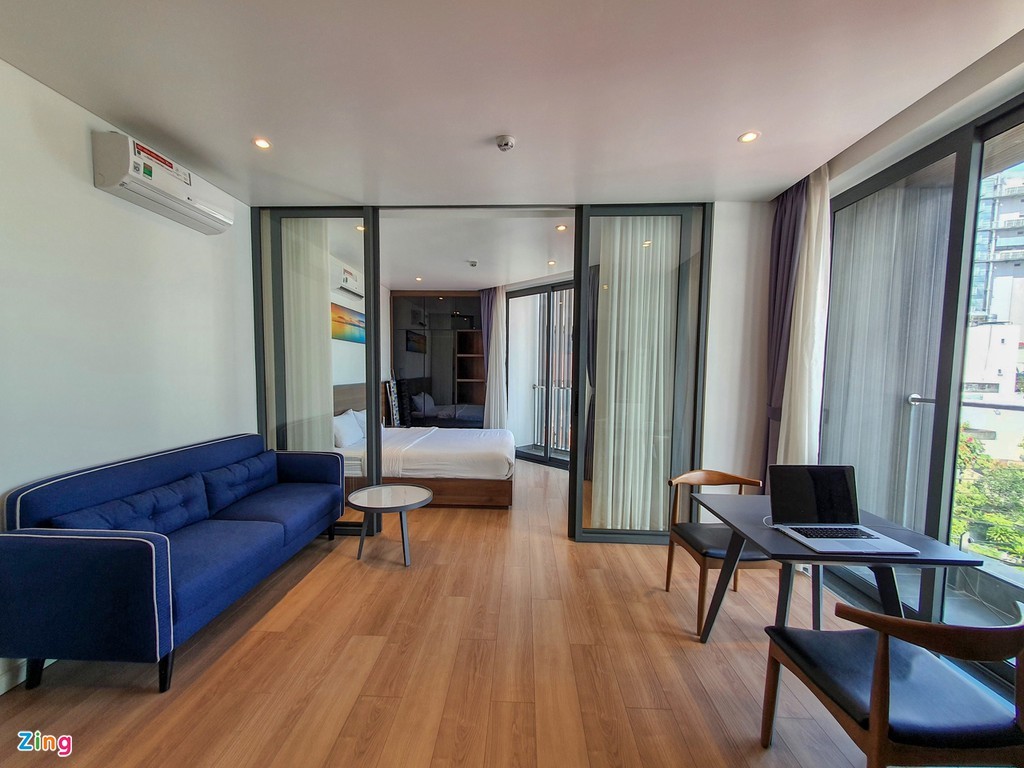 Photo: Zingnews
Address: Hoang Viet, Tan Binh District
Price: VND 600,000 (US$26.10) – 750,000 (US$32.63)
In addition to the hotels, a segment of luxury apartments is also a great choice for a workcation.
Before the pandemic, CityLights used to hire apartments with guests who were mainly foreign business people working in Vietnam.
At the moment, the apartment complex has reopened its services with long-term rentals. According to their representative, short-term rentals be available in 2022 to ensure the health and safety of guests in the apartments.
The price for short-term rentals will range from VND 600,000 to 750,000. With a simple, modern room design, quiet space, and fast services, CityLights has received many positive reviews from guests staying here during their workcation.
5. M Village
Photo: M Village
Address: Vo Thi Sau, District 3.
Price: VND 700,000 (US$30.45) – 1,100,000 (US$47.86)
M Village is located near the center of the city, inside a quiet alley. The space is decorated with green trees and flowers, shielded from the outside world by a small gate.
The apartment complex has many shared spaces such as a library, garden and BBQ section. When tourists cross the gate, they have to do a medical declaration and temperature check.
The architecture design of the apartment complex is simple and modern with neutral colors. The windows and balcony of the rooms are open towards the green garden.
Apart from the convenient services, the back of the the apartment complex is linked with a coffee shop serving breakfast and drinks 24/7.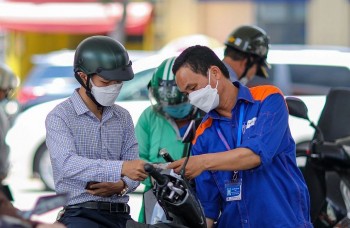 Economy
Vietnam Business & Weather Briefing (Oct 2): Binh Duong lures foreign investors with special care, the North and Central regions continue to have heavy rains, leading to the risk of flooding, flash floods, and landslides.