Top 5 Nature Camping Sites in Da Lat
Many campers seek adventure in the charming forests of Da Lat. Learn more about these fantastic nature spots.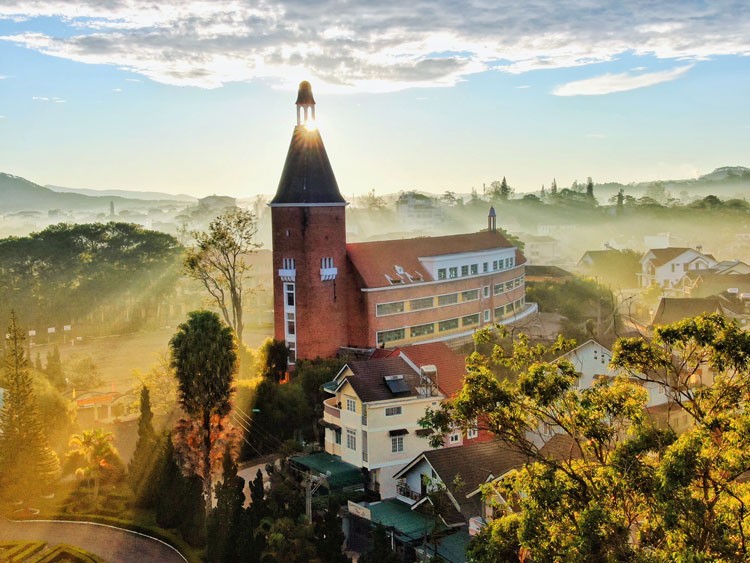 Da Lat's symbol - Da Lat Pedagogy College. Photo: Bao Lam Dong
Da Lat is the capital of Lam Dong in the Central Highlands region of Vietnam. The city is a popular tourist destination in Vietnam, famous for its cool climate and mountain scenery. Many people come to Da Lat to get away from the relentless heat in Ho Chi Minh City and cannot help but revisiting over and over again.
This destination has such a distinct charm, It still gets referred to as "Little Paris", or "Pearl of the East". Pack your tent and check out these locations for your next Da Lat camping adventure.
1. Tuyen Lam Lakeside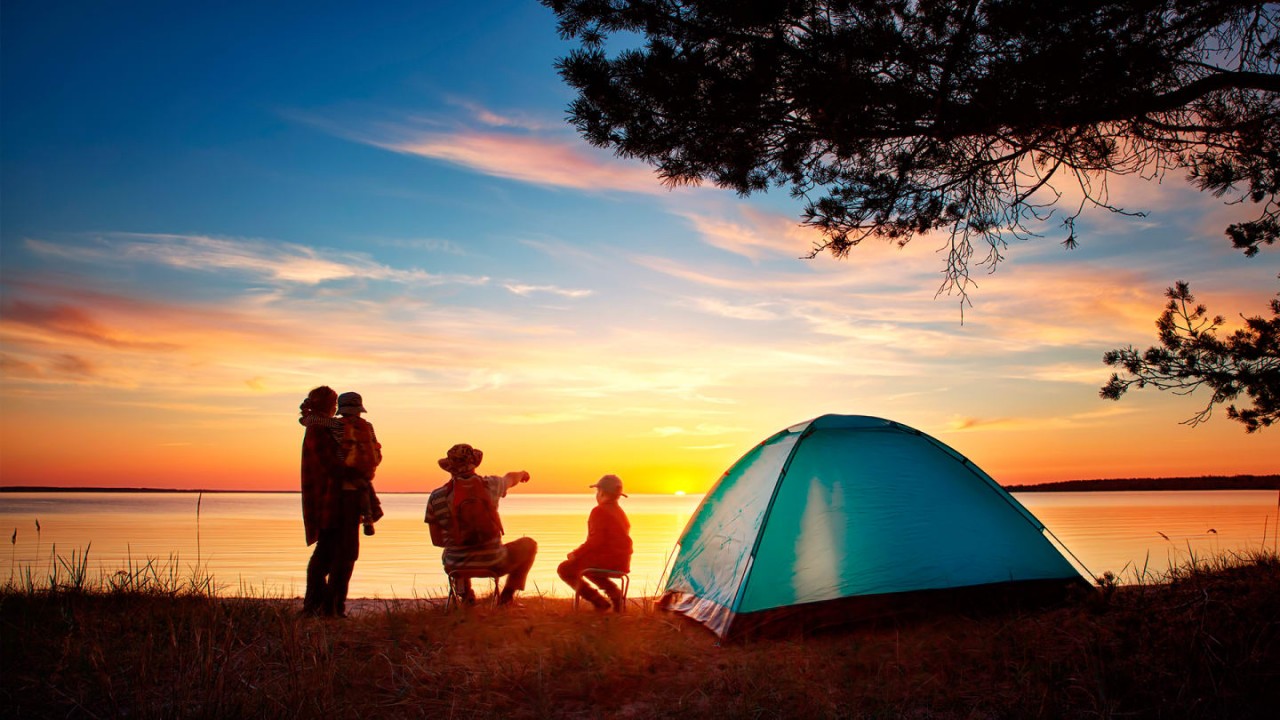 Vietchallenge
The first one on the list is only 7km away from the city center, and it is the famous Tuyen Lam Lake. The area of the lake is 350 hectares and along the lakeside, you will find many spots for camping. Choose your spot according to the orienting direction of the sun.
There are many activities suitable for a large group like sightseeing by boat or kayaking, especially when you want to explore the lake. You could contemplate the lake surface, surrounded by the oases of wild pine trees.
Sometimes, few mischievous fishes come near your boat, then immediately disappear as if they are teasing you. All the scenery there is combined together, painting a picture of quiet, peaceful and poetic nature in the cool fresh air.
In the cool weather of Da Lat at night, your overnight camp trip will be thrilling and cozy as you set the tent, light the camp-fire, eat grilled corn and potatoes with Da Lat red wine then chat with your friends all night. As you wait for the resplendent sunrise scene in the early morning, the mist above the water and between the oak branches present a mystery fairytale-like scene.
It would definitely be one of the most unforgettable moments reminding you about Tuyen Lam Lake.
2. Hon Bo Mountain
Moving further from the city central, about 1,700 m above sea level, you will reach Hon Bo mountain. This destination is for those who wants to go for a hike. It will take about 1,5 to 2 hours to hike, and the journey is worthwhile thanks to the beautiful hills and stunning view.
At camp site, you can have barbecue with friends. Tourists love admiring the valley, shimmering with distant city lights at night. The view looking down to Thai Phien flower village right at the foot of the hill also attracts photographers.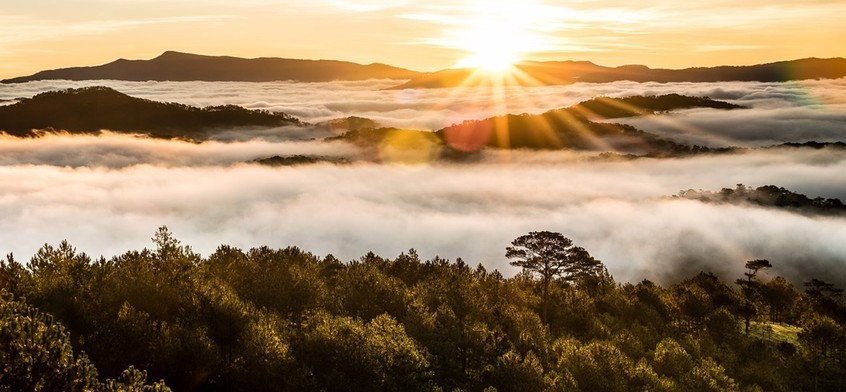 Cloud hunting at Hon Bo mountain. Photo: Sanmaydalat
You complete the camp trip by watching the sunrise on top of Hon Bo mountain. You feel a sudden excitement runs through your whole body as you watch the sea of ​​clouds appearing and stretching from one hilltop to another around 4am and gradually dissipating at 6-7am, welcoming the first rays of light.
3. Da Phu Hill
Located at ward 7 of Da Lat city, Da Phu embodies the majestic landscape of the mountain town. Located about 10-12 km from the city center, the road up here is quite steep, but you can easily travel on motorbikes.
This is another spot to enjoy the view of an endless cloudy sky. You can choose to camp the road or on the top of the hill. The best time to do so is from 5 to 6 a.m. The wind sings like the song of a thousand welcomes. Da Lat at dawn appears through radiant green pine tree and majestic high peaks partially hidden from your eyes. Get your camera and capture the wonderful time. The Ankroet Lake nearby is also a lovely attraction on your way to Da Phu Hill.
Da Phu Hill also has a romantic sunset and a view of the valley at night time.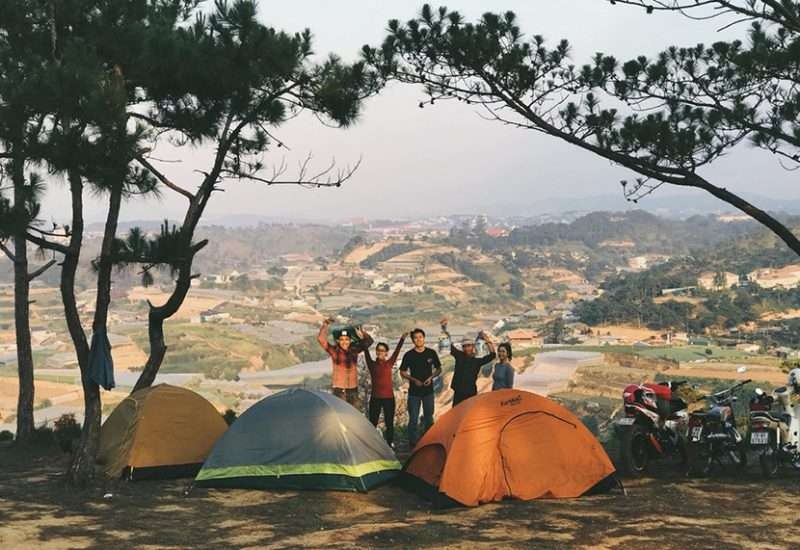 Camping is a must-try group activity when in Da Lat. Photo: Du Lich Da Lat
4. Langbiang Mountain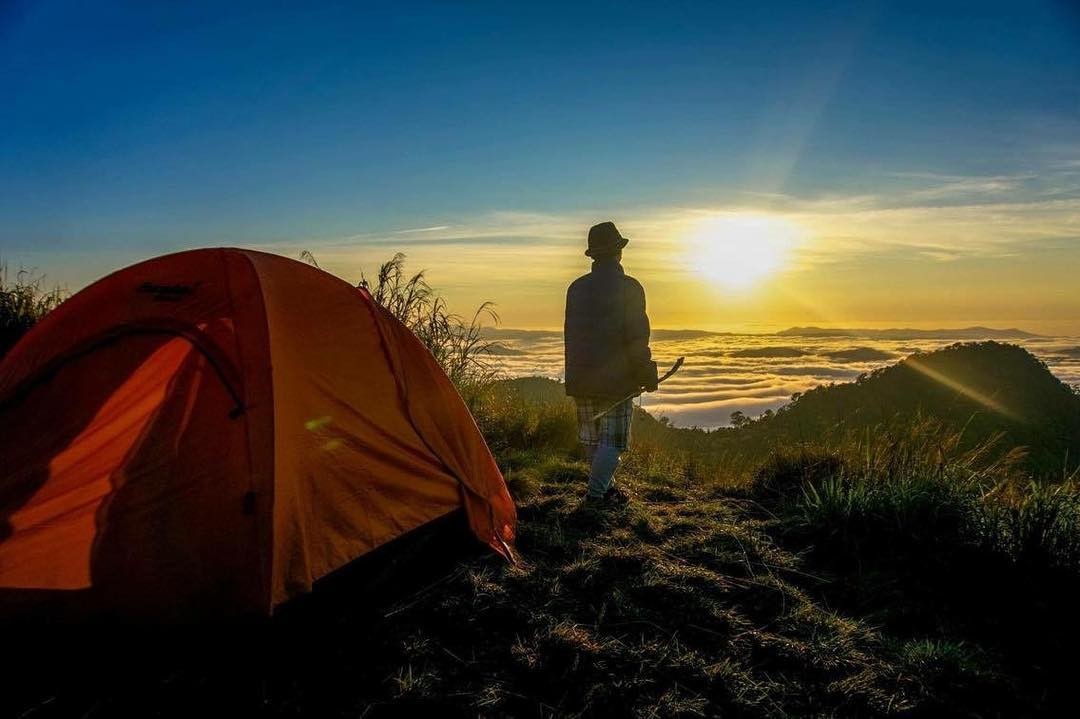 Explorer admiring the view at the Langbiang peak. Photo: Innotour
If you're up for a challenge, camping at the top of LangBiang mountain is for you. As you start climbing to a height of 2, 169m, prepare to face the vast and steep roads. It will be a very satisfying feeling to reach the peak of Lang Biang mountain, one of the highest in Vietnam. Your camping site is also surrounded by the extraordinary Bidup forest dimly covered by clouds.
Conquering Lang Biang peak will take about 3 hours so dinner will be a victory feast. Next morning, you will forget all your fatigue by looking out your tent and find the sea of white clouds. The cold at this height makes cloud movement seems much slower and create a dazing sight. It might even drizzle but around 5-6am, the warmth of the rising sun slowly embraces the land of dreamers. What a way to start your day!
5. Thien Phuc Duc Hill
Thien Phuc Duc Hill is located on the opposite side of Langbiang mountain and it only takes about 20 minutes to get to this spot from the city center. Hence, it is a favorite destination for a spontaneous getaway. Surprisingly, much of the natural beauty is still well preserved so it very suitable for nature camping.
You can enjoy watching the sunset on top of the hill as you setting up your tent and cooking dinner. For photographing at dawn, the trees that stand alone conveniently become useful "prop" that you can pose next to. This is a trend for popularized by celebrities.
Another thing to keep in mind is that this is a bare hill with few trees so be aware of strong winds at night.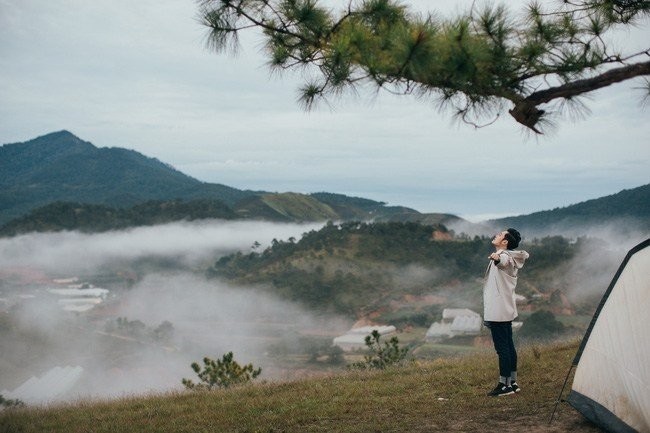 Creative mind of campers make these destinations more popular. Photo: So Tay Du Lich Viet Nam
These sunsets and sunrises are the perfect photo opportunity. Have you tried camping in Da Lat? What do you love the most?
Top 10 Best Campsites In Vietnam

There are many beautiful sites in Vietnam you can visit in the summer holidays, camping in nature and taking your time away from all the ...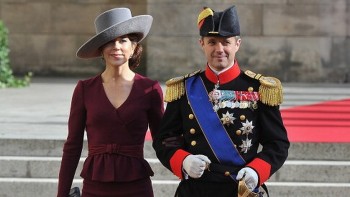 Friendship
Denmark's Crown Prince and Crown Princess will visit Vietnam to celebrate 50 years of diplomatic relations and promote green solutions.