Top 8 Most Beautiful National Parks in Vietnam
Vietnam is the home for many lovely, unique and beautiful national parks that have breathtaking views attracting many tourists to lose themselves among nature. Here is the top 8 most beautiful national parks to add into your travelling wishlist.
You can't visit Vietnam without going a little wild. Though its two powerhouse cities – Hanoi and Ho Chi Minh City – draw plaudits for their awe-striking museums, enlightening historical monuments, and seam-splitting food scenes, the country really sparkles when you step into one of its 33 national parks. These vast green spaces are home to gargantuan caves, dramatic limestone mountains, golden coastlines and dense thickets of jungle where gibbons dangle from vines and the promise of adventure lurks behind every mangrove tree. Here's our pick of the best national parks to visit in Vietnam.
1. Cat Tien National Park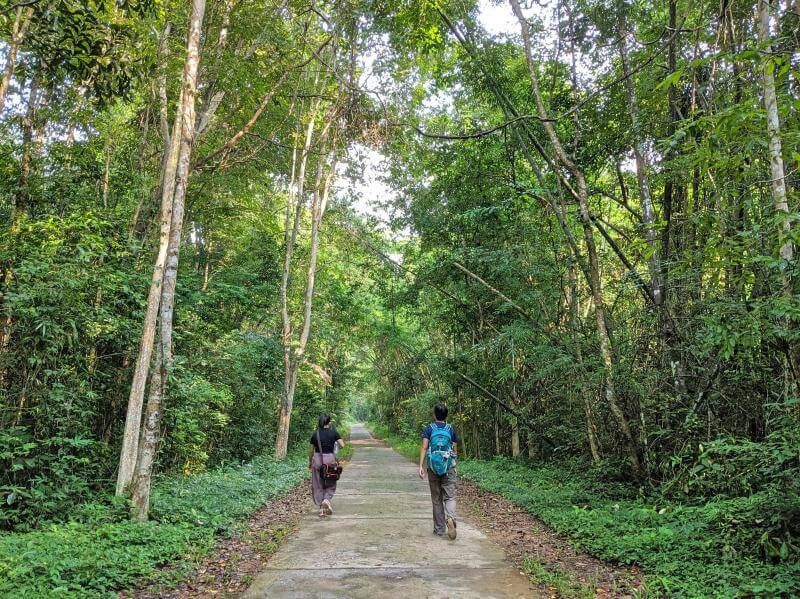 Photo: Life of Doing
Cat Tien National Park, which is one of the most important national parks in Vietnam, belongs to three provinces of Dong Nai, Lam Dong and Binh Phuoc. The park covers the areas of more than 71,920 ha with three main divided sectors. The South of Cat Tien (Dong Nai Province) is 39.627 ha; Cat Loc (Lam Dong Province) 27, 8521 and the West of Cat Tien (Binh Phuoc Province) is 4,443 hecta.
In 1978, the South Cat Tien and North Cat Tien parks were put under the State's protection. However, due to the classification of Cat Loc Park in the program for the protection of natural wild animals and flora, in December 1998, these three parks joined together to become the Cat Tien National Park, under the management of the Ministry of Agriculture and Rural Development.
Cat Tien National Park is part of the wet tropical forest complex and one of the specious natural forests remaining in Vietnam. That is why this area is significant not only in Vietnam but in the world as well.
The diversity of the Park has been recognized by WWF when this international organization selected the Park as one of 200 global ecological zones including the land and its water area with its well-known biological diversity. In 2001, Cat Tien National Park has been listed by UNESCO as the 411th biosphere Reserve Zone in the world.
2. Phong Nha-Ke Bang National Park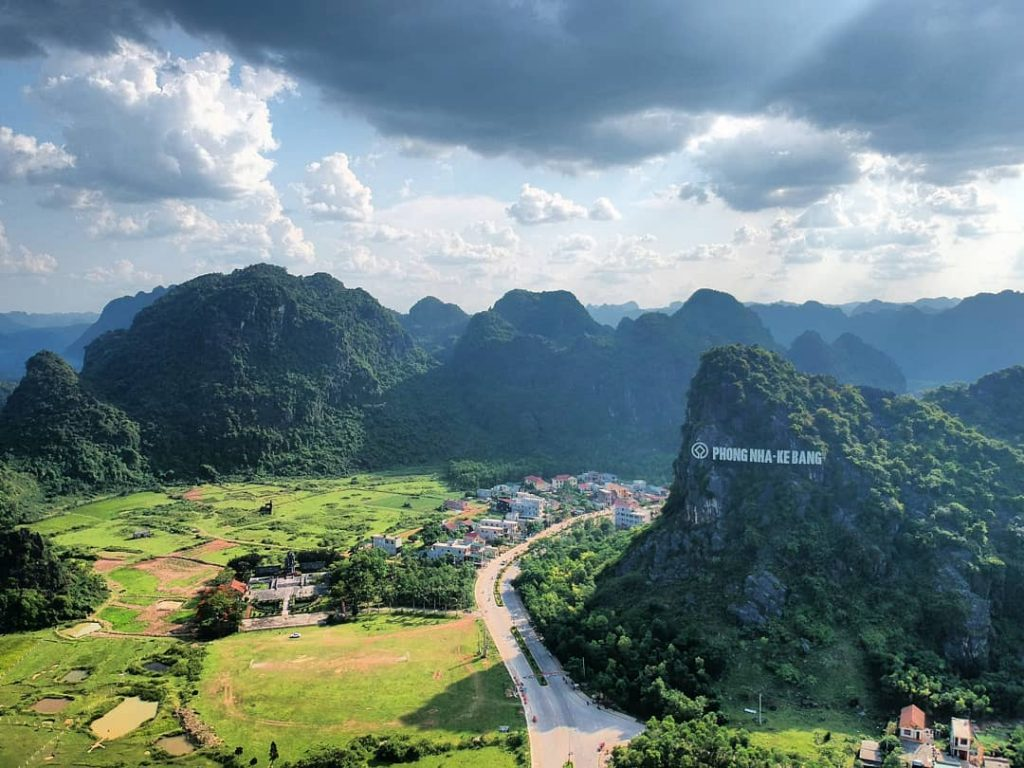 Photo: Phong Nha Explorer
Phong Nha-Ke Bang is a national park in the center of Quang Binh province in north-central Vietnam. It protects one of the world's two largest karst regions with several hundred caves and grottoes. Its name derives from Phong Nha cave, the most beautiful one, with numerous fascinating rock formations, and Ke Bang forest. The plateau is probably one of the finest and most distinctive examples of a complex karst landform in Southeast Asia.
Phong Nha-Ke Bang National Park is of high conservation value as one of the largest areas of intact forest habitat remaining in Vietnam. As part of a continuous forest block with the neighbouring Him Namno Biodiversity Conservation Area in Laos, it forms one of the largest areas of forest on limestone karst in Indochina.
The presence of tall lowland forest, which is regionally threatened as a habitat type in the National Park increases the area's conservation value.
3. Phu Quoc National Park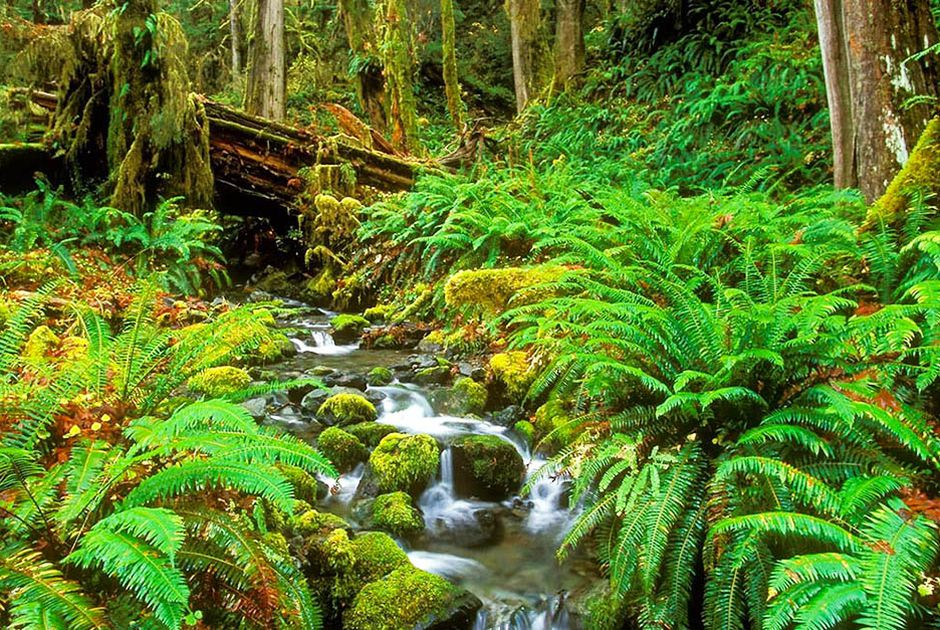 Photo: Yeudulich
Situated in the North-East of Phu Quoc Island and the Northern and Eastern boundaries with the coastline, Phu Quoc National Park covers of 31,422 ha, accounting for 70% of the area of Phu Quoc Island, which is regarded as a precious thanks to the prosperity of natural beauty.
According to director Pham Quang Binh, Phu Quoc National Park is located on an island that has a mixture of continental and coastal climate, creating a rich ecosystem of primeval, secondary and indigo forests. Its indigo forests are distributed in the wetlands or the lowlands that is flooded in the rainy season and sloping hills.
The topography of the national park is hilly, despite not particularly steep with the highest point is Mount Chua, at 603 m. Being drained by numerous, mainly seasonal, streams, the only sizeable river on the island is the Rach Cua Can river, which drains the southern part of the national park, and flows into the sea on the west coast of the island.
Covering more than 27,000 ha of forest, including 6,000 ha of buffer land and 20,000 ha of surrounding ocean area, Phu Quoc National Park has a rich ecosystem due to the co-existence of the Malaysian, Burmese and Himalayan species.
4. Bai Tu Long National Park

Photo: Discover Halong
Bai Tu Long National Park belongs to the well-known Ha Long Bay – a world cultural heritage, Bai Tu Long National Park will bring you amazed feeling and unforgettable experience!
Be away about 200 kilometers from Hanoi, Bai Tu Long National Park is one of seven Vietnamese amphibian national parks which have both terrestrial zone and aquatic zone. The eco-tourist site is now the home to 672 species of terrestrial plants and 178 aquatic floral species, of which 11 species have been listed in Vietnam's Red Book of endangered species. It also boasts 170 species of terrestrial animals, including nine species listed as endangered in Vietnam's Red Book; 119 species of fish; 132 species of invertebrate animals; and 106 species of corals.
Bai Tu Long National Park is a protected area zone in North Vietnam. Established in 2001, surrounded by gigantic rocky limestone mountains, the park covers 15,783 ha, including 6,125 ha of island land and 9,658 ha of tidal land on Ba Mun, Tra Ngo Lon, Tra Ngo Nho, Sau Nam, Sau Dong, Dong Ma, and more than 20 other small islands. Apart from its biological diversity, the park boasts wonderful natural landscapes, intact beaches, archaeological sites of ancient Vietnam and vestiges of the former busy trading port of Van Don.
Coming to Bai Tu Long every season, you can enjoy very the early beauty of an island with mountain ranges, beaches, stilt house, and seafood. One of the highlighted features of the Bai Tu Long tourist site is the sea eco-tourism community, 60 kilometers from Bai Chay by road or more than one hour by high-speed boat. The National Park also include a buffer zone of approximately 165.34 km2, which locates in a larger area include five communes: Minh Chau, Van Yen, Ban Sen, Quan Lan and Ha Long. The total population of the core zone and the buffer zone is around 24.000.
5. Ba Be National Park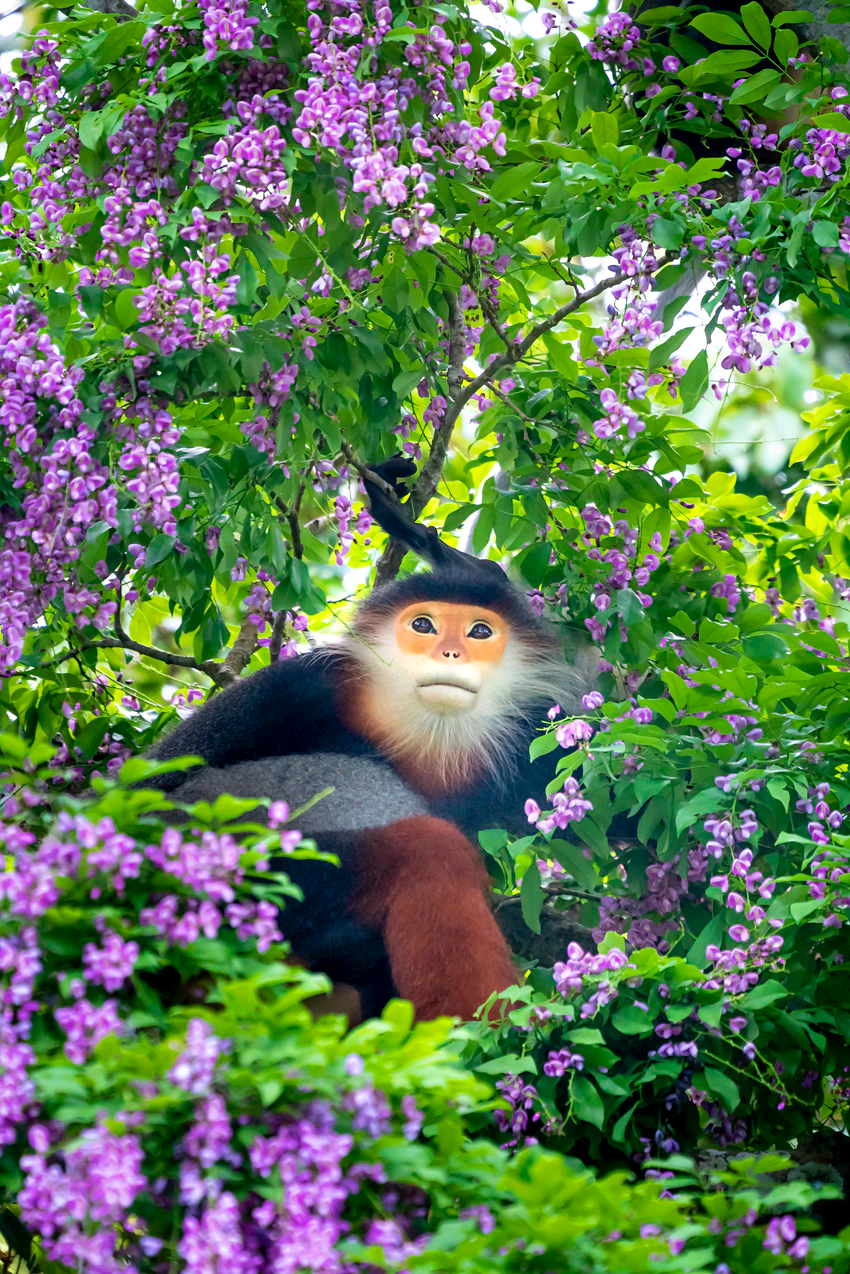 © quangpraha / Getty Images
Ba Be National Park is among Vietnam's first National Parks, designated as a protected area in 1992 by the Vietnamese government and since recognized by the ASEAN Heritage Parks Organization. With a tropical climate and a unique, diverse range of flora and fauna and wealth of cave systems and limestone mountains, Ba Be National Park occupies a special place for travellers in Southeast Asia.
The lake itself is also quite unique, for while most lakes rest at the bottom of deep valleys, this one is located right on the top of a mountain, and is fed by three separate rivers that flow down from the highest peak. It reaches 35 meters of depth at its deepest, and at the bottom there is 5 to 10 meters of clay, ensuring that the lake never dries out. Because of its location deep in the forest, it also keeps the area green and verdant all year round.
The park is also home to a wide range of ethnic minorities, as many as 6 distinct ones, namely the Tay, Muong, Zhao, Viet Kinh, and the Black and Flower H'mong.
6. Bach Ma National Park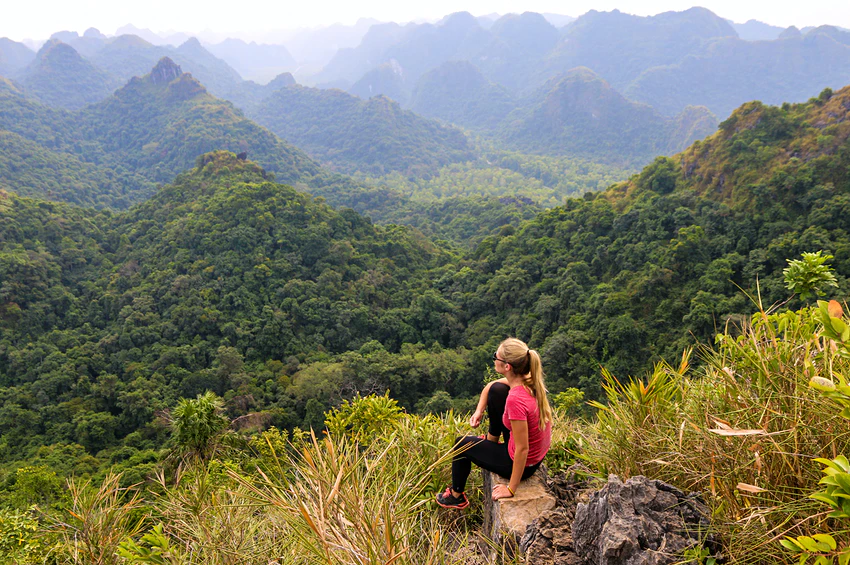 © Daliusposus / Shutterstock
A French-era hill station, this national park reaches a peak of 1450m at Bach Ma mountain, only 18km from the coast. The cool climate attracted the French, who built over a hundred villas here (many of which were destroyed in the Resistance War Against America that scarred this region).
Today the national park stretches from the coast to the Annamite mountain range at the Lao border, and is easily explored as a day trip from the popular tourist towns of Hue or Danang. More than 1400 species of plants, including rare ferns and orchids, have been discovered in Bach Ma, representing a fifth of the flora of Vietnam. As for wildlife, there are 132 kinds of mammals (three of which, the antelope-like saola, and deer-resembling Truong Son muntjac and the giant muntjac, were only discovered in the 1990s), and nine species of primates, including small numbers of the incredible-looking (and incredibly-rare) red-shanked Douc langur. There are also some nice hikes to scenic viewpoints to tackle, plus some waterfalls for swimming. Unexploded ordnance is still around, so ensure you stick to the trails.
7. Cuc Phuong National Park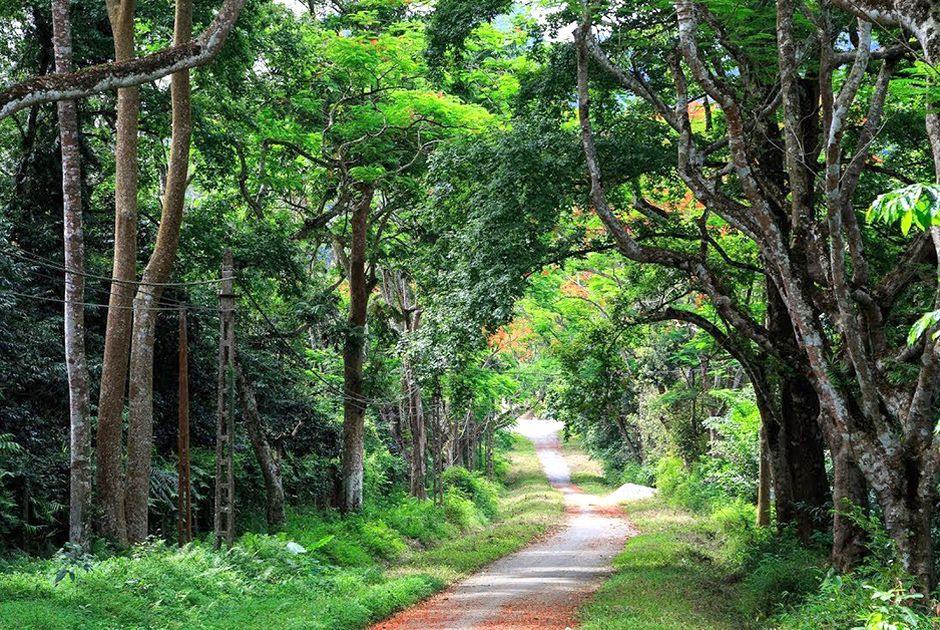 Photo: Yeudulich
Located in Ninh Binh Province, Cuc Phuong National Park is the oldest and largest national park in Vietnam. This natural park is home to the vast amount of local plants and animals which represent a crucial source of biodiversity. Visiting this park, tourists will have a chance to explore the beauty of Vietnam's nature, and money generated by tourism can save many endangered species and boost the local economy.
Covering an area of 25,000 ha of three provinces: Ninh Binh, Hoa Binh, and Thanh Hoa, Cuc Phuong is the first and largest nature reserve of Vietnam. This park is a typical tropical rainforest that hosts many diverse and unique flora and fauna.
This old forest is the natural habitat of more than 2000 plant species and 2600 species of animals including 2000 species of insects, 135 mammal species, 122 species of reptiles and amphibians, 65 species of fishes, more than 336 species of birds. Many endangered species have been found and protected here including Draco, spotted deer, golden monkey, bear, leopard, fox, horse, and the famous black and white Douc langur.
8. Cat Ba National Park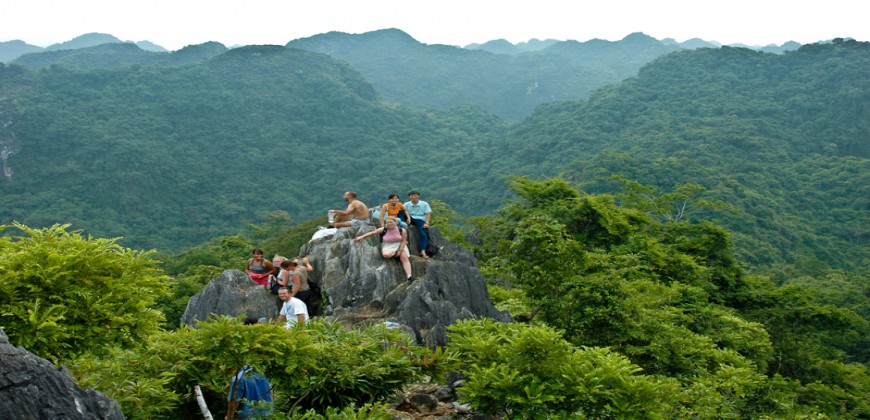 Photo: Escape Sails
Cat Ba's beautiful national park is home to 32 species of mammal, including most of the world's 65 remaining golden-headed langurs, the world's most endangered primate. There are some good hiking trails here, including the short but strenuous hike to the top of Ngu Lam peak, which offers dramatic views over the surrounding jungle, as well as the challenging 9km hiking trail through the park to the village of Viet Hai – best done with a guide. Lunch and homestays are available in Viet Hai.
Of the mammals present in the park, the more commonly seen include macaques, deer, civets and several species of squirrel, including the giant black squirrel. Seventy bird species have been spotted here, including hawks, hornbills and cuckoos.