Top Ten Iconic Video Game Theme Songs of All Time
Find out if your favorite video game theme song make it to the list.
Ladies and gentlemen, it seems we have all play some video games at one point of our life. Even if you didn't, we bet when you listen to these ten theme songs, the nostalgia will kick in straight away. A little message for you: this isn't the ranking, just enjoy the upbeat tunes of the animated world.
1. Legend of Zelda (NES) Intro
Leader of the sound division of Nintendo EAD, Koji Kondo, originally wanted to use Ravel's "Bolero" as the title theme for this game. However, the song was copyrighted and he was forced to write this timeless original piece. This is a well-known fact among gamers and everyone seems to prefer this epic tune. Between the treasure list & the gold cartridge you knew you had something special.
2. Super Mario Bros
The four minute soundtrack was intended for short segments of music could be endlessly repeated. Maybe that's why it is so addictive. This is also created by Koji Kondo. His melodic flair proved so strong that the soundtrack, even to this day, unparalleled in terms of its worldwide recognition as a video game score.
3. Tetris
Believe it or not, people were humming the song that inspired the world-famous Tetris tune long before the game existed! The true name of the Tetris theme is Korobeiniki (the Russian word for peddlers) by poet Nikolay Nekrasov in 1861. If you pay a visit to Russia, there's currently a museum that contains a copy of the infamous Korobeiniki itself.
In 1989, Hirokazu Tanaka remade the song for the Nintendo Game Boy version of Teris. From there, the "Type A" theme firmly cemented itself as one of the most recognizable tracks in gaming history.
4. Punch-Out!
The soundtrack is called "Training Theme (Jogging Theme)" from Mike Tyson's Punch-Out!! - The 80s Nintendo game. People often play the Punch Out! theme song when they exercise since it is so full of power and energy.
5. Teenage Mutant Ninja Turtles
Teenagers in the 80s can't forget the excitement when opening their birthday or Christmas presents and it's NES Teenage Mutant Ninja Turtles. The 8-bit music seems to make gamers feel better after losing the impossible final level over and over again.
6. Sonic The Hedgehog
Did you know? Your favorite animated hedgehog turned 30 this year. It seems like only yesterday when you booting up your SEGA genesis and hearing that Iconic "Sega", listening to Green Hill Zone while saving the planet.
If adult life ever get you down, listen to the song one more time and remember the wise Sonic once said, Don't sit there and waste your precious time. When you want to do something, do it right away. Do it when you can. It's the only way to live a life without regrets."
7. Toe Jam & Earl
The combination of funk and electronic music, or Funkotronic is impossible to resist whether you are a fan of this SEGA classic game or not. Gamers might debate whether TJ&E 1, 2, or 3 is the best version of the game but they all collectively agree that the original soundtracks are the best, thanks to the iconic keyboard synth.
8. Final Fantasy
The main theme of Final Fantasy, the series famous for its innovation, visuals, music, and story. The soundtrack remains a classic because it encapsulates all that is good in gaming. Story, characters, surreal experiences. It is a theme that was with all young gamers who grew up with Final Fantasy and even to the newer generations just discovering it.
Final Fantasy fan celebrated once again as 2020 Tokyo Olympic Open Ceremony played the tune as nation sport teams marched out.
9. Star Fox
Star Fox Ready to take off! You rock to the intro soundtrack as legendary space pilot Fox McCloud, blast through an onslaught of enemy forces to bring peace to the galaxy. The classic tune earns its spot on the list because of how much it engages to the theme. Anyone could feel like the hero of the galaxy when they listen to Star Fox Zero intro.
10. NBA Jam Tournament Edition
The competition is so much more fun in the Tournament Edition and the theme is just as epic. It is a classic theme to the NBA in general. Everything about this music screams basketball. Both the jam and the game stand the test of time and now they are among the timeless classic.
Did you enjoy our list? Which classic theme song should we add?
Top 15 Best Space Movies of All Time

Science fiction has always addressed the big questions surrounding the nature of life, what it means to be human, and what being alone in the ...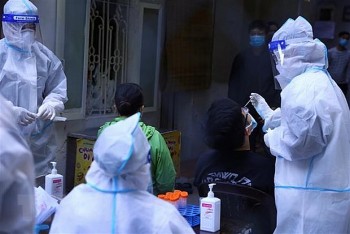 Focus
Vietnam's Covid-19 death toll is now 26,483, or 2 percent of total cases. More than 7,000 coronavirus patients nationwide are in serious condition, with 741 requiring invasive ventilation and 20 on life support.