15 Best Sci-Fi Movies Of All Time
From the famous "Blade Runner" to "12 Monkeys", here are the greatest and best sci-fi movies of all time.
Aliens, astronauts, time travel – you name it, there's a dazzling sci-fi film about it. That makes compiling a list of the best sci-fi nigh on impossible. For one, where do you start?
To understand where sci-fi films came from, you need to head back to the dawn of the cinema age. Right at the start of it all, Metropolis, released in 1927, used groundbreaking visuals to create a reference point for all future urban dystopias – it's no fluke, for example, that the aesthetic of Blade Runner bares more than a passing resemblance to Fritz Lang's prophetic urban hell-scape.
Don't miss these wonderful and best 15 Sci-fi movies of all time.
1. Blade Runner (1982)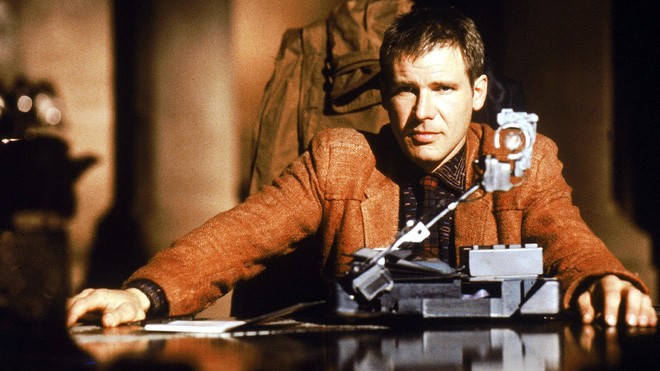 Photo: Getty Images
Imdb score: 8.1/10
Welcome to Ridley Scott's nightmare. Resembling a Felliniesque journey into Dante's Inferno, with Mickey Spillane in tow, Blade Runner is a cold, bold, bizarre and mesmerizing futuristic detective thriller that unites the British-born director of Alien with new box-office dynamo Harrison Ford for results that are as impressive as any film that's exploded through a projector so far this year.
Admittedly, it's a film that will turn off many, but it will also bulge eyeballs and cause talk. And since talk sells tickets, the Ladd Company release, made in association with Sir Run Run Shaw and going out via Warner Bros., can hardly avoid making a marketable impression.
Blade Runner is not an easy film to watch comfortably, or categorize smoothly. It possesses a size that is awesome, sound and visual accompaniments that blasts the senses and a pessimistic attitude that would do justice to the hellish worlds Josef von Sternberg investigated in his Germanic and Paramount projects in the early 1930s.
2. Alien (1979)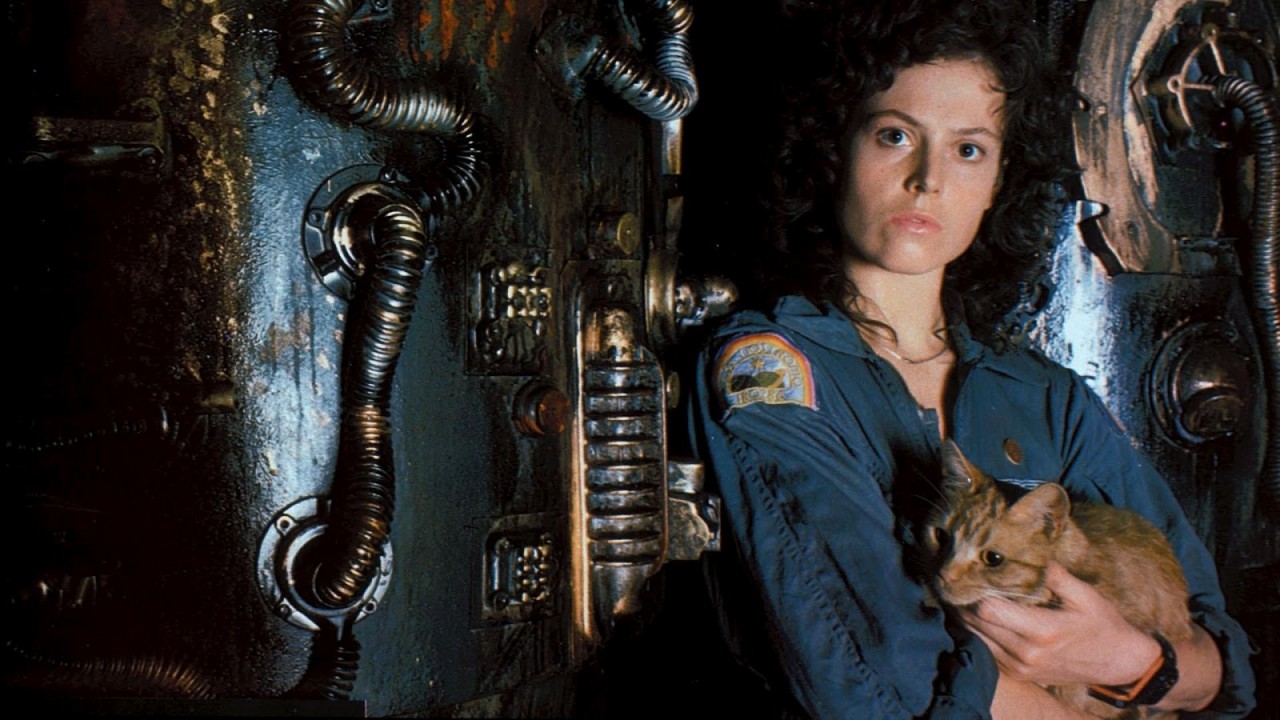 Photo: Imdb
Imdb score: 8.4/10
After 40 years, this sci-fi horror masterpiece still feels lethally contemporary. With screenwriters Dan O'Bannon and Ronald Shusett, Ridley Scott created an essay on the hell of other people, the vulnerability of our bodies, and the idea of space as a limitless new extension of human paranoia. Alien also functions as a nightmare parody of the Apollo 11 moon landing, which had happened just 10 years previously, and the biological weapons industry.
Sigourney Weaver stars in the movie that was to make her name. She is Ripley, a crew member of a mining spaceship trudging back home, which is forced to make a detour on receiving a mysterious SOS signal from a deserted planet. Her colleagues include Parker, played by Yaphet Kotto, petulant and resentful Brett, played by Harry Dean Stanton, and Dallas, played by Tom Skerritt; John Hurt is Kane, an eager volunteer for the job of exploring the planet's surface, and Ian Holm is superb as the scientific officer Ash.
Interestingly, the famous, heart-stopping moment where the alien embryo jumps out of the egg happens much more fleetingly than you might remember. Scott cuts away from it quickly, leaving the negative image impressed on our retina.
Editors Terry Rawlings and Peter Weatherley cut the film so cleverly so that we never have a clear notion of what the alien actually looks like until the very last shots. The idea of it starting the size of a toad, then emerging the size of a bus with multiple rows of razor-teeth is skin-crawlingly horrible.
3. La Jetée (1962)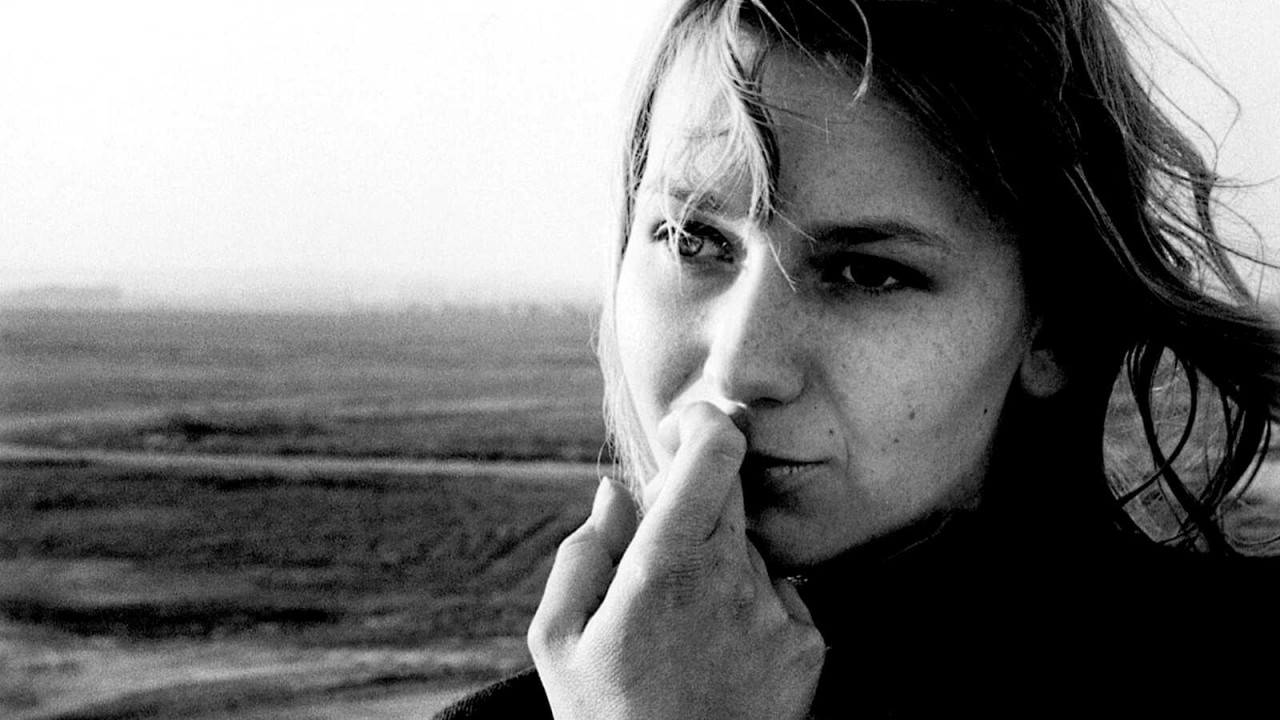 Photo: Imdb
Imdb score: 8.3/10
La Jetée is a 1962 French science fiction featurette directed by Chris Marker and associated with the Left Bank artistic movement. Constructed almost entirely from still photos, it tells the story of a post-nuclear war experiment in time travel. It is 28 minutes long and shot in black and white.
It won the Prix Jean Vigo for short film. The 1995 science fiction film 12 Monkeys was inspired by and borrows several concepts directly from La Jetée.
A man (Davos Hanich) is a prisoner in the aftermath of World War III in post-apocalyptic Paris, where survivors live underground in the Palais de Chaillot galleries. Scientists research time travel, hoping to send test subjects to different time periods "to call past and future to the rescue of the present". They have difficulty finding subjects who can mentally withstand the shock of time travel. The scientists eventually settle upon the protagonist; his key to the past is a vague but obsessive memory from his pre-war childhood of a woman (Hélène Châtelain) he had seen on the observation platform ("the jetty") at Orly Airport shortly before witnessing a startling incident there. He did not understand exactly what happened, but knew he had seen a man die.
After several attempts, he reaches the pre-war period. He meets the woman from his memory, and they develop a romantic relationship. After his successful passages to the past, the experimenters attempt to send him into the far future. In a brief meeting with the technologically advanced people of the future, he is given a power unit sufficient to regenerate his own destroyed society.
Upon his return, with his mission accomplished, he discerns that he is to be executed by his jailers. He is contacted by the people of the future, who offer to help him escape to their time permanently; but he asks instead to be returned to the pre-war time of his childhood, hoping to find the woman again. He is returned to the past, placed on the jetty at the airport, and it occurs to him that the child version of himself is probably also there at the same time. He is more concerned with locating the woman, and quickly spots her. However, as he rushes to her, he notices an agent of his jailers who has followed him and realizes the agent is about to kill him. In his final moments, he comes to understand that the incident he witnessed as a child, which has haunted him ever since, was his own death.
4. The Matrix (1999)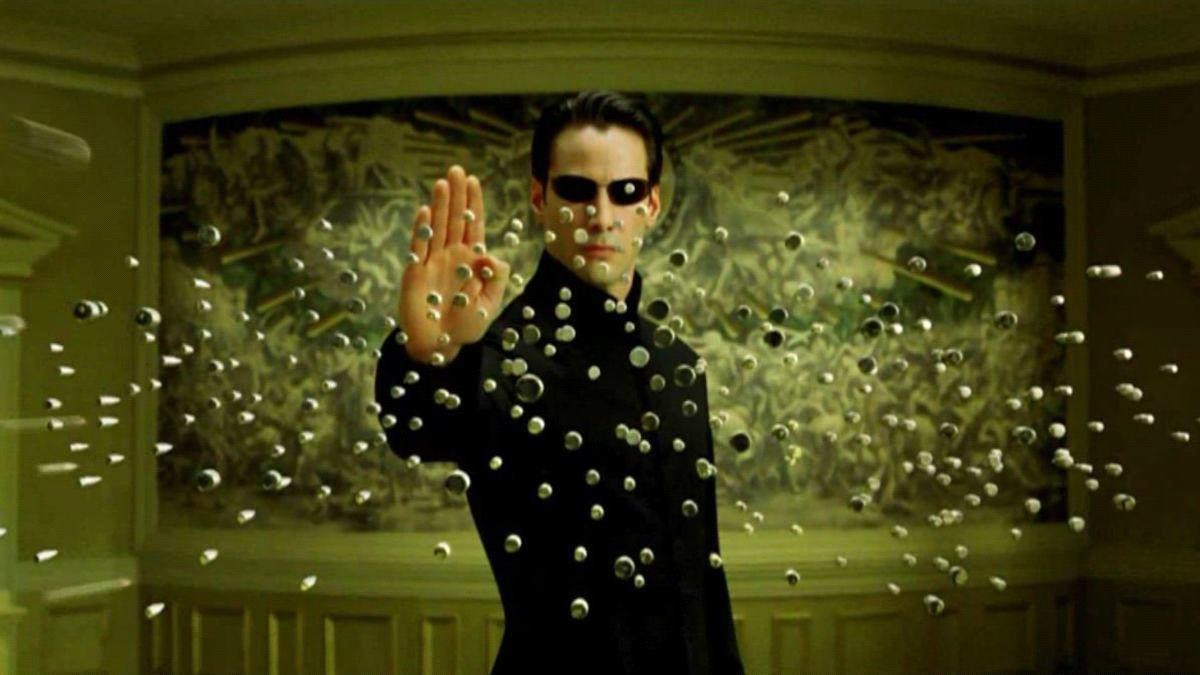 Photo: Warner Bros.
Imdb score: 8.7/10
"The Matrix" is a visually dazzling cyberadventure, full of kinetic excitement, but it retreats to formula just when it's getting interesting. It's kind of a letdown when a movie begins by redefining the nature of reality, and ends with a shoot-out. We want a leap of the imagination, not one of those obligatory climaxes with automatic weapons fire.
The plot involves Neo (Keanu Reeves), a mild-mannered software author by day, a feared hacker by night. He's recruited by a cell of cyber-rebels, led by the profound Morpheus (Laurence Fishburne) and the leather-clad warrior Trinity (Carrie-Anne Moss). They've made a fundamental discovery about the world: It doesn't exist. It's actually a form of Virtual Reality, designed to lull us into lives of blind obedience to the "system." We obediently go to our crummy jobs every day, little realizing, as Morpheus tells Neo, that "Matrix is the wool that has been pulled over your eyes--that you are a slave." The rebels want to crack the framework that holds the Matrix in place, and free mankind. Morpheus believes Neo is the Messianic "One" who can lead this rebellion, which requires mind power as much as physical strength.
5. A Clockwork Orange (1971)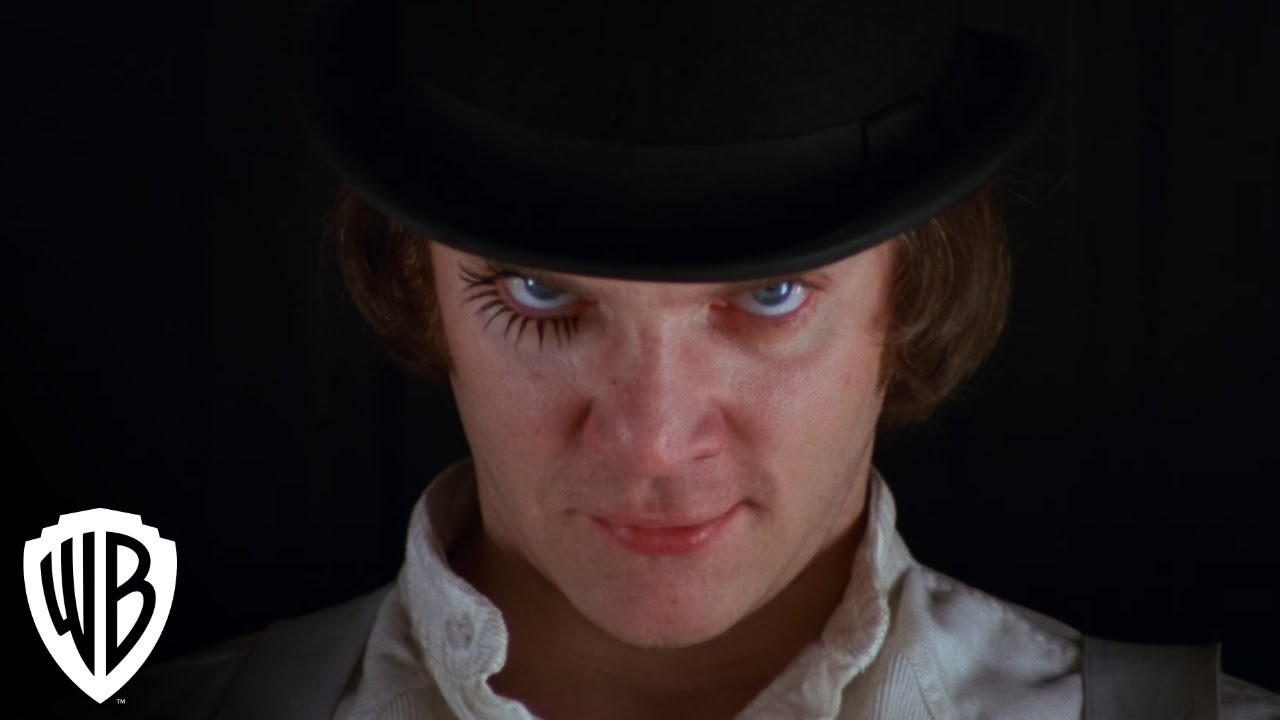 Photo: Warner Bros.
Imdb score: 8.3/10
The souring of the swinging 60s got properly under way with this radioactively outrageous film, now rereleased as part of the Stanley Kubrick season at London's BFI Southbank; this was Kubrick's sensationally scabrous, declamatory, epically indulgent and mad adaptation of the 1962 Anthony Burgess novella about ultra-violent youth gangs in a dystopian future Britain speaking cod-Russian mixed with a weird version of Cockney rhyming slang. (Burgess cheekily trolled the public by claiming his title was taken from a certain Cockney phrase – "queer as a clockwork orange" – apparently known only to him.)
In place of peace and love and prosperity, A Clockwork Orange offered a new zeitgeist-decade of violence, anger, misogyny, the degradation of the public space in dreary suburban locales and modernist designs for living that had been vandalised. John Barry's production design showed us "ruin porn" before the phrase had been invented.
6. Solaris (1972)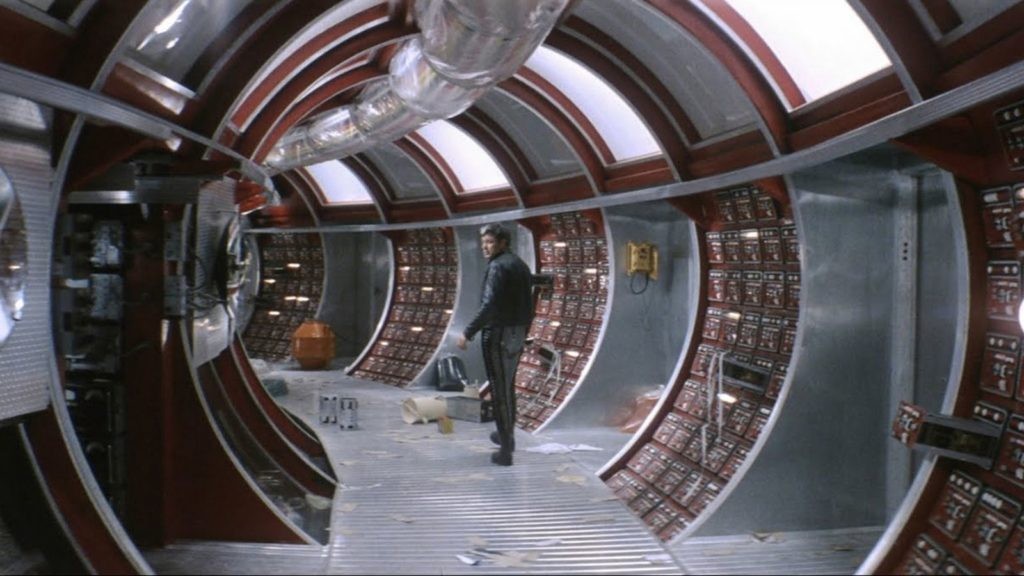 Photo: Chicago Film Festival
Imdb score: 8.1/10
One of the most celebrated filmmakers of the 20th century, Tarkovsky here melds gorgeous, stark visuals with a meditative commentary on our place in the universe without missing a beat. The director's earlier Andrei Rublev and later Stalker both interrogate the philosophies of humanity and the higher orders that govern our lives, with the former relying on bleak dystopia and the latter a 15th-century Christian Russia to navigate the intricacies of faith. But it's this science-fiction epic that manages to package all of Tarkovsky's existential anxieties into a one-man vessel and sends it hurtling into the unknown.
Kris Kelvin (Donatas Banionis) spends his remaining time on earth wandering the quaint countryside near his childhood home, situated by an algae-covered pond far from any cities. Kelvin, a psychologist, has been tasked with travelling to the Solaris space station to determine why its spartan crew of three have begun communicating in gibberish, hallucinatory messages. Kelvin's father knows that he will not live to see his son return from the distant planet, and watches as Kelvin burns his possessions in a final cleansing of his life on Earth.
From its poignant opening 20 minutes, with Kelvin shedding his ties to his family and his past in the quiet grove where he grew up, Solaris instantly establishes itself as a film about what it means to be human, and our relationships with the world and those who inhabit it. Aboard the space station, Kelvin is haunted by a mirage of his late wife and memories of his home, and the suicide of a previous scientist casts its long shadow through the empty chrome corridors. All the life in this film is hanging in the balance, on the event horizon of a cataclysm of identity.
7. 2001: A Space Odyssey (1968)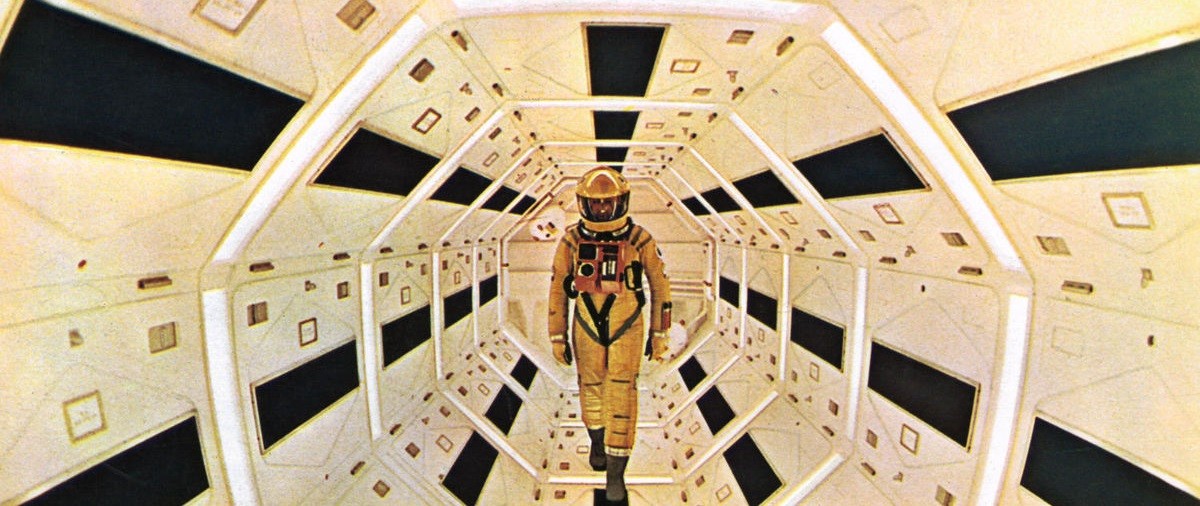 Photo: Roger Ebert
Imdb score: 8.3/10
The genius is not in how much Stanley Kubrick does in "2001: A Space Odyssey," but in how little. This is the work of an artist so sublimely confident that he doesn't include a single shot simply to keep our attention. He reduces each scene to its essence, and leaves it on screen long enough for us to contemplate it, to inhabit it in our imaginations. Alone among science-fiction movies, "2001" is not concerned with thrilling us, but with inspiring our awe.
No little part of his effect comes from the music. Although Kubrick originally commissioned an original score from Alex North, he used classical recordings as a temporary track while editing the film, and they worked so well that he kept them. This was a crucial decision. North's score, which is available on a recording, is a good job of film composition, but would have been wrong for "2001" because, like all scores, it attempts to underline the action -- to give us emotional cues. The classical music chosen by Kubrick exists outside the action. It uplifts. It wants to be sublime; it brings a seriousness and transcendence to the visuals.
8. Westworld (1973)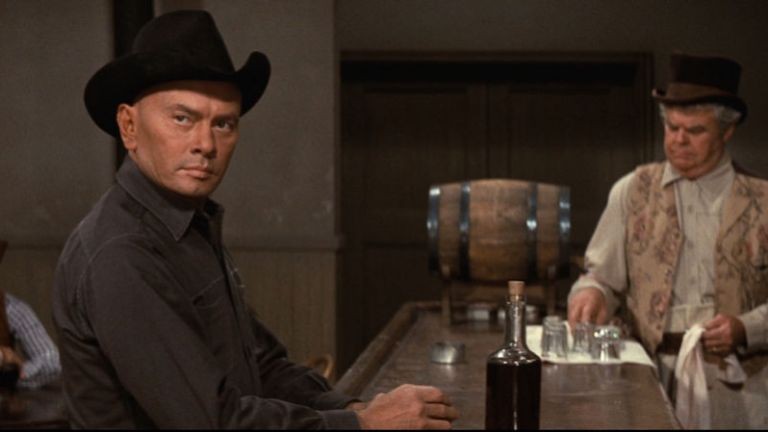 Photo: Getty Images
Imdb score: 7/10
Westworld is a 1973 American science-fiction Western thriller film written and directed by Michael Crichton. Its plot concerns amusement park androids that malfunction and begin killing visitors. It stars Yul Brynner as an android in a futuristic Western-themed amusement park, and Richard Benjamin and James Brolin as guests of the park.
The film was from an original screenplay by Crichton, and was his first theatrical film as director, after one TV film. It was also the first feature film to use digital image processing to pixellate photography to simulate an android point of view. Critical reception was largely positive by contemporary and retrospective critics, and Westworld was nominated for Hugo, Nebula, and Saturn awards.
Westworld was the first in a media franchise. It was followed by a sequel, Futureworld (1976), and a short-lived television series, Beyond Westworld (1980). A television series based on the film debuted in 2016 on HBO.
9. Star Wars (1977)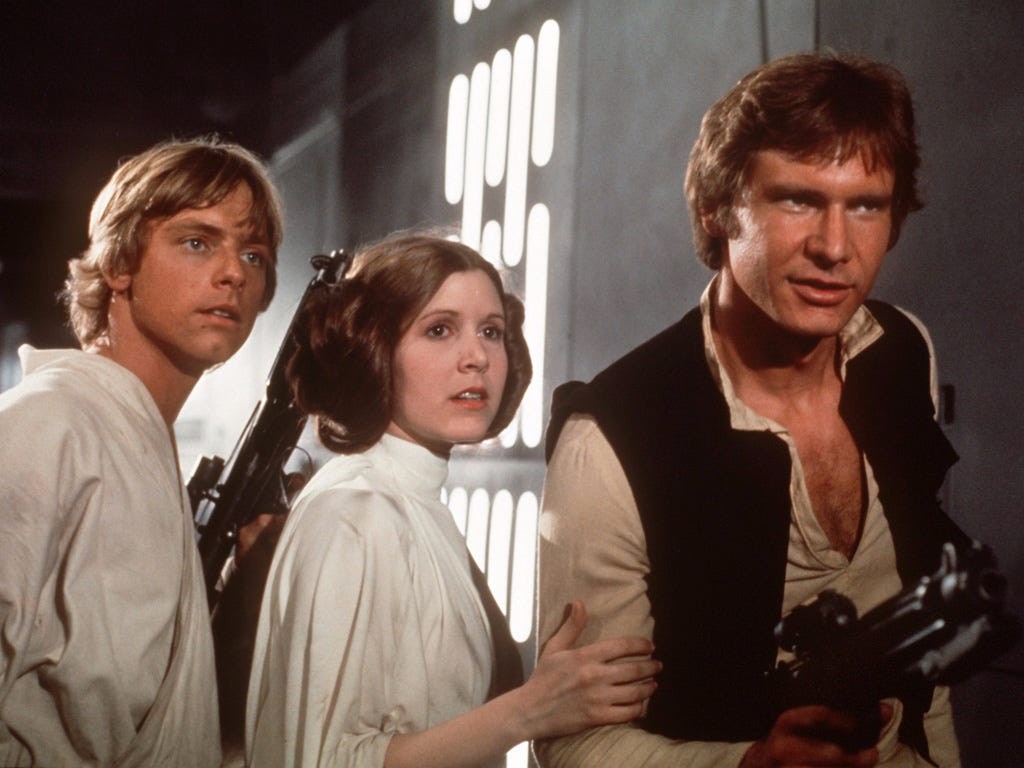 Lucasfilm screencap
Imdb score: 8.6/10
Star Wars (retroactively titled Star Wars: Episode IV – A New Hope) is a 1977 American epic space-opera film written and directed by George Lucas, produced by Lucasfilm and distributed by 20th Century Fox. It stars Mark Hamill, Harrison Ford, Carrie Fisher, Peter Cushing, Alec Guinness, David Prowse, James Earl Jones, Anthony Daniels, Kenny Baker and Peter Mayhew. It is the first installment of the original Star Wars trilogy, the first of the franchise to be produced, and the fourth episode of the "Skywalker saga".
Lucas had the idea for a science-fiction film in the vein of Flash Gordon around the time he completed his first film, THX 1138 (1971) and began working on a treatment after the release of American Graffiti (1973). Star Wars takes place "a long time ago", in a fictional universe inhabited by both humans and various alien species; most of the known galaxy is ruled by the tyrannical Galactic Empire, which is only opposed by the Rebel Alliance, a group of freedom fighters. The narrative of the film focuses on the hero journey of Luke Skywalker (Hamill), an everyman who becomes caught in the galactic conflict between the Empire and the Rebellion after coming into possession of two droids, R2-D2 (Baker) and C-3PO (Daniels), who are carrying the schematics of the Empire's ultimate weapon, the Death Star.
While attempting to deliver the droids to the Rebellion, Luke is joined by wizened Jedi Master Obi-Wan Kenobi (Guinness), who teaches him about the metaphysical power known as "the Force", cynical smuggler Han Solo (Ford), his Wookiee companion Chewbacca (Mayhew), and Rebellion leader Princess Leia (Fisher). Meanwhile, Imperial officers Darth Vader (Prowse, voiced by Jones), a Sith Lord, and Grand Moff Tarkin (Cushing), the commander of the Death Star, seek to retrieve the stolen schematics and locate the Rebellion's secret base.
10. Stalker (1979)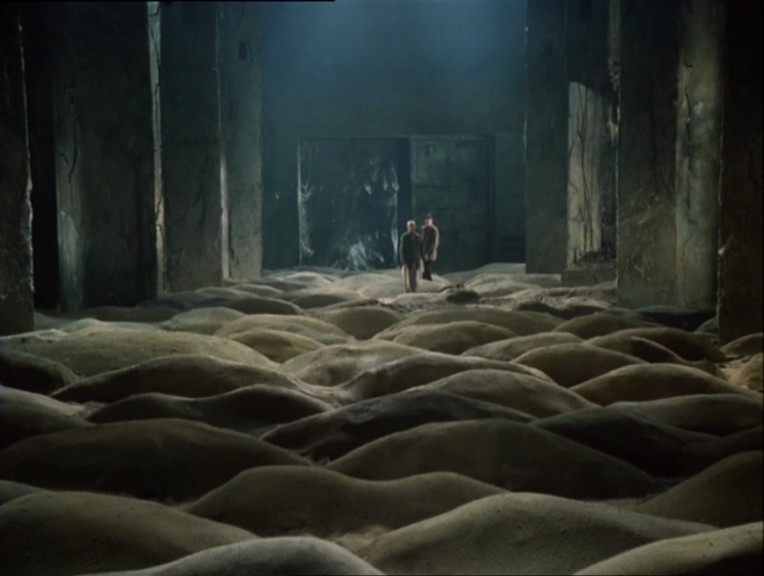 Photo: Andrei Tarkovsky
Imdb score: 8.1/10
Stalker is a 1979 Soviet science fiction art drama film directed by Andrei Tarkovsky with a screenplay written by Arkady and Boris Strugatsky, loosely based on their 1972 novel Roadside Picnic. The film combines elements of science fiction with dramatic philosophical and psychological themes.
The film tells the story of an expedition led by a figure known as the "Stalker" (Alexander Kaidanovsky), who takes his two clients—a melancholic writer (Anatoly Solonitsyn) seeking inspiration, and a professor (Nikolai Grinko) seeking scientific discovery—to a mysterious restricted site known simply as the "Zone", where there supposedly exists a room which grants a person's innermost desires.
Stalker was released on Goskino in May 1979. Upon release, the film garnered mixed reviews, but in subsequent years it has been recognized as a classic of world cinema, with the British Film Institute ranking it #29 on its list of the "50 Greatest Films of All Time". The film sold over 4 million tickets, mostly in the Soviet Union, against a budget of 1 million Soviet rubles.
11. Back to The Future (1985)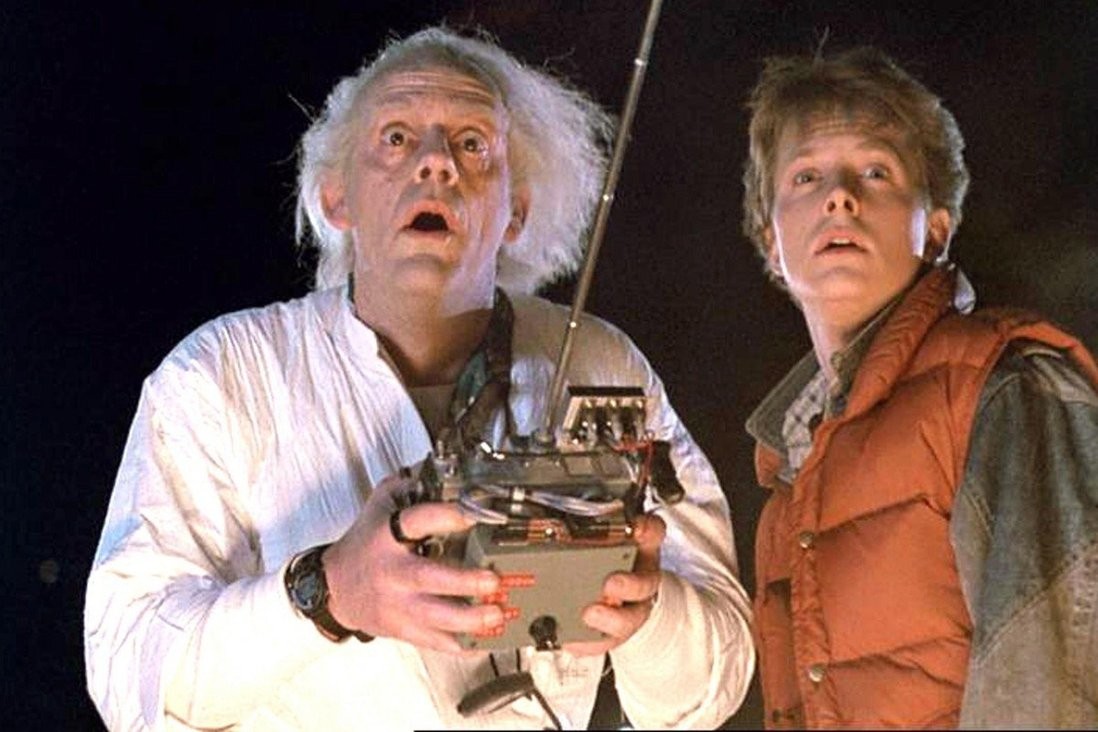 Photo: Alamy
Imdb score: 8.5/10
Marty McFly helps out his friend Doc Brown, and ends up being taken back in time by Doc's time-machine. Marty, a boy of the 80's, has to come to grips with being in the 50's and get his parents to fall in love to set straight the damage his presence has done to the events of the past.
It could all have been so different. In fact, it could all have been a disaster. At the end of 1984 director Robert Zemekis, who had been shooting his second movie, Back To The Future, for over a month was not a happy man. He was saddled with a lead actor who just didn't cut it as a happy-go-lucky, wisecracking teen. He was more like an angst-ridden 40-year-old struggling to make sense of existence in a godless universe.
To make matters worse he'd seen a young actor perfect for the role. Michael J. Fox, then the star of TV sitcom Family Ties radiated youthful joie de vivre and frankly, for a movie with a solid teen base, was just gosh-darned cuter. Something had to be done. Eric Stoltz was out. Fox was in. And they started all over again. But if Back To The Future was the product of a fractured shoot, what emerged was well worth the agony. An almost perfectly wrought slice of old fashioned escapist fantasy, it not only announced the celluloid arrival of the finest light-comedy actor of his generation, but was one of the very few films made in the avaricious, style-challenged 80s that transcended and survived the ugly extremes of its era (skintight stonewashed jeans which, one unkind critic remarked, "look like they've been masturbated over by a troupe of boy scouts" excepted) and which remains an utterly beguiling little gem.
12. E.T. The Extra Terrestrial (1982)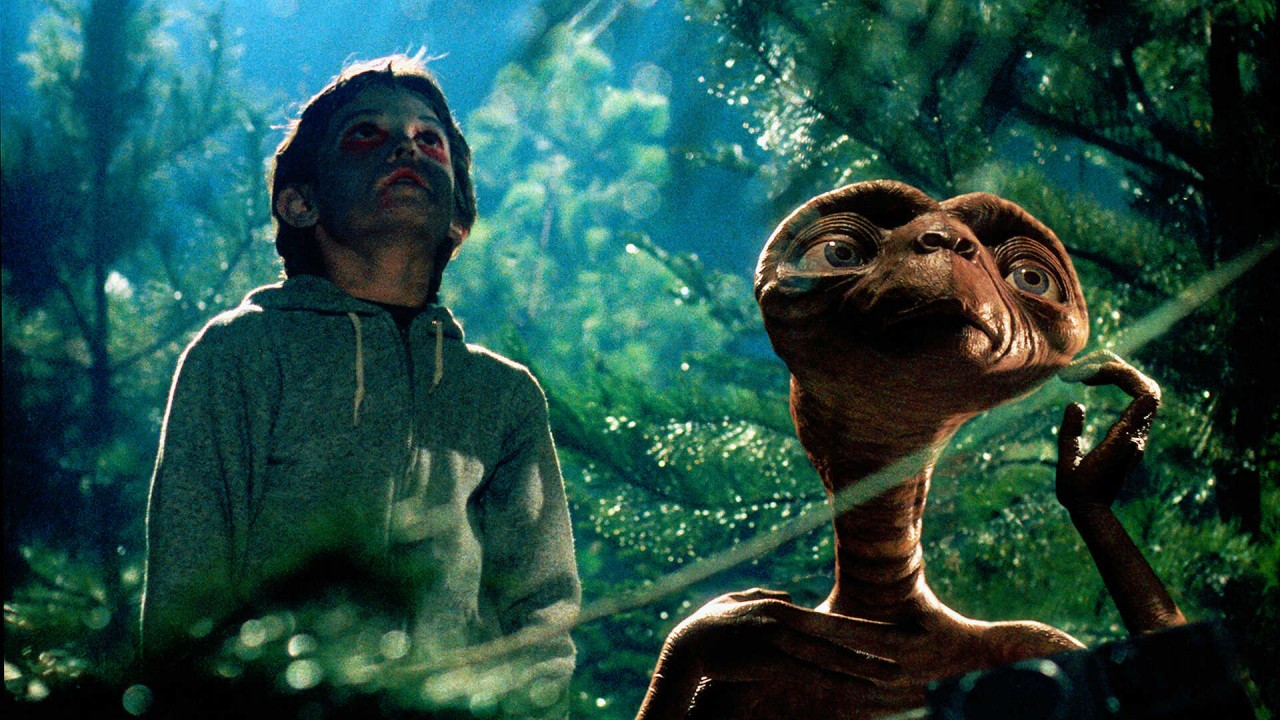 Photo: Amblin Entertainment
Imdb score: 7.8/10
E.T. the Extra-Terrestrial (also known simply as E.T.) is a 1982 American science fiction film produced and directed by Steven Spielberg, and written by Melissa Mathison. It tells the story of Elliott, a boy who befriends an extraterrestrial, dubbed E.T., who is stranded on Earth. The film stars Dee Wallace, Henry Thomas, Peter Coyote, Robert MacNaughton, and Drew Barrymore.
The concept was based on an imaginary friend Spielberg created after his parents' divorce. In 1980, Spielberg met Mathison and developed a new story from an unrealized project Night Skies. Filming took place from September to December 1981 on a budget of $10.5 million. Unlike most films, it was shot in rough chronological order, to facilitate convincing emotional performances from the young cast. The animatronics of E.T. were designed by Carlo Rambaldi.
Released on June 11, 1982, by Universal Pictures, E.T. was an immediate blockbuster, surpassing Star Wars to become the highest-grossing film of all time—a record it held for eleven years until Jurassic Park, another Spielberg film, surpassed it. E.T. was widely acclaimed by critics and is regarded as one of the greatest films of all time, and it won four Oscars at the 55th Academy Awards: Best Original Score, Best Visual Effects, Best Sound and Best Sound Editing. It was re-released in 1985, and again in 2002, to celebrate its 20th anniversary, with altered shots, visual effects, and additional scenes. In 1994, the film was added to the National Film Registry of the Library of Congress, being designated as "culturally, historically, or aesthetically significant."
13. The Thing (1982)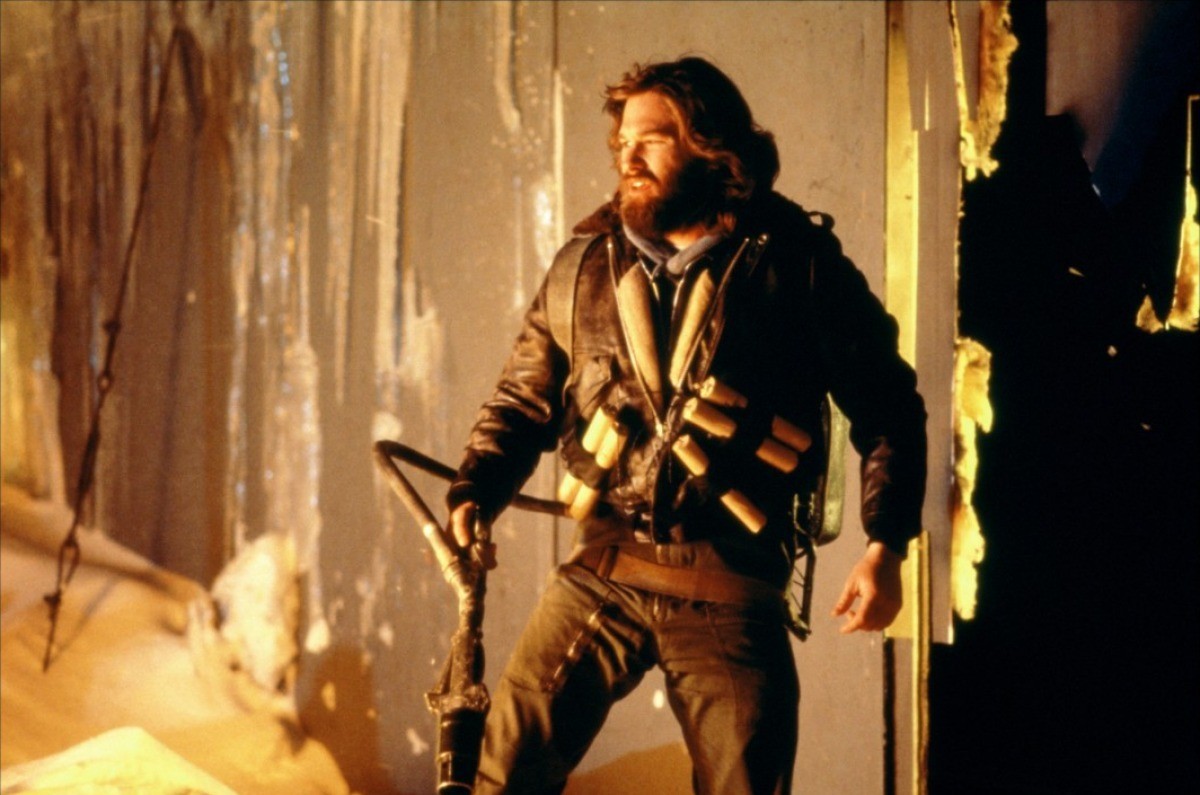 Photo: Imdb
Imdb score: 8.1/10
A parasitic alien infiltrates an arctic research centre in John Carpenter's 1982 body horror classic. "You've got to be fucking kidding." Not only one of the great "zinger" lines of all time, but pretty much the reaction of slack-jawed audiences who either gazed in shock at John Carpenters' The Thing, or more likely, as the film was pretty much a flop on its first release, picked up their popcorn and flounced into the next screen where there was some girly alien or other trying to phone home.
In fact, The Thing is a peerless masterpiece of relentless suspense, retina-wrecking visual excess and outright, nihilistic terror, placing 12 men at an Antarctic station while a shapeshifter takes them over one by one. The slimy effects stand up to this day, Ennio Morricone's score is fantastic and the ensemble acting is played entirely straight as suspicion and paranoia overwhelm the characters. If you have seen it you'll know where that zinger comes from. If you haven't, well just do. And try to keep your head. And the menus are accompanied by Ennio Morricone's fantastic score.
14. Close Encounters Of The Third Kind (1977)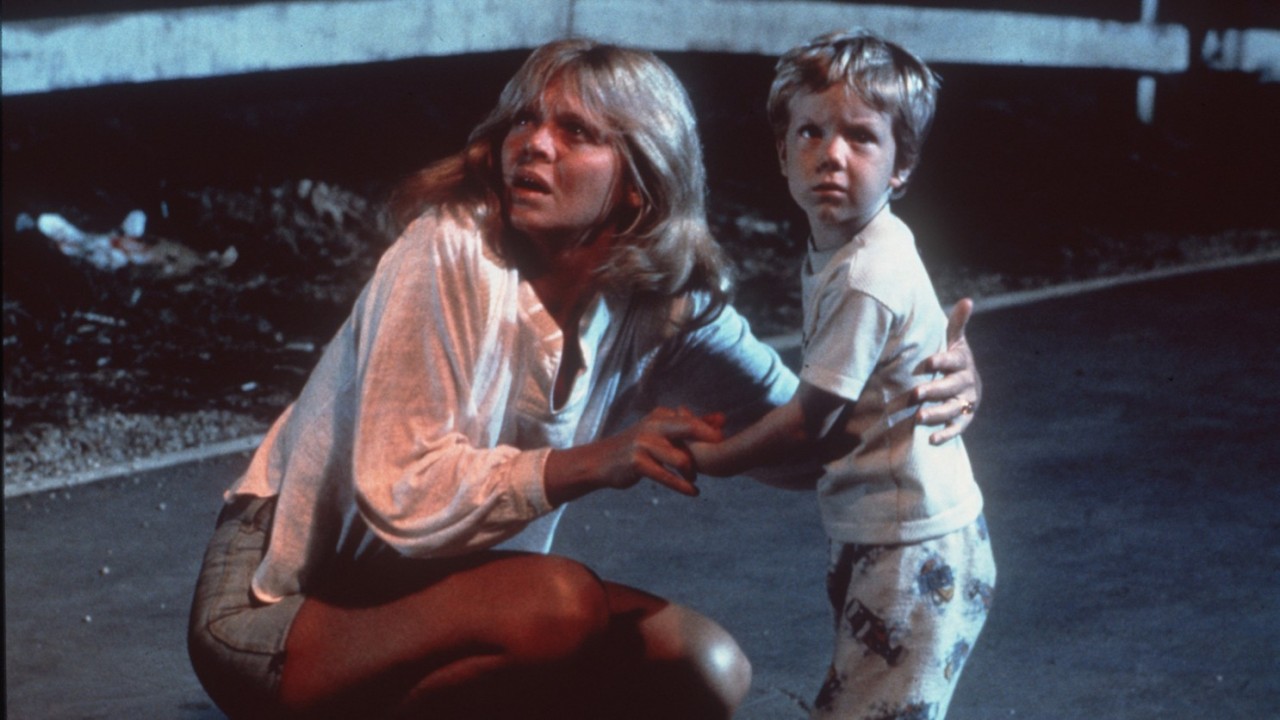 Melinda Dillon and Cary Guffey in the 1977 science-fiction thriller "Close Encounters of the Third Kind."(Columbia Pictures)
Imdb score: 7.6/10
Close Encounters of the Third Kind is a 1977 American science fiction film written and directed by Steven Spielberg, starring Richard Dreyfuss, Melinda Dillon, Teri Garr, Bob Balaban, Cary Guffey, and François Truffaut. It tells the story of Roy Neary, an everyday blue-collar worker in Indiana, whose life changes after an encounter with an unidentified flying object (UFO).
Close Encounters was a long-cherished project for Spielberg. In late 1973, he developed a deal with Columbia Pictures for a science-fiction film. Though Spielberg received sole credit for the script, he was assisted by Paul Schrader, John Hill, David Giler, Hal Barwood, Matthew Robbins, and Jerry Belson, all of whom contributed to the screenplay in varying degrees. The title is derived from Ufologist J. Allen Hynek's classification of close encounters with extraterrestrials, in which the third kind denotes human observations of extraterrestrials or "animate beings". Douglas Trumbull served as the visual effects supervisor, while Carlo Rambaldi designed the extraterrestrials.
Made on a production budget of $19.4 million, Close Encounters was released in a limited number of cities on November 16, 1977[4] and November 23, 1977 before expanding into wide release the following month. It was a critical and financial success, eventually grossing over $300 million worldwide. The film received numerous awards and nominations at the 50th Academy Awards, 32nd British Academy Film Awards, the 35th Golden Globe Awards and the 5th Saturn Awards, and has been widely acclaimed by the American Film Institute.
15. 12 Monkeys (1995)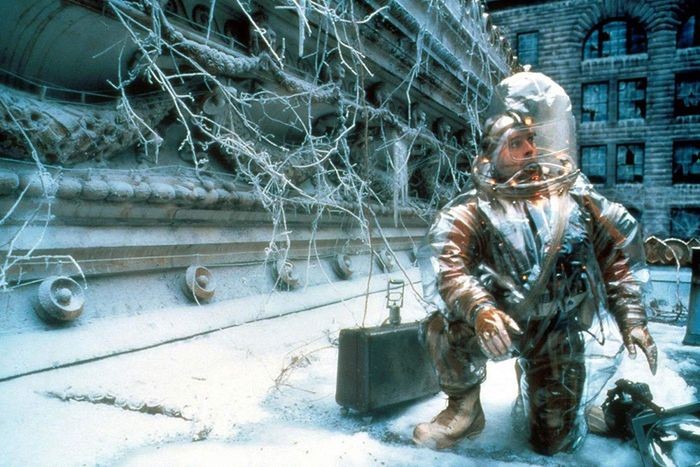 Bruce Willis in 12 Monkeys. Photo: Universal Pictures
Imdb score: 8/10
When it comes to the flexibility of history, time-travel stories exist on a spectrum. On one end are stories where fate can be easily changed. Back to the Future, in which Marty McFly reverses all manner of poor outcomes, dwells here. Move a bit down the line and you get the Terminator franchise, where Armageddon is never quite stopped, but can be staved off for a bit. Farther along, you get the approach to time travel in superhero comics, where certain events — the killings of Batman's parents or Peter Parker's Uncle Ben, for example — are fixed and others can be wildly altered. Finally, move all the way to the other extreme, and you get 12 Monkeys, where history is written in unbendable iron.
"How can I save you?" says the protagonist, Bruce Willis's James Cole, early on in the 1995 Terry Gilliam film. "This already happened. I can't save you. Nobody can." He's speaking before a panel of psychiatrists in a mental institution in 1990, a year in which he's newly arrived. He's been deemed crazy for his ravings about how he's been sent from the year 2035, where a scant remainder of humanity lives in squalid underground tunnels after having been driven from the surface by a viral pandemic. The movie wisely wastes no time on ambiguity about whether Cole's story about a chronological jaunt is true or mere madness. By the time he appears before the shrinks, we've already seen Cole's home time. Throughout the story, we know — sometimes even better than he does — the worldwide doom that awaits. Though there are moments in the movie in which it seems as though fate might be altered, the conclusion of this deeply pessimistic masterwork (spoiler alert) makes it clear that Cole is right: humanity falls, right on schedule. He couldn't save anyone. Nobody could.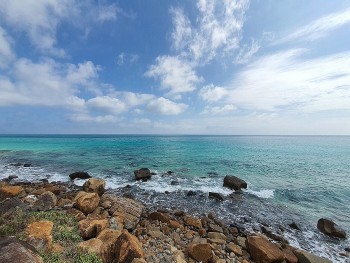 Viet's Home
Con Dao, a historical and famous island situating in the southern province of Ba Ria - Vung Tau, has been named among the top 16 best island vacations in the world, as compiled by tourism magazine Condé Nast Traveler (CNTraveler) of the United States.