Top 15 Best Space Movies of All Time
Science fiction has always addressed the big questions surrounding the nature of life, what it means to be human, and what being alone in the universe means. For that reason, space movies have been anyone's favorite.
Wall-E (Photo: IMDb)
Wall-E (2008)
Genre: Animation
Director: Andrew Stanton
Cast: (voices) Jeff Garlin, Fred Willard, Ben Burtt
Halfway through, Pixar's post-apocalyptic masterpiece transitions to the stars and boards humanity's last hope against extinction: an interstellar cruise ship catering to their every whim. The antics mostly take place aboard the space yacht but for one iconic, the spectacular sequence in which our robot hero and his iPhone-esque love interest venture outside the airlock for a dazzling space dance amid the stardust and constellations. The set-piece is an instant classic, one that ditches the typical sci-fi peril for a gloriously balletic sequence of zero-gravity bliss.
Star Wars (Photo: Business Insider)
Star Wars (1977)
Genre: Science fiction
Director: George Lucas
Cast: Mark Hamill, Carrie Fisher, Harrison Ford, Alec Guinness
Has any film more perfectly channeled our fascination with space? It's easy to forget how truly mesmerizing A New Hope is when it ditches its fantastical planets and takes to the sky. It's not just the dogfights of the climax, either. Much of the film plays out as an intergalactic road trip at warp speed, but it also slows down for a quick game of chess as stars drift past the window. By the end, you find yourself looking skyward, imagining the possibilities – not unlike Luke Skywalker himself, as he stares out beyond Tatooine's twin suns and dreams of his destiny.
Star Trek 2: The Wrath of Khan (Photo: IMDb)
Star Trek 2: The Wrath of Khan (1982)
Genre: Science fiction
Director: Nicholas Meyer
Cast: William Shatner, Ricardo Montalbán, Leonard Nimoy
Star Trek II: The Wrath of Khan is a 1982 American science fiction film directed by Nicholas Meyer and based on the television series Star Trek. It is the second film in the Star Trek film series and is a sequel to Star Trek: The Motion Picture (1979).
Star Trek II: The Wrath of Khan was released in North America on June 4, 1982, by Paramount Pictures. It was a box office success, earning US$97 million worldwide and setting a world record for its first-day box office gross. Critical reaction to the film was positive; reviewers highlighted Khan's character, the film's pacing, and the character interactions as strong elements. Negative reactions focused on weak special effects and some of the acting. The Wrath of Khan is considered by many to be the best film in the Star Trek series and is often credited with renewing substantial interest in the franchise.
Guardians of the Galaxy (Photo: Daily Motion)
Guardians of the Galaxy (2014)
Genre: Action and adventure
Director: James Gunn
Cast: Chris Pratt, Zoe Saldana, Dave Bautista
Guardians of the Galaxy (retroactively referred to as Guardians of the Galaxy Vol. 1) is a 2014 American superhero film based on the Marvel Comics superhero team of the same name. Produced by Marvel Studios and distributed by Walt Disney Studios Motion Pictures, it is the 10th film in the Marvel Cinematic Universe (MCU).
The film was praised for its screenplay, direction, acting, humor, soundtrack, visual effects, and action sequences. At the 87th Academy Awards, the film received nominations for Best Visual Effects and Best Makeup and Hairstyling, and also won the Hugo Award for Best Dramatic Presentation in 2015. The sequel, Guardians of the Galaxy Vol. 2, was released in 2017. The third film, Guardians of the Galaxy Vol. 3, will be released in 2023.
Apollo 11 (Photo: Amazon)
Apollo 11 (2019)
Genre: Documentaries
Director: Todd Douglas Miller
Strap yourself to the side of the thundering Apollo 11 rocket as it careers into, and beyond, the Earth's atmosphere in a spectacular doc that makes great use of hitherto unseen Nasa footage. The mission, of course, successfully plonked two Americans onto the Moon's surface and then unplonked them again, thereby winning that bit of the space race with the Soviet Union, but there's nothing triumphalist in director Todd Douglas Miller's thrilling recreation – just a lot of quiet professionalism, teamwork and fearless men in helmets. When it gets into space and the 70mm footage does its thing, it makes you wish you'd actually followed up on that childhood ambition to become an astronaut.
Moon (Photo: Prime Video)
Moon (2009)
Genre: Science fiction
Director: Duncan Jones
Cast: Sam Rockwell
Many sci-fi movies have grand sets, impressive special effects, and daring heroes; others use the context of sci-fi to explore the human condition. That's the case with "Moon," which sees Sam Rockwell as a lonely helium-3 miner on the far side of the moon, cut off from human contact for three years as he works. When he begins to suffer hallucinations, not even the viewer will be able to tell what's real and what's imagined.
Treasure Planet (Photo: Desktop)
Treasure Planet (2002)
Genre: Family and kids
Director: Ron Clements & John Musker
Cast: (voices) Joseph Gordon-Levitt, Emma Thompson, Martin Short
Disney dared to do something different with its sci-fi take on Robert Louis Stevenson's pirate classic 'Treasure Island'. Audiences didn't respond to its hybrid of hand-drawn and CG animation, or storytelling that ditched princesses in favor of something a little more space-age and weird, but Treasure Planet is full of gorgeous celestial flair. The juxtaposition between old-school tall ships and cutting-edge interstellar animation remains dreamlike in its beauty. Plus, it beats the hell out of Mars Needs Moms.
Planet of the Apes (Photo: Stacker)
Planet of the Apes (1968)
Director: Franklin J. Schaffner
One of the most famous sci-fi films of all time, "Planet of the Apes" sees a crashed spaceship's crew wander a planet dominated by primates, only to discover a dark secret. With groundbreaking prosthetics that hold up to this day, it's worth watching or re-watching just for the famous quote: "Take your stinking paws off me, you damn dirty ape!"
Interstellar (Photo: Phim Learning)
Interstellar (2014)
Genre: Drama
Director: Christopher Nolan
Cast: Matthew McConaughey, Jessica Chastain, Anne Hathaway
There's a lot going on both above and below the ground in Christopher Nolan's heady but divisive space odyssey, but this is a film that's done its homework. And once Matthew McConaughey's astronaut-farmer takes to the skies, all the film's whiteboard-scribbling science lessons pay off with the most dazzling – and scientifically backed – renderings of space travel since 2001: A Space Odyssey. Say what you will about the film's father-daughter narrative (Muuuuuurph!!!!), but even the most ardent detractor will be floored by Interstellar's cosmic imagery.
Apollo 13 (Photo: Talk Film Society)
Apollo 13 (1995)
Genre: Drama
Director: Ron Howard
Cast: Tom Hanks, Kevin Bacon, Bill Paxton, Gary Sinese
So much more than its famous 'Houston, we have a problem' catchphrase, Apollo 13 harkens back to the glory days of white-knuckle, PG-rated entertainment. An ensemble tribute to the power of group problem-solving, it has Howard fully embracing a '70s aesthetic and the storytelling of the era to craft a timeless middlebrow crowd-pleaser with an almost surgical focus on the imperiled mission at hand.
Alien (Photo: IMDb)
Alien (1979)
Director: Ridley Scott
Facehugger, Xenomorph, Chestburster; the titular alien in "Alien" takes many forms, all of them terrifying, as the creation of gory special effects and dark imagination. The crew of the spaceship Nostromo is hopelessly outmatched against this unique evil, though they never stop trying to kill it, even as more and more humans fall victim to the alien's attacks. A straightforward human-versus-nature story, the movie manages to slip in a biting critique of mega-corporations that are more interested in the bottom line than human lives.
E.T. the Extra-Terrestrial (Photo: Amblin Entertainment)
E.T. the Extra-Terrestrial (1982)
Director: Steven Spielberg
"E.T. phone home," mutters the titular character as he attempts to contact his home planet, and audiences around the world fell in love. The timeless story of an intimate friendship between a boy and his alien friend, "E.T." has resonated with generations of families, and is widely considered one of the greatest films of all time.
Avengers: Endgame (Photo: Daily Utah Chronicle)
Avengers: Endgame (2019)
Directors: Anthony Russo, Joe Russo
The climax fans waited a decade for, "Avengers: Endgame" sees the titular characters reeling from the events of the prior film and navigating a strange world. Some are focused on undoing the fallout of Infinity War, while others just want to move on and accept the world as it is. The three-hour runtime flies by as our heroes find a promising way forward.
Blade Runner 2049 (Photo: Josh Matthews)
Blade Runner 2049 (2017)
Director: Denis Villeneuve
Previously in this slideshow, we referred to director Denis Villeneuve as "a powerful force in the speculative science fiction genre." Consider this film Exhibit B. "Blade Runner 2049" is beautiful in its tragedy, or perhaps tragic in its beauty. Anchored by a deeply empathetic performance from Ryan Gosling and featuring Ana de Armas, Mackenzie Davis, Jared Leto, and others, "Blade Runner 2049" is a worthy sequel to its groundbreaking predecessor.
High Life (Photo: New Yorker)
High Life (2018)
Genre: Science fiction
Director: Claire Denis
Cast: Robert Pattinson, Juliette Binoche, André Benjamin
Myriad mysteries abound in this deliriously bonkers space oddity from French auteur Claire Denis (White Material) that co-stars Robert Pattinson and Juliette Binoche as an interstellar inmate and his scientist jailer. The human body and its function get a rare exploration in this context – space flicks rarely spend this much time over their characters' sexual needs in zero gravity (2001: A Space Odyssey does not have a Fuckbox) – and its themes of reproduction, incarceration, and experimentation play out in a space with its own realities. Go with it, in other words, and be rewarded with a space journey unlike any other.
Top 15 Best Musical Movies of All Time

Music lifts our souls and lighten our moods, and musical movies are something special and precious among action and horror genres. Here is the list ...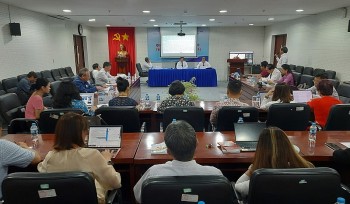 Friendship
The Vietnam - India Friendship Association's Ho Chi Minh City branch, the Ho Chi Minh City Union of Friendship Organizations (HUFO) and the Southern Institute of Social Sciences on March 21 held a scientific seminar themed "Vietnam - India relationship: tradition and present".