Tourism Ministry Urges China to Resume Outbound Tours to Vietnam
Many tourism businesses in Vietnam have expressed disappointment as Vietnam was not included in the list of 20 countries that China allowed its travel agencies to organize outbound tours to starting February 6.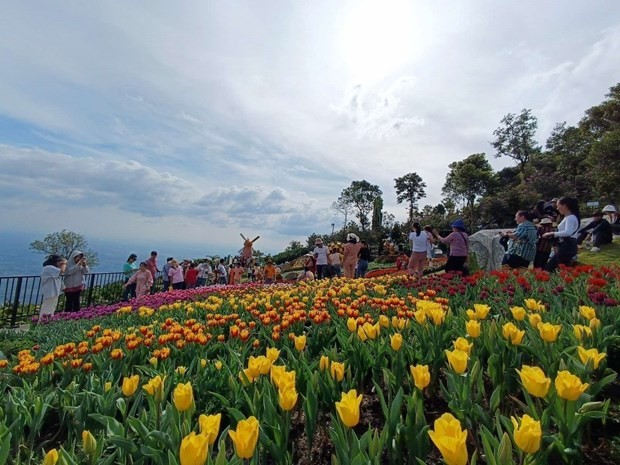 Visitors to Ba Den Mountain in Tay Ninh province. Photo: VNA
The Ministry of Culture, Sports and Tourism has proposed China resume outbound travel tours to Vietnam to improve and recover tourism between the two countries, VNA reported. The ministry confirmed on February 16 that it had sent a diplomatic note to China on February 9 proposing travel agencies be allowed to organise outbound tours to Vietnam.
According to the diplomatic note, tourism cooperation is a highlight in the bilateral collaboration between the two countries. Chinese tourists made up the majority of foreign tourists entering Vietnam before the Covid-19 pandemic broke out, and many Vietnamese tourists also travelled north.
According to the General Statistics Office, 5.8 million visitors in 2019 to Vietnam were Chinese, accounting for 30% of international tourists.
After China scaled back its "zero-Covid" policy, many cooperation activities between the two countries gradually resumed. China started allowing its travel agencies to organise outbound tours to 20 selected countries on February 6 including Thailand, Indonesia, Cambodia, Maldives, Sri Lanka, Philippines, Malaysia, Singapore, Laos, UAE, Egypt, Kenya, South Africa, Russia, Switzerland, Hungary, New Zealand, Fiji, Cuba, and Argentina. While this list does not include Vietnam, other Southeast Asian nations like Thailand, Malaysia and Singapore are included.
The Chinese government had banned domestic travel agents from selling overseas travel packages since January 2020 after Covid started spreading in China. China used to be the largest source of tourists in Southeast Asia before the pandemic hit.
Many tourism businesses in Vietnam have expressed disappointment after three years of waiting, as China is one of the largest tourism markets. Resuming tours to Vietnam will create favourable conditions for both countries to resume and develop tourism.
The ministry also discussed tourism cooperation with the Chinese ambassador to Vietnam, including resuming travel tours. The ambassador shared that China highly values friendship between the two countries. The embassy has prepared to welcome Chinese tourists back to Vietnam.
The International Cooperation Department is also actively working with China to put Vietnam on the list of countries piloting group tourism since this country reopened the border on January 8. The Department also expressed the expectation to travel of visitors and the tourism agencies.
Ngo Lan Phuong, head of Kim Lien Travel, told VNA that they are ready to welcome back Chinese visitors. Phuong said even if the numbers don't reach the same heights as in 2019, just half the number of Chinese tourists would be good for the travel agencies.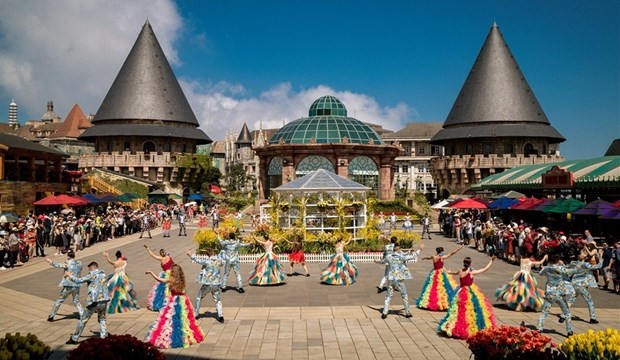 Tourists enjoy performance at Sun World Ba Na Hills - a tourist attraction in the central city of Da Nang. Photo: VNA
Meanwhile, the Visit Vietnam Year 2023, themed "Binh Thuan - Green Convergence", will be opened with a ceremony in Phan Thiet city on March 25.
The event will introduce local cultural, tourism products, and historical activities set to take place during the year. The campaign is expected to help promote tourism recovery and development in the south-central province of Binh Thuan and attract domestic and international investors.
The Visit Vietnam Year 2023 will feature more than 200 inter-provincial, national, and international cultural, sports, and tourism events, including an international culinary festival, a national rowing and canoeing tournament, a fair named Farmer's Market, a national golf championship, and a tourism week.
These activities are hoped to connect travel companies, help open up a new period for tourism cooperation with other countries, and expand tourist markets in ASEAN, Asia, and the world.
Last year, Vietnam only received 3.6 million foreign tourists, just 70% of its target. It targets 8 million this year.
Currently, citizens of 80 countries and territories can apply for an e-visa to enter Vietnam without going through a guarantor agency or organisation.
Many foreign tourists hope Vietnam will bring back the multiple three-month visa that was available before the pandemic.
Tourists usually complain that they find difficulties in applying for a visa at Vietnam's embassies. In other cases, they said that they are offered to get the visa quickly with USD 200-500 while a formal fee is just USD 25, Chris Farewell, a member of the Tourism Advisory Board (TAB) told Dau tu ( Vietnam Investment Review).
Resuming tourism activities earlier than Thailand, yet the country's complicated administrative procedures reduce its attractions, he said.