Vietnam among 20 of The Best Slow Travel Holidays for 2023
Traveller, an Australian travel publication of The Sydney Morning Herald, has included Vietnam in its list of places to visit in 2023.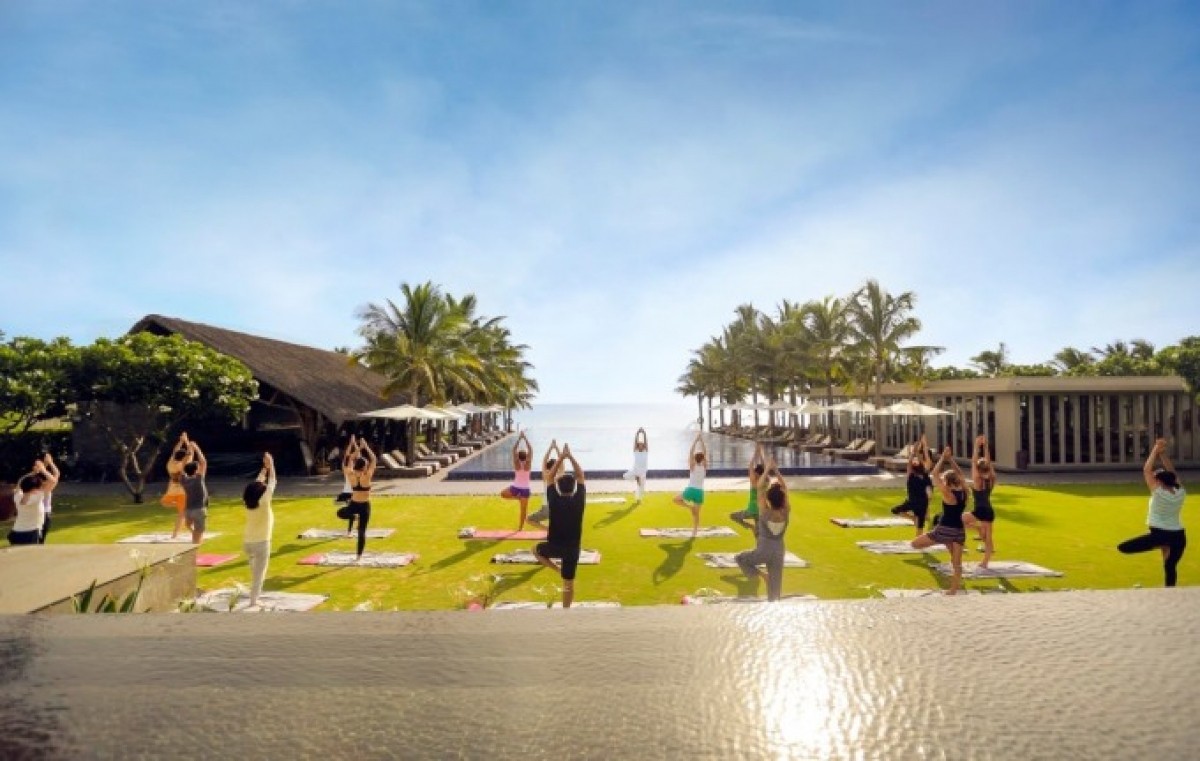 Visitors do yoga at Naman Retreat in the central city of Da Nang. Photo: Naman Retreat
Australian travel publication Traveller of The Sydney Morning Herald has recently released its list of the top 20 slow travel holidays for this year, with Vietnam featured in the list of places to visit in 2023, VOV reported Wednesday.
Slow travel is about forging deep, meaningful connections with places
According to the media outlet, Vietnam represents an ideal destination for a salubrious wellness journey.
"Inside Asia Tours has a wellness-oriented journey through the length of Vietnam that's active thanks to cycling and walking tours, and which involves the likes of sunrise yoga, organic cooking classes, an aromatherapy workshop," says Traveller.
It also suggests that visitors enjoy a stay in Alba Wellness Valley which offers daily spa treatments, before heading for a kick-back beachside finale in Phu Quoc, one of the nation's most hip resort islands.
"Don't miss kick back on a multi-day cruise on Lan Ha Bay, the quieter alternative to Ha Long Bay but with the same humped peaks. Sunrise tai chi on the deck is a good start to the day," it concludes.
Other destinations to make the list include a blissful barge holiday in Europe, a languid long-haul stopover in Hawaii or New Zealand, a peaceful pilgrim trail trek in Santiago de Compostela in Spain, and an unhurried long-distance train journey between Toronto and Vancouver on The Canadian.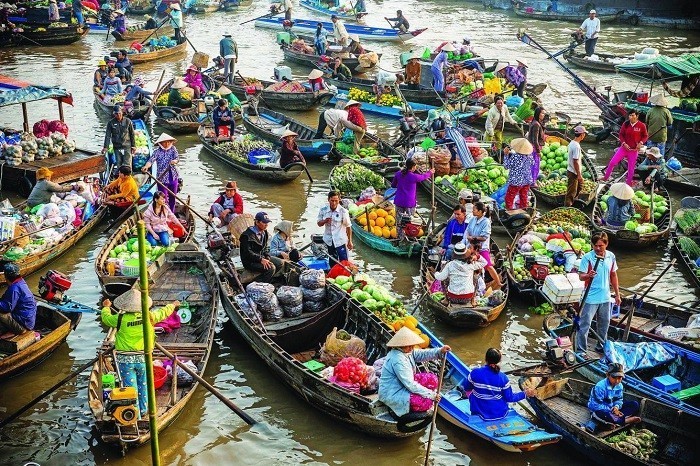 The floating market is an attractive destination for domestic and international tourists. Photo: Vietravel
Earlier, it also included Vietnam's Mekong Delta, which is home to unique floating markets, among the world's most attractive places in 2023 that visitors should not miss, according to VNA.
In addition, two Vietnamese dishes Pho (noodle soup) and Banh cuon (Steamed rice roll) have also won loving reviews from this magazine.
Traveller's writer Ben Groundwater shares that there are many ways to explore this rich delta of Vietnam. Tourists can take a boat ride on the river or look for more luxurious options.
"You can book a day tour departing from Ho Chi Minh City or go on your own with a motorbike rented from locals to see the scenery of the Vietnamese countryside," suggested the Australian newspaper ways to visit the Mekong Delta.
"Regardless of your choice, this is one of the world's great regions for exploration, brimming with a culture that's unique even from the rest of Vietnam," the magazine said. "The Mekong Delta – around riverside towns such as Can Tho, Vinh Long, Cai Be and Ben Tre – has amazing cuisine, bountiful markets, plus a rustic, raw feel that's perfect for the adventurous.".
"And with Vietnam gaining rapidly in popularity, there's never been a better time than 2023 to see an area that remains relatively untouched," Traveller stressed.
Every year, cherry blossoms in Ha Giang province will bloom from February to March, a little later than Da Lat. Source: Nguyen Tien Phong
Reviewing Vietnam's Pho, Traveller's writer emphasised that it is "Vietnam's greatest culinary gift to the world, among many delicious donations."
The magazine wrote, "Pho is a fragrant, subtly powerful dish that's even greater than the sum of its considerable parts. Its broth is a gently simmered stock of beef bones with onion, ginger and spices; it arrives pooled around banh pho, or flat rice noodles, and rare beef slices, topped with bean sprouts, fresh herbs, lemon and chilli. The aroma is transcendent. The taste is perfection."
Traveller also suggested Banh cuon as one of 10 attractive dishes that visitors can't wait to eat in 2023.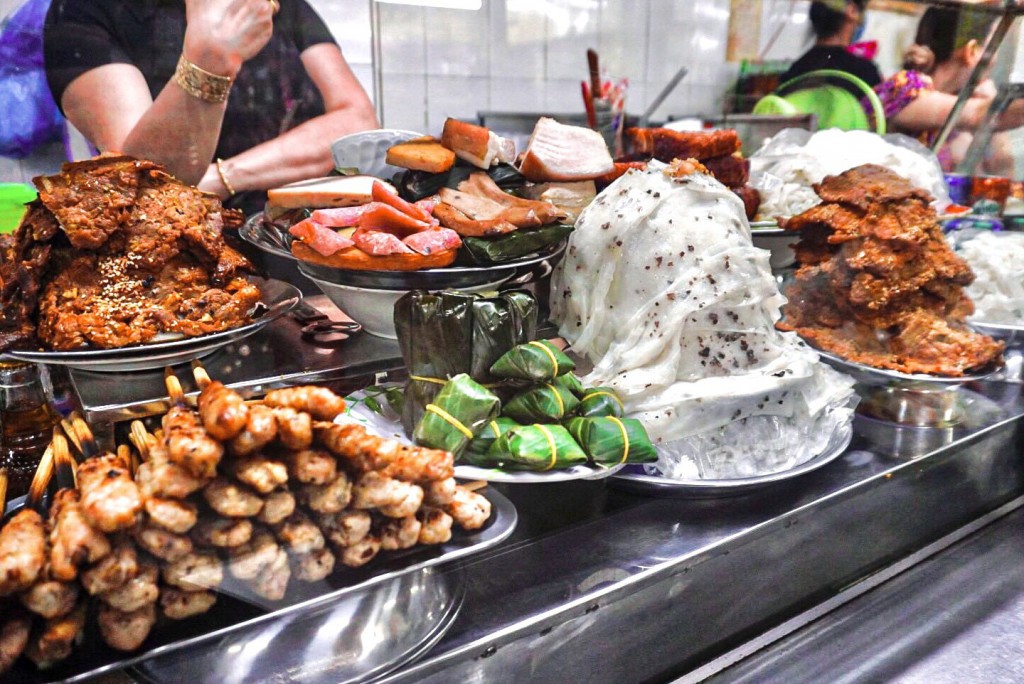 Photo: Yeu Da Nang
"The food of Vietnam is just incredible. Everything is good, from the noodle soups to the grilled meats to the herby salads to the turmeric-heavy pancakes. The dish I really want to explore in 2023, however, is banh cuon. There's a certain magic to the way these big sheets of steamed rice noodles are made, before they're wrapped around savoury fillings and served with herbs and sauce.", the magazine wrote.