Traditional braised fish finds new horizons
At 90, Trần Hữu Đạt has many memories. And there are some that he cherishes more than others.
At 90, Trần Hữu Đạt has many memories. And there are some that he cherishes more than others.
Potful: A pot of Vu Dai braised fish is ready for sale
The resident of Vũ Đại Village in the northern province of Hà Nam likes to recall the days when he and his fellow villagers earned their living mainly by planting mulberry, raising silkworms and weaving silk.
Each family had one or two ponds to raise fish, which was their main source of food.
"When Tết came, Vũ Đại villagers would catch a big black carp weighing about three kikos or more, to worship our ancestors and pray for a healthy and lucky New Year. This custom has been maintained from generation to generation until now," said Đạt.
He said that a long time ago, an ancestor named Trần Bá Nghiêm, who had gone away from home for many years to earn a living, returned to the village and began braising fish in a clay pot, making a very fatty, tasty dish.
For the marinade: ginger, chili, lemon and many other ingredients are used to marinate the fish before it is braised.
Now, most Vietnamese inside and outside the country know about the dish, but what makes it stand out is the collaboration it takes between the cooks and potters from different regions.
Chefs in Vũ Đại have to co-operate with artisans from Nghệ An, Thanh Hóa and Nam Định to get clay pots and its covers, Đạt, said, adding that even if there was small thing lacking in the accessories, the fish pot would not have the specific fragrance and flavour that made it famous.
Đạt said his family has ordered pots from Nghệ An's Đô Lương District a year in advance because the clay used is durable, and will not crack during the 16-hour braising. The pot's cover should be from Thanh Hóa because the potters make the covers in "vault form" which is very easy to braise fish.
Slow cooking: braising fish in Vu Dai village, Ha Nam province takes about 16 hours (Photo: dulichhanam.com)
Before braising the fish, a handful of rice has to be put into the pot, boiled for several hours and dried under the sun for half a day to ensure it does not crack, Đạt said. The fish should be a black carp of between three and five kg each that is cut it into big pieces, marinated with ingredients such as fresh galingale, ginger, lemon, dried onion, pork broth, pork side, coconut milk, fish sauce, chillies and pepper.
He told Việt Nam News that the wood used to braise the fish should be longan wood because it will help take out the muddy smell from the pot and give the fish the most attractive flavor.
Galingale and ginger should be placed at the bottom of the pot and then covered with the above mentioned ingredients onto each layer of fish to ensure it does not burn during 16 hours on the fire.
During the process of braising, the fire should be kept light without being put out to ensure a brown black colour. The fish should be firm, its bones soft, said Đạt, adding that they have to let the braised fish pot cool before packing to deliver to their customers.
Đạt said he has asked all of his relatives to teach the job to youngsters so that the skills are not lost when older villagers pass away.
Crack proof: Earthenware pots to braise the fish are imported from the central province of Nghệ An's Đô Lương District.
A younger villager, Nguyễn Văn Toàn was the first to take Cá Kho Làng Vũ Đại (Vũ Đại Braised Fish) to the internet and set up a delivery system.
Toàn said he set up his business aiming to develop and bring the traditional food nationwide and world wide. He said he has received many orders to supply braised fish the whole year round and for the traditional Tết holiday.
Nguyễn Hồng Lam, a HCM City resident, said his family members including his great grandfather enjoy this dish a lot. "I always order a pot of Vũ Đại braised fish for Tết (Lunar New Year). It is not just appetizing, it is also a good digestive."
He said many of his friends also order the dish as a specialty food to welcome Tết. Toàn's video on this dish (http:// cakholangvudai.com/video-ca-kho-vu-dai/) has further popularised the dish around the world./.
VNF/VNS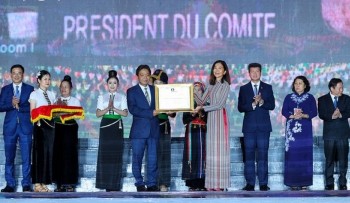 Viet's Home
UNESCO presented Vietnam a certificate recognizing Xoe Thai dance as an Intangible Cultural Heritage of Humanity at a ceremony held in Yen Bai province on September 24.