Travel + Leisure Magazine: Top 7 Best Hotels In Asia
Recently, Travel + Leisure magazine has announced its list of the best hotels in the world, including these 7 hotels in Asia that were voted by the writers and readers.
Asia's finest hotels showcase the continent's rich history and vibrant present. Domed ceilings and antique furnishing in hotels that could pass for former royal palaces, and modern luxuries like Hermès bath products, state-of-the-art spa treatments, and butler service, according to Fordors.
T+L writers and editors have visited ancient former palaces in Sicily, cutting-edge wellness centers in Qatar, a working farm in South Africa, and a Miami hot spot from Pharrell Williams. This isn't merely a list of the most high-end resorts, nor is it a who's-who of major hotel chains, though you'll find both indulgent stays and familiar brands in the mix. According to Travel + Leisure, here are the best hotels in Asia.
1. The Ritz-Carlton Maldives, Fari Islands
Photo: TripAdvisor
Daring is a word seldom used to describe the beach resorts of the Maldives, which often share similar design philosophies. But The Ritz-Carlton Maldives, Fari Islands—the swan song of the late Australian architect Kerry Hill—could not be called anything less. Taking cues from the swirls of wind and waves, he designed overwater villas that are sleek and circular yet somehow at home on the water. Each is powered by solar panels and comes with its own swimming pool. The spa is a low-rise ring set on stilts above a lagoon. This is the second resort to open in the Fari Islands, a groundbreaking man-made archipelago "village" of three private-island resorts that champion sustainability and community. The arrangement gives guests an expanded range of options when it comes to restaurants (including excellent Italian and Cantonese spots at the Ritz), shopping, and enrichment programs. During my stay, kids were flocking to Jean-Michel Cousteau's Ambassadors of the Environment program, which offers hands-on education about oceanic life, according to Travel + Leisure.
2. JOALI BEING — Maldives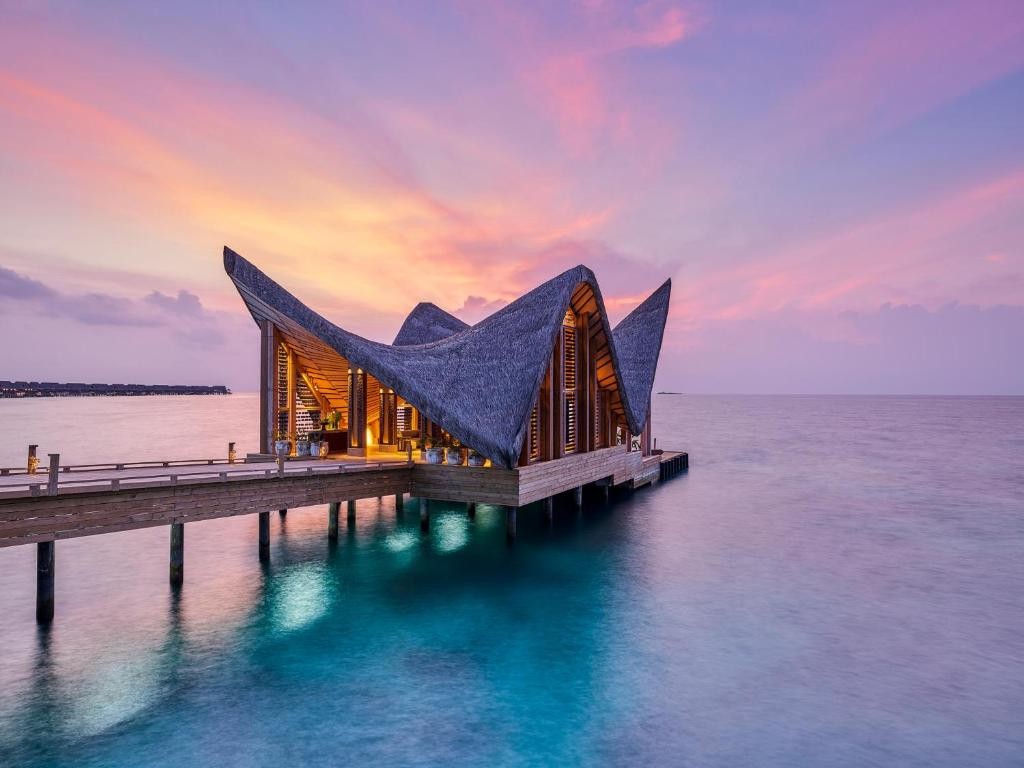 Photo: Booking.com
Combining sustainable design, exquisite villas, and a paradisiacal setting, the new Joali Being wellbeing retreat in the Maldives has just made its hotly awaited debut.
Set on the secluded island of Bodufushi in Raa Atoll, a short seaplane journey away from Male International Airport, Joali Being is no ordinary well-being retreat. Nature is at the very core of this new offering, from its architecture and interiors, right down to its highly tailored treatments. So what can guests expect from the Maldives' first "natural immersive wellbeing retreat"?
"Joali Being is a well-being retreat unlike any other in the world; it is a transformative destination aimed to inspire and ignite the very deepest of mindful connections to one's self, one another, and one's environment by enhancing our relationship with the surrounding natural world, our bodies, and our minds," says general manager Özgür Cengīz.
"Every element of this island works together to bring to life specialized spaces, opportunities, and unique moments that lend themselves to a vast array of possibilities," he continues. "The magic of Joali Being is that no story is previously written and no itinerary previously set, rather, it is a place where all visitors are welcome, invited, and encouraged to pave the way for their own journey of self-discovery and renewal, enabling guests to return home feeling uplifted and inspired."
The accommodation comes in the form of 68 private beach and water villas, each with its own pool and a personal butler or jadugar, which translates into 'skilled magician' in Dhivehi. Ranging from one-, two-, three- or four-bedroom villas and residences, all come with a variety of offerings ranging from somewhat curious sounding meditative balancing musical instruments to more standard propositions such as customized mini-bars.
3. Capella Hanoi — Vietnam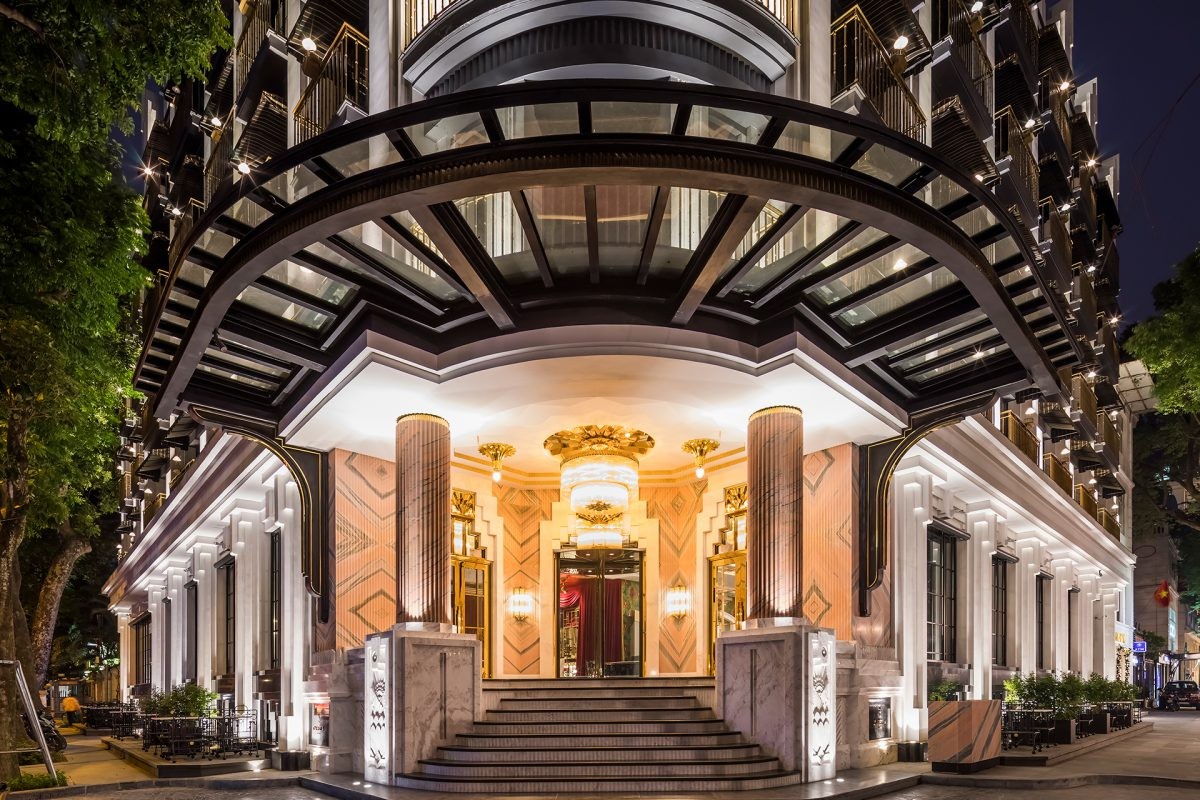 Photo: Bill Bensley
Leave the present behind and discover a world of spellbinding elegance. Nestled on a peaceful boulevard along Hoan Kiem Lake, the art nouveau masterpiece is an ode to opera artists, designers, and composers. Uncover unexpected moments of delightful retrospection in this palace of artistry highlighted by resplendent suites, enthralling dining experiences, and the award-winning Auriga Spa. Raise a toast and reminisce the captivating tales behind opera's luminary icons and oeuvre when you walk through the door of Capella Hanoi.
Effortless sophistication meets unexpected design. Embrace the romance of the city and its artistic nuances in this luxury hotel in Hanoi. Moments away from the Hanoi Opera House and Hanoi's Old Quarter, each of 47 rooms and suites is individually styled with operatic memorabilia that pay tribute to Opera's legendary artists, composers, designers, and performances. Crafting the perfect stay for you are their Capella Culturist, always on hand to unveil the intricacies of Vietnam's rich culture.
All the Premier Rooms come fitted with an elegant iron-wrought French Balcony, from which you can admire the beauty of the quaint neighborhood, each elegantly crafted space embodies the essence of the Jazz Age and the convenience of modern luxury accommodation, making it a perfect choice for guests seeking the best hotels in Hanoi. Discover an unparalleled stay of enthralling moments, where elaborate design with a touch of uniqueness is uplifted by modern amenities.
4. Zulal Wellness Resort — Qatar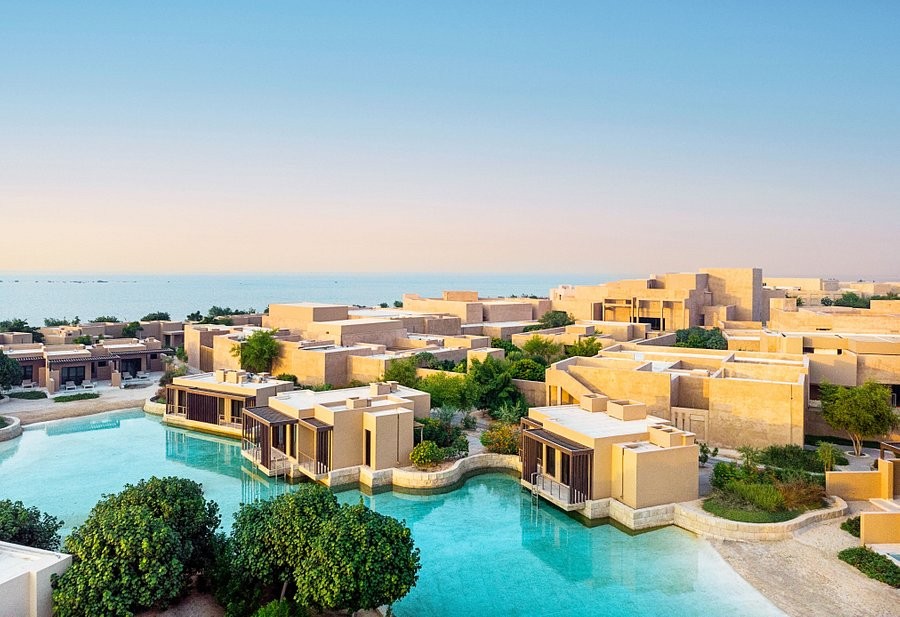 Photo: TripAdvisor
The Zulal Wellness Resort by Chiva-Som is located in the private coastal region of Khasooma, to the north of Qatar, and draws heavily on the natural materials and elements of its coastal desert setting.
The resort, developed by Msheireb Properties, looks to be every bit as luxurious as the flagship Chiva-Som based in Hua Hin, Thailand.
Blending into its sand dune surroundings, pathways are engraved with Sidr leaves, a tree is known for its valuable healing properties.
Landscaping will feature ponds and water features arranged around a series of choreographed shaded walled gardens. Zulal is an Arabic word that means 'pure natural water.'
On the northernmost tip of the Qatar peninsula, the Zulal Wellness Resort by Chiva-Som is offering travelers a respite from the world outside. Don't let the minimalist architecture fool you: there are plenty of abundances to be enjoyed there. The lush gardens are full of edible and medicinal herbs and plants. Mesmerizing art, like a sculpture by Anish Kapoor, captivates guests. The library is packed with some 4,000 books. All of this is available for anyone staying in either the 60 adult-only rooms and suites or the 120 family accommodations. Trained spa practitioners implement the signature holistic health and well-being philosophy, developed by Chiva-Som, according to individual needs. Yoga and nature walk, spa and physiotherapeutic treatments, and on-site restaurants are all designed to foster a journey toward mental and physical well-being, away from everyday stresses.
5. The Ritz-Carlton, Nikko — Japan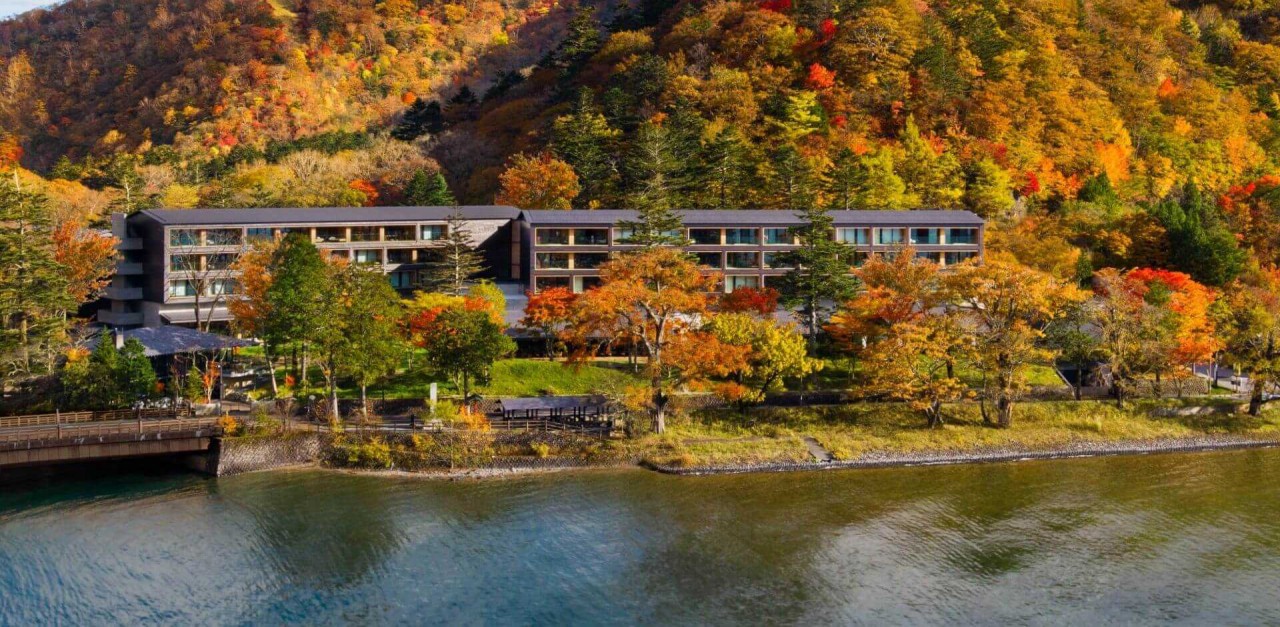 Photo: Remote Lands
The Ritz-Carlton, Nikko features restaurants, a fitness center, a lobby lounge bar, and a shared lounge in Nikko situated by Lake Chuzenji and overlooking Mount Nantai. This 5-star hotel offers a concierge service and ticket service. The accommodation provides a 24-hour front desk and hot spring baths for guests.
At The Ritz-Carlton, Nikko all units are equipped with air conditioning, a flat-screen TV with satellite channels, a kettle, a hot tub, a hairdryer, and a wardrobe. Featuring a private bathroom with a bidet and free toiletries, rooms at the hotel also offer a mountain view.
A continental breakfast is available daily at the accommodation. The onsite restaurants feature Japanese and Western-style cuisines.
Guests can relax in the spa and wellness center, including a hot spring bath, a sauna, a hot tub, or in the garden. The area is popular for hiking and cycling, and car hire is available at The Ritz-Carlton, Nikko.
6. Six Senses Fort Barwara — Rajasthan, India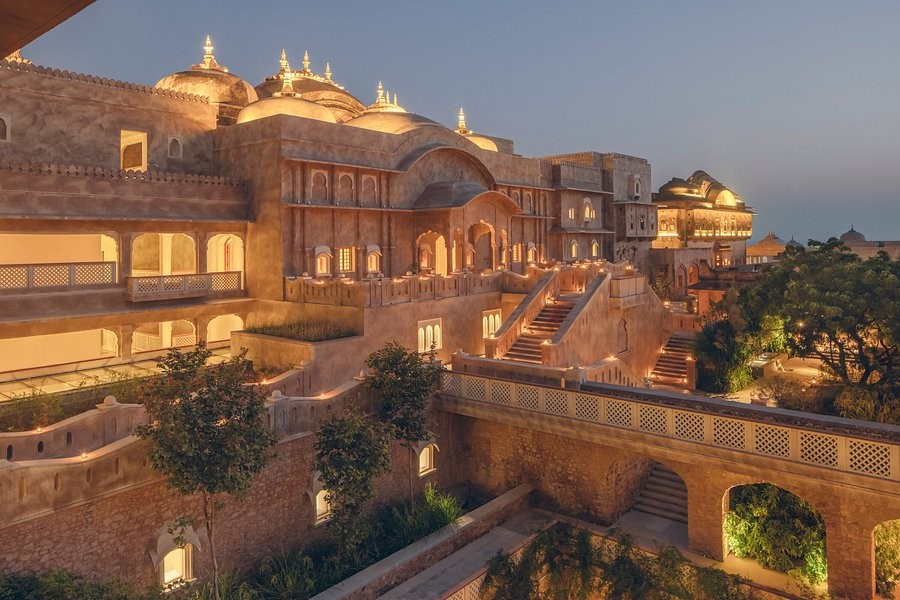 Photo: TripAdvisor
A beautiful 14th-century fort sensitively converted to become a Six Senses sanctuary of well-being. Originally owned by a Rajasthani Royal Family, it faces the Chauth ka Barwara Mandir temple. The significant conservation effort incorporates two palaces and two temples within the walled fort. The design of Six Senses resort in Rajasthan reinterprets the gracious and regal ambiance of a bygone era dating back 700 years.
Six Senses Fort Barwara reflects the history and heritage of the Barwara community as it has unfolded over generations. The 700-year-old palace and temples have been responsibly restored using traditional building techniques used in Rajasthan sensitively incorporating efficient design elements such as rainwater collection tanks and solar panels to complement rather than detract from the beautiful and historic architecture. From this significant conservation effort that reinterprets the gracious and regal ambiance of a bygone era, to our work to protect the wider Barwara community, lake, and landscape, we minimize our negative impacts and maximize our positive ones.
7. Roku Kyoto, LXR Hotels & Resorts — Japan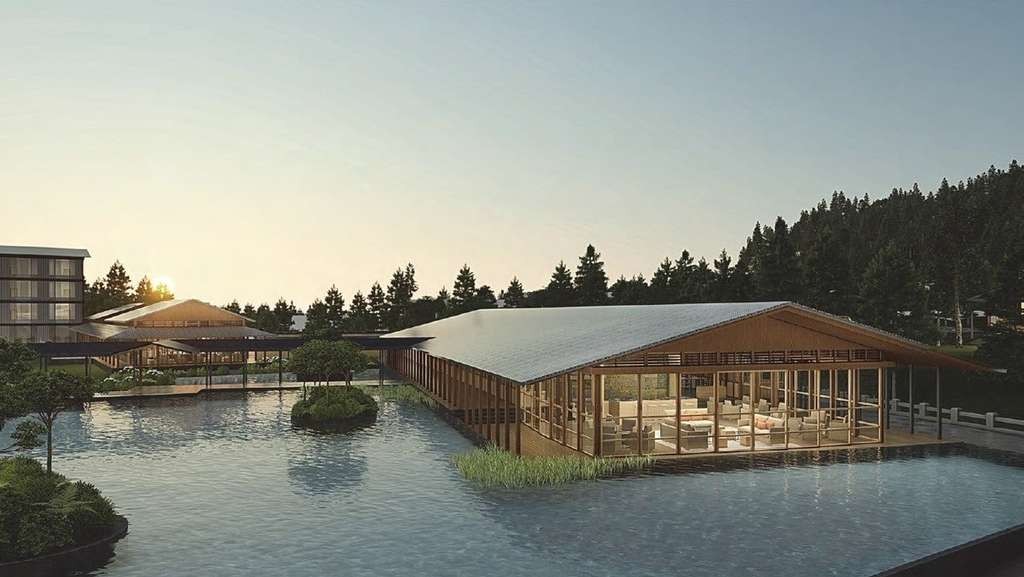 Photo: Hospitality Net
Nestled deep within the viridescent foothills of the ancient capital's northwestern mountain range, ROKU KYOTO has redefined the pinnacle of luxurious escape in Japan's most historically and culturally revered cities. Beneath the breathtaking panorama of the Takagamine mountains, discover bespoke experiences woven seamlessly into an area of stunning natural seclusion.
Reawaken your curiosity by exploring our pristine forested grounds, take a stroll accompanied by the gentle murmur of the Tenjin-river, and as evening draws in, bask under the stars in our elegant onsen-thermal pool. At this tranquil sanctuary, you will reconnect with the deeper spirit of Kyoto in a region that has inspired Japanese artisans and nobility since the 15th century.
The interiors display works from local makers. Even the ceramic tea sets in guestrooms have been handcrafted. The helpful concierge can connect guests with a myriad of experiences—from a tutorial with a kintsugi master on repairing broken pottery with gold to hiking the surrounding hills with a Buddhist monk. The natural hot springs are also a major attraction. Open-air thermal pools provide great views of the hills. At night, chef Akira Taniguchi puts a Japanese spin on French cuisine.