Tree-planting festival launched nationwide
The launching ceremonies of tree-planting festival on the New Year of Buffalo was held throughout the country as part of this year's efforts in response to the Government's programme on planting one billion trees to 2025.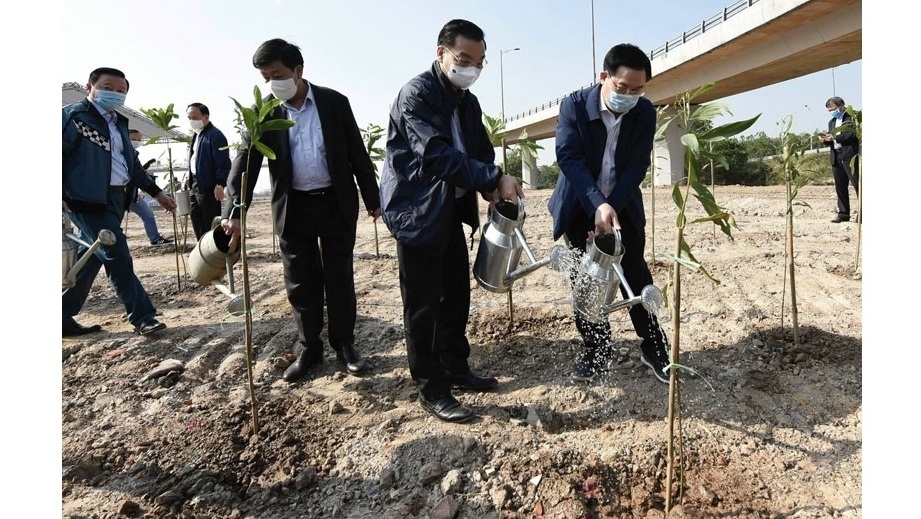 Secretary of the Hanoi Party's Committee Vuong Dinh Hue (far right) and Chairman of the municipal People's Committee Chu Ngoc Anh (second from right) plant a tree in response to the tree planting festival. Photo: NDO/Duy Linh
Addressing the launching event in Hanoi on February 21, Chairman of the municipal People's Committee Chu Ngoc Anh said tree planting has remained as the city's annual programme, as reported by NDO.
Planting a tree is just the beginning; it is more important to take good care of it and let them grow well, he said, adding that it is a responsibility of everybody.
He asked all districts and towns to accelerate public awareness campaigns on the meaning of the tree planting festival and the importance and benefits of growing and protecting trees.
Hanoi sets to plant more than 300,000 trees this year and strives for each Hanoian to plant at least one tree by 2030, he unveiled.
Previously, the capital city has fulfilled its goal of planting one million trees two years ahead schedule. It has planted around 600,000 new trees along over 250 urban streets to not only expand urban tree canopy cover but also prevent dust and noise pollution.
The Da Nang Municipal People's Committee also launched the Lunar New Year 2021 tree planting campaign on February 21.
Addressing the event, Vice Chairman of the Da Nang People's Committee Ho Ky Minh reported that the central coastal city has planted about 13,250 scattered trees and 200,000 native trees since early 2020.
From now until 2025, Lao Cai Province's Muong Khuong District strives to plant 500 hectares of anise in the communes of Ta Ngai Cho, Pha Long and Tung Chung Pho. The cultivation area includes 350 hectares planned for forestry and 150 hectares to be converted from low-productivity corn growing land to anise farming.
According to the Directorate for Roads of Vietnam, provincial road management authorities and transport departments are planning to plant more than 10,000 green trees along the National Highways in February, thus contributing to protecting the environment and minimising losses caused by traffic accidents.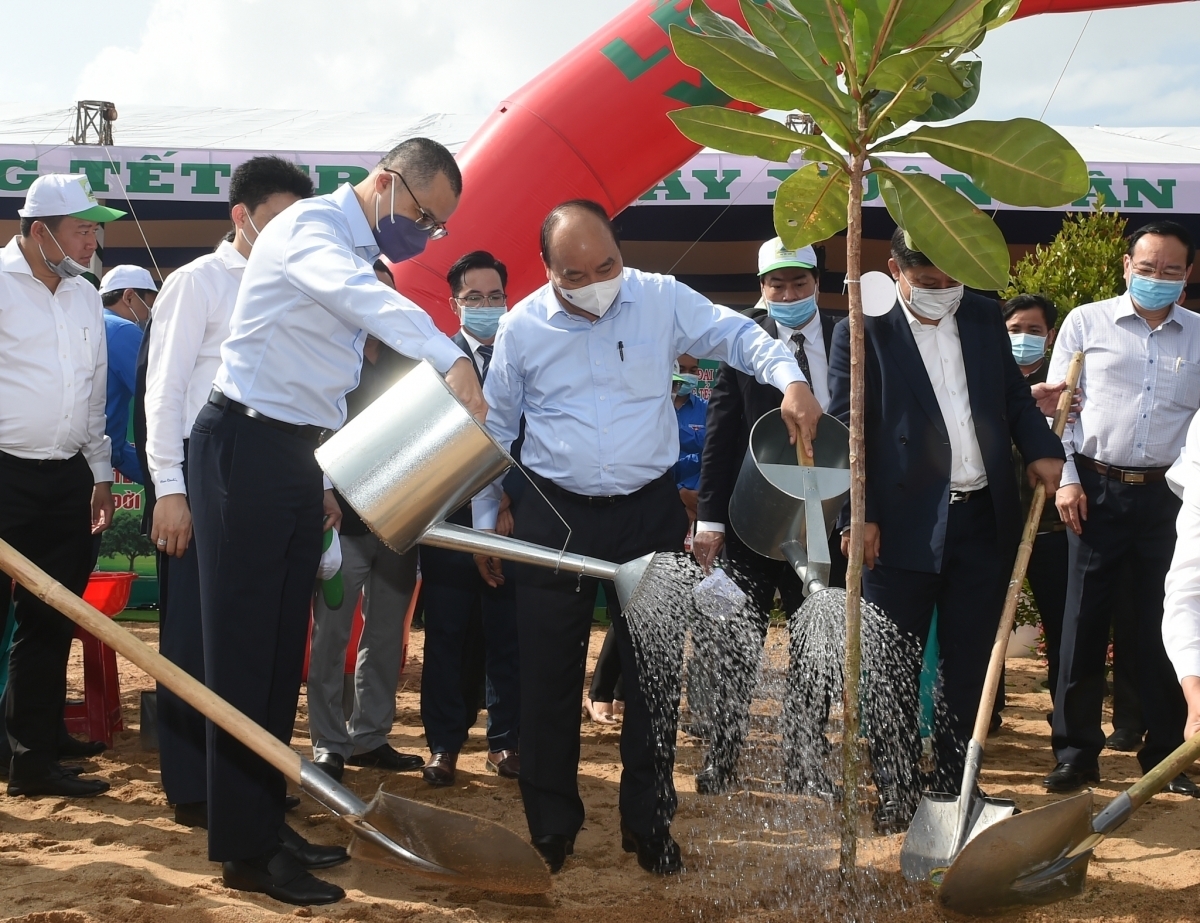 Prime Minister Nguyen Xuan Phuc plants a tree at the tree-planting festival in the south-central province of Phu Yen. Source: VOV
Earlier, Prime Minister Nguyen Xuan Phuc attended the launch of a tree-planting festival on February 20 in the south-central province of Phu Yen, according to VOV.
Following the conclusion of the ceremony, PM Phuc planted trees in Phu Thanh ward of Tuy Hoa city in Phu Yen province. Green trees are also set to be planted in Thanh An Tho historical relic site in An Dan commune of Tuy An district, the homeland of Tran Phu, the first Party General Secretary. This is along with a relic site which commemorates President Ho Chi Minh in Son Hoa district.
In November, 2020, speaking during a National Assembly session, PM Phuc put forward a scheme to plant one billion green trees over a five-year period to 2025. On December 31, 2020, he signed a directive on the organisation of the tree-planting festival, whilst pledging to strengthen forest protection and development from the beginning of this year.
He has also requested that ministers, heads of ministry-level agencies, and the People's Committee of centrally-run cities and provinces, hold the festival in commemoration of President Ho Chi Minh, who inspired the tree planting festival.
Within the framework of the scheme, PM Phuc donated a number of green trees to Phu Yen province, with provincial leaders being granted support from some businesses in support of the one billion green tree planting programme, with the total amount of more than VND5 billion.
The logistics department of Military Zone 4 has directed its affiliated units to implement the tree planting campaign on the occasion of the Lunar New Year 2021, with nearly 10,000 new trees, including both fruit trees and timber trees, having been planted.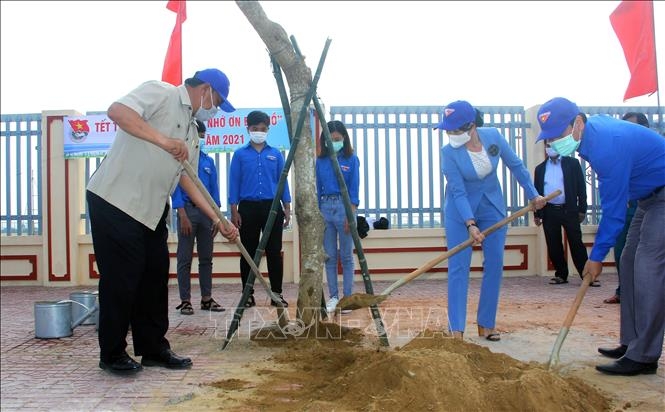 Binh Dinh leaders planting trees at Nhon Phuc Sports Complex in An Nhon Town, Binh Dinh Province. Photo: VNA
On February 21, the central province of Binh Dinh launched a tree planting festival, targeting to plant 5,000 trees in cultural-sports facilities, rural roads and at schools.
Subordinate units under the Vietnam Coast Guard High Command have simultaneously launched the Lunar New Year tree planting movement, with 2,615 new trees grown by the Coast Guard Region 1 High Command, 1,750 trees by the Coast Guard Region 2 High Command, and 150 by the Coast Guard Region 4 High Command.
Affiliated agencies and units of the Military Command of Phu Yen Province recently planted over 1,000 trees of various types around their barracks and training arenas in response to the Lunar New Year tree planting campaign.
An Giang Province's border guard forces have planted about 2,000 new trees and 500 sovereignty trees in border areas, contributing to affirming the fatherland's sacred territorial sovereignty.
On November 28, 1959, President Ho Chi Minh wrote an article published in Nhan Dan (People) Newspaper stressing the significance of tree planting for each person, each family, and the entire nation. Since the first tree planting festival was held in the spring of 1960, the campaign has become a fine tradition of the entire Party, people and army every spring, aiming to maintain a healthy environment for the people and future generations.