Trump Sues Facebook, Twitter and Youtube For Censorship, Fundraising Off The Effort
Trump currently took his feud against Twitter, Facebook and Youtube for alleged censorship and banning him from social media platforms, rallying Republican voters, fundraisers and donors, even though experts said the lawsuits would likely fail.
Trump revealed Wednesday that he is suing Facebook, Twitter and Google, as well as their respective CEOs Mark Zuckerberg, Jack Dorsey and Sundar Pichai, in class-action lawsuits.
The suits call for the court "to order an immediate halt to social media companies' illegal, shameful censorship of the American people," Trump said at a news conference at his golf club in Bedminster, N.J. "We're demanding an end to the shadow banning, a stop to the silencing and a stop to the blacklisting, banishing and canceling that you know so well."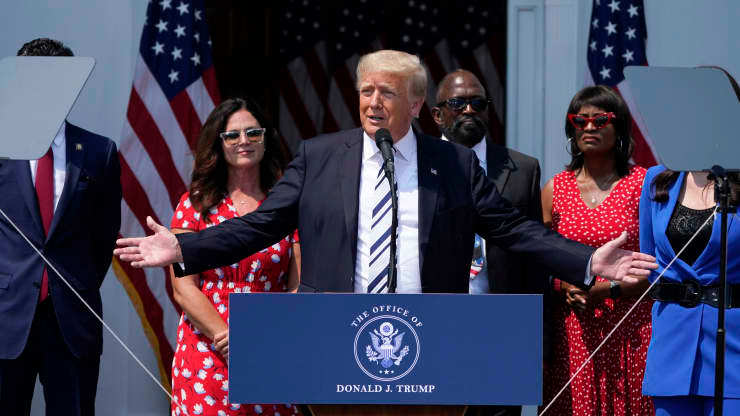 Former President Donald Trump speaks at Trump National Golf Club in Bedminster, N.J., Wednesday, July 7, 2021. Seth Wenig | AP
The long-shot legal actions are the latest escalation in Trump's long-running feud with the social media platforms that he used prolifically before and during his presidency.
After the Jan. 6 insurrection at the U.S. Capitol, the companies kicked Trump off their platforms, citing the risk of further violence. Twitter banned Trump permanently, Facebook has suspended him for two years and YouTube has said it will let him return only "when we determine that the risk of violence has decreased."
The lawsuit against Pichai also names as a defendant YouTube, the video-sharing website bought by Google in 2006. YouTube indefinitely banned Trump in January.
"We're not looking to settle," Trump told reporters at Bedminster when asked about the lawsuits. "We don't know what's going to happen but we're not looking to settle," he said.
The three related lawsuits, filed in federal court in Florida, allege the tech giants have violated plaintiffs' First Amendments rights.
The suits want the court to order the media companies to let Trump back on their platforms. They also want the court to declare that Section 230 of the Communications Decency Act, a piece of legislation that stops tech companies from being held liable for what users post on their platforms, is unconstitutional, CNBC reported.
"This lawsuit is a publicity stunt intended for political gain"
Legal experts say Trump's lawsuits are likely doomed from the start because of the strong protections that both Section 230 and the First Amendment give the companies to decide what speech they allow.
"Trump has the First Amendment argument exactly wrong," said Paul Barrett, an adjunct law professor and deputy director at New York University's Center for Business and Human Rights. He described the lawsuits as "DOA," or dead on arrival, because the First Amendment applies to government restrictions on speech, not the actions of private companies, according to NPR.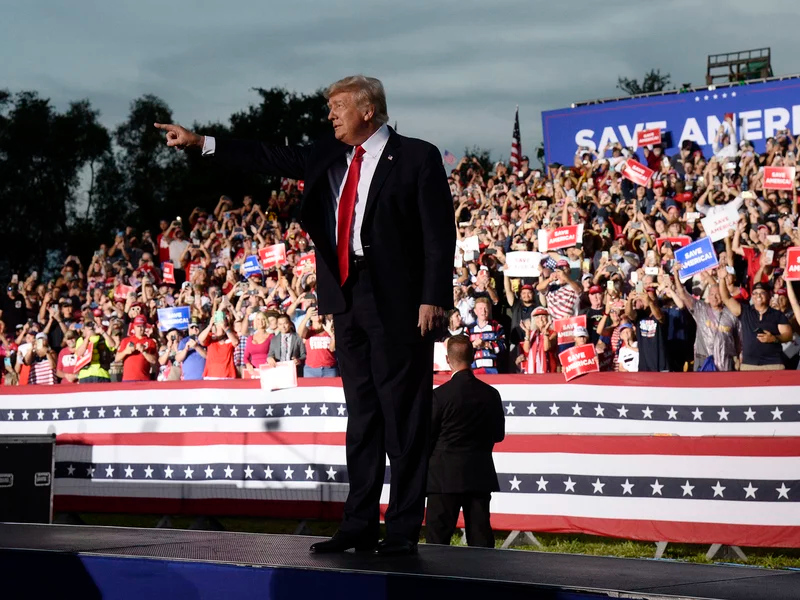 Photo: Jason Behnken/AP
Even conservative experts voiced skepticism about Trump's legal case.
"These social media platforms are private property, not the government town square, and are well within their First Amendment rights to refuse to carry speech of third parties. This principle holds even with the former president of the United States and is the constitutional right of every citizen," said Jessica Melugin at the Competitive Enterprise Institute. "This lawsuit is a publicity stunt intended for political gain, not a serious legal argument."
Section 230 has come under broader scrutiny from both Republicans and Democrats in recent years, with lawmakers on both sides of the aisle saying its liability protections should be pared back. However, they are divided on what reform would look like, with Republicans focusing their criticisms on alleged censorship and Democrats seeking to hold the companies more responsible for misinformation and other harmful content.
Photo: CNET
"Will this go anywhere? I doubt it!"
If the goal was to get publicity, mission accomplished. But if it was in fact to actually change the status quo for Trump's social media status, the former president may a serious fight ahead.
"The rules are there to protect the citizens from censorship by the government," said Robert Sanders, chair of National Security at the Henry C. Lee College of Criminal Justice and Forensic Sciences at the University of New Haven, according to Forbes.
"Private entities have a separate and distinct standard," Sanders added. "There is the issue that some see these quasi-public forums and say the same standards should hold true, but that is not the law. Perhaps Trump thinks he could have Congress change the laws, but he is really climbing a steep vertical wall if he believes that will happen. Current law doesn't give Trump the option to claim what he wants to claim in the courts. Will this go anywhere? I doubt it!"
Representatives for Twitter and Google declined to comment on the legal actions. Facebook did not immediately respond to a request for comment.
Trump's spokeswoman, Liz Harrington, declined to comment ahead of the former president's speech.
The attorney representing Trump in the lawsuits, Matthew Lee Baldwin of Vargas, Gonzalez, Baldwin, Delombard, did not immediately respond to questions from CNBC about how many suits Trump planned to file, and whether these suits have all been filed in court yet or not.
Wall Street seemed largely unfazed by the news, as shares of Facebook and Google-parent Alphabet outperformed the S&P 500 and Nasdaq Composite.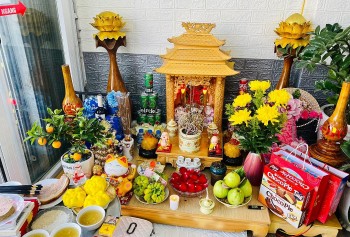 Handbook
Learn more about an ancient Vietnamese tradition that may bring you good fortune!