Two Flights Carrying Passengers Fully Vaccinated from The US Arrived Vietnam
The Van Don Airport had welcomed two flights under the vaccine passport policy from the US.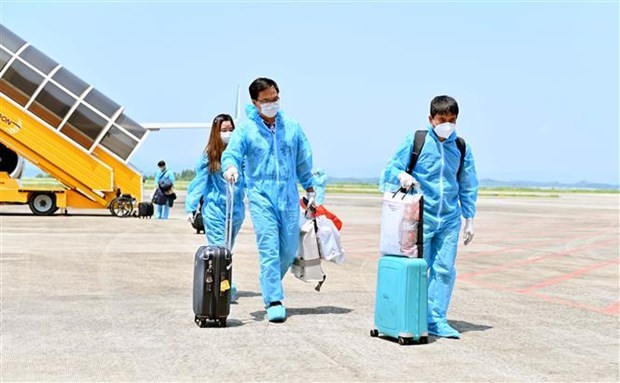 Passengers return from the US with "vaccine passport". Photo: VNA
345 Vietnamese citizens fully vaccinated in the US arrived at the Van Don Airport in the northern province of Quang Ninh in two flights on Sep. 12, reported VnExpress.
The first flight landed at 11:18 a.m., carrying 161 passengers, the other one arrived about one hour later, with 184 passengers on board.
All passengers on the flights had already been fully vaccinated and had negative RT-PCR test results for Covid-19 validated by authorities in the host country 72 hours before departure, therefore meeting the Health Ministry criteria outlined in the vaccine passport program.
They will stay in concentrated medical quarantine for seven days and self-quarantine at their accommodations for another week.
All of them, deemed at low risks for Covid-19 infections, had to undergo procedures similar to normal repatriation flights like body temperature checks, submission of health declarations, wearing masks and keeping a safe distance at all times. All luggage, carry-on or checked, were sterilised.
They were also divided into groups of old people, the disabled, pregnant women, children under 12 and other classifications to speed up customs procedures at the airport, said airport director Pham Ngoc Sau.
Stringent procedures have been rolled out at the airport to avoid cross-infection amongst the passengers and the staff.
Vietnamese passengers undergo immigration procedures at the Van Don Airport, Quang Ninh Province, Sept. 12, 2021. Photo by VnExpress/ Binh Minh
Van Don airport to date has successfully welcomed three flights in the pilot "vaccine passport" programme approved by the Government.
The flights help the Government consider, assess and gain experience before the full implementation of the programme, said Sau.
The pilot of seven-day quarantine policy will serve as the foundation to expand to more people with real travel demands, like Vietnamese citizens overseas, foreign businessmen and experts, Sau said, adding that with this, more domestic flights could resume when the outbreak is brought under control.
It is in line with gradual adaptation to the new normal, as both goals of pandemic control and stimulation of socio-economic activities are carried out.
Van Don is working to complete procedures to earn the Airports Council International's Airport Health Accreditation (AHA), which provides airports with an assessment of how aligned their health measures are with international standards.
Vietnam closed its borders and canceled all international flights in March last year. Only Vietnamese repatriates, foreign experts, diplomats, investors, students and highly-skilled workers have been allowed in since with stringent quarantine requirements.
According to a draft pilot scheme, the plan targets foreign tourists who have been fully vaccinated or those with certificates of recovery from Covid-19 recognised by an authorised agency in Vietnam.
Eligible tourists should be given their second shots at least 14 days and no more than 12 months before their entry. For those who have recovered from Covid-19, the time from hospital discharge to their entry date must not exceed 12 months. Travelers will be requested for a RT-PCR test within 72 hours prior to their departure, and certified negative for Covid in English by authorities of the country that conduct the test.
The scheme will be applied for visitors who have registered to join package tours of travel agencies.
Moreover, the Mekong Delta province of Kien Giang is preparing for a pilot plan on welcoming international tourists with vaccine passports to its Phu Quoc resort island for six months from October in a bid to revive its tourism industry.
Phu Quoc is one of the eight "green zone" districts and cities of Kien Giang province. It has to date recorded five COVID-19 infections which have been successfully treated.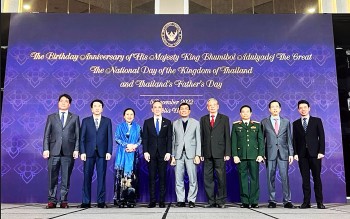 Friendship
The Royal Thai Embassy organises the reception on the occasion of celebration of the Birthday Anniversary of His Majesty King Bhumibol Adulyadej the Great, the National Day of the Kingdom of Thailand and Thailand's Father's Day on 2nd December 2022 in Hanoi.