Vietnam Covid-19 Updates (September 12): 11,932 Cases Recorded, 12,541 Patients Given All-clear
As of 6 pm on September 11, Vietnam has recorded 601,349 coronavirus cases since the start of the outbreak in January 2020, and 596,980 locally acquired infections following the resurgence of the virus more than four months ago.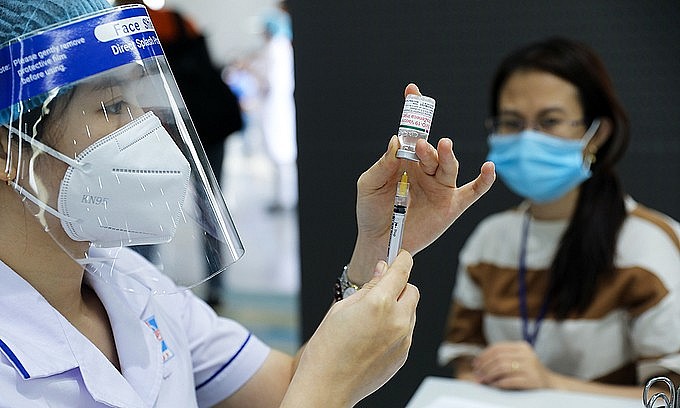 A health worker prepares a Covid-19 vaccine shot in HCMC's Thu Duc City, June 2021. (Photo: VnExpress)
11,932 cases were recorded on September 11
An additional 11,932 Covid-19 infections, including 5 imported cases, were recorded in the last 24 hours to 5 pm on September 11, raising the national tally to 601,349, the Ministry of Health announced.
Ho Chi Minh City, which is the country's largest pandemic hotspot, reported the highest number of infections with 5,629 cases. It was followed by neighboring Binh Duong province (3,971), Dong Nai (960), Long An (337). The capital city of Hanoi logged 35 cases.
The same day, 12,541 patients were given the all-clear, bringing the total recoveries to 363,462. Meanwhile, an additional 217 deaths were recorded.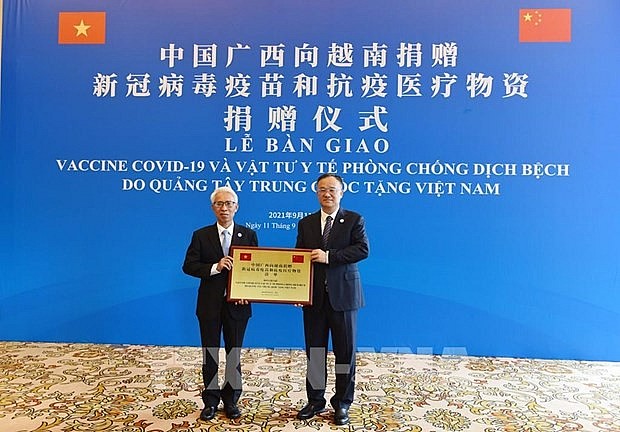 Ambassador of Vietnam to China Pham Sao Mai (L) receives donations of medical supplies from China's Guangxi Zhuang Autonomous Region to Vietnamese border provinces. (Photo: VNA)
China's Guangxi donates 10 million USD worth of medical supplies to aid Vietnam's Covid-19 fight
China's Guangxi Zhuang Autonomous Region donated medical supplies worth USD 9.7 million to aid Vietnam's Covid-19 fight in a ceremony held in Nanning on September 11. The donations include 800,000 doses of the Vero Cell vaccine, an ECMO machine and other medical equipment, which will be sent to the border provinces of Vietnam. It was the largest-ever aid Guangxi has provided to a foreign partner, showing its great support for Vietnamese neighboring localities.
Speaking at the ceremony, Vice Governor of Guangxi Zhuang Autonomous Region Huang Junhua said the Covid-19 resurgence in Vietnam is of great concern to the region's Party, administration and people; and that Guangxi views challenges facing Vietnamese border provinces as its own obstacles and wants to provide maximum assistance to help the Vietnamese localities soon stamp out the outbreak.
Ambassador of Vietnam to China Pham Sao Mai thanked Guangxi for the gesture, saying it demonstrates the two countries' long-standing friendship and solidarity. He also expressed his belief that the recipients will effectively use the donated medical supplies to combat the coronavirus.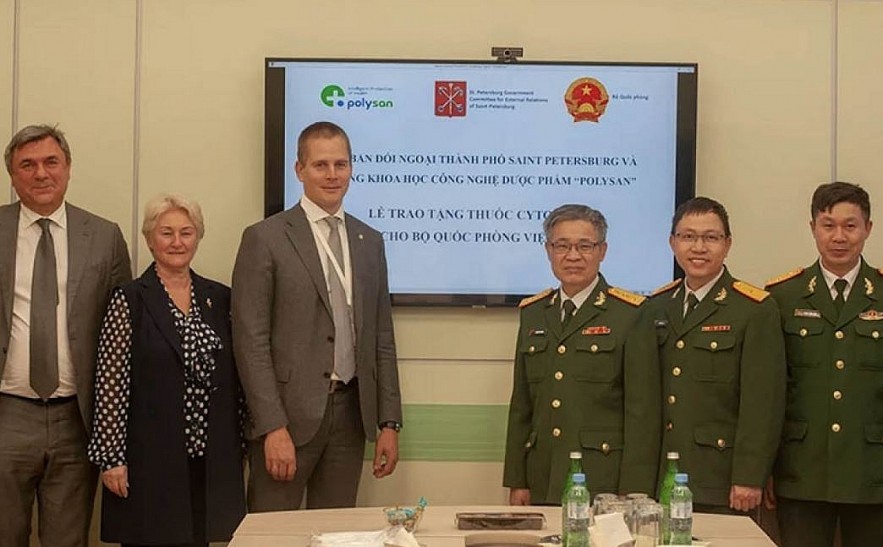 Rusia's Saint Petersburg city donates 2,376 boxes of Cytoflavin treatment drug to Vietnam. (Photo: VOV)
Saint Petersburg donates Covid-19 treatment drug to Vietnam
Russia's Saint-Petersburg and the "Polisan" Science & Technology Company based in the city have presented a batch of Cytoflavin, an anti-viral drug against Covid-19, to the Vietnamese Ministry of National Defence to help it combat the virus. The shipment comprises a total of 2,376 boxes of Cytoflavin treatment drugs weighing 297 kg.
Cytoflavin is currently being used as part of the treatment regimen for patients in Russia and is typically used for the prevention of acute ischemic stroke. Russian doctors also make use of this drug to treat cardiovascular and brain complications detected in patients, recording good results.
Under the authorization of the Defence Ministry, the Vietnamese Defence Attaché Office in Russia received the haul on September 10, thanking the authorities of Saint Petersburg for the gift. The office stated that the support will help to prevent the damaging impact of the pandemic in Vietnam. whilst also contributing to further enhancing the comprehensive strategic partnership that exists between both countries.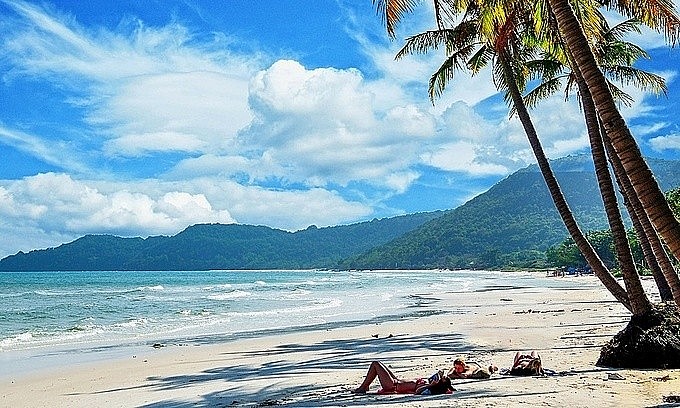 Tourists sunbathe on Khem Beach, Phu Quoc Island, 2019. (Photo: Shutterstock)
Vietnam to trial controlled return of tourists to Phu Quoc
The government has approved plans to allow fully immunized tourists from Europe, the U.S., Northeast Asia, Australia, and the Middle East to visit Phu Quoc from October. Under a six-month trial program, 2,000-3,000 tourists will come every month by charter flight in the first three months and stay in sequestered resorts and limited areas. Then the monthly number will increase to 5,000-10,000 with tourists also arriving by commercial flights, and they will be permitted to visit more destinations on the island.
Visitors need to furnish documents showing they had received two shots of a Covid-19 vaccine approved by Vietnam, the second between 14 days and 12 months before the date of entry, or that they had Covid and recovered in the previous 12 months. They also need to present a negative PCR result with the test done within 72 hours before departure.
The Ministry of Culture, Sports and Tourism, and relevant agencies will identify the businesses that will participate in the trial program. They need to ensure safety against Covid-19 for tourists and employees and provide quality services. Inbound travel agencies selected must have been in business for more than three years and received at least 30,000 tourists a year. Hotels are required to have a separate area for the international tourists besides isolated testing and quarantine areas.
As of 6 pm on September 11, Vietnam has recorded 601,349 coronavirus cases since the start of the outbreak in January 2020, and 596,980 locally acquired infections following the resurgence of the virus more than four months ago.
Of the total, 360,688 patients have been discharged from the hospital after making a full recovery from the disease, including 12,541 recoveries announced on September 11.
The September 11 figure has raised the total number of Covid-19 fatalities in Vietnam to 15,018, making up 2.5% of the total number of infections and 0.4% higher than the average death rate globally.