Two Huge War-time Bombs in Quang Tri Safely Handled
Two huge bomb disposal team of PeaceTrees Vietnam have safely transported in the central province of Quang Tri, the unit announced.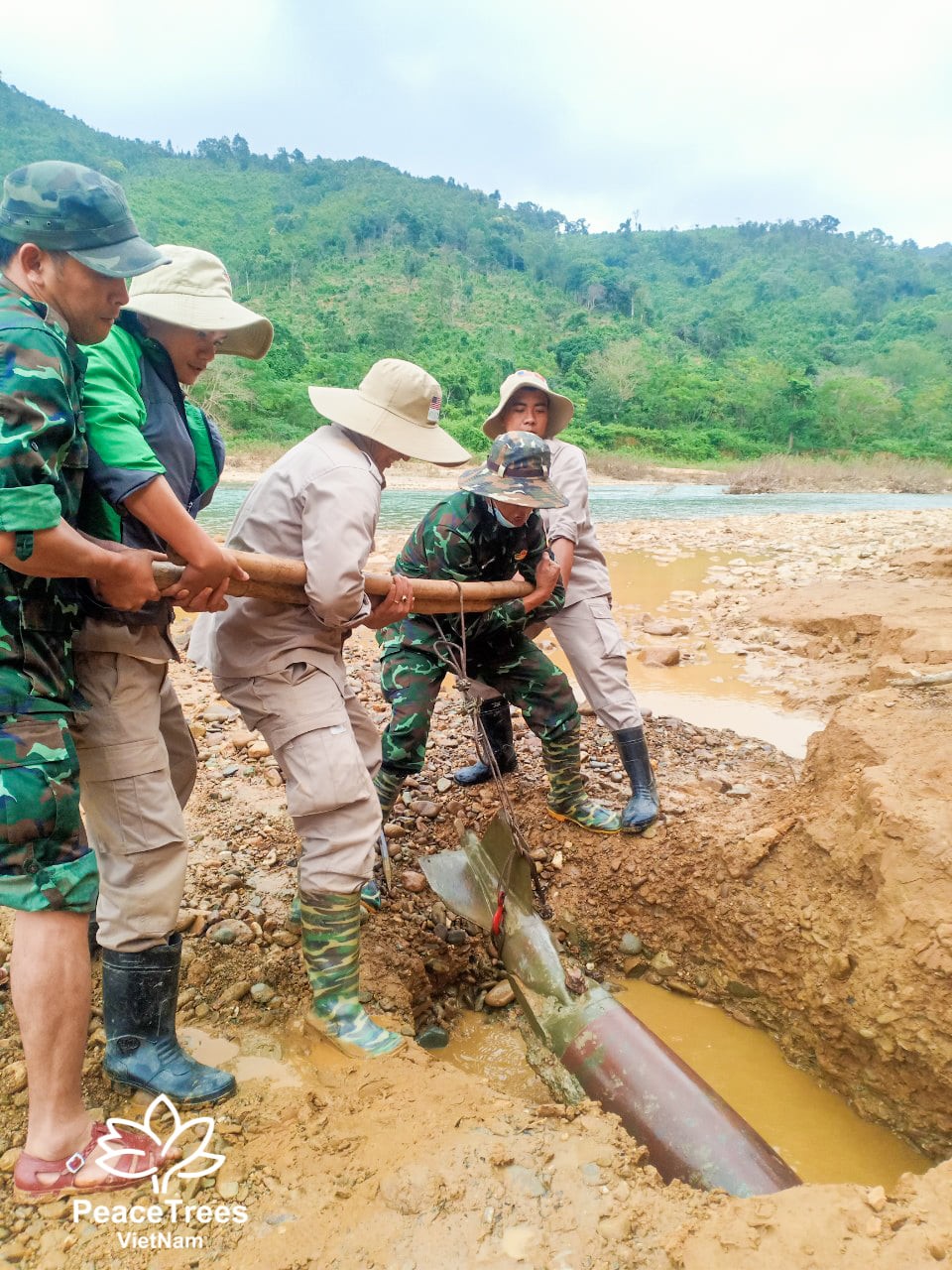 The Mobile Mine Clearance Team of PeaceTrees Vietnam has successfully handled and transported a MK82 bomb weighing 227kg left from the war in the central province of Quang Tri.
On the morning of Nov. 8, team Explosive Ordnance Disposal (EOD) 1 of PeaceTrees Vietnam (PTVN) received information from Quang Tri Mine Action Center (QTMAC) about bombs in Huong Lap commune, Huong Hoa district.
In the past few days, heavy rains in the province have caused many bombs lying deep in the ground to be exposed. Two large bombs were discovered by people and border guards in Cu Bai village, Huong Lap commune and informed to QTMAC.
Our team EOD 1 immediately moved to the site to deploy an EOD spot task. A bomb was found at a depth of 1 meter was identified as an MK-82 bomb, has a diameter of 274mm, a length of 1.54m, a weight of 227kg. The other bomb lying in the riverbed at a depth of 1 meter was identified as an M117 bomb, weighing more than 340kg. Both bombs were evaluated its fuze was "safe-to-move", but the heavy rain made it difficult to access the M117 bomb.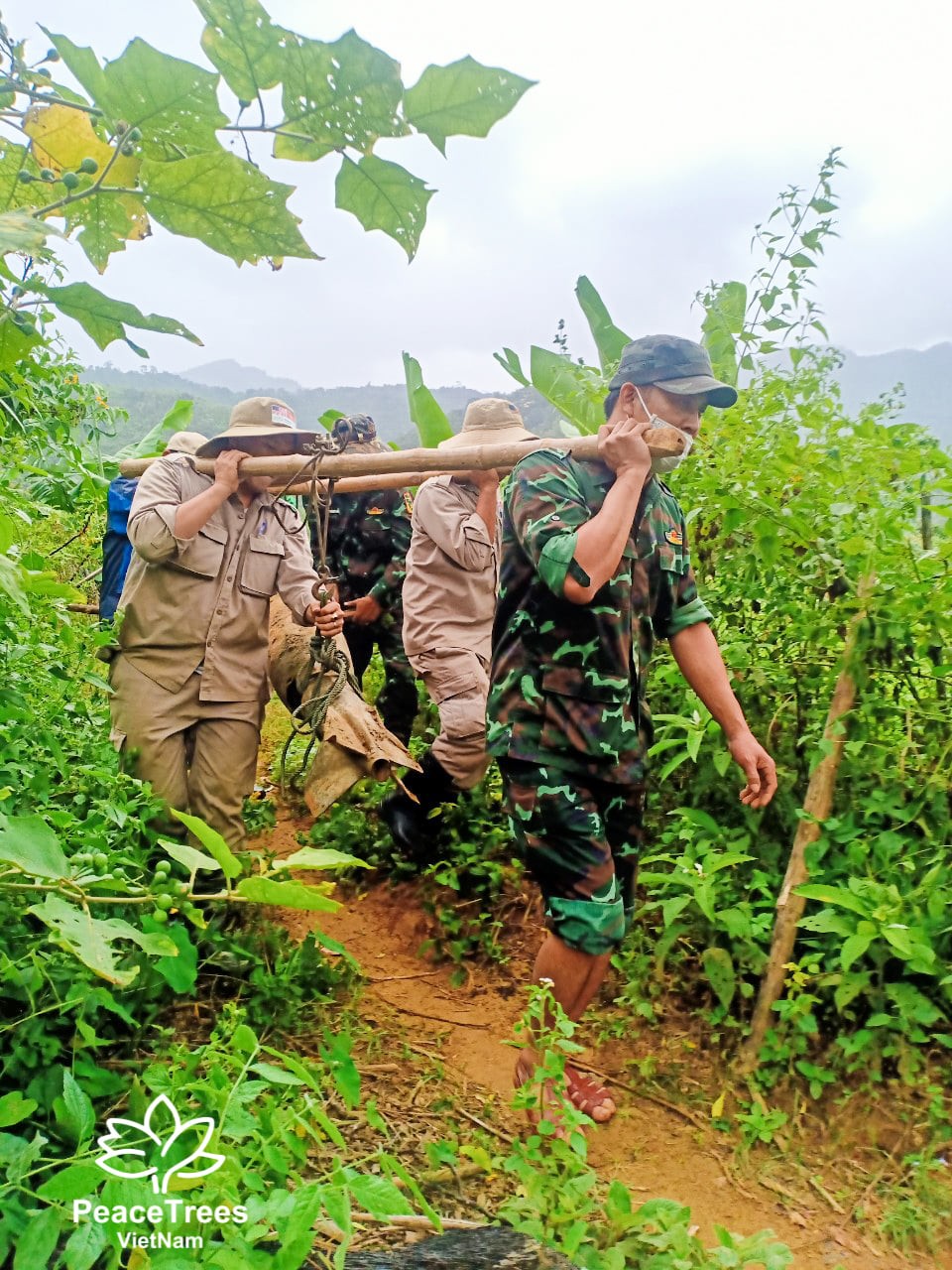 Right after receiving the information, the team sealed off the area and safely handled the bomb.
After nearly 5 hours, members of EOD 1 and two members of VNMAC who were working with the team successfully transferred the bomb to the vehicle to be transported to the safe storage. The remaining bomb has been flagged for danger and waiting for transportion later.
According to VNA, the PeaceTrees Vietnam team said on Nov. 10 that they are managing to deactivate the bombs.
Quang Tri is the most polluted locality in Vietnam in terms of unexploded ordnance (UXO), which are scattered over 81% of its land area and have killed over 3,430 people and injured 5,100 during peacetime.
EOD team/ PeaceTrees Vietnam Quang Tri project receives fund/grant from WRA/ U.S. Department of State for its operations in Quang Tri province since 2005 and operates in Huong Hoa and Dakrong districts, focus on EOD and EO clearance, and integrate EO Risk Education into its operation.
Last month, the PeaceTrees Vietnam team also safely handled a 227 kg bomb left over from the war in Luong Le village, Tan Hop commune, Huong Hoa district.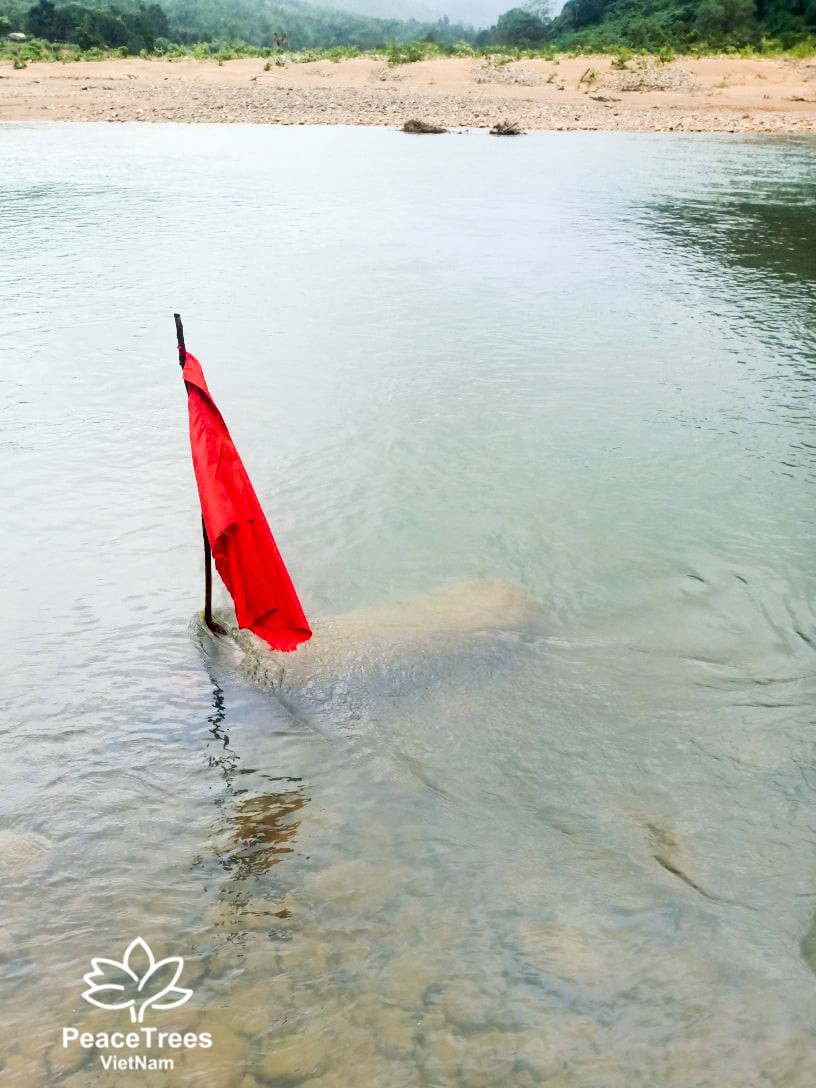 The second bomb has been flagged for danger.
The US's Peace Trees Vietnam is the first foreign non-governmental organization licensed by the Vietnamese Government to operate in UXO search and clearance.
To ensure safety in mine action, all PeaceTrees Vietnam technical staff are required to attend Explosive Ordnance Disposal training as the International Mine Action Standards.
On Oct. 29 and Nov. 5, 41 more PTVN technical staff were awarded the IMAS (International Mine Action Standards) EOD level 1, including 17 staff of PTVN Quang Tri project and 21 ones of PTVN Quang Binh project. 9 of which are female technical staff. These staff successfully completed theory training classes and almost one year being mentored and evaluated on field.
PTVN has been operating in Quang Tri and Quang Binh provinces. All of staff from technical staff to technical manager are Vietnamese people.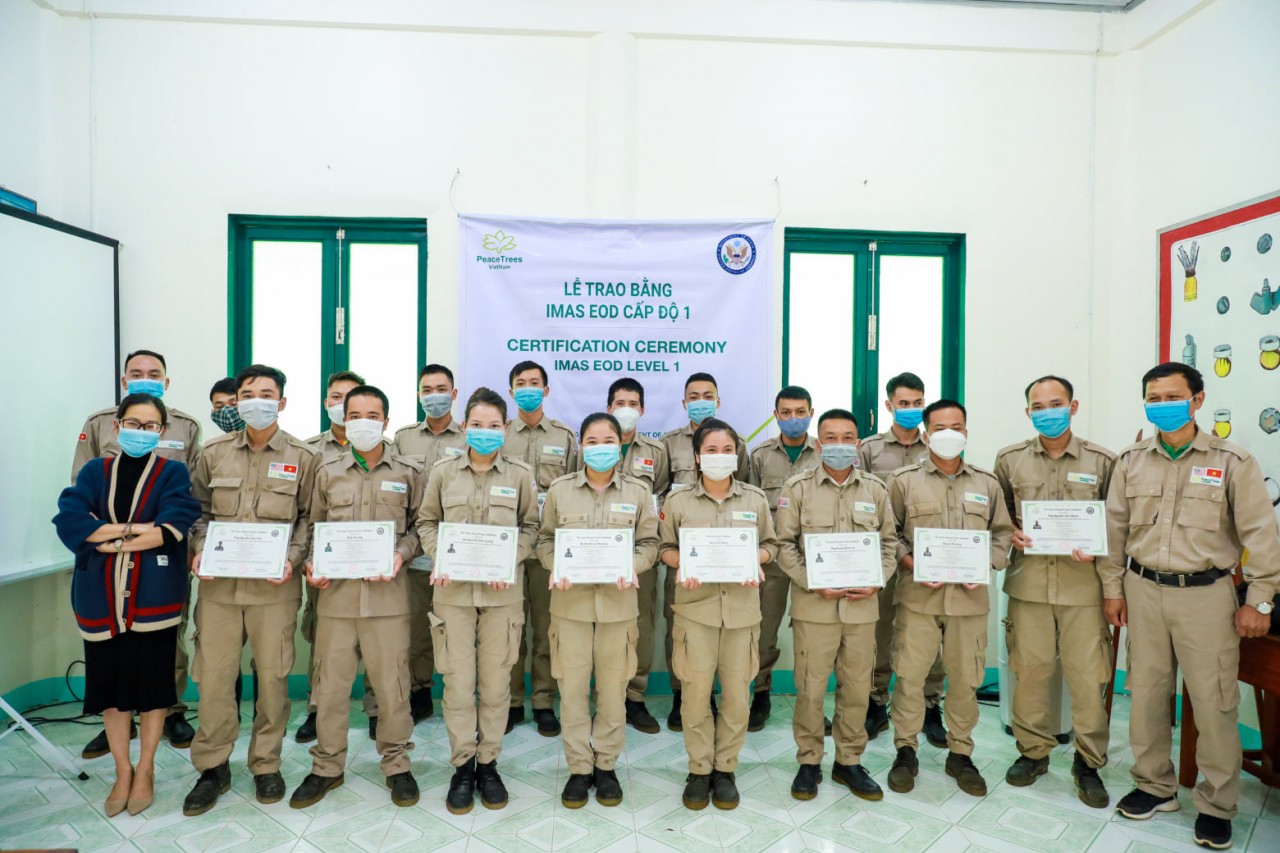 41 more technicians certified international mine action standard in explosive ordnance disposal (IMAS EOD).
IMAS are produced with the assistance of the Geneva International Centre for Humanitarian Demining. The work of preparing, reviewing and revising IMAS is conducted by technical committees, with the support of international, governmental and non-governmental organisations.
Individual IMAS are reviewed at least every three years to reflect developing mine action norms and practices and to incorporate changes to international regulations and requirements.
The UN Security Council (UNSC) open debate on "Mine action and sustaining peace: Stronger partnerships for better delivery", held on April 8 under the chair of Vietnam – Council President for April, has been highly valued by the international community.
Ambassador Dang Dinh Quy, Permanent Representative of Vietnam to the UN, said UXOs are always "silent killers", but two new issues have emerged in recent years: the increasingly widespread use of controlled improvised explosives and the use of these improvised devices to attack peacekeeping missions.
Impacts of the Covid-19 pandemic have also made this issue even more serious, he noted.
Quy added that the UXO issue has been rarely discussed at the UNSC as it was not supported by countries' previous policies. Therefore, Vietnam's chairing of the signature debate about mine action has met the international community's concern.
Focus
Vietnam has so far detected 108 Omicron cases returning from overseas in 10 localities, including 68 cases in Ho Chi Minh City and 27 cases in Quang Nam.