Two Villages in Vietnam Named Among Most Beautiful Villages in Asia
Uswitch, a UK-based website, has released lists compiled of the most beautiful villages in the world, Europe and Asia, with two of Vietnam's villages named among top 10 most beautiful and stunning villages in Asia.
Ever romanticised about escaping to the countryside? Living the idyllic, rural lifestyle you have always dreamed of? Surrounded by picturesque landscapes, rolling hillsides and beautiful, rustic villages? Well, for some people, this is now becoming a reality.
A recent report has shown that enquiries to estate agents for village properties have risen by 126% year-on-year. With this in mind, Uswitch mortgages have assessed the two visual-centric social channels, Instagram, and Pinterest, to find out which of the world's most beautiful villages are the most popular on social media.
Ha Long Bay in Vietnam is the most beautiful village on this continent. With just over 1.1 million social media appearances, it is easy to see why this tops the list and is Vietnam's number one tourist hub. Towering pillars of limestone and tiny islets of forest rise from the emerald waters of the Gulf of Tonkin making this a site of ethereal beauty.
The floating village of Cua Van offers a fully local tourist experience with a community of people whose prevailing culture and way of life is in stark contrast to the more tourist boom of Ha Long Bay. The views are like that of a poetic painting; colourful, traditional houses and primitive characteristics of a fishing village from ancient times.
1. Ha Long Bay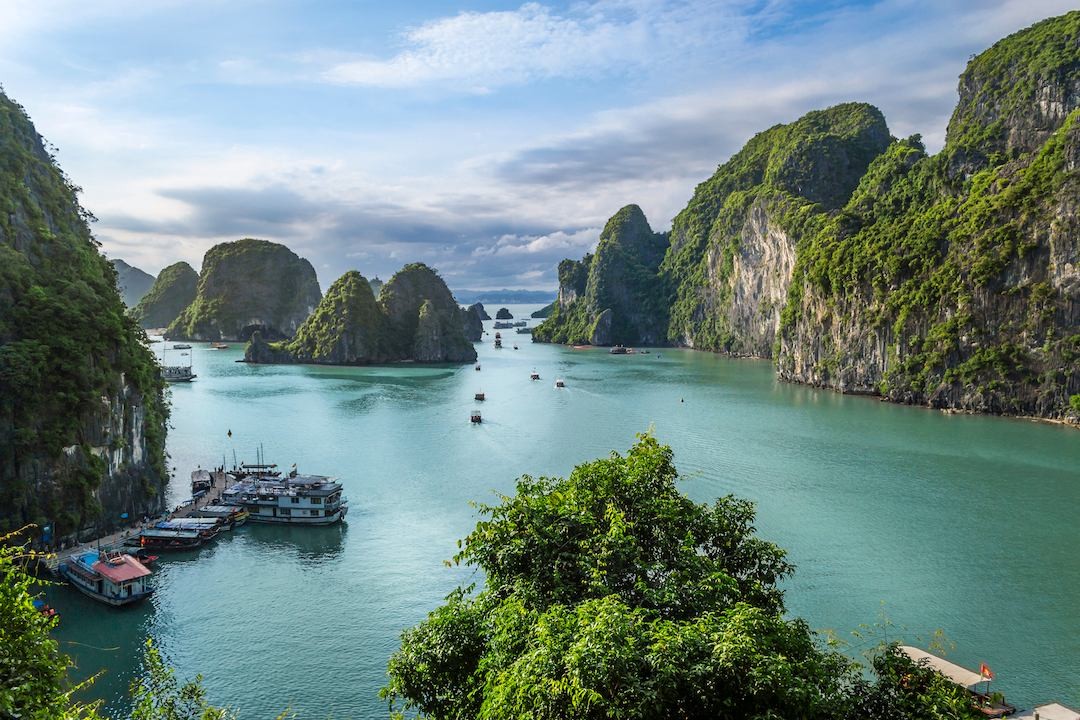 Photo: Wyndham Legend Halong
Halong Bay is a beautiful natural wonder in northern Vietnam near the Chinese border. The Bay is dotted with 1,600 limestone islands and islets and covers an area of over 1,500 sqkm. This extraordinary area was declared a UNESCO World Heritage Site in 1994. For many tourists, this place is like something right out of a movie. The fact is that Halong Bay features a wide range of biodiversity, while the surrealistic scenery has indeed featured in endless movies.
Halong Bay is located in the North of Vietnam, three hours east of Hanoi. The gateway to Halong Bay is Haiphong City, a crowded polluted place that you'll want to get out fast. Most people start Halong Bay tours from Hanoi, which includes transport to and from the city.
Brief History of Ha Long Bay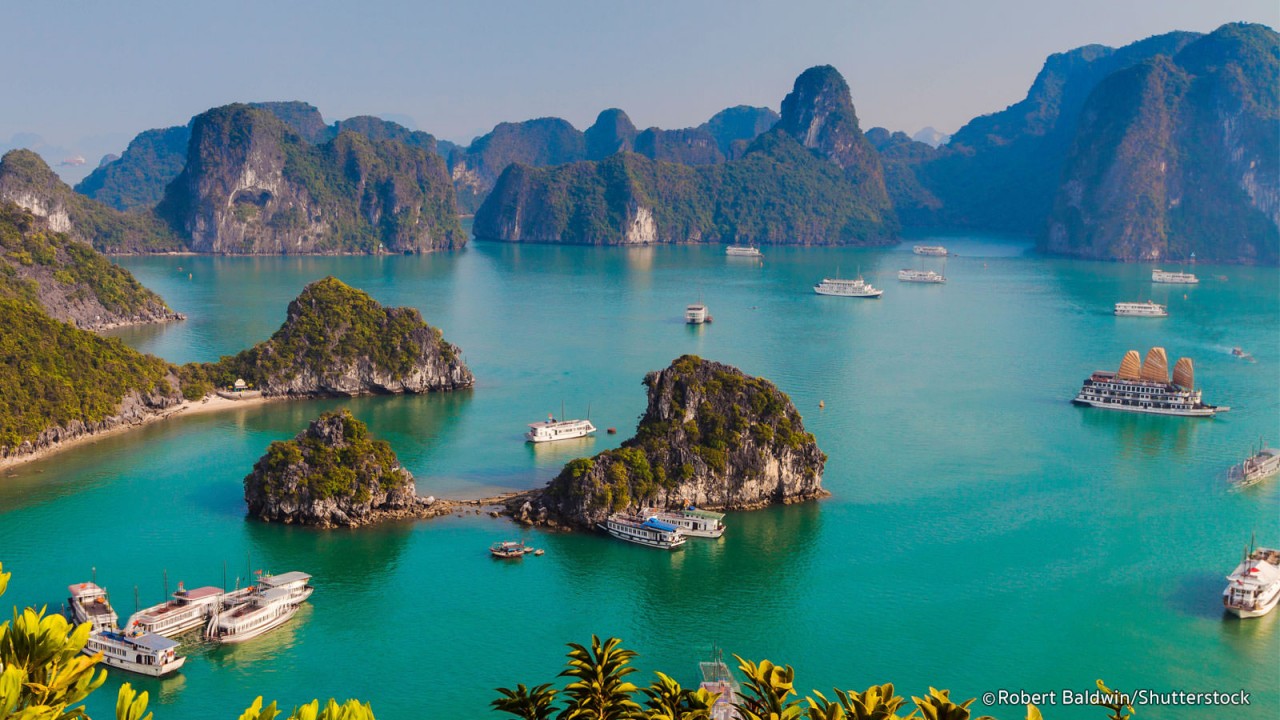 Photo: Vietnam Travel Guide
In 1469, King Le Thanh Tong paid a visit to Ha Long Bay and was so inspired by the scenery that he wrote a poem, likening the islands to pieces on a chessboard; ever since visitors have struggled to capture the mystery of this fantasy world. Nineteenth-century Europeans compared the islands to Tuscan cathedrals, while a local tourist brochure opts for meditative "grey-haired fairies". With so much hyperbole, some find Ha Long disappointing, especially since this stretch of coast is also one of Vietnam's more industrialized regions – a major shipping lane cuts right across the bay. The huge influx of tourism has, of course, added to the problem, not least the litter and pollution from fume-spluttering boats, but a sizeable proportion of tourist income does at least benefit the local communities.
The winter weather is another factor to bear in mind; from November to March there can be chilly days of drizzly weather when the splendor and romance of the bay are harder to appreciate.
What to see in Ha Long Bay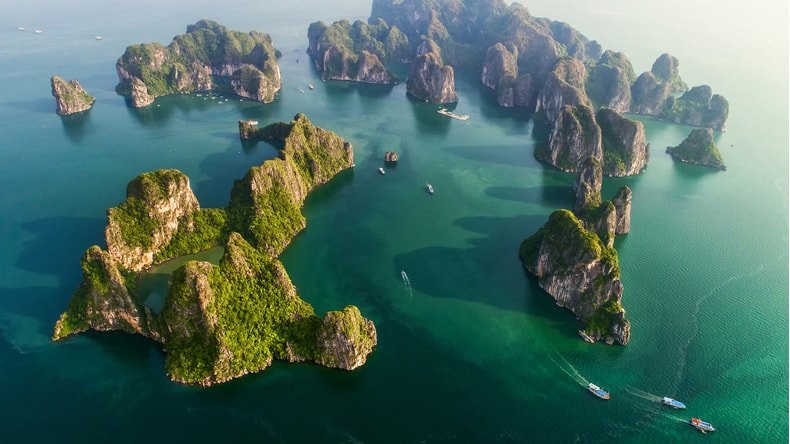 Photo: Halong Bay
Bar a clutch of gorgeous caves, conventional sights may be few on the ground, but even if you tire of the scenery there's a lot to do in the bay – kayaking across the tranquil waters, swimming amidst the twinkles of phosphorescent plankton, or even climbing up a rocky cliff with your bare hands. The vast majority of visitors come on organized tours from Hanoi, traveling by road to Ha Long City, on the bay's northern shore, then transferring to cruise the bay on a replica wooden junk – it's not really any cheaper to do it by yourself. However, if you can do without the night on board, it's possible to hit Cat Ba – the largest and most beautiful island in the bay – from Hanoi using public transport.
Top Halong bay tourist attractions
Sung Sot Cave: Legend tells that after defeating the An aggressors, Thanh Giong (the Saint Giong) helped villagers chase devils and demons away from the village and flew to heaven. He left his stone horse and swore to keep protecting his people. Sung Sot Cave was where villagers keep all the vestige of arms and Saint Giong's horse footprint, which has become small lakes with huge stones surrounded. The name "Sung Sot" (means "Amazed feeling") would definitely describe how travelers feel towards Top 10 most beautiful caves on Earth. The cave was first found in 1901 by French travelers and called Grotte Des Surprises (The Cave of Surprises) in a travel book established in 1938. Being one of the widest and most special caves, Sung Sot Cave is located in the center of the Bay, inside Bo Hon Island. Despite having a small gate, the cave amazed visitors with its giant inner space, which probably explains the surprising name.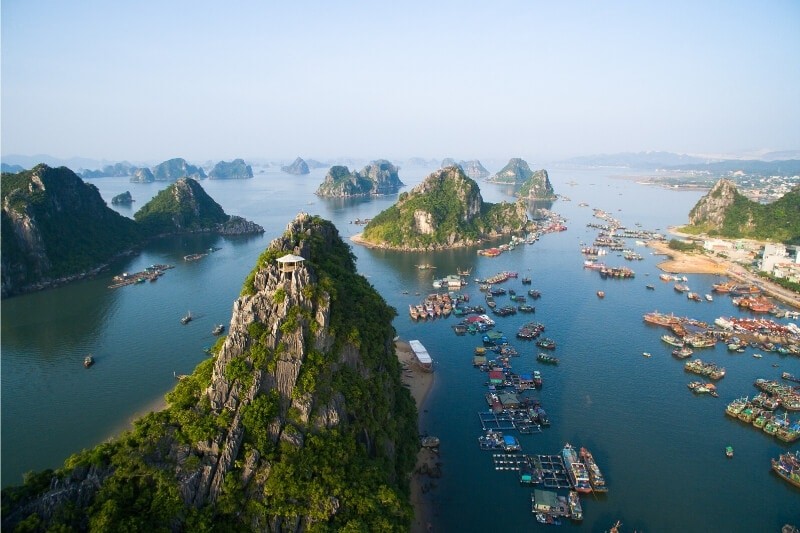 Photo: Wander - Lush
Ti Top Island: In the early years, the island was less known and called the "Graveyard" island. The name was in memorial of the death of a French cargo ship crew, who faced disaster nearby and was buried on the island. It was kept until 1962 when Ho Chi Minh visited the island with a Soviet astronaut named Gherman Ti Top. He asked the locals to name this island after Gherman's, from then, Ti Top island has become the symbol of friendship between Vietnam and the Soviet Union. Unlike 2,000 other tourism spots in Halong, Ti Top does not only have a beautiful nature view but also owns a fabulous sandy beach called Ti Top beach or Vang Trang beach (which means the Moon beach, because the sandy beach looks like the moon hanging onto the island mountain). If you have only seen one picture of Halong bay, it is more likely taken from the crest of Ti Top island.
Dau Go Cave: History recorded an event when Dau Go Cave was the place where spear-shaped woodpiles were hidden by Vietnam soldiers to build a battlefield and destroy Mongol's ships during the war against their invasion in the 13th This was Tran Hung Dao's, known as Tran King, strategy for such underdog to win over huge Mongolian army. Dau Go Cave has a huge 5,000 square-meter-space inside. From outside, the cave's gate is filled with an emerald hue with the shape of a jellyfish. Surprised by the beauty of Dau Go Cave, Khai Dinh King once wrote a poem praising it and engraved it on the left side of the cave.
2. Cua Van floating village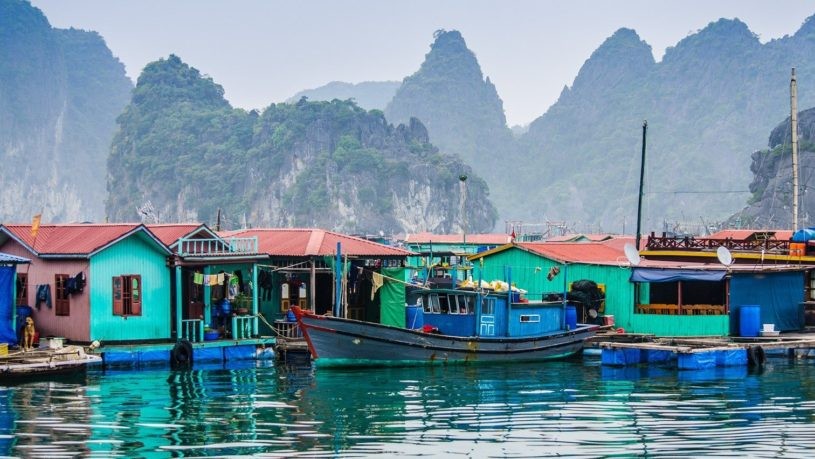 Photo: Lan Ha Bay Cruises
The largest fishing village in Halong Bay situated at Hung Thang Commune, Halong City, lies in a calm bay surrounded by karst limestone mountains and islets. With approximately 180 households living mainly by fishing, Cua Van floating village has a population of 733 and they all live on floating houses.
Having been voted as the most 15 beautiful ancient villages in the world by the website Journeyetc.com, this floating village earns a lot of respect from visitors all over the world because of their sense of responsibility when it comes to keeping their surroundings clean. Every day, locals roam around the village by boat to collect garbage and floating waste along the waters to reduce the risk of water pollution that could potentially harm their families and the rest of the community.
Overview of Cua Van Floating Village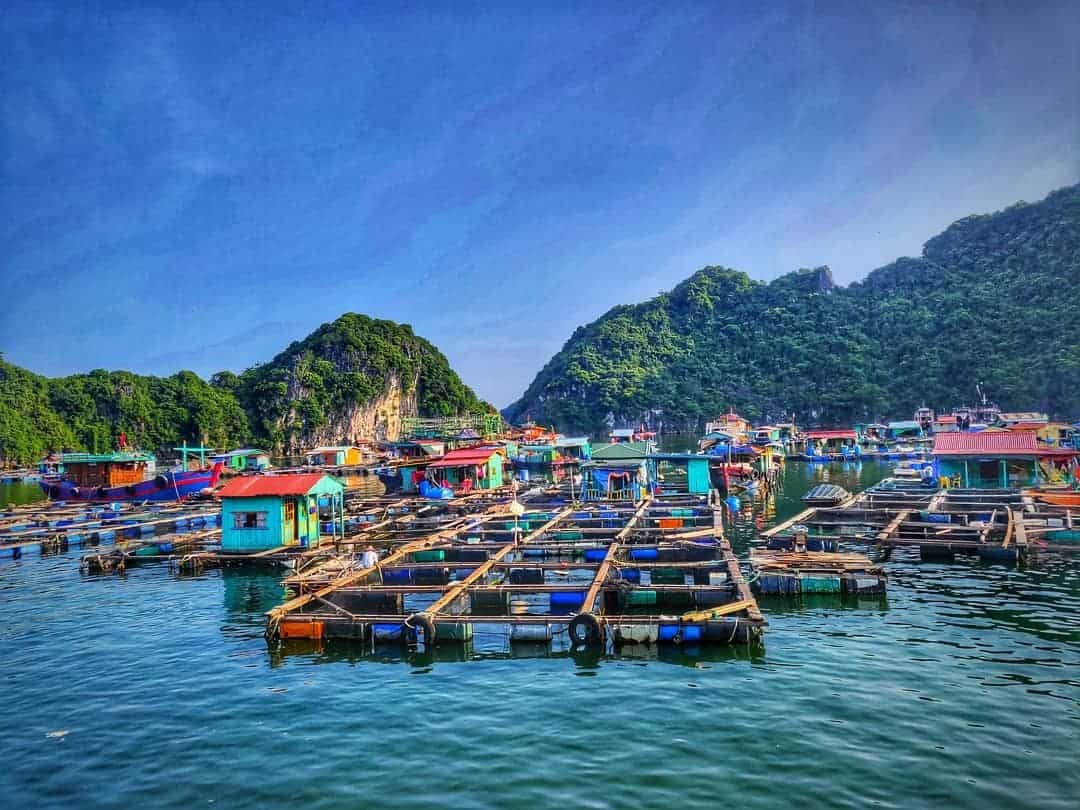 Source: @travelwithanza
Cua Van floating village belongs to one of Halong Bay's tourism development programs, including other famous tourist attractions like Ba Ham Lake, Tieng Ong Cave… To be more specific, the village is situated 20km away from the Tuan Chau Island nearby, which is equivalent to an approximately 2-hour trip by boat.
Cua Van of former times used to be among the biggest floating villages of Halong Bay residential area. Despite being in the middle of the sea, Cua Van village is not disturbed by the strong wind blowing in different directions. The main reason behind that is the surrounding cluster of islands which prevents the rush of air from completely getting through, acting as an important contributing place for boats to anchor themselves when a storm hits the zone.
In 2014, the authority started resettling families and residents to the mainland in order that they could reap more benefits from the flourishing economy and tourism development. However, a minority of Cua Van local people chose to remain offshore in the daytime, earn a living by traditional fishing or running services for tourists.
Best Time to Visit Cua Van Floating Village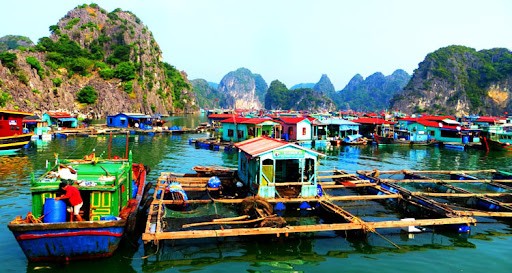 Photo: Paradise Elegance Cruise Halong
When is the best time to visit Cua Van fishing village in a year? The answer is from October to September next year. Especially, you are highly advised to avoid July and August due to the fact that in two months, there are usually a lot of tropical cyclones and depressions or rain and rough sea in Vietnam.
The period from October to September next year is also divided into two peak seasons, one for domestic tourists and the other for foreign tourists. The peak season of foreign tourists in Vinh Ha Long, in common, and Cua Van, in particular, is from October to April next year. Maybe this period in foreign countries is in the winter vacation and new year holiday and tropical countries with higher average temperatures and cheap costs are ideal choices.
Highlights of Cua Van Floating Village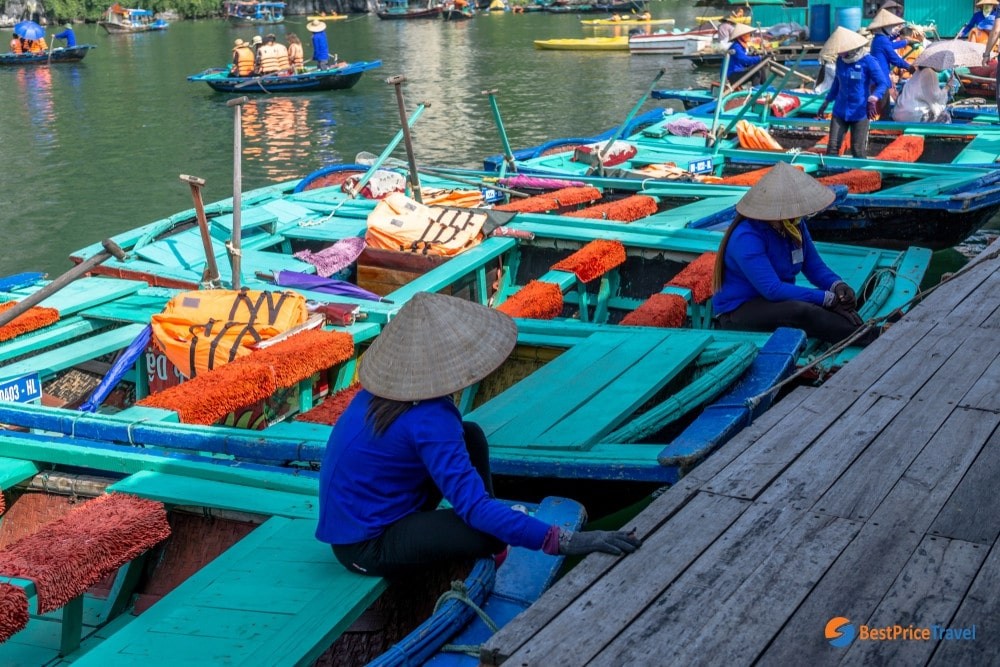 Photo: BestPrice Travel
Why has Cua Van become so well-liked with not only domestic tourists but also foreign visitors? What are the unique features of the fishing village attracting a lot of tourists?
To be honest, everyone who pays Cua Van a visit would be struck by its beauty that is almost nowhere else to be found, not to mention the grandiose scenery of Halong Bay.
Leave the bustle and hustle of big cities behind and find yourself here immersed in the tranquility. There are over 300 households in the area, living in houseboats tightly attached to each other so that they stand fewer chances of being blown by strong winds.
One of the most original characteristics of Cua Van floating village is a whole host of small boats and rafts anchored in front of every house, embodying the spirit of fishermen who hope to bring a brighter future to their kids and family. The native residents of Cua Van are warm, hospitable and friendly, always trying to make people feel welcome. If you happen to meet some kids, don't forget to wave, they'll be all smiles and happy to show you all the village's hidden attractions.
5 Captivating Tourist Spots in Binh Dinh

From picturesque mountains, mighty rivers, and stunning beaches to centuries-old temples and tourist sites, the south-central province of Binh Dinh has everything.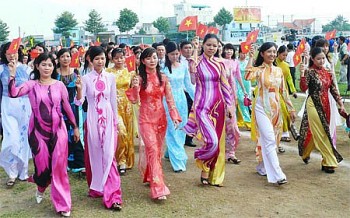 Viet's Home
Vietnamese women have always been paramount in shaping culture and protecting the homeland. To honour their sacrifices and celebrate Vietnam's Women's Day, Vietnam Times has complied a brief list of several amazing Vietnamese throughout the country's lengthy history in an American journalist's eyes.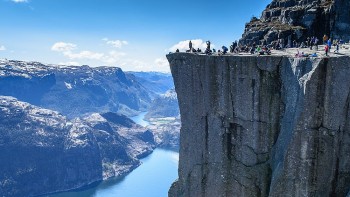 Travel
The Sverd I Fjell, an prominent monument created be the Norwegian sculptor Fritz Røed, are giant swords in stone located in Hafrsfjord, a suburb of the city of Stavanger in Norway.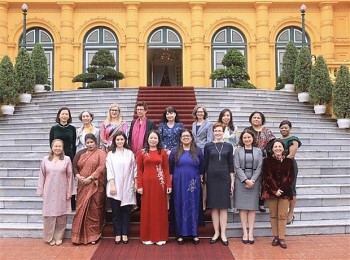 Viet's Home
Vice President Vo Thi Anh Xuan has urged female foreign ambassadors and chargés d' affaires to further contribute to facilitating travelling and trading between Vietnam and other countries.