Two-way trade between Vietnam and Thailand strives for USD 25 billion by 2025
Thailand's Prime Minister Prayut Chan-o-cha and Vietnamese Prime Minister Pham Minh Chinh agreed that the two countries should strive for USD 25 billion in two-way trade by 2025 during their phone talks on Wednesday.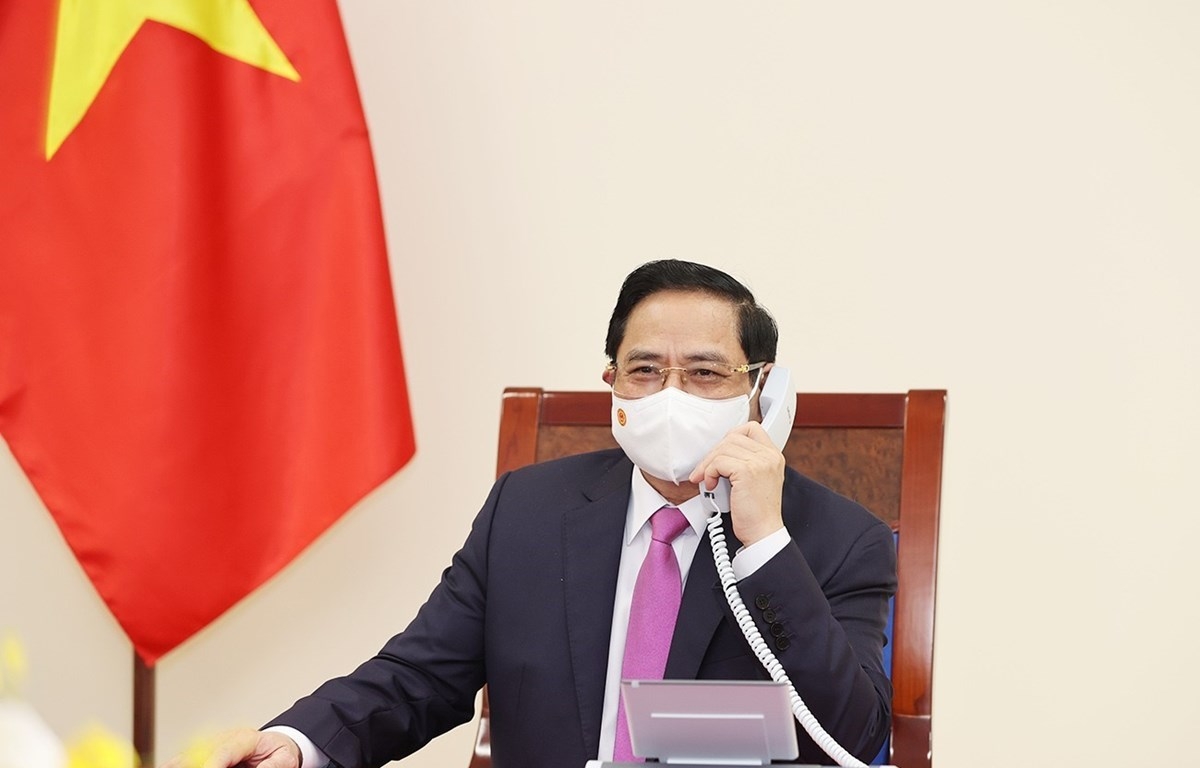 Vietnamese Prime Minister Pham Minh Chinh holds phone talks with his Thai counterpart Prayut Chan-o-cha on Wednesday. Photo VNA
PM Chinh affirmed to create favourable conditions for and encourage Thai firms to do business and investment in Vietnam in such fields as energy, tourism, hi-tech agriculture, digital technology and automobile supporting industry to obtain that goal.
The two leaders discussed various aspects of bilateral co-operation, including facilitation of travel protocols between the two countries.
They agreed to facilitate the negotiations of priority travel mechanisms between the two countries and co-operation in ensuring safe and effective access to vaccine supplies, in a bid for sustainable post-pandemic socio-economic recovery.
The Thai leader praised Vietnam's competent handling of the Covid-19 pandemic along with socio-economic development, successful fulfilment of its role as Chair of the Association of the Southeast Asian Nations (ASEAN) in 2020 as well as as a non-permanent member of the United Nations Security Council – especially as the President of the council in April this year, and the country's role in regional and international affairs.
Discussing specific measures to boost bilateral ties, the Government leaders requested relevant agencies to coordinate in organising activities in celebration of the 45th anniversary of bilateral diplomatic relations this year, maintain and promote the efficiency of cooperation mechanisms, including the organisation of the fourth joint Cabinet meeting at an appropriate time, soon sign an action programme implementing the Vietnam-Thailand enhanced strategic partnership for 2021-2025, and strive for USD 25 billion in two-way trade by 2025.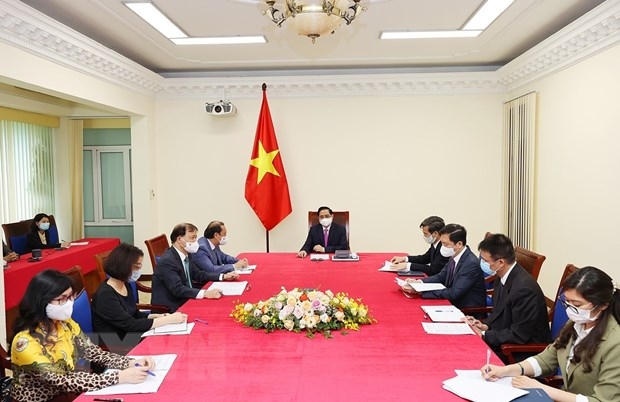 The two leaders discuss specific measures to boost bilateral ties. Photo VNA
Regarding regional and international co-operation, they agreed to boost mutual support in multilateral mechanisms such as the United Nations, ASEAN, APEC (Asia-Pacific Economic Cooperation forum), and to promote transport connectivity and sustainable development in the Greater Mekong Subregion.
The Vietnamese PM asked Thailand to back Việt Nam's in its bid to be the host country of the ASEAN Regional Center on Public Health Emergencies and Emerging Diseases (ACPHEED). The two leaders shared the importance of strengthening solidarity and maintaining ASEAN's stance on the South China Sea (known in Việt Nam as the East Sea) issue, as well as holding negotiations to achieve an effective and substantive Code of Conduct in the South China Sea (COC) in line with international law, including the 1982 United Nations Convention on the Law of the Sea.
Regarding the Myanmar issue, they affirmed ASEAN's central role in supporting Myanmar to overcome current challenges and agreed to cooperate with ASEAN to promote the implementation of the ASEAN leaders' agreement on this issue.
Prayut Chan-o-cha congratulated Vietnamese Prime Minister Chinh on his election to the post and invited the Vietnamese leader to soon pay an official visit to Thailand./.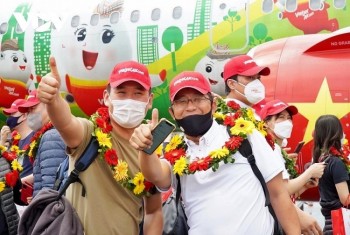 National
Vietnam News Today (Jan. 26): Vietnam reports 15,699 more domestic Covid-19 cases; Vietnam told to reopen to international tourism ahead of SEA Games 31; Germany donates four million more vaccine doses to Vietnam; Vietnam has opportunity to become global leader in renewable energy.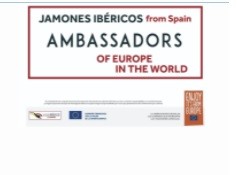 Economy
HONG KONG SAR - Media OutReach - 25 January 2022 - ASICI, with the support of the EU, launches "Iberian Hams from Spain, Ambassadors of Europe in the World," the most important international promotional program carried out by the Iberian sector in its history. The historic campaign plans to increase sales by 60% in the Asian giant, bringing the excellence of this cultured product closer to more than 111 million Chinese consumers and 70,000 restaurateurs. Within the framework of this innovative global project, a battery of sensory, emotional, and spectacular actions will be promoted to show Chinese consumers what it means to enjoy
January 25, 2022 | 12:30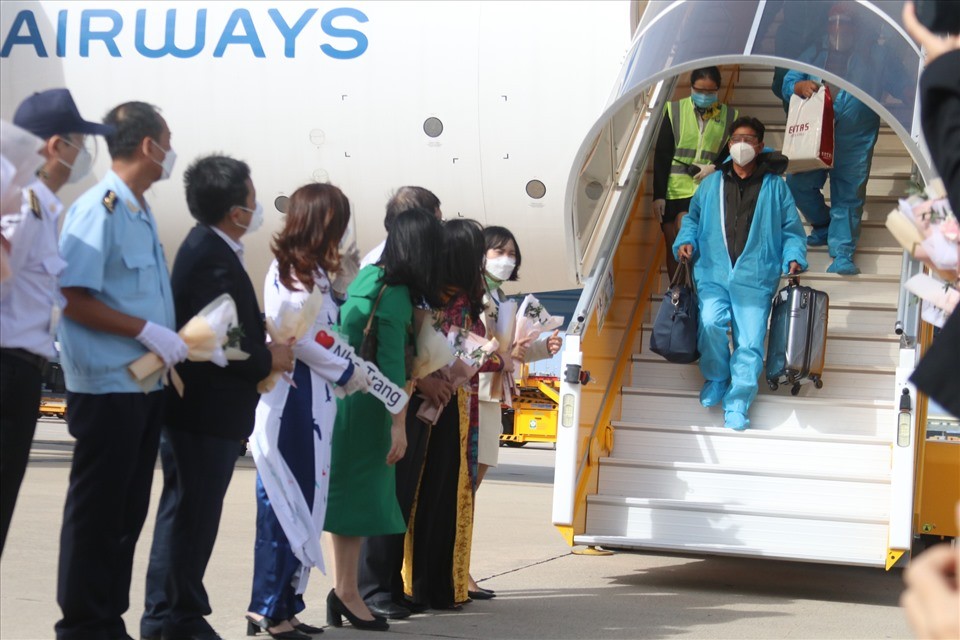 Economy
More than 8,500 foreign tourists have come to Vietnam under the Government's pilot plan to welcome international tourists in the pandemic's era of new normalcy.
January 25, 2022 | 12:05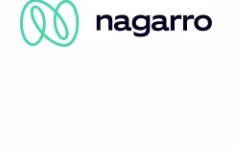 Economy
MUNICH, GERMANY - EQS Newswire - 24 January 2022 - Nagarro, a global leader in digital engineering, has reached an agreement with the shareholders of RipeConcepts, a leader in global digital creative services, to bring the companies together.
January 24, 2022 | 20:50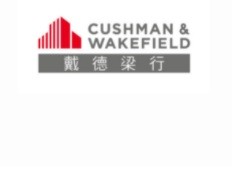 Economy
Hong Kong is in sixth position in 2022 data center global rankingsShanghai retains fourth-placed ranking for total market size HONG KONG SAR - Media OutReach - 24 January 2022 - Asia Pacific's data center market continues to grow at a relentless pace and is set to become the world's largest data center region over the next decade.
January 24, 2022 | 14:30