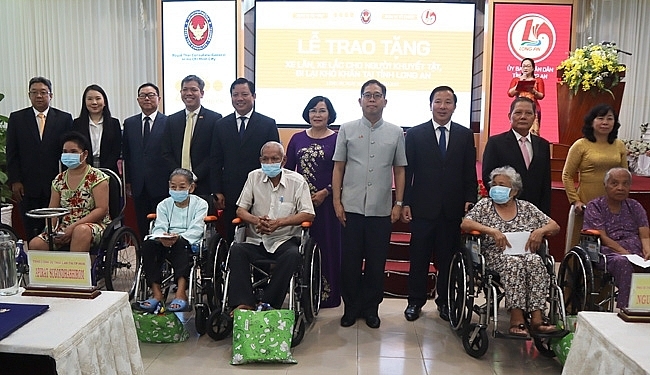 At the handover ceremony.
Attending the ceremony were Deputy Secretary of the Provincial Party Committee, Chairman of Long An Provincial People's Committee Nguyen Van Ut; Vice Chairman of Provincial People's Committee Pham Tan Hoa; Consul General of Thailand in Ho Chi Minh City Apirat Sugondhabhirom and leaders of related departments.
Speaking at the ceremony, Consul General Apirat Sugondhabhirom said Long An province is one of the important economic partners of Thailand in Vietnam because of head office of more than 20 Thai enterprises here. These businesses operate in the fields of production and processing of agricultural products, seafood, textiles and garments, and chemicals.
On this occasion, 4 Oranges Co., Ltd. also donated 180 wheelchairs and 20 tricycles to people with disabilities and mobility difficulties in Long An province, with a total value of more than VND 910 million (USD 39.600).
The Thai Consul General expressed his honor to witness the handover that demonstrate the community responsibility of 4 Oranges Co., Ltd.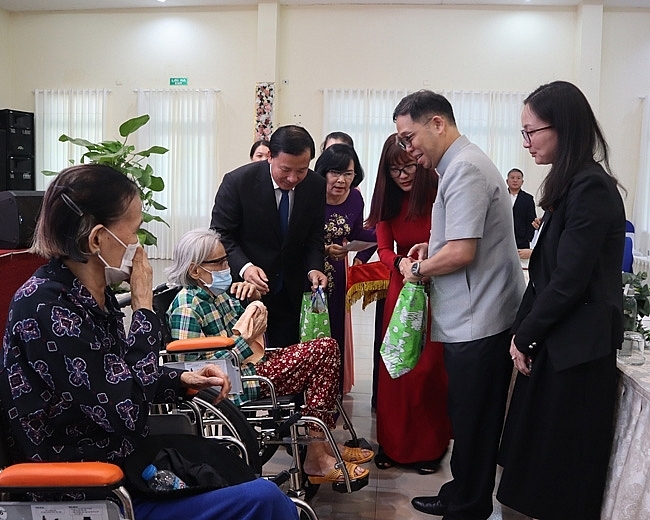 Thai Consulate General donates wheelchairs to disabled people in Long An.
Currently, in Long An province, there are 34,161 people with disabilities, of which there are 16,443 people with mobility disabilities and 26,927 elderly people over 80 years old. The sponsors support wheelchairs, tricycles and walkers to help them reintegrate into life and self-rise to alleviate the burden on the family.
Speaking at the ceremony, Long An Provincial People's Committee Vice Chairman Pham Tan Hoa expressed his deep gratitude and wishes to continue to receive more attention, help and companionship in the coming time from the Consulate General of Thailand and 4 Oranges Co., Ltd. These are practical actions to support, share and help people with disabilities and elderly people with difficulties, so that they can have means of transportation, facilitating their living and be able to improve daily life, integrate into the community.
The Vice Chairman of the Provincial People's Committee also suggested departments, agencies and localities continue to mobilize all resources to support and help people with disabilities and disadvantages people. He asked provincial leaders, provincial departments and everyone are always accompanying, supporting, helping, so that no-one in our community should be left behind./.
Hannah Nguyen