Uber CTO Thuan Pham: Behind any success are many failures
(VNF) – "Failure is valuable, too, as it adds to your experiences", said Thuan Pham, Chief Technology Officer of Uber Global, a renowned Vietnamese American in Silicon Valley.
(VNF) – "Failure is valuable, too, as it enriches experiences", said Thuan Pham, Chief Technology Officer of Uber Inc, a renowned Vietnamese American in Silicon Valley.
Thuan Pham (L), the Vietnamese CTO of Uber Global (source: VNN)
Can you share with us your daily routine?
I am not sure whether or not I have a fix daily routine. My everyday is different from one another.
I often leave home at 7 am and come back at 9:30 pm.
I have dinner afterwards and go online for 1 to 2 hours.
On weekday, most of my time is spent on work, while on weekend it is dedicated to my family, especially my daughter.
Every weekend, I worked as an Uber driver for my daughter, taking her to painting and karatedo class. While she enters her classroom, I will sit a nearby Starbuck and do my work. These are things that make me happy. It wouldn't be me without a passion. And I find my passion in my job and my family.
Is there anything special about your principles in work?
I like meeting people and communicating with them. I want to create an open atmosphere, so others won't think that I am a distant person.
I love receiving emails which point out my mistakes. If people mind telling me about those things, I won't be able to improve. It is part of the self-improvement journey, and also a way to strength my relationships. To me, those ocassions serve as opportunities to gain insights of what my organization and colleagues need, so I can make the best decisions for the benefit of them.
When you first joined Uber, the company operated in 60 cities, employing 40 technicians. In only 4 years, you have increased the number of technical staff to over 2,000, serving customers in over 450 cities worldwide. Was that a big pressure?
I joined Uber when the company was at its fierce growth, which surpassed our capabilities. I had to rely on my intuitions, experiences and all resources to come up with a number of difficult decisions, which required to be made within one day, in order to survive and continue with the next moves.
In the first couples of years, two or three times a week, I woke up at midnight to deal with the breakdown of the system and other errors. Initially, I often asked myself the question: Why failures keep occuring, despite being closely monitored?
Actually it is impossible to forecast everything. All of the problems that came were those which I was not able to predict, and it creates pressures.
What is your viewpoints on success?
I think behind any success are many failures. In the first 18 months working for Uber, I failed at least once a week, nonetheless, I never wasted it. If you have to pay for your mistake, please find the value it offers. The most important thing to do with crisis is to enrich yourself with experiences and knowledges from it.
Thuan Pham (L) talking to Vietnamese youngsters at Hanoi University of Technology, July 2017 (source: VNN)
As a successful US citizen of Vietnamese descend, what is your advice for the youngsters, when the theme "startup" has been in the spotlight in recent years?
Looking back on 26 years ago, I never had the thought that I would be in charge of this position. The idea did not come to me until 4 years ago.
In my opions, the most important thing you can and should do is planning to learn as much as possible. Think about the job you are doing, and question yourself: is it challenging you, forcing you to learn new things? Do you enjoy learning new things each day, each week. In case you begin to get bored of your job, look for a new one which is more challenging, to make the best use of your capabilities.
You had to deal with a lot of challenges to integrate in the American society as a young boy, and then built everything from scratch. How did you overcome those obstacles?
I never let myself feel satisfied with what I've done, and keep seeking new challenges. I moved from a company that employs thousands of staff to the smaller-scale firm with 1,000 or even 10 staff.
The only point of time when I feel good is when I truly understand my job, and I can get it done well. If it stops bringing me challenges, it's time for a new job.
Moreover, please look for the job that can utilize your experiences. Ten or twenty years later, you'll see clearly what you have built for yourself and your true value. Try your best in whaterver you do and opportunities will come./.
Born in Vietnam, Thuan Pham migrated to the US at the age of 10. In 1986, he got admitted to faculty of computer science in Massachusetts Institute of Technology (MIT).
After graduating from the university, he started his first ventures in his career by working for HP Labs, Silicon Graphics, DoubleClick and VMWare. He joined Uber Inc in 2013 and became Chief Technology Officer afterwards.
In 2016, Thuan Pham was honored in the list of Great Immigrants Honorees: The Pride of America.
( Translated by VNF )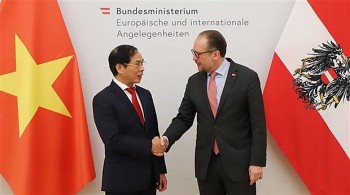 Overseas Vietnamese
Fifty years have passed since the establishment of the relationship, the two countries have enjoyed great strides in bilateral cooperation.