UK and Europe weather forecast latest, August 5: Scorching to bake Britain with the high 30s temperatures
Temperature is forecasted to soar in Britain with the high 30s this week and thunderstorms battle Europe before scorching hot air in Europe hits 45.7C.
UK's weather forecast
HOT WEATHER will make a fierce return in the UK as temperatures soar into the high 30s this week.
Forecasters have said temperatures will reach as high as 96.8F (36C) as Britons head into the weekend. High pressure and winds travelling from Europe will kick start the next heatwave across Britain.
Bonnie Diamond, Met Office forecaster said there will be a "warm spell across the UK", with the highest temperatures "focused in the southeast of England".
She added: "At the minute and with high confidence, we are expecting 34C to 36C by Friday and Saturday."
Southerly winds from Europe and high pressure patterns from Thursday will cause the dramatic increase in temperatures.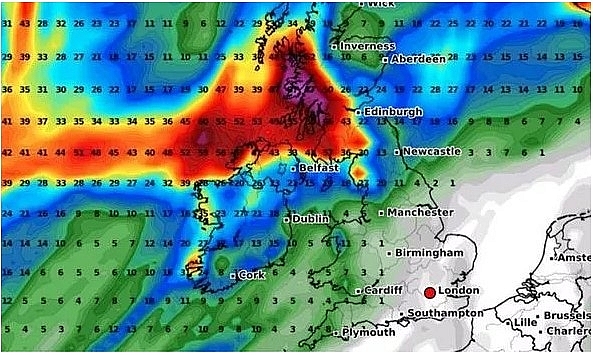 UK hot weather MAP: Scorching Azores plume to blast Britain with 97F heatwave (Image: WXCHARTS)
The hot weather expected this week comes after the UK recorded its third hottest day on record last Friday. The mercury rocketed to 37.8C (100F) at Heathrow Airport on Friday.
The highest ever UK temperature remains 38.7C (102F) recorded on 25 July 2019 in Cambridge University Botanic Garden.
The Coastguard said Friday was one of the busiest days for more than four years as Britons flocked to the UK's beaches.
They said most of the problems were people being cut off by the tide, swimmers getting into difficulty and missing children.
The Coastguard responded to 329 calls on Friday including 22 who required an aircraft. Councils said beaches were "unmanageable" due to the "exceptional" number of people.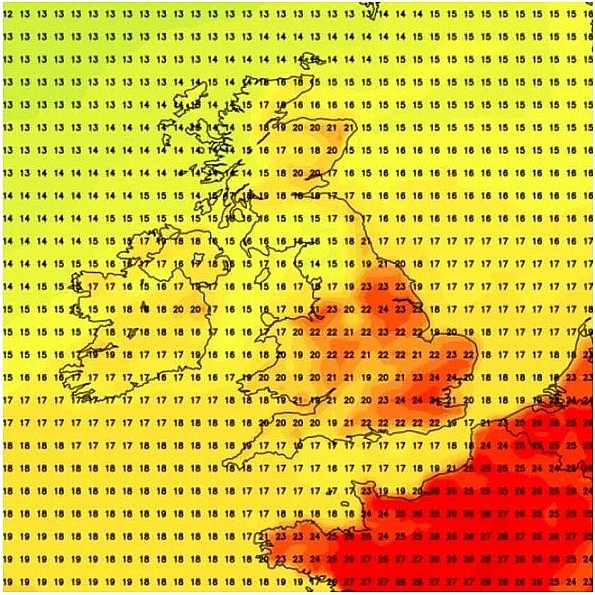 Hot weather will make a fierce return in the UK as temperatures soar into the high 30s (Image: Netweather)
Brighton and Hove City council asked people to avoid travelling there as they were "concerned" about the number of people in the city. But the start of this week will be mixed according to forecasters.
Tuesday will see heavy rain in Northern Ireland and Scotland. Southern parts of the UK will continue to enjoy sunny spells and warm weather.
Threats of flooding and localised disruption are in place with yellow weather warnings for parts of central and eastern Scotland today.
Flooding of some homes and businesses is expected in western Scotland. Bus and train services are likely to be affected due to flooding on roads in the area.
As Wednesday arrives, the weather will start to settle in preparation for the upcoming heatwave.
Ms Diamond said: "It is going to turn hot across the South East, where temperatures are going to be well into the 30s."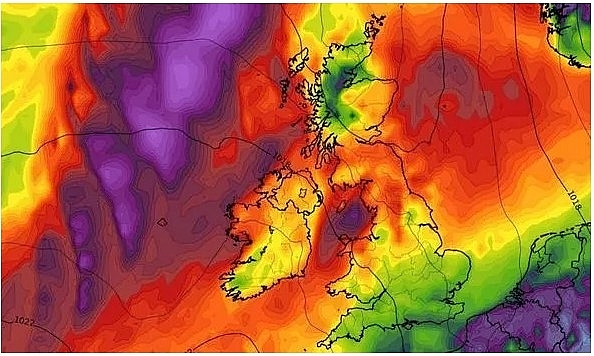 Forecasters have said temperatures will reach as high as 96.8F (36C) (Image: WXCHARTS)
Pollen and UV levels will be high on Friday and Saturday in England. But the heatwave at the weekend could trigger thunderstorms.
The Met Office are also warning there are likely to be high UV levels in some areas which people will need to prepare for later this week.
Met Office chief meteorologist Frank Saunders said: "Most of us will see a spell of warm, summery weather later this week, with hot weather developing across southern parts of the UK.
"From Thursday temperatures will be in the low- to mid-20s Celsius for Northern Ireland, Scotland and north Wales, but it will be much warmer across southern and central areas, with temperatures widely reaching around 30 Celsius, possibly 32 Celsius in the southeast of England.
"It'll be another hot day on Friday with temperatures widely reaching 30 Celsius, or higher, in central, southern and some northern parts of England.
"It is likely to be hotter still in southeast England where 34 to 37 Celsius is possible.
"Saturday will likely be another hot day for southern and central parts of the UK, with heatwave conditions possibly being met in parts of southern and southeast England."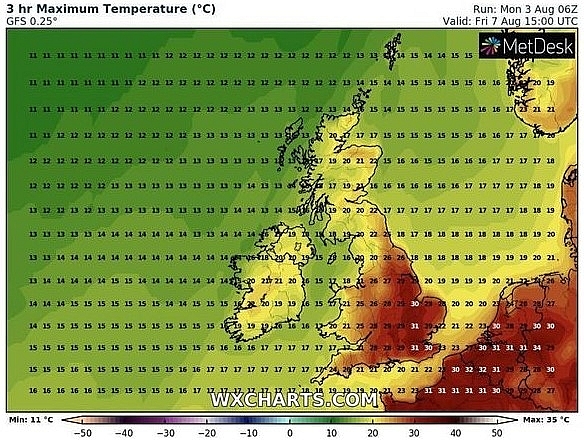 Met Office weather alert: Friday will be a scorching day for much of England (Image: WXCHARTS)
WXCHARTS maps, which use data from MetDesk, show most of England as red on maximum temperature charts this Friday, indicating widespread hot weather could be in store.
The hottest areas are forecast to be much of southern, central and eastern England. However parts of Wales and northern England could also expect to see temperatures above 25C on Friday.
As well as scorching temperatures, the Met Office are also predicting thunderstorms could occur across southern parts of the UK this weekend.
Met Office deputy chief meteorologist David Oliver said: "High temperatures could trigger some thunderstorms across southern parts of the UK over the weekend, but for most there will be plenty of dry and sunny weather.
"At the moment there is some uncertainty as to how long the hot spell of weather will last, so stay up to date with the latest Met Office forecast."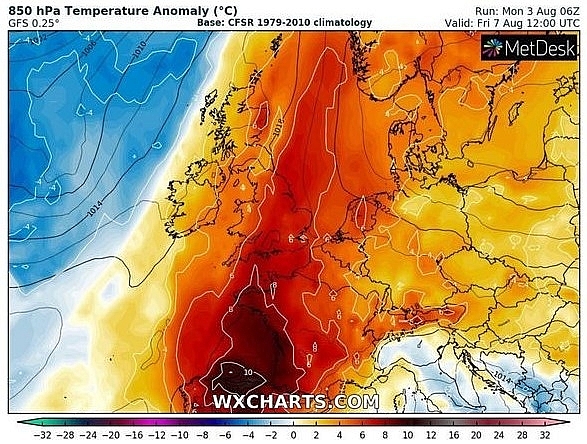 Met Office weather alert: The Met Office forecast heatwave conditions could be possible this week (Image: WXCHARTS)
Before the arrival of heat weather later this week, much of the UK can expect wet and windy conditions as we head into midweek.
A Met Office weather warning for rain has already been issued across some western parts of Scotland for Tuesday.
But after the wet and windy spell passes, according to the bookmakers the UK could be set for another record-breaking day in 2020 before the week is out.
Ladbrokes make it a 4/1 shot that 37.8C is matched or beaten this week.
Alex Apati of Ladbrokes said: "Don't be surprised to see even more scorching temperatures recorded this week as temperatures continue to remain in the mid-30Cs."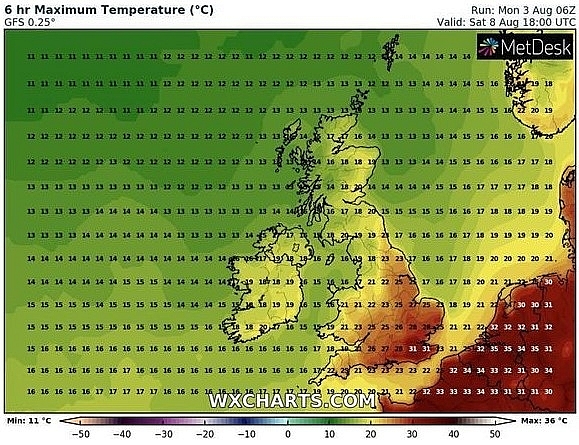 Met Office weather alert: Saturday is also expected to see warm weather in many areas (Image: WXCHARTS)
Europe's weather forecast
BBC weather has rising temperatures in Europe this week as the heat from Spain is set to be pushed into France and London for a heatwave on Friday.
BBC Weather's Darren Bett said thunderstorms and heavy rain are currently moving across central Europe into the Balkans and northern Greece by Wednesday. Highs of 35C are expected in Spain as the hot air will move northwards to France and Britain. But thunderstorms and heavy rain will be around mid-week before the heatwave.
Mr Bett said: "It's going to turn hot again across western Europe later this week. The more recent heat we've seen in Europe is getting squeezed into eastern areas as we have cloud coming in from the west and that is dropping the temperatures.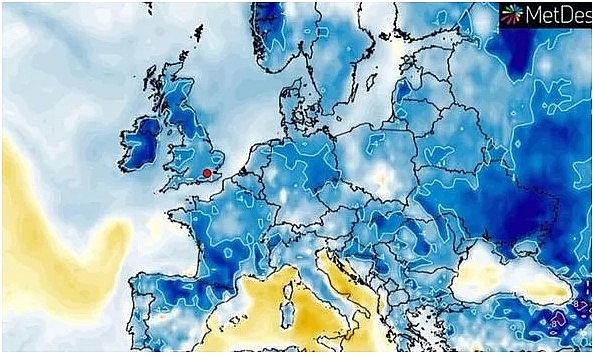 BBC Weather warning: 'Ferocious thunderstorms' to batter Europe and force temperature drop (Image: WXCHARTS)
"It's also dropping a lot of rain on Tuesday. "To the west after that rain, there is some sunshine around. "We've still got the warmth in Iberia and that's where the heat will build up from again later on in the week.
"For eastern areas of Europe, it is still mostly dry and warm on Tuesday but we do have this zone of cloud with heavy rain and thunderstorms effecting northern parts of Italy, Austria, Hungary, Slovenia and Crotatia.
"All that rain and thunderstorms will be moving southwards across Italy and into the Balkans. "After showers will start to ease off in Italy so the warmth and sunshine will return to Rome.
"We've still got high temperatures and heat in Spain and that will warmth will push its way up to France and London with the peak of heat on Friday."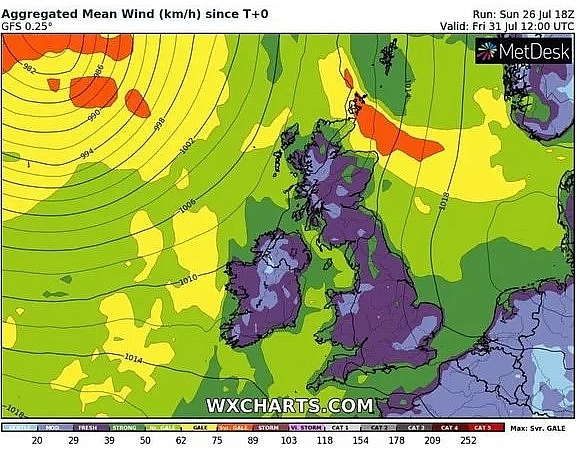 Hot air is sweeping north from France (Image: WXCHARTS)
Parts of the UK are set for a scorching weekend with temperatures that could reach 36C.
Met Office forecaster Bonnie Diamond said the hot weather will be part of a "warm spell across the UK" but the highest temperatures are expected to be "focused in the south-east of England".
Ms Diamond said there will be a "mixed" spell of weather at the start of the week. But she added: "At the minute, and with high confidence, we are expecting 34C to 36C by Friday and Saturday."
These high temperatures are the result of southerly winds moving from Europe and high pressure patterns that are set to kick in from around Thursday.
Ms Diamond said: "The pressure pattern is generally high so in combination with the southerly winds and high pressure we get settled, sunny and hot weather."
It is due to come after a "mixed start" to the week. Sunny spells and generally settled weather can be enjoyed across southern areas but heavy rain is on the way for Northern Ireland and Scotland on Tuesday.
On August 5
According to weatheronline.co.uk, a largely dry and sunny day for Spain and Portugal during mid week. There could be a few scattered showers for the Balearic Island but mostly dry here. Winds gradually easing across Corsica and it should stay mainly dry as well as for Sardinia. Outbreaks of rain, some thundery and heavy, for central and southern Italy. Greece will also turn unsettled with heavy and thundery downpours in the north. Turkey should stay dry throughout.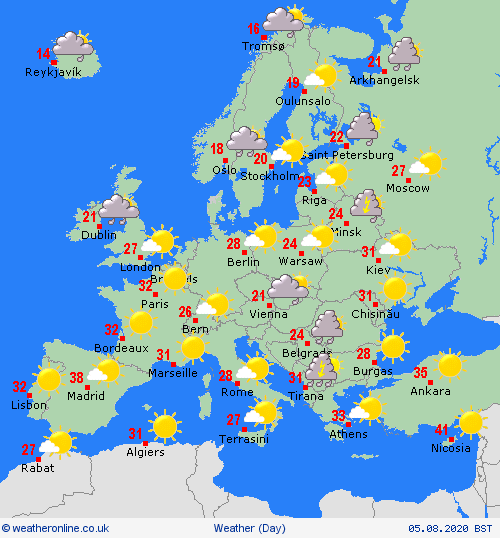 Photo: weatheronline.co.uk
A dry and fine day across France, Germany, the far north of Italy and Switzerland. Some scattered showers for Austria and prolonged rain across Hungary and Croatia. The far south of Poland too may just see cloudier skies and possible patchy light rain but generally Poland will be dry and fine.
Rain over southern Norway as well as southwest Sweden. Largely dry further north but with some outbreaks of rain affecting the far north of Sweden. Southern and central Finland will be largely dry but the north will be wet with rain throughout the day. A dry and fine day for the Baltic States. Denmark will be breezy with spells of mainly light rain.