UK and Europe weather forecast latest, December 15: A persistent band of blustery rain to cover the UK
The UK is forecasted to bear blustery rain with a persistent band despite a little bit of sunshine. Meanwhile, Unsettled conditions is likely to batter across northwest Europe, low pressure filling over the eastern Med and high pressure being across eastern Europe.
UK'S Weather forecast
The BBC Weather forecaster said temperatures will grow colder compared to previous days as overnight showers develop further through the day. Carol Kirkwood said the conditions are expected to remain rainy most of Monday, with the rainfall persisting in some areas as we move into Tuesday. The BBC meteorologist said: "This morning is less mild outside. Temperatures are currently between 8C and 12C but today nobody is immune to a shower."
"The forecast is one of a little bit of sunshine but also blustery showers. We've had some heavy ones overnight, we've had some heavier rain as well pushing through the course of the night and some of that has been thundery."
"Through today, very similar conditions in that. We're looking at showers or longer spells of rain. Most of those will be in the north and west but we will some of those get into central areas, this afternoon a weather front coming out across the southeast will bring in some showers."
She added: "Temperatures today in high single figures or low double figures."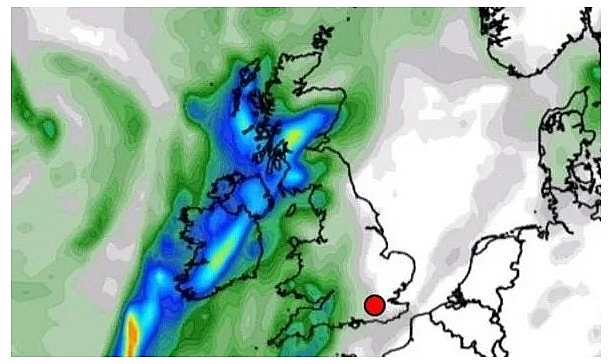 BBC Weather: Unsettled conditions are expected to stay unsettled this week (Image: WX CHARTS)
Ms Kirkwood noted the rainy conditions will peter out across the southeast as the wet weather front moves into the North Sea as we head overnight.
But areas across the north and the west of the UK are unlikely to shake off the showers as she warned some could "merge" through Tuesday and become heavier.
The BBC Weather forecaster continued: "As we head through the evening and overnight, that front in the southeast eventually clears off with its showers into the North Sea but another coming into the northwest will introduce some rain."
"Many of the showers will be soft and the wind will ease down. As we head through tomorrow it's a similar story in that in the north and the west particularly, we're likely to see showers, some of them merging to get some longer spells of rain."
"But drier conditions across central and eastern areas. Once again, temperatures pretty good for this stage in December. We're looking at high single figures or indeed the low double figures."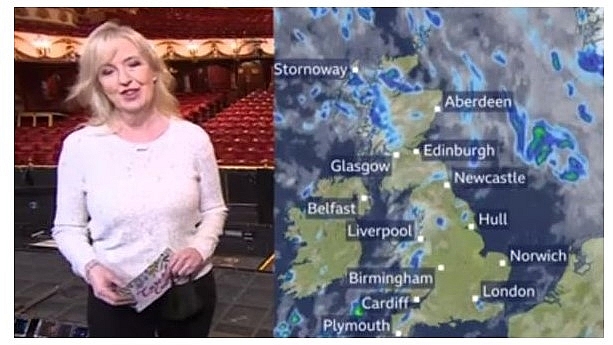 BBC Weather: Carol Kirkwood said Monday will be a day for "blustery showers" (Image: BBC WEATHER)
The Met Office's long-range forecast set a gloomy tone for the days leading up to Christmas, predicting the heavy showers will slowly turn into a "mixture of blustery showers and brighter spells."
The forecast said: "These unsettled conditions set to continue with showers likely heaviest in the west, whilst areas further east experiencing drier spells."
"Mild and windy across the UK, with coastal gales. Towards the end of the period, there is a greater chance of more settled conditions, mainly in the north and east, accompanied by increasing incidence of frost and fog."
"Rain or showers becoming less frequent and tending to become focussed across southern and western parts. Wintriness most likely confined to higher ground, but there remains a chance of snow temporarily to low levels."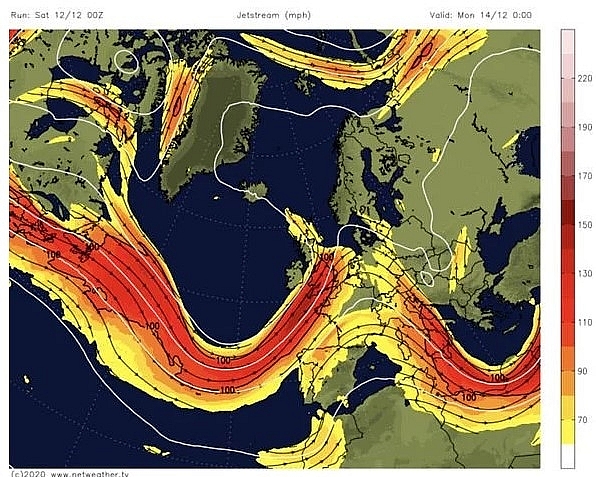 Jet stream swoops over Britain on Monday (Image: WX Charts)
On December 15
According to Weather Online, with low pressure still to the west of the UK, expect showers to affect western areas but it should stay largely dry further east. A wave pushing in on Monday night across southern and southeastern areas of England will bring rain here first thing before soon clearing. Cloud will thicken across southern Ireland and the far southwest England later on in the day as an area of low pressure pushes through the Celtic Sea. Highs at 7 to 11C.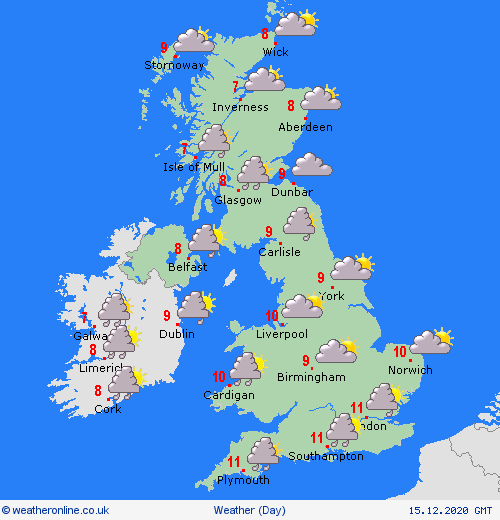 Photo: Weather Online
Europe's weather forecast
Rain now spreading right across Portugal and much of Spain by the end of the day. Staying dry for the Balearic Islands, Corsica and Sardinia. Morning rain affecting the far southern tip of Italy and the far southeastern areas of Siciliy will soon clear. Staying unsettled across the Greek islands and much of Turkey with heavy, thundery downpours. Brightening up across much of mainland Greece but windy along coasts here.
Rain across northern areas of France will sink south into central areas through the afternoon. Some patchy rain too affecting central and southern areas ahead of the band of rain. Rain, most persistent in the morning, across the Low Countries, will push into northwest Germany by the afternoon. Mainly dry for the rest of Germany. Largely dry elsewhere across central and eastern Europe with fog developing across many of these countries.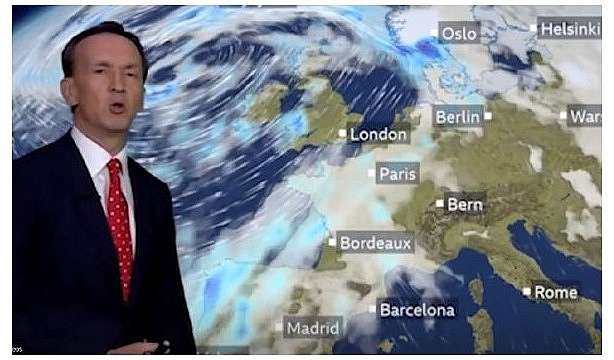 BBC Weather forecasted a wet Monday across Europe as rain washes over the continent. (Image: BBC )
Turning wet across Denmark as rain pushes in from the west. Heavier rain will push in to south Norway through the day. Patchy light rain further north across Sweden but largely dry elsewhere. Mainly dry and fine for Finland and the Baltic States.
On December 15
An improving day across Portugal and Spain with exception to the far northwest where rain is still expected. It will become progressively drier. Dry and fine conditions across the Balearic Islands and Italy. Improving conditions across Greece and it's islands as well as west Turkey as thundery showers become more confined to eastern areas of Turkey, Weather Online reported.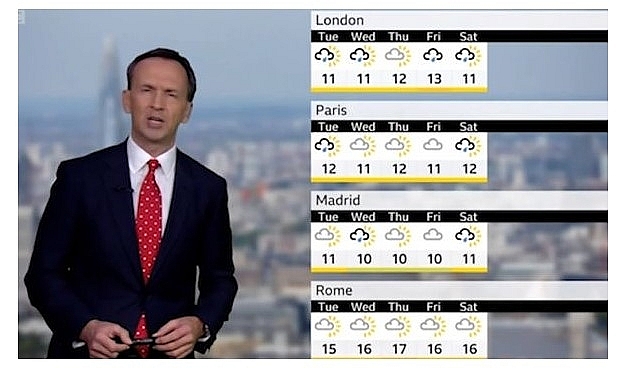 BBC Weather: Mr Miller also argued it will feel mild in parts of western Europe through the week (Image: BBC)
A band of rain will push southeastwards across France with heavy rainfall expected in the southeast of the country. Rain will also affect the Low Countries through the morning but should clear with drier conditions in the afternoon. Western areas of Germany will too see rain but this will turn patchy as it moves into central areas through the afternoon. Eastern areas staying dry. Western parst of Austria will see more cloud and some patchy rain (snow over higher ground) while eastern parts should remian dry. Dry across Switzerland as well as the Balkan States and eastern Europe.
Rain will sweep from south to north across Norway and Sweden. Drier weather inbetween. Largely dry across Finland through the morning but cloud and patchy light rain will push in during the afternoon. It will be an increasingly unsettled day across Denmark as rain becomes heavier and more persistent. Largely dry across the Baltics, however, western fringes will get hit by some cloud and patchy rain.
Photo: Weather Online