UK and Europe weather forecast latest, December 14: Fierce winds and heavy downpours to bombard Britain amid icy weather
Britain is forecasted to bear fierce winds and heavy downpours amid freezing weather. Meanwhile, thundery showers is easing across The Aegean and turning more unsettled for northwest Europe.
UK's weather forecast
According to Express, Cyclonic Atlantic weather systems will unleash fierce winds and heavy downpours from Sunday as the jet swoops over Britain.
Mild air dragged in from the south next week will nudge temperatures in parts of the country into double figures although it will arrive laden with rain.
Further swerves in the jet stream in the days before Christmas threaten to unlock the gates to a plume of 'intensely frigid air' from the North Pole. Long-range forecasters have put the UK on alert for 'major snow' events during the final third of December.
Exacta Weather's James Madden said: "There is a growing chance that parts of the country could see some heavy falls of lasting snow in the week before Christmas."
"This will be driven by a shift in the jet stream which is forecast to veer southwards through the next 10 days bringing much colder conditions. One or two major snow events are not out of the question in some parts while elsewhere there will be a risk of cold rain and sheet ice."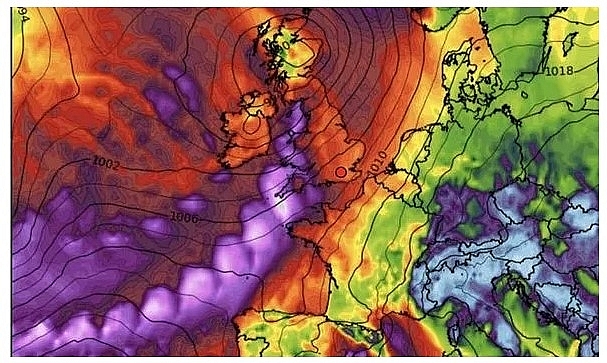 Violent winds batter Britain by mid week before the jet stream shifts causing snow and freezing temp (Image: WX charts)
Despite the mild run up to mid-month, a sharp plunge in temperatures may return a below-average monthly average, he warned.
Those heading away on the roads for Christmas should be careful of dense freezing fog and icy roads he added.
He said: "Widespread overnight frosts may become a dominant feature through the end of December. In regions where there is snowfall with wind snowstorm type events may be a risk."
"The predicted statistics for this period should bring colder than average temperatures in the Mean Central England Temperature range and above-average snowfall."
The warnings come as Britons brace for a stormy few days ahead as churning cyclones power in from the Atlantic. The thundering jet stream will pull 'energetic weather systems' into Britain through the coming days, according to John Hammond of Weathertrending.com.
The jet, travelling at a speed upwards of 150mph, shows signs of then shifting southwards to open the floodgates to a freezing plume from the Arctic.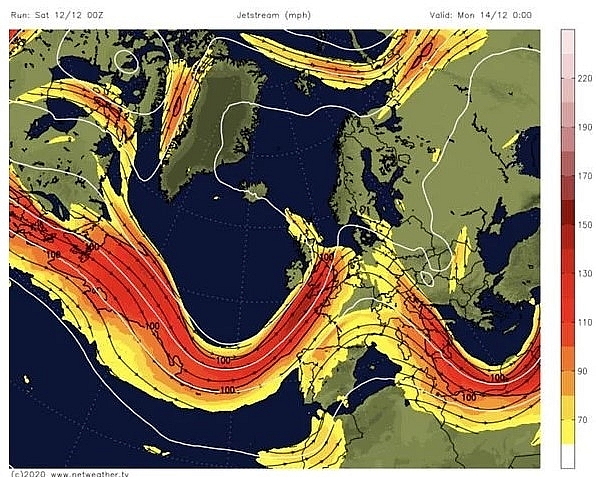 Jet stream swoops over Britain on Monday (Image: WX Charts)
Mr Hammond said: "Atlantic weather systems are gradually introducing milder air – a process that will continue through this weekend and into next week. With higher temperatures will come some wetter and windier weather as the jet stream powers energetic weather systems across the UK."
"Across the North Pole, high pressure is showing signs of pushing cold air further south, which will in turn have knock-on effect on the track of the jet stream."
"For the time being, this intensely frigid arctic air will remain distant from our shores. But, as the jet stream begins to edge southwards again, there'll be a cooling trend as the Winter Solstice approaches."
Unsettled conditions will start to pick up through the next 24 hours as low-pressure barrels in from the Atlantic. Wind and rain threaten to hold out through much of next week before the weather settles down at the weekend.
Amy Hodgson, senior meteorologist for The Weather Company (IBM), said: "The next area of low pressure approaches to the north-west on Sunday bringing further rainy and breezy conditions.
"Next week, temperatures are expected to remain above average for the time of year with the unsettled Atlantic flow bringing further spells of wet and windy weather under low pressure. There are indications of drier and more settled weather returning through the end of next week as high pressure begins to build from the east."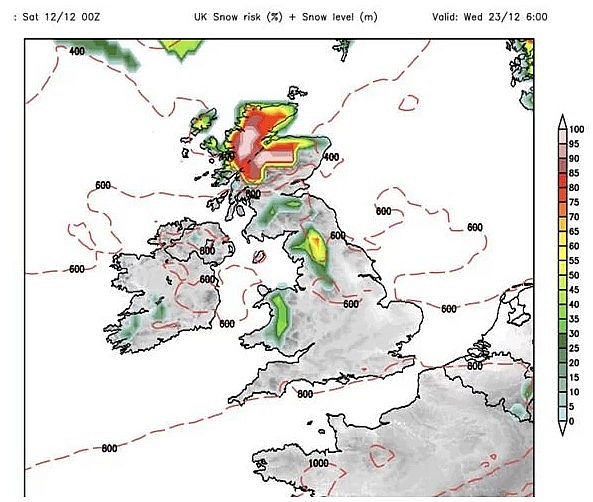 Snow risk growing in the run up to Christmas (Image: Netweather)
Weatheronline's Alexi Venerus added: "It is an unsettled week ahead as Atlantic low pressure pushes across all areas bringing heavy rain and strong winds at times. Temperatures will feel milder too, especially in the south."
Bookmakers have continued to slash the odds for Christmas snow as the forecasts point towards a festive chill. Coral is offering 5-1 on a White Christmas with Edinburgh and Newcastle most likely to see a flurry.
Spokesman Harry Aitkenhead said: "Everybody's dreaming of a White Christmas once again and our betting shows that it's certainly a possibility around the UK. Edinburgh is the most likely according to our odds, whilst London is a 5-1 chance."
Alex Apati of Ladbrokes added: "We're fast approaching freezing temperatures and with Christmas around the corner, it's now looking more likely than ever we'll see snow."
The Met Office warned of wind and rain to come later this weekend although it will feel milder next week.
Meteorologist Alex Deakin said: "Another weather system is waiting to move in and that will bring a band of rain swinging across the country on Sunday and the winds will be picking up. It's going to turn wet and increasingly windy and it's going to be a bit warmer by the weekend."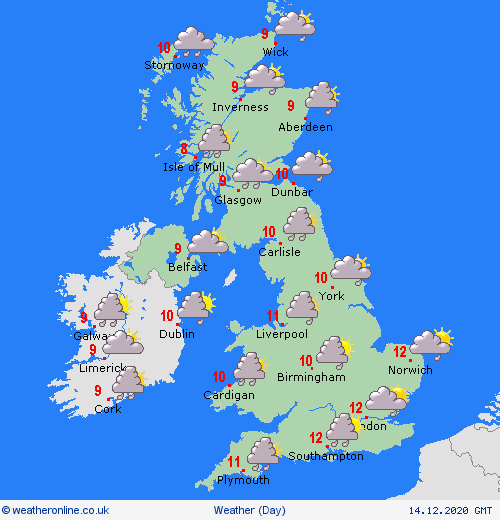 Photo: Weather Online
On December 14
According to Weather Online, rain clears from southeast England in the morning allowing for a largely dry and somewhat fine day across much of central and eastern areas of England. Frequent showers, some heavy, feed in across westwern parts of the country, including Ireland, these also affecting southern English coasts. Eastern areas look to stay mainly dry. There will be a brisk widespread wind but this should ease off slightly in the afternoon. Highs at a mild 8 to 12C.
Europe's weather forecast
Cloudy with patchy outbreaks of rain for Portugal and northwest Spain. Staying dry and fine for the rest of Spain and for the Balearic Islands, Corsica, Sardinia and much of Italy. Outbreaks of heavy thundery rain affect southern Italy and Sicily but these clear by the evening. Low pressure brings heavy thundery downpours to much of Greece and western Turkey through the day.
Scattered showers over northwestern France on Sunday with rain arriving here later. Staying dry and bright over central and southeastern areas. A mostly dry and fair day for Switzerland, Austria, Germany, the Czech Republic, Poland, Slovakia and Hungary with a chance of isolated wintry showers developing at times. Some patchy mist and fog developing in the east.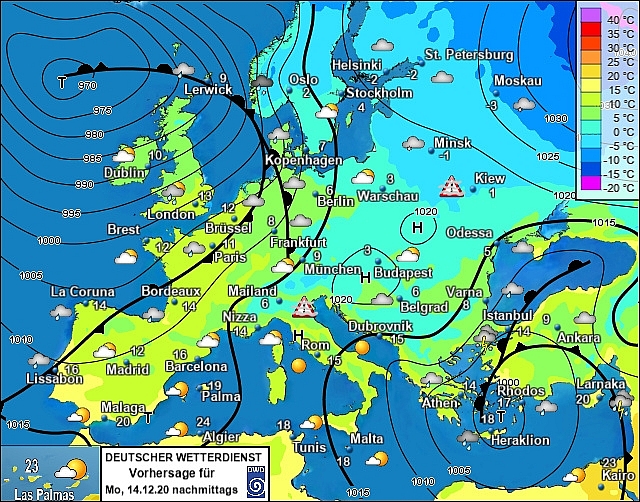 Photo: Stirimeteo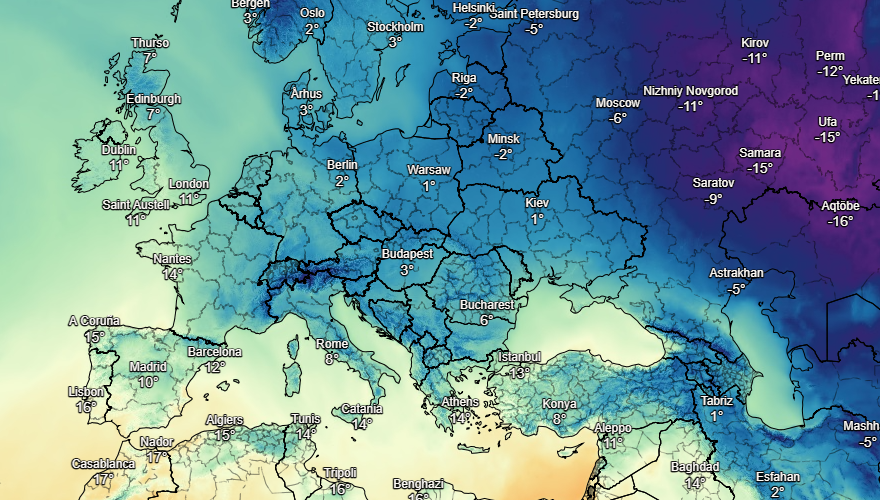 Photo: Stirimeteo
Rather cloudy for Denmark and the Baltic States with a scattering of showers here - these wintry over Estonia and Latvia. Scattered wintry showers affect northern Finland, much of Sweden and southern Norway too. Staying dry and fine over southern Finland and northern Norway.
On December 14
According to Weather Online, rain now spreading right across Portugal and much of Spain by the end of the day. Staying dry for the Balearic Islands, Corsica and Sardinia. Morning rain affecting the far southern tip of Italy and the far southeastern areas of Siciliy will soon clear. Staying unsettled across the Greek islands and much of Turkey with heavy, thundery downpours. Brightening up across much of mainland Greece but windy along coasts here.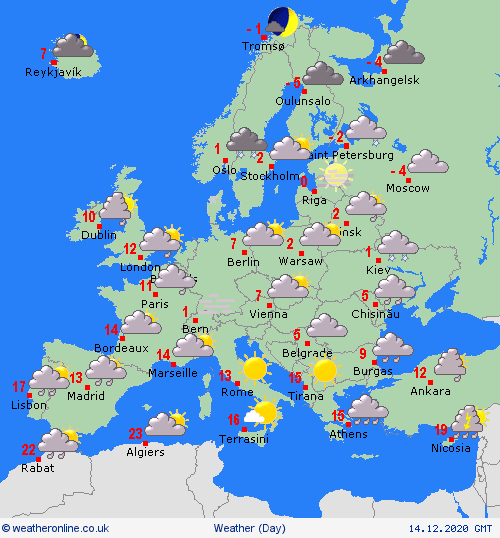 Photo: Weather Online
Rain across northern areas of France will sink south into central areas through the afternoon. Some patchy rain too affecting central and southern areas ahead of the band of rain. Rain, most persistent in the morning, across the Low Countries, will push into northwest Germany by the afternoon. Mainly dry for the rest of Germany. Largely dry elsewhere across central and eastern Europe with fog developing across many of these countries.
Turning wet across Denmark as rain pushes in from the west. Heavier rain will push in to south Norway through the day. Patchy light rain further north across Sweden but largely dry elsewhere. Mainly dry and fine for Finland and the Baltic States.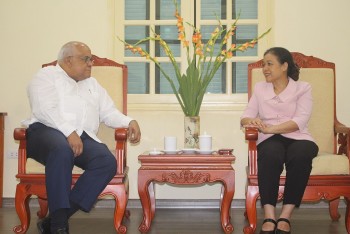 Friendship
Ambassador Nguyen Phuong Nga - President of the Vietnam Union of Friendship Organizations had a meeting and worked with Cuban Ambassador Extraordinary and Plenipotentiary to Vietnam Orlando Nicolas Hernandez Guillen. The two Ambassadors agreed to work closely in organizing solidarity and friendship activities.