UK and Europe weather forecast latest, November 17: Torrential rain to lash Britain with strong gales and flood warnings
Torrential rain is forecasted to lash Britain with fierce gales and flood alerts. Meanwhile, an area of low pressure brings a spell of unsettled weather to northwest Europe.
UK's weather forecast
BBC Weather has forecast a "wet and windy" Britain on Monday as a weather system descends upon western parts of the United Kingdom.
The BBC's long-range forecast stated Britain could see "high pressure shifting to the west of the UK more often and deeper low-pressure areas forming over Scandinavia".
The forecast between Saturday, November 14 and Sunday, November 22, said: "Wet weather will especially affect the north and west, heavy and prolonged for a time. But this will clear the UK late on Wednesday. A change by Friday, as winds swing into the north-west."
"Colder air moving in for a couple of days, so the threat of some frost in the north and some wintry showers. More wet weather will sweep east across England and Wales on 21 and 22."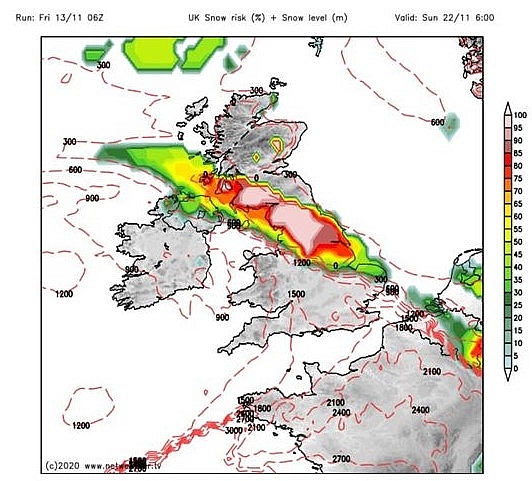 UK snow forecast: Arctic air could push down the UK (Image: NETWEATHER)
The BBC's forecast between Monday, November 30 to Sunday, December 13 said: "A severe and sustained cold spell over the UK in the first half of December currently seems unlikely."
"Deep areas of low pressure frequently passing eastwards between Scotland and Iceland, into Scandinavia, will prevent a sustained period of cold Arctic winds from firmly establishing."
"Nevertheless, we should be wary of a couple of short-lived cold snaps, when winds swing into the north for a few days."
Low pressure tracking across northern Scotland will push away allowing for a weak and very brief ridge of high pressure to push up from the south through the day, Weather Online reported. Rain across northern England and Scotland should clear and winds ease allowing for a drier rest of the day here.
UK snow forecast: Britain will be blasted by wintry conditions (Image: WXCHARTS)
Staying largely dry across much of England during the morning, however, rain and stronger winds will once again spread across Ireland, Northern Ireland and Wales then into western and central parts of England and western Scotland later. Highs at 8 to 11C for England, Scotland, Wales and Northern Ireland; 11 to 13C across much of Ireland.
Rain spreads across Scotland and the north of England overnight while persisting over western and southern Ireland and Wales. A drier night for east-central Ireland, much of Northern Ireland and central and eastern England though it will be rather cloudy here. Staying breezy too overnight with coastal gales for western parts of Ireland and Scotland. Overnight lows at a mild 9 to 13C.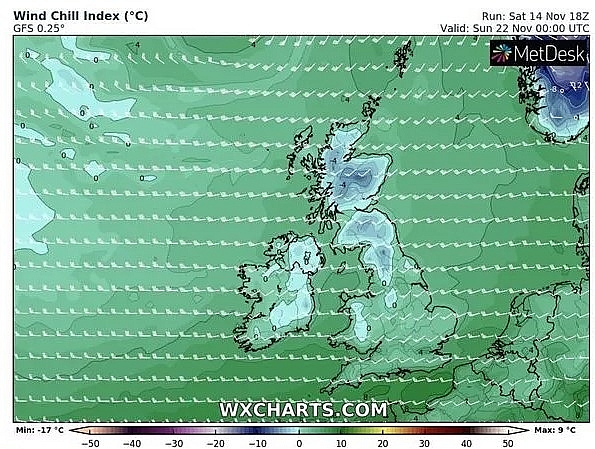 UK snow forecast: Temperatures could plunge as low as 0C (Image: WXCHARTS)
On November 17
According to Weather Online, a windy day for all with coastal gales to the west and north. Outbreaks of rain affect Scotland and Ireland where they will be locally heavy to the west. Patchy light rain affects eastern Ireland, Northern Ireland, Wales and western parts of England. A mostly cloudy but dry day for central, southern and eastern parts of England. The best of any sun here will be to the east. A mild day too with maximum temperatures between 11 and 15C.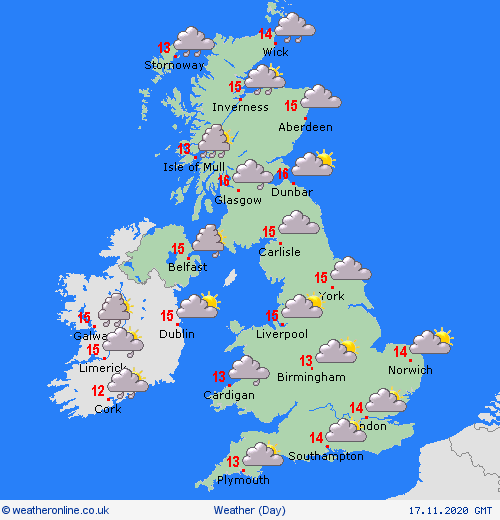 Photo: Weather Online
Europe's weather forecast
Patchy rain over northern parts of Spain and the Balearic Islands fades to leave a mostly cloudy day over Iberia. Bands of showery rain move from northwest to southeast over Italy - styaing dry and bright to the far south and for Sicily. A mostly dry and bright day for Greece and Turkey though rain arrives to the far west of Greece later.
Early rain clears east from northern France and the Low Countries to leave a dry and fair day here. Patchy rain too over northern Germany but staying dry to the south. Sleet and snow for the Swiss and Austrian Alps. Mostly dry and fair for Poland, the Czech Republic, Slovakia and Hungary with just isolated patchy outbreaks of rain here.
Photo: Stirimeteo
A breezy day with outbreaks of rain for much of Scandinavia on Monday. Rain turns to snow over higher ground in southern Norway. Bands of rain spread from west to east over Denmark and from southwest to northeast over Norway, Sweden and Finland. Mostly dry but overcast for the Baltic States though rain arrives from the west through the afternoon.
BBC Weather Europe meteorologist Nick Miller stated an area of low pressure which is very close to the UK will push a band of rain further eastward. However, he added that a weather system will bring wet and windy conditions to Britain at the beginning of this coming week.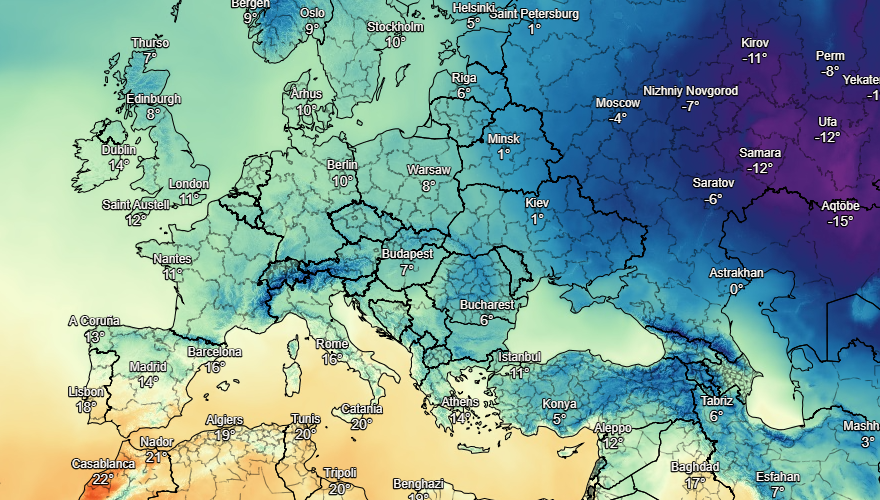 Photo: Stirimeteo
Mr Miller said: "There is an area of low pressure very close to the United Kingdom that is pushing a band of rain further east. An area of low pressure will bring some heavier rain into Italy and parts of the Balkans. It will be a fine day across much of the southeast of Europe. Italy could see a lot of rain in a short space of time."
"It is looking fine for many of us in southern Spain and into Portugal. There is a lot of cloud across France and another weather system making things wetter across western parts of the UK. It will be wet and windy in southern parts of Norway as it will be on Tuesday."
On November 17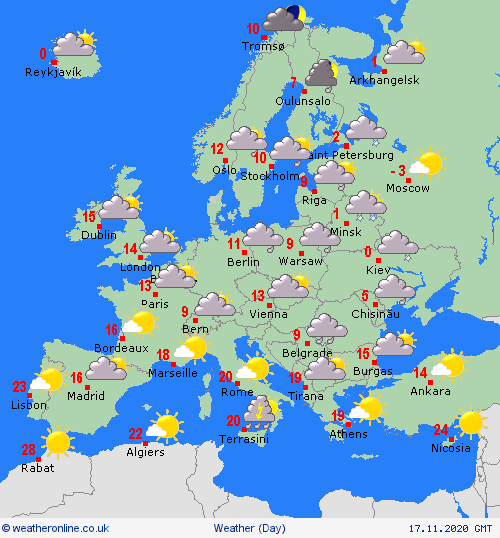 Photo: Weather Online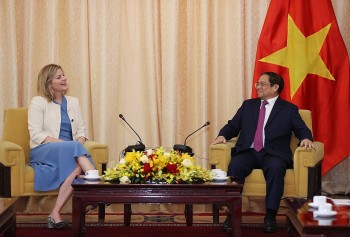 National
The Netherlands committed to cooperate with Vietnam, and together find innovative and sustainable solutions to accelerate green economy transformation.