UK and Europe weather forecast latest, November 16: A large band of rain to spread the UK in two days
The UK is forecasted to cope with poor weather with a large band of rain in the next two days. Meanwhile, snow and heavy rain set to blanket Europe and flooding is expected.
UK's weather forecast
Britons are set to be soaked by a month's worth of rainfall next week as the UK experiences a severe washout, the Met Office has warned.
Due to a tropical storm hitting the Atlantic, forecasters have predicted a large band of rain will spread to the UK from Monday. Although this tropical storm will cause unusually high temperatures, it will also bring between 75 and 150mm of rain over a matter of days. The Met Office reported the worst of the rain will be focused on the North-West of England next week.
They said in a tweet: "Some Northwestern parts of the UK could see between 75 and 150 mm of rain between Monday and Wednesday, which is near to the average monthly rainfall for November."
Such is the torrent of poor weather set to hit the country, the Government has issued a five-day flooding warning which will last until November 18.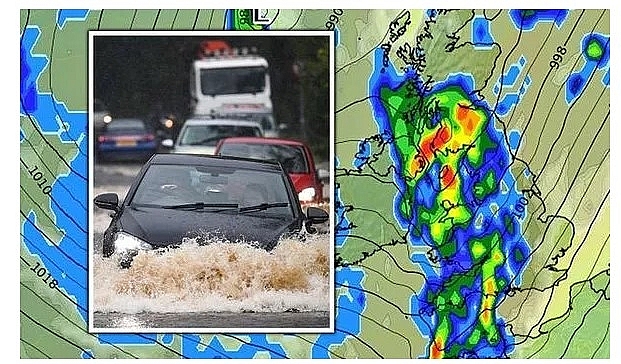 Uk weather forecast: Weather warning issued (Image: WX Charts )
A statement read: "On Monday coastal/tidal flooding is probable along the Yorkshire coast and is possible along the north-west coast and other parts of the north-east coast of England."
The heavy band of rain is being produced by Tropical Storm Theta which is currently gathering in the North Atlantic. The first waves of the heavy band of the poor weather hit today with parts of Wales and England experiencing the worst of the weather.
Despite the downpours focused on Wales and the South-West temperatures remained higher than the monthly average. Such is the severity of the band of weather, the Met Office has warned of potential gales in coastal areas.
These showers are expected to pass across the country before a second barrage of wind, rain, and potentially thunder hits the UK on Sunday.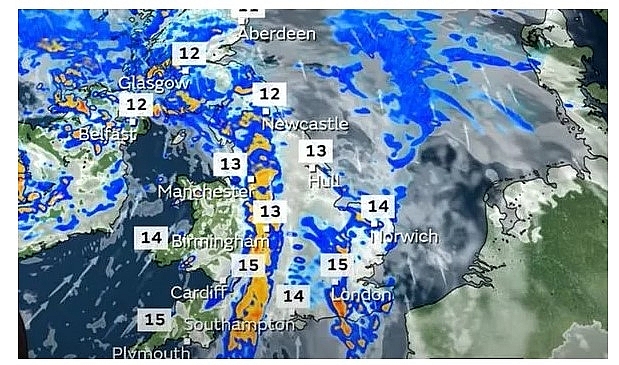 Uk weather forecast: Temperature will be above average (Image: Met Office )
The Met Office has issued a yellow weather warning for potential flooding in the South-East due to this heavy band of rain.
In a forecast looking ahead, they said: "Showers or longer spells of rain, some of it heavy, especially across the southeast of England on Sunday morning. Some clear spells between. Windy and frost-free, with a risk of coastal gales especially in the south and west."
"Bands of showers or rain moving northeast across the country. Some sunshine between. Winds easing across Scotland, otherwise windy, especially in the south where coastal gales are possible. Initially bright with showers Monday, before rain, heavy at times affecting the west and northwest."
UK Weather: The weather is building in the Atlantic (Image: Met Office)
"Drier and brighter in the east and southeast. Remaining windy and mild throughout."
The forecaster has also predicted the wet and wind weather to remain in place for much of the month. Temperatures will, however, remain mild before turning cooler at the beginning of December.
On November 16
According to Weather Online, low pressure tracking across northern Scotland will push away allowing for a weak and very brief ridge of high pressure to push up from the south through the day. Rain across northern England and Scotland should clear and winds ease allowing for a drier rest of the day here.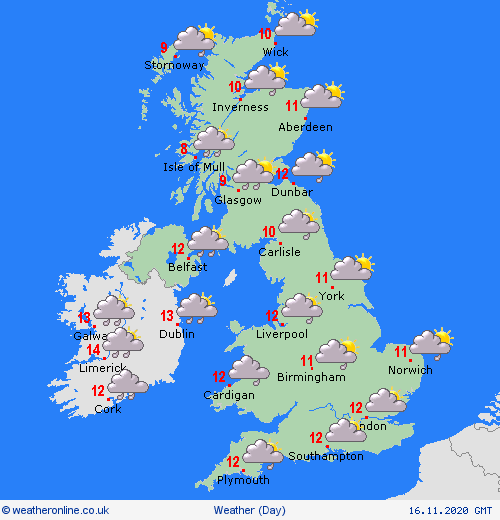 Photo: Weather Online
Staying largely dry across much of England during the morning, however, rain and stronger winds will once again spread across Ireland, Northern Ireland and Wales then into western and central parts of England later. Highs at 7 to 13C.
Europe's weather forecast
Staying cloudy and wet across much of Portugal although the far south does look to remain dry. Northern parts of Spain too look to have patchy outbreaks of rain about and cloudier skies, drier elsewhere. Patchy rain should clear the Balearic Islands through the morning. Some patchy rain across Italy at times too. Mainly dry for Greece and Turkey, Weather Online reported.
A band of rain pushing from west to east across France today, heavy and persistent spells in the north. Brisk winds too along coasts. Rain spreading across the Low Countries and into western Germany by the afternoon. A largely dry day once again across the Alpine countries although Switzerland and west Austria will see cloud thicken. Dry with light winds and mist and fog across eastern European countries.
BBC Weather has forecast snow in north Europe this weekend (Image: BBC)
Rain, heavy in places, across the far south of Norway and Sweden will push into central and northern areas through the day. Some patchy rain affecting parts of Finland, western areas mainly. Dry across Denmark for much of the day although cloudy, and rain is expected to push into western areas later on. Some patchy light rain across the northern parts of the Baltics but drier further south.
BBC Weather's Helen Willetts warned heavy showers will drench northwest Europe this weekend before moving to Italy by Monday. Hill snow is expected in the north. The Met Office also has a yellow weather warning for rain in place from Sunday as flooding is expected.
Ms Willetts said: "There are some fog issues around across the Balkans in areas of high pressure but for many parts of Europe, we're dominated by low pressure."
"Wet and windy weather sweeping in; some gales at times across parts of the low countries. That southwesterly mild wind will continue to pull in further bouts of rain with snow over the hills. Then we're got one diving southwards with low pressure across the Alps on Sunday and giving some rain here."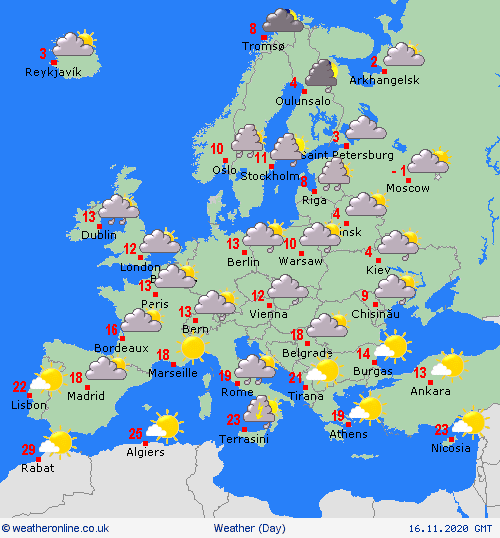 Photo: Weather Online
"Quite cool in comparison across parts of Turkey, Cyprus with some showers around. Some quite heavy showers around here on the weekend. Further northwest, it will be dominated by the wet and windy weather. By Monday the system will have moved towards Greece."
BBC's Carol Kirkwood said some pretty wet and windy" weather is set to barrel across the north and the west of the UK.
She said: "That's because we've got low pressure driving our weather with this weather front. This is bringing in some heavy and persistent rain as well."
"Now it's been raining quite steadily through the course of the night, across parts of Scotland, northwest England and also Northern Ireland. So if you're out first thing, there will be a lot of surface water and spray around."
She continued: "The other end of the country, in the southeastern quarter, there will be some patchy mist and fog. Locally it's dense, that should lift and then it will brighten up. But through the day, as this weather front advances slowly eastwards, the cloud will build, turning the sunshine hazy. We'll see some light and patchy rain get in across Wales and the southwest."
On November 16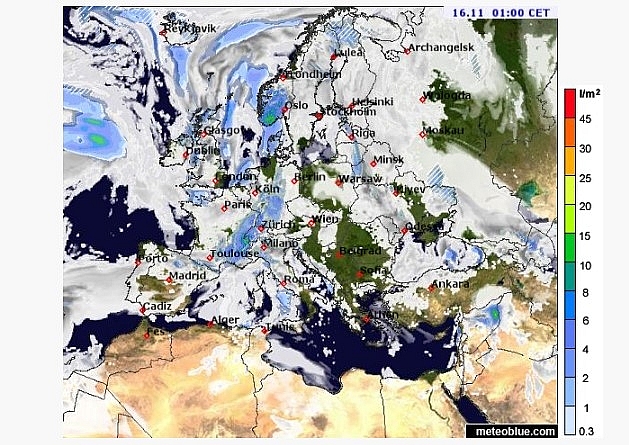 Photo: meteoblue.com