UK and Europe weather forecast latest, November 19: Heavy downpours covering Europe as temperatures plunge
Temperature is forecasted to plummet in Europe with heavy downpours covering. Meanwhile, Britain will be hit with plunging temperatures this week as heavy rain continues to batter parts of the country.
UK's weather forecast
Temperatures are forecast to plunge down to as low as -2C on Thursday, according to WX Charts. The Met Office has a yellow weather warning for rain on Wednesday covering areas in Scotland. Rainfall could reach 150-200mm in a few locations in Scotland as the heavy downpours continue to drench parts of the UK.
The Met Office said: "Rain will persist throughout Tuesday and into Wednesday, turning heavy at times, with heaviest rainfall over high ground. By Wednesday afternoon 50-100 mm of rain will fall widely with 150-200 mm possible in a few locations over high ground."
The Met Office explained that some transport services will be affected "with journey times taking longer".
It added: "There is a small chance that some communities become cut off by flooded roads."
Wednesday is expected to start "pretty soggy" as a band of rain sweeps across the country. Alex Deakin, Met Office meteorologist, said: "It will be a wetter day across Wales, western parts of England, Northern Ireland. All these areas starting pretty soggy in the morning."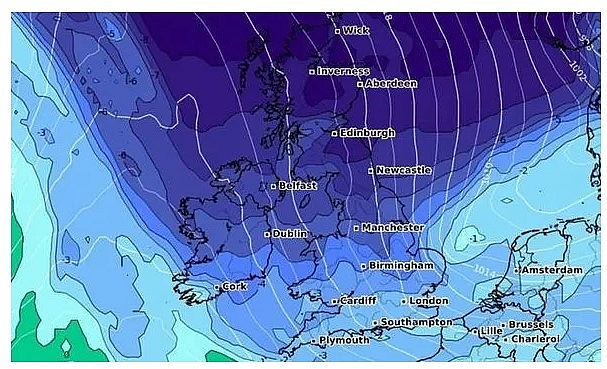 Britain will be hit with plunging temperatures this week (Image: WXCHARTS)
He added: "Much of eastern England and the Midlands will start dry but some showery rain will drift in here by lunchtime and then it turns wetter through the afternoon as a band of rain swings through."
Mr Deakin said this weather front is important because "it will be bringing a colder feel come the afternoon".
He said Wednesday will start in the double figures but the cold front will bring falling temperatures. After Wednesday's torrential downpours, Thursday will be a very chilly day as temperatures start to plunge. Mr Deakin said: "It is going to turn much colder over the next 24 to 48 hours. Thursday particularly cold thanks to some strong winds."
The Arctic blast will come with "vicious" northerly winds during Wednesday evening.
Jo Farrow, Netweather forecaster, said: "As the true colder air moves down from the Arctic there will be a vicious northerly wind during Wednesday night over northern and western Scotland, down into Northern Ireland and gales through the Irish Sea."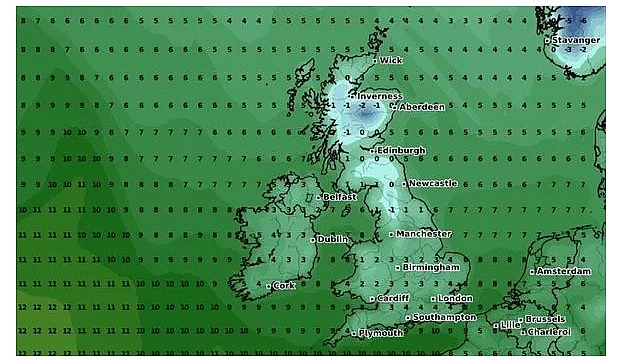 Temperatures are forecast to plunge down to as low as -2C on Thursday (Image: WXCHARTS)
"There will be heavy, thundery showers with hail and then sleet and hill snow. The strong north winds then extend down eastern Scotland as overnight temperatures plummet inland."
By Thursday morning it will feel considerably cooler for most of the UK with chances of snow overnight. Ms Farrow said: "There will have been snow overnight for the Scottish mountains in the north and snow showers continue to feed in as the north winds ease down during Thursday. Showers will clip Wales and eastern England, some with an iciness to them."
From Thursday evening another Atlantic front is set to sweep in bringing more rain.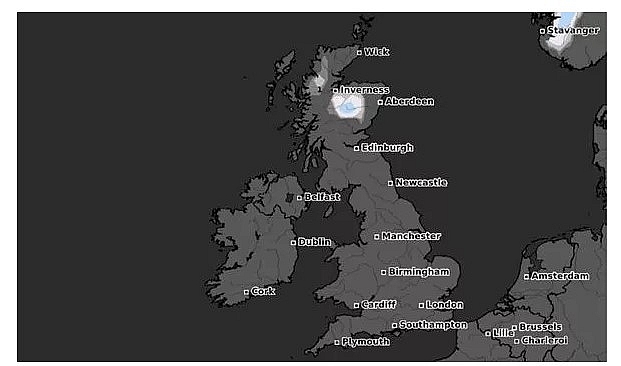 By Thursday morning it will feel considerably cooler with chances of snow overnight (Image: WXCHARTS)
On November 19
According to Weather Online, a cold morning across the UK and Ireland. There will be a scattering of wintry showers in northern and eastern Scotland as well as eastern England. Windy in eastern areas at first too. A ridge of high pressure builds from the west and this will be bringing drier, brighter weather for most. Good spells of sunshine in the afternoon, best in the west. Cloud increasing in western Ireland later as a warm front approaches. Highs at a chilly 6 to 9C.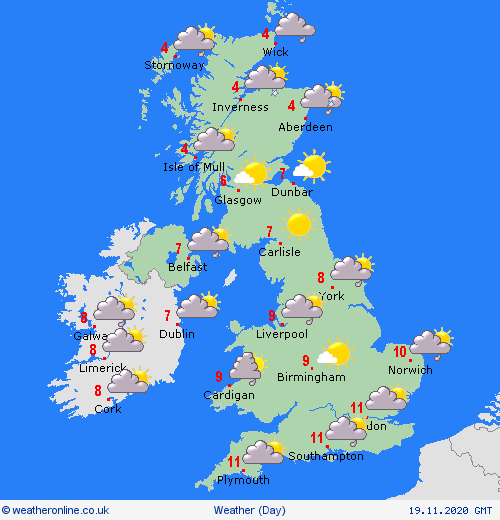 Photo: Weather Online
Europe's weather forecast
BBC Weather forecast a very wet and cold week ahead for Europe as heavy rain and thunderstorms are expected in many parts while a cold front sweeps into the continent.
As much as 95 millimetres of rain has been been brought upon Italy over the last 24 hours, according to BBC meteorologist Chris Fawkes. The weather presenter explained that this was due to some rain and thunderstorms that had swung southwards across the country. He noted that 59 millimetres of rain from the same system also descended upon Split in Croatia.
Mr Fawkes told viewers: "What's driving this is a trough and that's going to be pushing its way into Greece. There'll be some showers and thunderstorms here. Some storms also affecting western Turkey through the course of Wednesday. So there'll still be some fairly heavy downpours."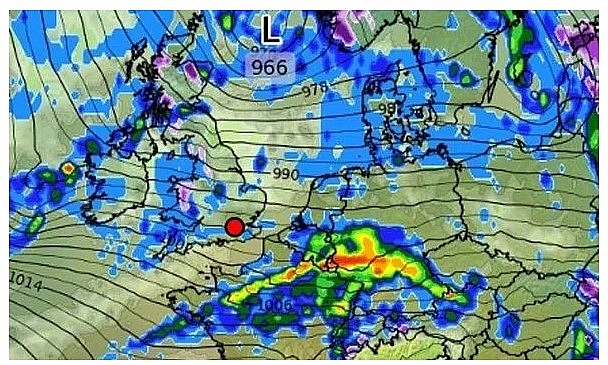 BBC Weather: 50mm rain downpours to drench Europe as temperatures plunge by FIVE degrees (Image: WXCHARTS)
He continued: "We could see around 25 to 50 millimetres of rain from the heaviest of these thundery showers. There will be quite a lot of cloud around - still some low cloud, mist and fog patches into Hungary for a time on Wednesday."
"Brighter and drier weather expected in Croatia and Bosnia and Herzegovina for the most part, although a few fog patches in some other valleys. There'll be quite windy weather in Norway and Sweden, we'll see outbreaks of rain moving in."
The BBC presenter added: "It's still relatively mild though, 14 degrees in Stockholm. But this is a cold front, and that's going to be sweeping its way in Wednesday night and into Thursday across Europe. Colder northwesterly winds will follow with temperatures dropping by about five degrees Celsius in Paris."
'But this is a cold front, and that's going to be sweeping its way in Wednesday night.' (Image: BBC)
Mr Fawkes said: "There's a similar drop in temperatures on the way in London. So it's certainly starting to feel a good deal colder. That colder air continues to feed into Paris, just nine degrees here through Friday."
"All those temperatures will very gradually pick up by a couple of degrees as we head into the weekend. Meanwhile in Berlin we're also going to see the cold air arrive here on Saturday with temperatures are just six degrees."
On November 19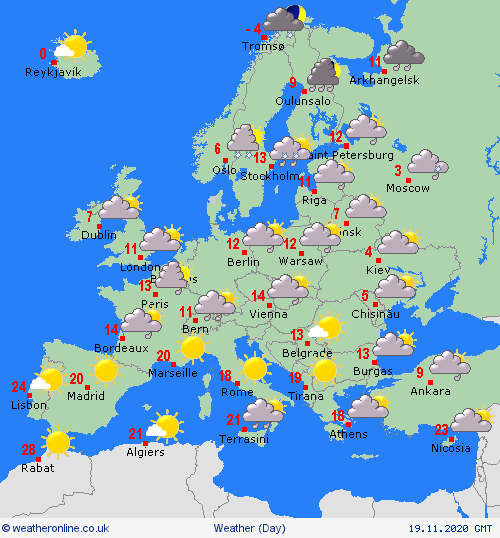 Photo: Weather Online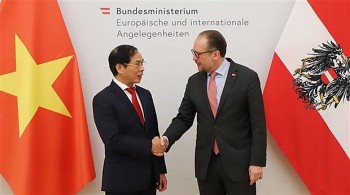 Overseas Vietnamese
Fifty years have passed since the establishment of the relationship, the two countries have enjoyed great strides in bilateral cooperation.