UK and Europe weather forecast latest, November 18: Snow showers by Atlantic blast set to batter Britain
Britain is forecasted to cope with snow showers due to an Atlantic blast. Meanwhile, rain sets to batter Italy and Greece, breezy occurs in northern Europe.
UK's weather forecast
According to Express, Britain will be hit by heavy rain and snow as the country heads into a "rollercoaster" week of weather.
The Met Office has issued a yellow weather warning for Tuesday and Wednesday. The warning of heavy rain covers areas in Scotland where rainfall could reach 150-200mm in a few locations.
The Met Office said: "Rain will persist throughout Tuesday and into Wednesday, turning heavy at times, with heaviest rainfall over high ground. By Wednesday afternoon 50-100 mm of rain will fall widely with 150-200 mm possible in a few locations over high ground."
Met Office meteorologist, Tom Morgan, said: "It's going to be a bit of a rollercoaster [this] week with a spell of unsettled weather on the way."
"It will be fairly mild on Monday to Wednesday, especially in the southern regions, and will be a lot brighter and drier than what we've seen across the weekend, though rain will still come and go."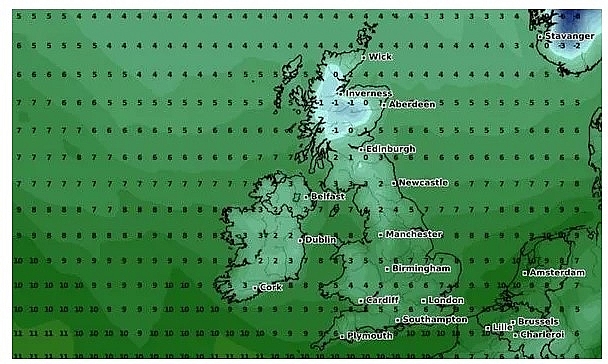 Frost across the UK is forecast for Thursday as the country braces for a wintry temperatures (Image: WXCHARTS)
"It's a different story for the rest of the UK, which will be considerably colder and wetter, with up to 150mm of rainfall expected in mountainous regions of Northern Ireland, Scotland and northern England."
Snow showers are forecast to sweep in from as early as Thursday morning due to a brisk cold air. But before temperatures plummet, Tuesday is set to start off as a fairly mild day with blustery winds. Temperatures will reach 14-15C is most places and could jump up to 17C in the south west of the country.
Alex Deakin, Met Office Meteorologist, said: "Temperatures are going to be up and down this week. It is going to be very mild on Tuesday."
He added: "As well as being mild for some, it's going to be very soggy through Tuesday and Wednesday."
"We're particularly concerned about western Scotland where the rain will be heavy and could cause some problems. The Met Office have said that some transport services will be affected "with journey times taking longer".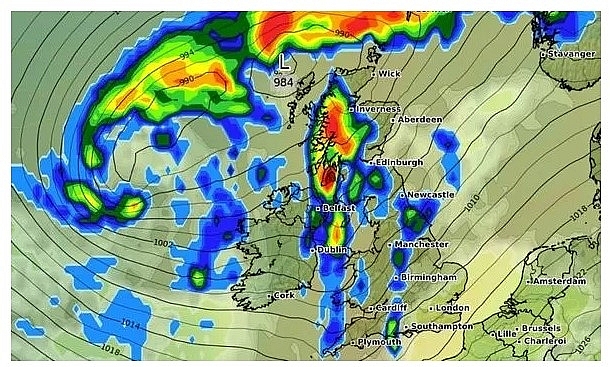 Rainfall could reach 150-200mm in a few locations on Tuesday (Image: WXCHARTS)
It added: "There is a small chance that some communities become cut off by flooded roads."
Mr Deakin said temperatures are "really dropping off" through Wednesday night and Thursday with significant "wind chill".
The change in weather is thanks to "vigorous" low pressure which will sweep in midway through the week. Jo Farrow, Netweather forecaster, said: "Significant changes come as a vigorous midweek low pressure moves through and colder air follows."
"The cold front sweeps over Britain on Wednesday, and through Wednesday night a raging northerly takes hold briefly for northern Britain, Northern Ireland and will bring snow showers for Thursday morning with a wintry start the day. Much different from Tuesday's warmth."
The cold front will bring much cooler conditions on Wednesday followed by a blast of even colder air will hit the UK.
Mr Deakin said: "Much, much colder air coming right down from the north streams in accompanied by some gusty winds to start with on Thursday."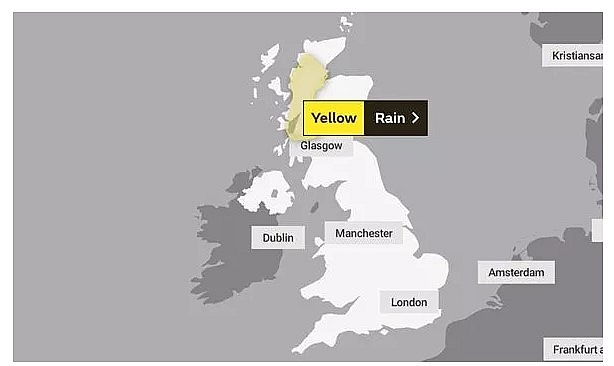 The Met Office has issued a yellow weather warning for Tuesday and Wednesday (Image: MET OFFICE)
"That's going to be a bit of a shock to the system and it will feel so much colder with those brisk and chilly winds."
Widespread frost across the UK is forecast for Thursday as the country braces for a wintry end to the week.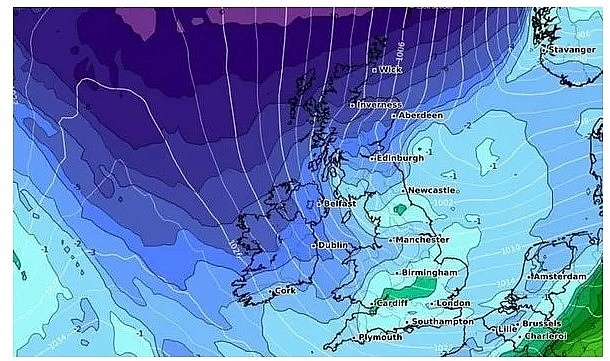 Temperatures are "really dropping off" on Thursday with significant "wind chill" (Image: WXCHARTS)
On November 18
According to Weather Online, a bright morning across East Anglia and South East England. Fronts will be bringing rain across much of Scotland and Ireland on Wednesday morning, this then passing into western Wales and west of England through the morning and afternoon. The rain should clear east, with some gusty winds too. Colder, showery, but brighter weather follows through western Scotland and northwest England as well as the north and west of Ireland. Breezy in western areas too. High temperatures will be to 13 to 15C in England and Wales, but 9C in Scotland and Ireland.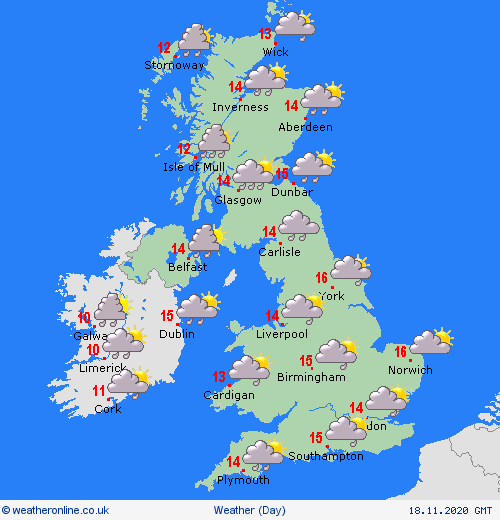 Photo: Weather Online
Europe's weather forecast
Tuesday is mostly dry and sunny for Portugal, Spain, the Balearic Islands, Corsica, Sardinia and northern Italy. Southern parts of Italy, Sicily and the southern Balkans see further heavy outbreaks of rain. Rain spreads into western Greece too but it stays drier and bright to the east and for much of Turkey.
A dry and fair day for France and for the Low Countries too after early rain clears east. Dry and bright for Switzerland and Austria. Patchy outbreaks of rain affect northern parts of Germany and Poland though most areas will stay dry. Early rain fades over the Czech Republic to leave a fair day here while rain also clears from Slovakia and Hungary to leave a dry and sunny afternoon here.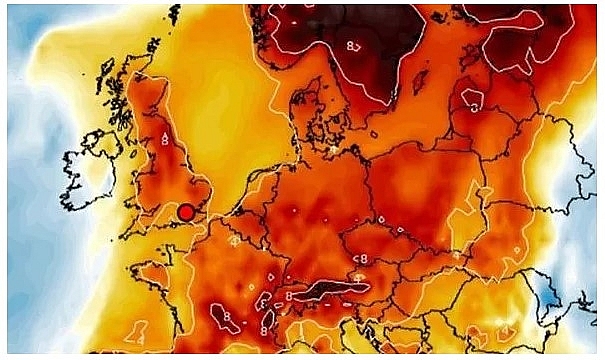 BBC Weather: Temperatures rise 'well up' to double figures as surprise warmth heats Europe (Image: WXCHARTS)
Breezy again with outbreaks of rain spreading from west to east over Denmark, Norway and southern Sweden. This readily turns to sleet and snow over higher ground in Norway. Cloudy with patchy outbreaks of rain for northern Sweden while it will also be cloudy for Finland with more extensive outbreaks of rain here. This locally heavy to the south. A breezy day for the Baltic States with bands of rain passing from west to east.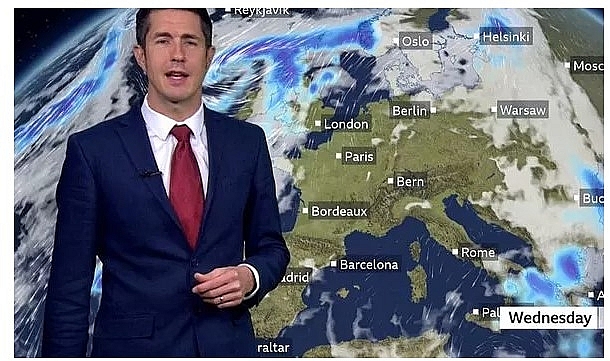 'But ahead of the milder air, 16 degrees will be the top temperature in Paris.' (Image: BBC)
On November 18
Rain in western Portugal and northwest Spain, some of it heavy. Fair across most of the rest of Spain and southern Portugal. Fair across the Balearics, Corsica and Sardinia. Most of Italy will be dry with sunshine too, Weather Online reported.
However, the far south of Italy as well as Sicily will have some heavy showers and rain. Heavy thunderstorms in Greece. Turkey will be dry with sunny spells.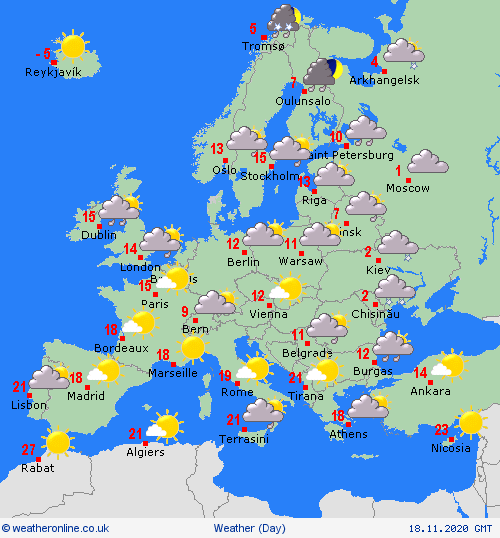 Photo: Weather Online
Fair for France with sunny spells although some broken cloud in western areas. The Low Countries will be breezy and dry. Fair across Germany and Poland as mild too. Staying fair in Austria and Hungary as well as Switzerland with more sunshine here.
Brezy in Denmark with sunshine. Cloud and some drizzle in a Mild Baltic States and breezy here. Windy for Finland, mild with some rain. Mild, breezy and dry in Sweden. Rain, heavy at times and windy too in Norway.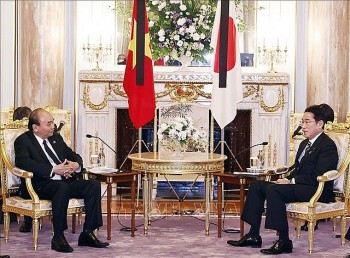 Friendship
Vietnam always treasures the extensive strategic partnership with Japan and views Japan as an important and long-term strategic partner, President Nguyen Xuan Phuc told Japanese Prime Minister Kishida Fumio in Tokyo on September 26.