UK and Europe weather forecast latest, November 21: Temperatures fall below freezing as snow sets to cover
Temperatures in the UK is forecasted to plunge below freezing and snow sets to hit. Meanwhile, weather turns progressively wet and windy across Scandinavia.
UK's weather forecast
According to WX Charts, snow will again hit Scotland on Friday morning due to the cold temperatures. Early on Friday morning temperatures could be as low as 1 to 2C in much of Britain with areas in Scotland reaching as low as -2C.
During the day, rain is set to return to the UK bringing heavy showers for some parts. But the morning will start off fairly dry before the showers come.
Aidan McGivern, Met Office Meteorologist, said: "We start of Friday with dry conditions in the far north, the east of Scotland, much of eastern England, bright even for East Anglia and the south east. But a damp start for the west, a breezy start as well. The cloud and rain sweeps across the country so that by lunchtime most places grey gloomy, hill fog, mistiness outbreaks of rain."
Paul Michaelwaite, Netweather forecaster, said that clouds will thicken overnight on Thursday bringing rain in the early hours.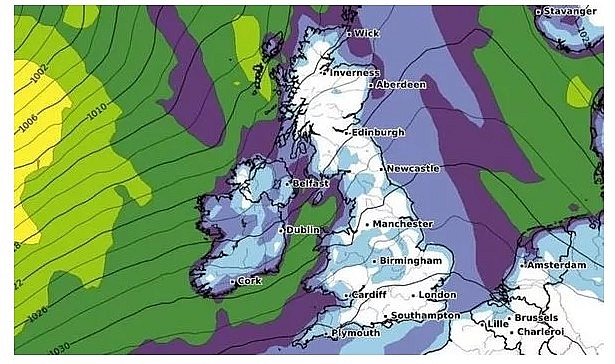 Early on Friday morning temperatures could be as low as 1 to 2C (Image: WXCHARTS)
He said: "Cloud will thicken from the west with rain starting to move across into Ireland, and eventually western Britain into the early hours. Ahead of it, with clear skies in eastern regions, there'll be some frost patches in places, but many of these will tend to lift as the night wears on and the cloud encroaches."
Mr McGivern said the rain will be particularly persistent throughout Friday and the early parts of Saturday in western Scotland. As Britain heads into Friday, temperatures will make a turn and start rising again after the freezing conditions.
Mr Michaelwaite said: "The rain in the west (along a warm front) will carry on making its way east through the day on Friday. It'll be patchy and showery but with some heavier bursts thrown in - especially up over the higher ground of the west."
"Behind it, there'll be a lot of cloud and murk, with some drizzly rain in the west, temperatures will be on the rise too, getting up into double-figures in western and central parts before the day is out."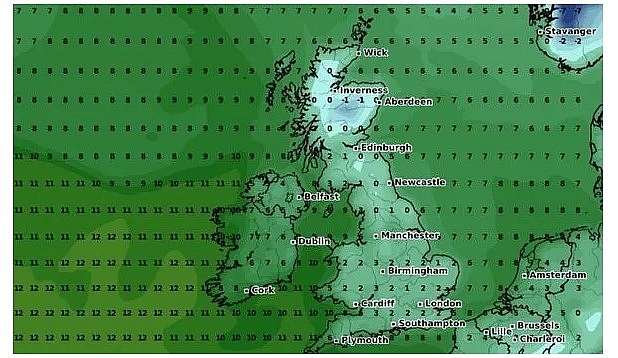 UK weather: Areas in Scotland reaching as low as -2C on Friday morning (Image: WXCHARTS)
The warm weather front will bring with it rain and is said to be connected to a "deep Atlantic low pressure system", according to Mr Michaelwaite. The front will carry on moving east through to the weekend.
Mr Michaelwaite added: "It'll not come too close to the British Isles, as it moves across Iceland during Friday before heading off towards Scandinavia, but another of its fronts will come into play from late Friday onwards."
The second front, however, is set to be a cold one bringing chilly temperatures again to Britain. Mr McGivern said: "Winds really pick up to the north of this cold front across northern Scotland.
"Blustery showers but gales really across the northern Isles on Saturday, 70mph gusts possible here. Frequent showers into northern and central Scotland as well as Northern Ireland."
Snow will again hit the UK on Saturday in Scotland over the mountains. But in the south there will be some sunshine to start the weekend.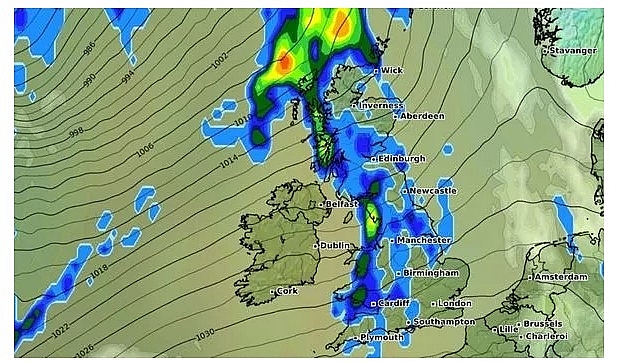 Rain will be particularly persistent throughout Friday (Image: WXCHARTS)
On November 21
According to Weather Online, a chilly day in the northern half of the UK. Staying windy across northern Scotland and the Northern Isles. It will be a cloudy and wet start across much of Scotland, Ireland, Northern Ireland and northern England but rain will soon clear to the south to allow for sunny spells to develop but also showers. Drier across southern areas to start, milder too, but rain will soon spread into Wales and central and southern England through the afternoon. Highs at 4 to 12C.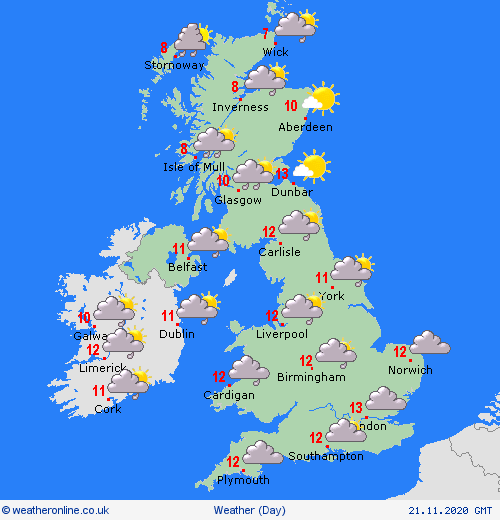 Photo: Weather Online
Europe's weather forecast
A mostly dry and sunny day for Portugal and Spain though showers may affect the far southeast of Spain and the Balearic Islands. An area of low pressure develops to the west of northern Italy bringing gusty winds and heavy outbreaks of rain to Corsica, Sardinia, Italy and Sicily. Mostly dry and sunny for Greece and western Turkey. Cloudier over eastern Turkey with outbreaks of rain here.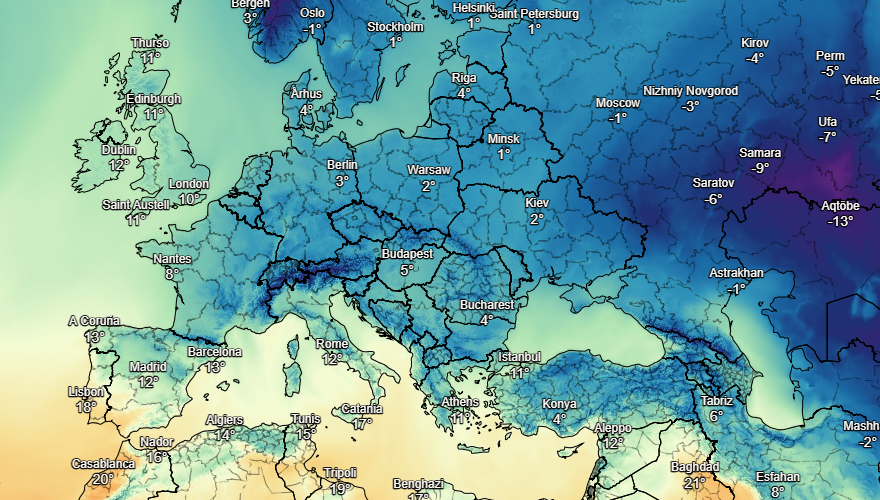 Photo: Stirimeteo
A largely dry and fine day for France. Mostly cloudy for the Low Countries with patchy rain affecting North Sea coasts. Mostly fine and sunny for Germany, Poland and The Czech Republic though wintry showers affect northern areas and higher ground in the south. Early snowfall over Switzerland and Austria eases to leave a dry and sunny day.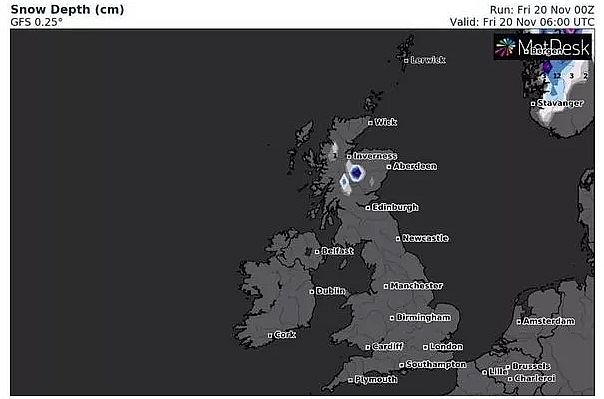 Snow will again hit Scotland on Friday morning (Image: WXCHARTS)
Cold and breezy for Denmark, Norway and Sweden with sunny spells and wintry showers. Winds and showers ease later. Cloudy for Finland with scattered wintry showers. Brighter for the Baltic States but with frequent wintry showers here too.
On November 21
Another largely dry and fine day across Portugal and Spain, although do expect cloudier skies and some patchy light rain in the far south and southeast of Spain, Weather Online reported.
Some morning showers across the Balearic Islands but it is an improving day here. Rain will clear to the south of Italy through the day although Siciliy and the far south of mainland Italy will remain cloudy and wet throughout. Largely dry across Greece and Turkey.
A dry and fine day across France with mainly dry conditions over the Low Countries and Germany although there will be more cloud and some patchy light rain towards coasts. Dry and bright for the Alpine countries as well as the Balkan States and eastern areas of Europe.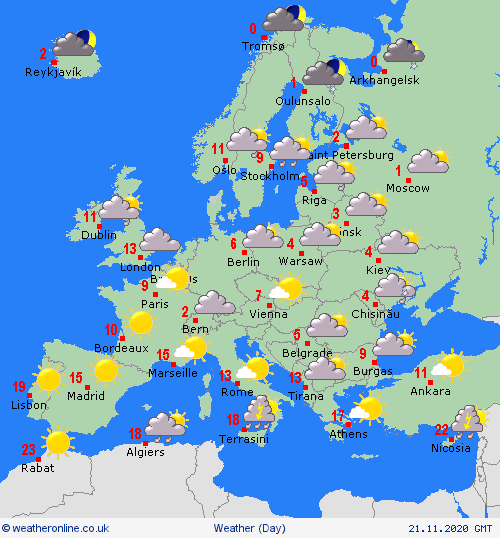 Photo: Weather Online
Unsettled across Norway and Sweden as an area of low pressure moves towards western Norway. Expect high winds along coasts and breezy conditions inland. Heavy and peristent rainfall, particularly so across western areas, snowfall over the higher ground. A dry morning is forecast across Finland but rain will soon spread into western and central areas during the afternoon. Similar for the Baltics whereby it will be a dry morning but rain will affect all areas by the end of the day. Turning windy here too.